Black Front Door Ideas for Every Style of Home
If you've ever been interested in having a black front door but aren't sure how it fits with your style of home. Keep reading to see more inspiration!
A few months ago one of our pins on Pinterest went viral and we realized two things:
Almost everyone loves a black front door or at least has one pinned.
and We need to write a round-up post of all our styling tips for black doors.
We also totally get people's obsession with black front doors. I mean not only is it a beautiful way to up the curb appeal, but it also makes seasonal decorating way more fun.
So if you're looking for black front door ideas or styling inspiration you've come to the right place. We're going to take a look at how each style of the home looks with a black door, and how you can make it work for your style of home.
Read more: How to Buy Used Furniture
Keep reading to see all the black front door ideas, then keep reading!
All About Black Front Doors
We've been wanting to paint our front door for years, but it's been hard to narrow down a colour. Until recently, when I visited a friends home who had a black front door! Not only did it look great, but her decorations looked even better!
So I figured we'd explore the pros and cons of painting a black front door, the different styles of black doors and even chat about different shades of black paint.
But before we jump into all the front door styles I wanted to answer a few questions about black front doors.
Are Black Front Doors Easy to Keep Clean?
Do black front doors sell for more?
I loved this question! According to Zillow, a black front door could make your home more money, at least by 2.9 percent.
Pros and Cons of Painting Your Front Door Black
PROS AND CONS OF PAINTING A FRONT DOOR BLACK
Cons for painting front door black
Black paint absorbs more UV rays than lighter paint colors
You'll see more swelling and shrinking with this color
Will see the effects of sun damage quicker
This means you'll repaint or replace quicker
benefits of black front doors
– the pros
Black doors are neutral and suit many homes and styles
Can hide imperfections
Easy to keep clean
In conclusion, I think if your front door is either completely shaded or doesn't get a ton of light, then painting your door black is a great option. But if your front door gets a lot of light then it's best to go with a different color.
Black Front Door Ideas
We know the appeal of a beautiful front door, so hopefully these next few styles will help you make the decision on either painting a black front door or replacing your front door.
Modern Style Black Front Door
Regardless if your house is more on the modern side or leans toward contemporary, a black front door can add the perfect amount of contrast.
When it comes to styling your front door, it's best to keep the decor simple, like your house.
I like to do this by adding just one potted plant next to a simple doormat. We like to enjoy the white or blank walls of a modern home and focus on adding large house numbers instead of more decor.
I especially love how well the vintage-style light looks next to the black door and ties in with a black planter. Otherwise, a modern entryway might feel a little stale and too bright.
The Traditional Style Home
There are so many design ideas when it comes to a traditional home. But I always come back to styling a front porch with bright flowers and more simple decor. The main focus should be the house followed by the door color.
However, we know some people would rather highlight their front porches over their home exteriors. Maybe the house is a remodel or needs to be fixed. But choosing to do a budget makeover and easily paint the door might be just the thing to take away from the outside of your home.
If this is the case, don't be afraid to use some attention-grabbing planters, with colorful florals to draw the eye in. Traditional-style homes need structure and symmetry which is what we see in the photo above. So painting your door black and keeping things simple will encourage a lot more curb appeal almost instantly.
The Cottage Style Home with a Black Front Door
As you can probably guess, cottage-style homes are our favorite style for a reason. It's beyond beautiful and you can't go wrong with a black door.
If painting your front door is something you've been thinking about doing, I will say that grabbing black paint and a door stand from your local hardware store is the easiest way to add character.
Not to mention it's a great investment, and will only make your home look better in my opinion. Instead of taking away from the character of the house, I think it adds to it.
Keep reading to find out our top recommended black paint!
As far as styling goes, grab an armful of chopped logs, a welcome mat, and a basket filled with whatever is in season and you're all set!
Read more: Our Bedding for Fall and Winter
The Modern Farmhouse with a Black Front Door
The farmhouse style has risen in popularity over the years and black doors have along with it. Typically we see a lot of white siding and classic windows along with the home exteriors. But we also love to see a bit of contrast on the front porch, bringing the eye in to see the beautiful beautiful decor.
Speaking of decor, styling the farmhouse door is easily done in three stages. The first is with a large basket for seasonal fun. Then add some terra-cotta planters filled with boxwoods and miniature lemon trees. Finally, we need a bench or in this case two chairs for sitting in the morning and enjoying your coffee.
French Country Style with a Black Front Door
Regardless if you have a double door or a single one, the French country-style home will look great paired with a ton of beautiful flowers. Keeping the design simple, romantic, and whimsical. We love a large wreath up during all seasons, it's fun to change out, and black highlights the color choices.
One thing I loved about this door is the number of glass panes, that let all the natural light into the home. It's a great tip for anyone who is designing or looking for entryway ideas.
Contemporary Style Home
We love a good contemporary-style home, especially with a painted black front door. I appreciate the use of colors and patterns. This example is perfect with the tiles and layers of garland.
This beautiful door looks great with cascading garlands in the winter and thick greenery in the summer. Another fun way to add some interest and up the curb appeal is adding a vintage-style chair and a fun potted tree.
For this example, they complimented the black door by adding a black cage light. Which makes it one of my favorite doors so far.
The Best Black Paint for Doors
Black Magic by Sherwin Williams
Tricorn Black by Sherwin Williams
Soot by Benjamin Moore
Iron Mountain by Benjamin Moore
French Beret by Benjamin Moore
Dark Kettle Black by Valspar
Onyx by Benjamin Moore
To make it easier for you to remember we made a fun graphic to bring to the paint shop. Always grab samples because you never know what you might like and how it looks with your home.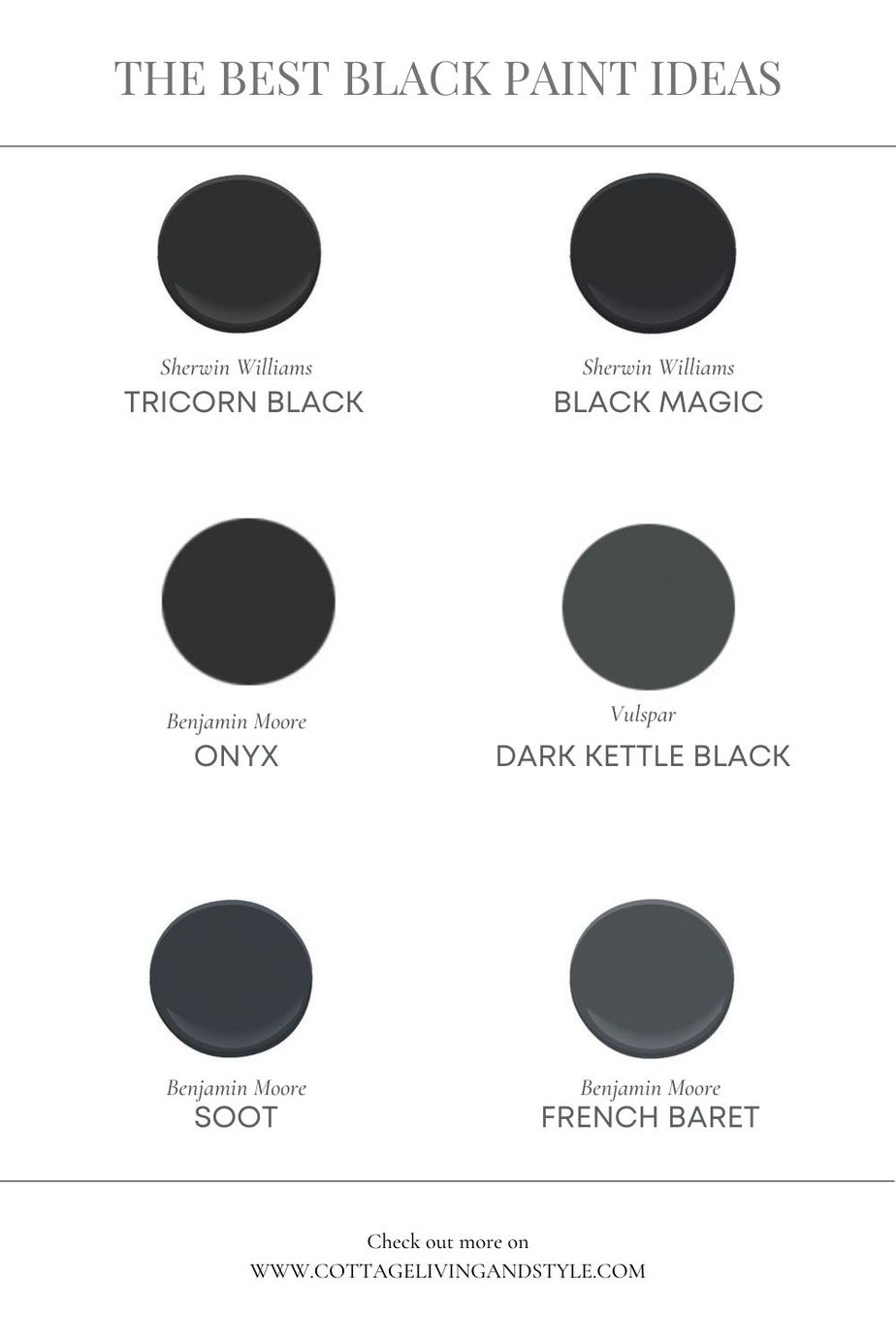 Should a black front door be matte or gloss?
I would recommend going with a semi-gloss finish, because a matte and gloss door can show imperfections and scratches. A semi-gloss is definately more durable and will look great, while still holding up to wear and tear, and any stains.
What color door handle is better for a black door?
There are so many options for door handles, which all depend on your style and your home. We choose a satin nickle because I like the classic look. However, a black pairing will make the home appear more modern, and brass or gold will look more luxurious.
How to paint your front door black
Remove door handle and lock
Wipe down the door with soap and water
Sand any imperfections or scuffs
Tape around the door or anything you don't want to get paint on
Prime the door (we recommend this primer)
Paint 2-3 coats of black paint using a sprayer, roller or paint brush.
Paint the door frame for an updated look.
Let us know what you think, if you plan on painting your door black or if you have a black front door and what you think. We'd love to hear from you in the comments or over on Instagram.