15 Beautiful Ideas for your Cottage Garden
Looking for some easy ideas to fill your cottage garden with? Check out our list of 15 beautiful but simple garden ideas.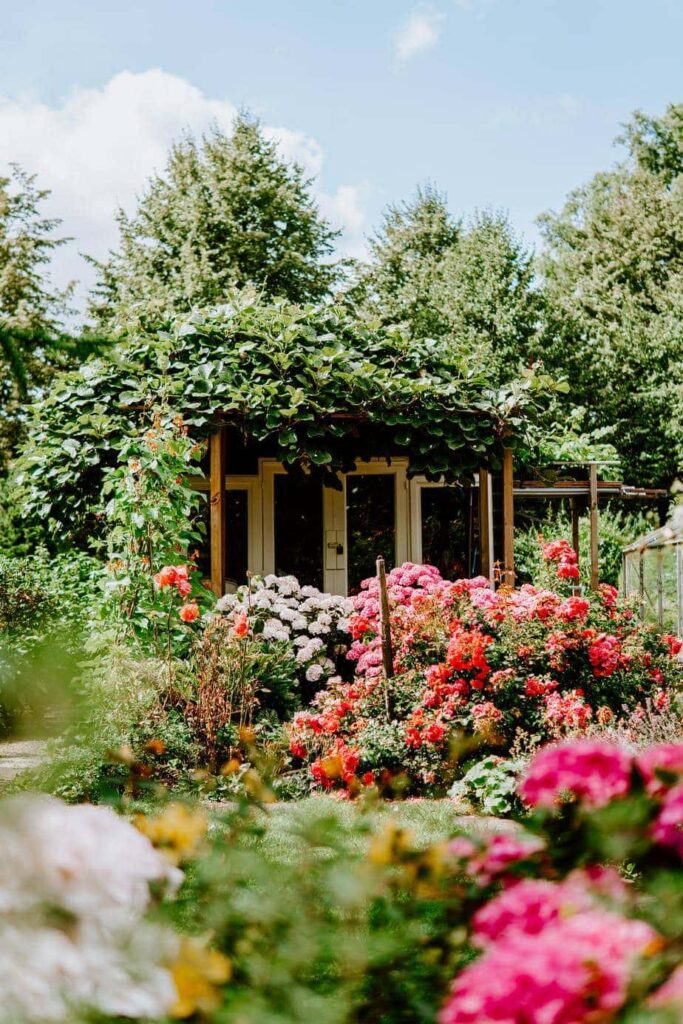 Spring is in full swing and we're just about done with our plans for the garden this year. After doing a ton of research on the best plants, and landscaping designs we found some of the most beautiful cottage gardens.
We're sharing everything we think you should know about a cottage garden, plus 15 beautiful ideas that will inspire you!
This post shares 15 ideas for creating a beautiful cottage garden.
What is a Cottage Garden?
When we think of cottage gardens we tend to think of gardens that are informal, free-flowering, and romantic. Their style is often relaxed, colorful, and familiar.
But contrary to what you may think, they do require a bit of planning.
How do you create a cottage garden?
Instead of creating definitive lines, let the plants fall where they may. Plant native flowers, and annuals. The more care-free the plant or flower is the better suited it is to a cottage garden.
15 Ideas for your Cottage Garden
A Flower Covered Arbor
This beautiful flower-covered entryway is a wonderful way to welcome guests to your home or garden. Covered with a pink climbing rose, this would be a beautiful way to add interest to a cottage garden.
Garden Cabinet
A great way to re-purpose old or used furniture, specifically a cabinet is to use it in your garden. DIY a roof to provide some protection and you have a great substitute for a shed or greenhouse.
Create a Path with Pea-Gravel
Since pea gravel has a soft texture it's perfect for walkways and paths. But it also allows drainage while suppressing weed growth. Not to mention it looks perfect in a cottage garden.
Outdoor Seating
Enjoy your cottage garden by setting up some outdoor dining. Make it budget-friendly by incorporating some vintage outdoor furniture, the more weathered they look the better!
Set up a Potting Station from an old Table
This is one of my personal favorites because I love potting stations! Decorate it with old pots, antiques, and your gardening essentials.
Incorperate an Old Painters Ladder
Using a ladder as outdoor decor for your garden is perfect for any size garden. Even the smallest cottage gardens can benefit from a painter's ladder.
Antique Wheelbarrows
Antique garden decor like wheelbarrows is so versatile and can be repurposed in many different ways. We've seen people use old wheelbarrows as planters, firepits, or even a fairy garden.
White Picket Fence
Nothing says cottage garden quite like a white picket fence. Sometimes incorporating a small white picket fence around the garden itself.
Fairy Doors
Children and adults alike, love fairy doors. They are a great way to bring a little magic into your cottage garden. You can find premade fairy doors on Etsy, or make one yourself.
Garden Sheds
Garden sheds are perfect for housing your gardening tools and other essentials. We love the idea of adding some plants to the outside, window planters, and a fresh coat of paint.
Greenhouse
We love greenhouses for many different reasons, like the ability to grow plants and vegetables all year long. But also for the magic, it brings to cottage gardens.
Galvanized Tubs
Use new or old galvanized tubs in your garden as pots for your flowers, to keep your drinks cold, and for decorating your garden. You can find inexpensive galvanized tubs here.
String Lights for the Night
We love setting the mood by adding some string lights in the garden at night. Hanging them over the garden or any seating area will surely add to your cottage garden appeal.
Hare Garden Statues
Garden statues date back centuries, and for good reason. They are a beautiful way to decorate a garden and show a bit of character. Decorating your garden with charming hare statues will get the attention of anyone who visits your beautiful garden.
Raised Garden Beds
While cottage gardens are most famous for their beautiful, natural gardens. We love seeing raised garden beds integrated into the design as well. It's a great way to grow some fresh vegetables and herbs for your family while growing alongside a beautiful garden.
Find more ideas for cottage decor and cottage living here:
12+ Cottage Decor Essentials for the Modern Romantic