A Guide to You're First Spray Tan – with Nuda Spay Tan
Earlier this week I was invited to have a spray tan and to sit down with the gorgeous Natasha who is the owner of Tans by Tash. I was so excited when she reached out because I knew Nuda is a product she truly believed in. I love supporting small-women-owned businesses in our area, they are all so inspiring.
I've had an obsessive history of being tanned, it's resulted in over a decade of tanning beds, spray tans, and using self-tanning products. I have tried just about every product on the market. And guess what? I've been every shade from brown to orange (maybe even a little green once or twice). I've left stained sheets, smelled horrible more than a few times, and even had orange hands.
Check out How I stay tanned on vacation.
All about Nuda Products
So being able to sit down with Tash and ask her questions about Nuda really impressed me. Did you know that they hand-pick their natural ingredients and are vegan, cruelty-free, and made without paraben and gluten?
It's good to note that no tanning product with DHA can be claimed as organic because DHA is derived from a natural biological fermentation process. I enjoyed learning more about Nuda, and to be honest, seeing the results of my spray tan spoke for itself. I looked like I just come back from a tropical destination, I didn't feel "too dark" and the product left my skin feeling hydrated. I look and feel amazing! and being tanned naked by someone can be intimidating, but Tash is so welcoming and kind that it was an easy experience.
Local Business Spotlight – Tans by Tash
We also talked about starting Tans by Tash as a side business in her parent's home, how her business has grown, and her recent move into her new location in Barrie. I was lucky enough to be her first client in the new space and it's so cute, very on-brand and you seriously need to check it out for yourself. We also talked about preparing for a spray tan, the process, and the aftercare. I've written out an easy guide for you below and we're also giving my readers a special DISCOUNT!
Read more about my experience with lip fillers and other beauty services.
Preparing for a Spray Tan
Exfoliate
Exfoliating is a very important step in achieving a long-lasting, flawless tan. Using a non-oil-based scrub, mitt or dry brush is the best for sloughing off dead skin. You don't need to scrub too hard, a gentle exfoliation is best the night before your appointment.
Spray Tan Essentials
Click the items above to shop directly. Cottage Living and Style may earn a small commission from these affiliate links at no extra cost to you.
Shave
Since shaving is basically exfoliating, you are also removing hair as well as dry skin the night before. Don't shave, wax, or get laser hair removal after or it will remove any color and cause your tan to fade a lot faster.
Don't Moisturize or Use Perfume
Do not moisturize or use any perfume the day of your tan. Since a lot of oils and creams can block the spray tan from reaching the skin and absorbing properly. However, you should be moisturizing every evening and morning after your appointment!
Don't wear makeup if you want to tan your face
Make sure you come fresh-faced or be prepared to remove any makeup if you want your face tanned. Personally, I don't like to tan my face instead, I will add tanning drops to my daily moisturizer.
During the Tan
Prepare to strip down
You will be asked to remove all your clothes except your underwear or a bathing suit. I hate tan lines on me, so I prefer wearing a tiny black thong to get tanned. That also goes for any accessories because you also don't want pigment sticking to any jewels.
Wear loose-fitting clothing
Tash has a special setting powder to prevent any transfer from the bronzing agent onto your clothes, until your first shower. But it is still recommended to wear dark loose clothing and avoid any tight-fitting bras, tights, or undergarments.
Don't Plan Anything After
Your tan will continue to develop up to 8 – 12 hours after your application. It's important to avoid any exercise, or water so your tan can fully develop.
After your Tan
Moisturize Religiously
The key to maintaining your tan is to moisturize daily! Just be sure to avoid moisturizers with petroleum or mineral oils that could cause you to lose your tan faster.
What to Avoid
It's recommended that you avoid jacuzzis and hot tubs, anything that can cause your skin to shed faster. Pools and the water are fine, but when you're drying your body be sure to pat instead of rubbing. Use sunscreen all over and enjoy looking like a bronzed goddess.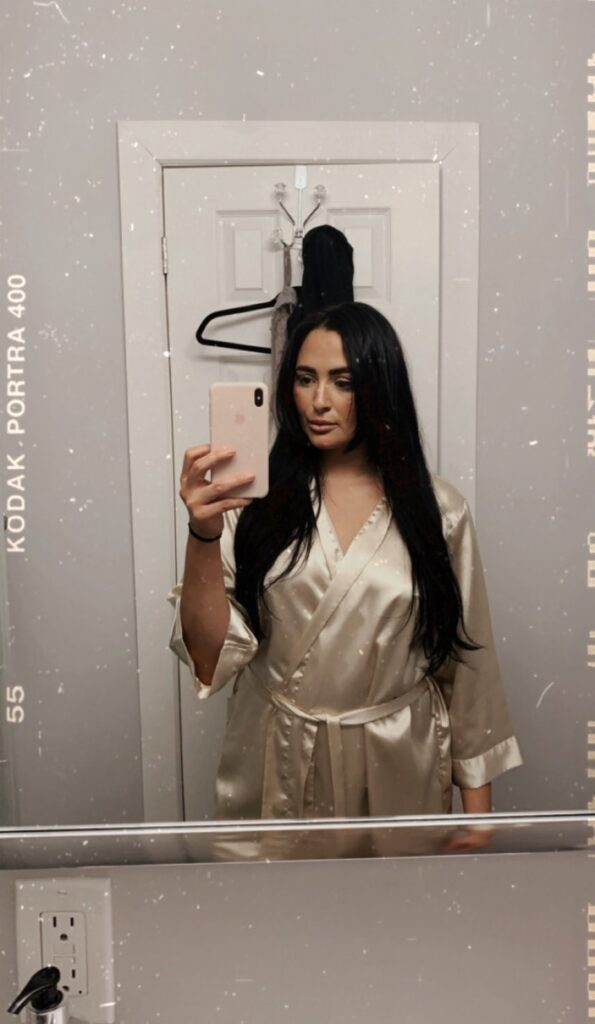 DISCOUNT
Tash was kind enough to offer my readers $10 off! Just mention my name "STEPHANIE" and let me know what you think!
You can find Tash on Instagram and Facebook for more information or book an appointment.