Teeth Whitening by a Professional Q&A
This article is a Q&A about teeth whitening by a professional. We're answering ALL your questions!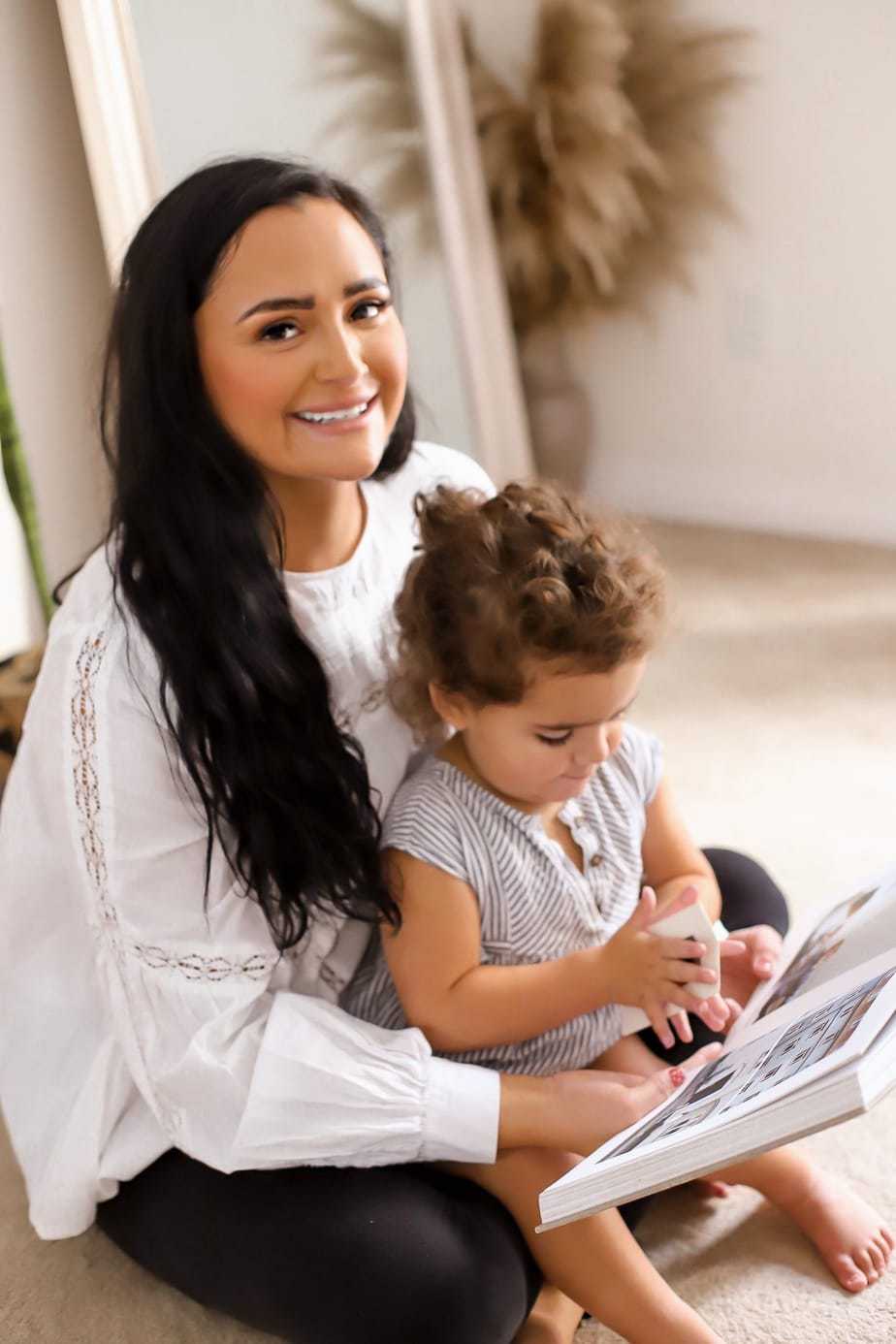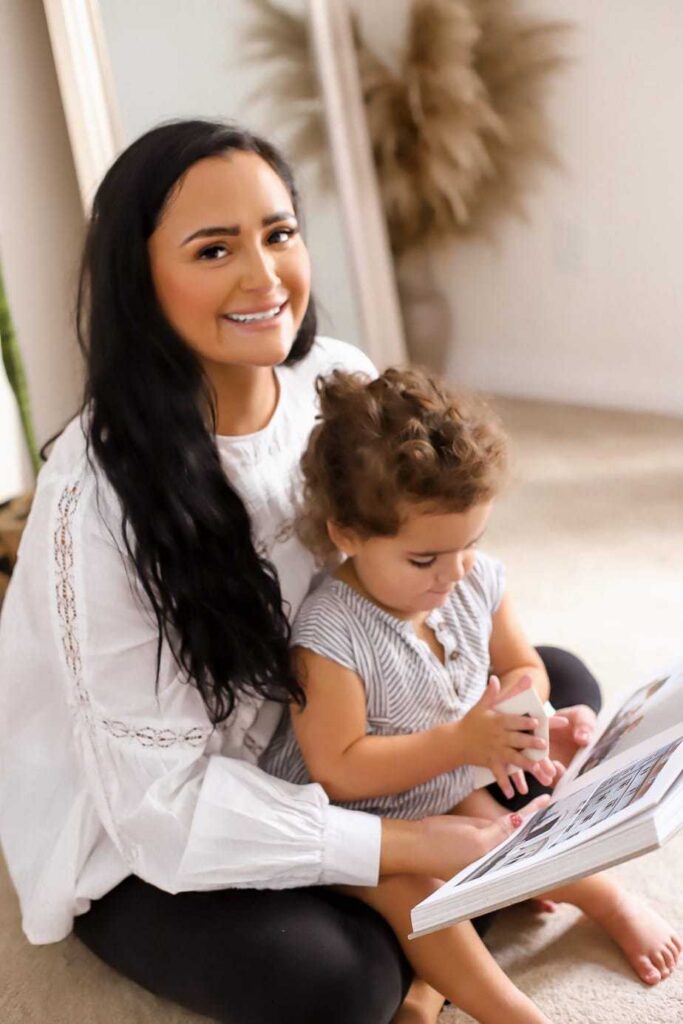 Last week I was lucky enough to get my teeth whitened by Ronda, the owner of Shimmering Smiles. If you've been following along on Instagram you would have seen the whole process and heard exactly what I thought of it. But I wanted to dive a little deeper into the whole thing and share a little interview I did with Rhonda.
Now, I'm going to be completely honest with you.
I hate going to the dentist.
I've just had bad experiences as a child and its now given me anxiety as an adult. Even thou I've always had good teeth, thanks to years of braces, retainers and regular cleanings. I still had the issues every time I went in.
Recently I noticed my teeth were looking more stained and I was planning on getting my teeth whitened. I've even made a few appointments to get them done at my dentist's office. But every time I did I chickened out, especially after hearing stories of patients having extreme sensitivity for days. Plus it was over $400 and they would have made me sign a non-disclosure saying I could lose a tooth from their whitening process. Which is a major red flag in my opinion!
But when Ronda reached out and asked if I would be willing to get my teeth whitened I immediately said yes. And I'll explain more on the reason below but she came highly recommended. Yes she's a is a trained professional but her personality is what truly won me over.
Ronda is the owner of Shimmering Smiles which is a teeth whitening service in Barrie Ontario. I got to chat with her about her 25-year career as a dental hygienist, being a single mom and starting this business while she still worked full time at dental offices. Right there I knew I wanted to help her get the word out about her but first I needed to try it for myself.
I think it's really important you know who you're going to for teeth whitening. Since teeth whitening is still not a regulated service and anyone can do it and there is no regulation on the products or even the cleanliness of the procedure. The last thing you want is someone transferring an infection or using a product that will destroy your teeth.
The process of getting your teeth whitened.
I seriously LOVE how cute her office is, from the white fur rugs to the mirrored tables. She has a very cute vibe that I appreciate. I was told to go lay on the bed while she got everything set up and changed over from previous customers. Everything is clean and disinfected. Getting to lay down on a soft bed with blankets made me feel so comfortable, there's even a tv but I spent most of the time multitasking from my phone.
Ronda made sure she fit my mouth with the right cheek and lip retractors and felt very comfortable. She walked me through the whole process and to be honest the whole thing was so simple and painless.
I sat with the blue light pointed at my teeth while I caught up on some work. It was nice to sit down and actually get to relax (as moms we know that doesn't happen as much as we would like). The whole process was over before I knew it and the best part was getting to rinse my mouth out and seeing the amazing results in the mirror! She took a before and after picture just to show me the results. I'm shocked by how bright my smile looks, I seriously haven't stopped smiling since I got them done. I recommend getting your teeth whitened by Ronda because it was the best experience I have ever had with my teeth.
Teeth Whitening by a Professional Q&A
How much did it cost?
"The cost is normally $150.00 for an hour and a half appointment. Other places usually do an hour. My rates are extremely reasonable for the quality and knowledge I bring. With my 25 years of experience, I know how to handle dental anxiety and people like yourself who have had previous accidents. I know how to manage expectations and educate them on how to get the white smile they desire safely!"
So basically you're getting the whole dental professional whitening at a quarter of the price. I had a lot of anxiety thinking about my teeth that were affected in the car accident I was in ten years ago. I have a slight discoloration in my front teeth and Rhonda knew immediately and told me what to expect.
What is the difference between other teeth whitening treatments and Shimmering Smiles?
"Unfortunately teeth whitening is not a regulated service. This means anyone can do it and use questionable products, not truly understanding the chemistry of whitening and how it works intrinsically. Other places are not verses on infection control standards like Registered Dental Hygenists, who have to carry professional liability insurance and maintain a license under our college. The college understands privacy as well as infection control standards and how to enforce them correctly."
How white do your teeth get? How many shades?
"Everyone is different but generally from 5 – 10 shades, depending on your enamel. If your enamel is porous it will pick up the whitening material easily. If it's thick and dark it will definitely get brighter but you may want a second treatment to penetrate deeper."
Also, you can get the procedure done every few months until you get your desired shade.
Were your teeth sensitive? My teeth feel so sensitive after using Crest Whitestrips.
"I use products that are Canadian made and are only sold to Dental Offices and Dental Hygienists. Not only is the product safe to use but it is also gentle on your teeth. 80% of patients who get their teeth whitened do not experience any sensitivity. If you do it will be extremely minimal and will only be with in the first 10 – 20 minutes. Some people do find they are sensitive the next day but nothing compared to other whitening services. We also give you a sensitivity toothpaste that really helps"
I personally did not have any sensitivity immediately following the whitening, and even though the next day I had sensitivity is was so minimal and nothing compared to the sensitivity caused by Crest Whitestrips.
I have TMJ and jaw pain from long appointments can I still get my teeth whitened?
"A lot of people have TMJ which is jaw pain caused by a variety of things like clenching, misalignment or teeth grinding. I know how to manage it as well as any other problems. Which means they can absolutely get their teeth whitened, I just give them breaks and massage the muscles afterward to ensure no aggravation from the procedure."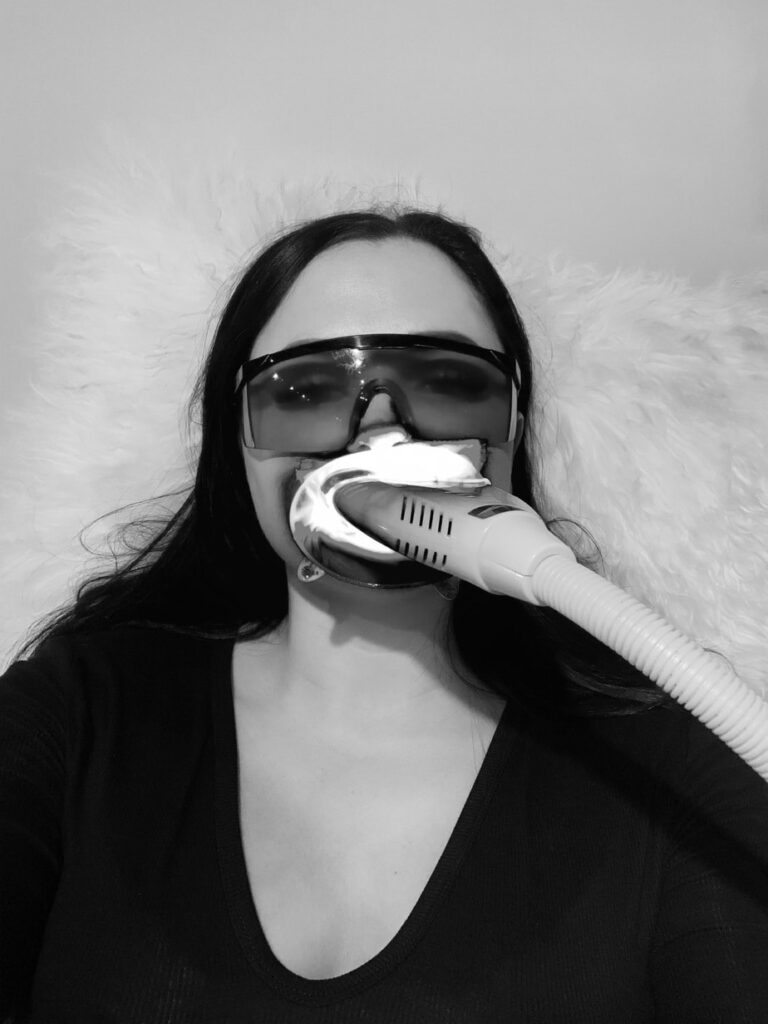 There you have it. I hope you guys go get your teeth whitened by Ronda because I had the most wonderful experience with her. The results were beyond what I had expected.
Let her know I sent you if you do and tag me in your pictures!
+ Check out this post I did on why drinking your morning matcha is benefiting more than just you.
+ My favorite place to get a spray tan here.