An Honest Review of Loving Tan 2 Hr Express
This article shares my honest review of Loving Tan 2 Hr Express, and I'm answering all the most popular questions about the product.
I have been self-tanning for years. In my early 20s, I was the girl tanning in tanning beds and spending hours in the sun covered in tanning oil. I had no idea the damage those activities would do to my skin later on.
Needless to say, since then I've tried many different self-tanners, from drugstores to high-end brands. As you can imagine, self-tanning products have come a long way since the early 2000s.
My first time ordering Loving Tan 2-hour Express to Canada was a massive fail. There was an issue with customs and I was refunded my money. But since then it's gotten a lot easier to order from the Australian Company, and many Canadian and US stores now carry Loving Tan products.
Keep reading to learn more about my review of Loving Tan 2 Hr Express, and answers to the most asked questions about the product and where we recommend buying it from.
Loving Tan 2-hr Express
A tanning mousse that provides immediate color, but continues to develop into a darker tan over a 2-hr period.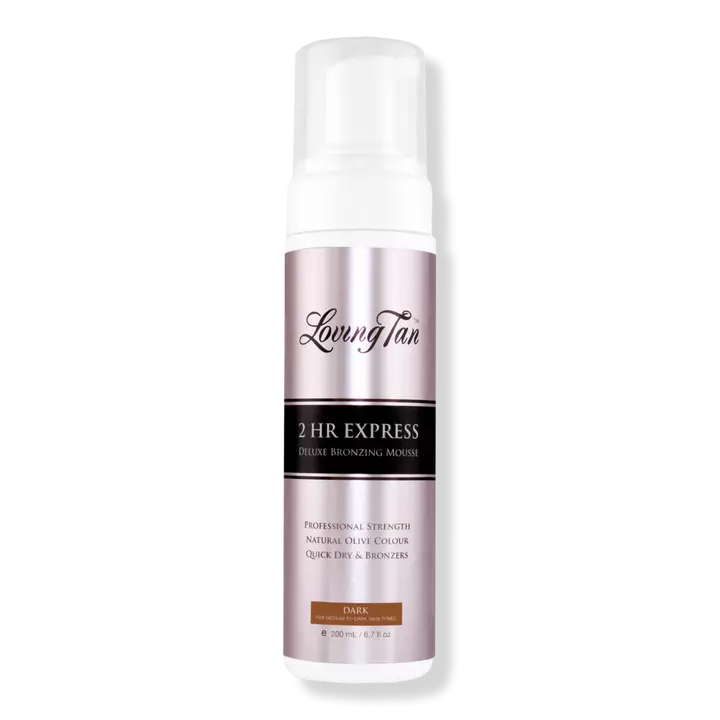 An Honest Review of Loving Tan 2 Hr Express
How to use Loving Tan 2 Hr Express
Let's start by going over how to properly apply Loving Tan's 2-hr Express. I think a great tan starts with proper preparation. Which I do weekly, usually on Sunday I'll do the following skincare routine and apply my tan.
I use Loving Tan 2 Hr Express in Dark.
How to prepare your skin for a self-tan
My best advice is to always make sure you exfoliate! I like Loving Tan's Exfoliation Mitt but I've also used the exfoliating gloves from Amazon and they work amazing as well.
After you shower and exfoliate, skip the lotion. Instead use a small amount on dry places like your elbows, around your nails, your wrists, and anywhere else you don't want your tan to overdevelop.
What you Need to Apply your Self Tanner
I've never used a self-tanner that is as easy to use as Loving Tan.
It's almost impossible to mess up when you use the applicator mitt and the easy-to-reach back applicator.
I will be honest, and say that I have a lot of tanning mitts in my life and Loving Tan's mitts so much better than 90% of the ones I've tried. I would suggest just grabbing one with your bottle of tan.
However, if you are on a budget this Affordable Amazon Tanning Mitt is also a pretty good alternative.
Tanning Essentials
Click the pictures of the items above to shop directly.
How to Apply Your Self Tan
Here's a quick breakdown to apply your self-tan
APPLY WITH MITT – I pump mousse out onto the mitt and apply it in circular motions.
PERFECT AMOUNT – I start with a small amount and spread the product on my skin as much as possible. A little does go a long way.
THE COLOR GUARD – Once your body is completely covered (you will see a color guard) so you know exactly where you've already applied.
LET DRY – Let it dry for 30 seconds before getting dressed. A fan helps if possible.
WAIT 2 HOURS– Let the color sit for 2 hours and rinse.
OVER THE NEXT 24 HOURS – The tan will continue to develop for the next 24 hours.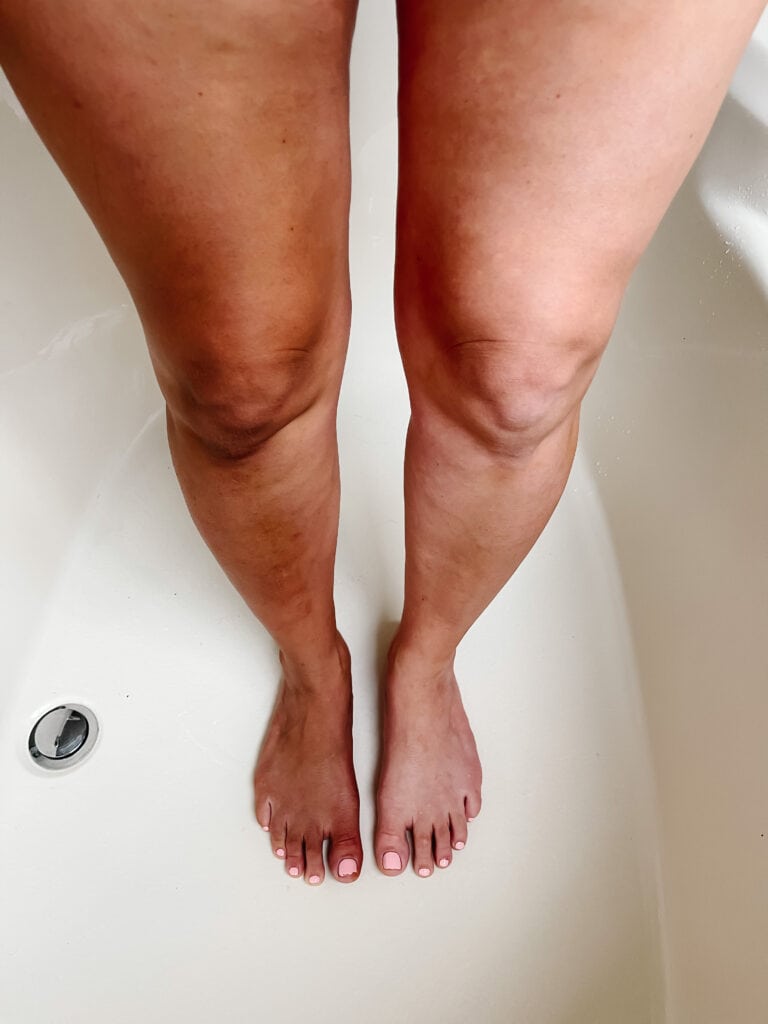 Does Loving Tan Smell?
What surprised me the most about Loving Tan's products is the smell! It's freaking amazing and the 2 Hr Express smells like flowers. Which is NOTHING compared to the other tanning products I've used in the past.
How long does Loving Tan 2-Hr Express Take to Develop?
The tan was fully dry within a minute or two, and I didn't have that awful sticky dirty feeling. My skin felt hydrated and looked great.
The bottle says to leave it on for 2 hours and I've read questions asking if you can leave the 2hr express mousse on all night, and you can. However, most people also think if you leave the product on longer it will end up developing into a deeper tan. But it's not true because there is a max color you will get.
Just note that even when you rinse the color guard off the tan will still continue to develop for 24 hours. So you won't know the final color until that time, but you will notice a great color within 2 hours.
I like the idea of being able to wash off the color guard while still enjoying the benefits of a developing tan.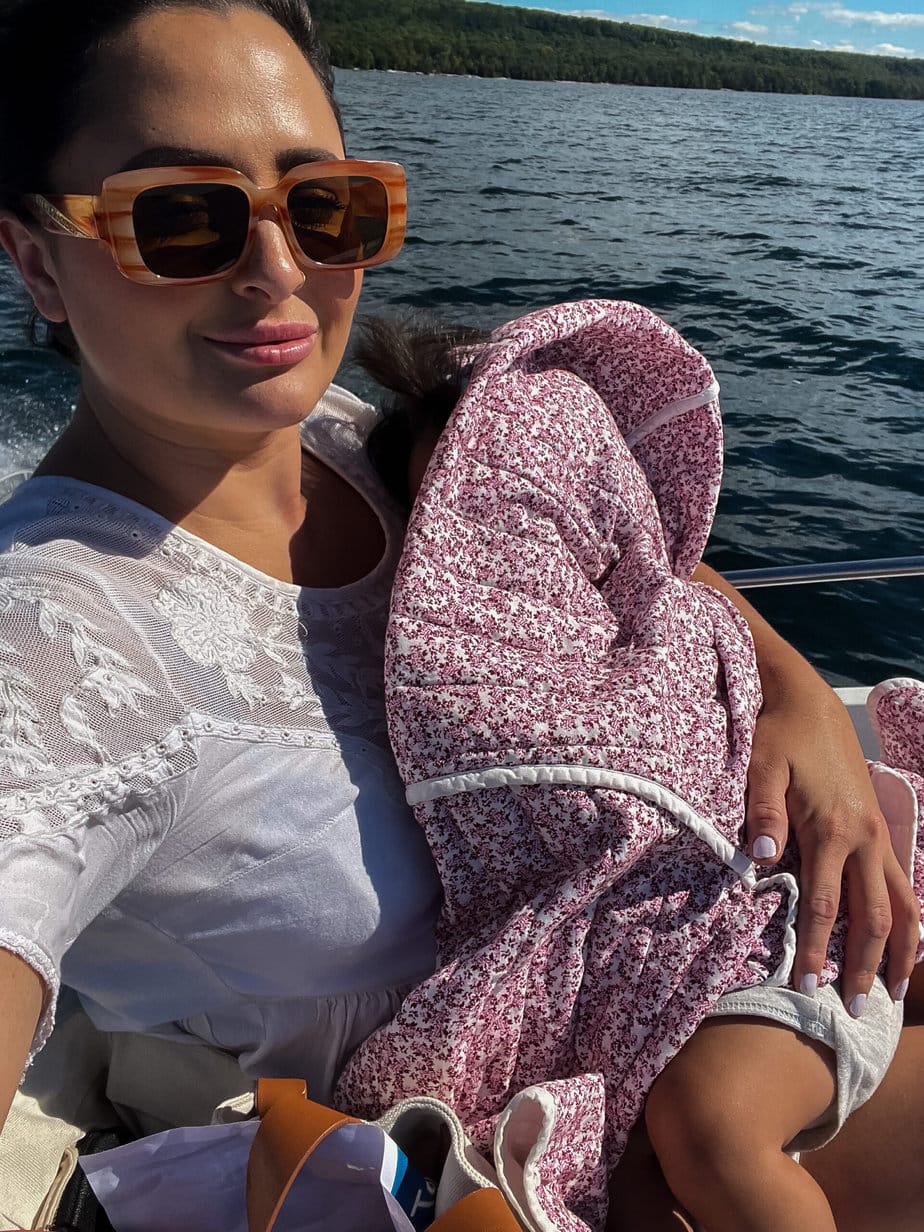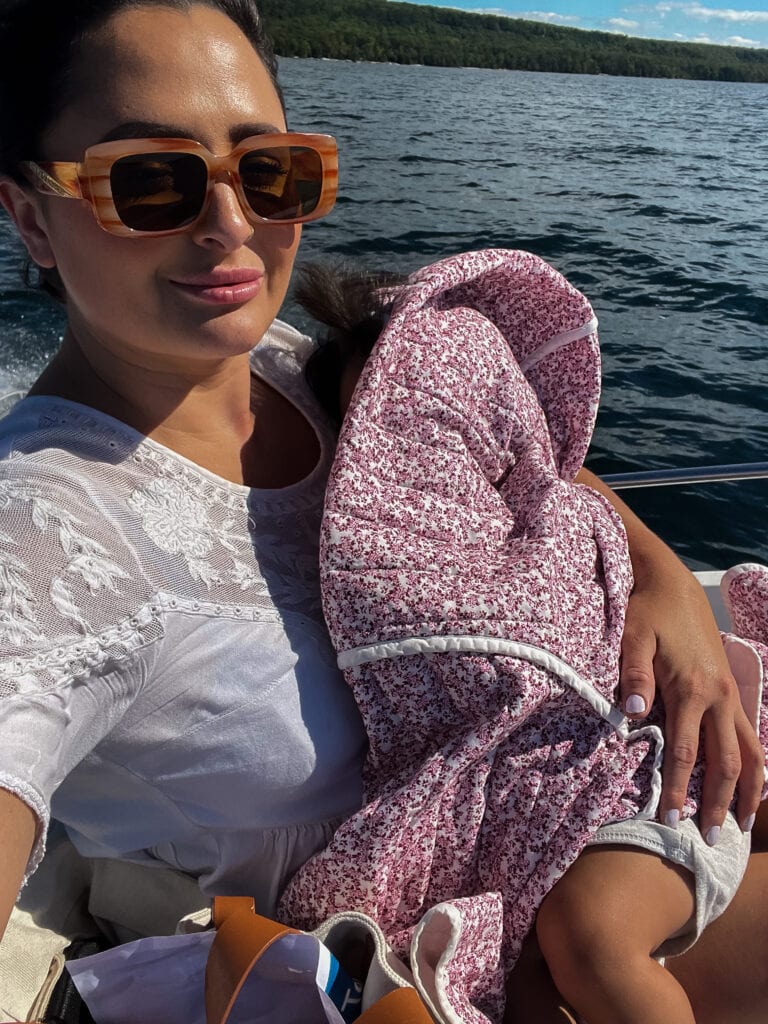 Complaints about Loving Tan
I've read other reviews about Loving Tan and I was surprised to read that some people complained that the tanning solution didn't smell good. I wonder what self-tanner they're using because most of the ones I've tried smell like copper or some kind of metal.
After using Loving Tan's products I was impressed with the smell. I don't know if it was just me, but I thought it smelled like it had a floral scent.
The only thing I would say is if you want a really deep dark tan, you should probably get Loving Tan's Platinum formula.
Is Loving Tan any good?
Loving Tan's 2-hour express is perfect for my olive skin tone. Even though the product has a green undertone, my sister who is paler with pink undertones, swears by it as well!
Not only is it very natural looking on my skin but applies easily, evenly, dries quickly, and doesn't feel sticky.
How long does the Loving Tan Dark Last?
According to Loving Tan, the product lasts 7 to 10 days. But I noticed Im reapplying every 5 to 7 days instead.
Even when I stay hydrated and moisturized I noticed it lasts 7 days. However, we do spend a lot of time in the water and I try to be active so Im sure that plays into the longevity as well.
How long can you use Loving Tan?
The product will last 6 – 12 months once opened.
Does Loving Tan Break you out?
No, and that's what I love most about it.
Unlike other formulas I've tested in the past this one does not clog my pores.
I also use Loving Tan on my face.
Does Loving Tan come off when you sweat?
Not at all!
Once you rinse off the color guard your tan does not transfer to your clothes or sheets. Sometimes when I would sleep with the tan on I would notice it got on my sheets a bit.
My Honest Review of Loving Tan's 2hr Express
+ smells nice
+ easy to use and apply
+ doesn't stain
+ drys really fast
+ doesn't leave a sticky residue
+ doesn't get that dark
+ fades nicely
+ streak-free
My final thought about Loving Tan's 2 hr express in Dark is that I am really impressed with the product. I liked the way it smelled! Not to mention the quick-drying which means I don't have to change the sheets every time. Now that we're starting to travel a bit more I suspect this is going to be my go-to self-tanner for times when I can't see Tash (my go-to for spray tans).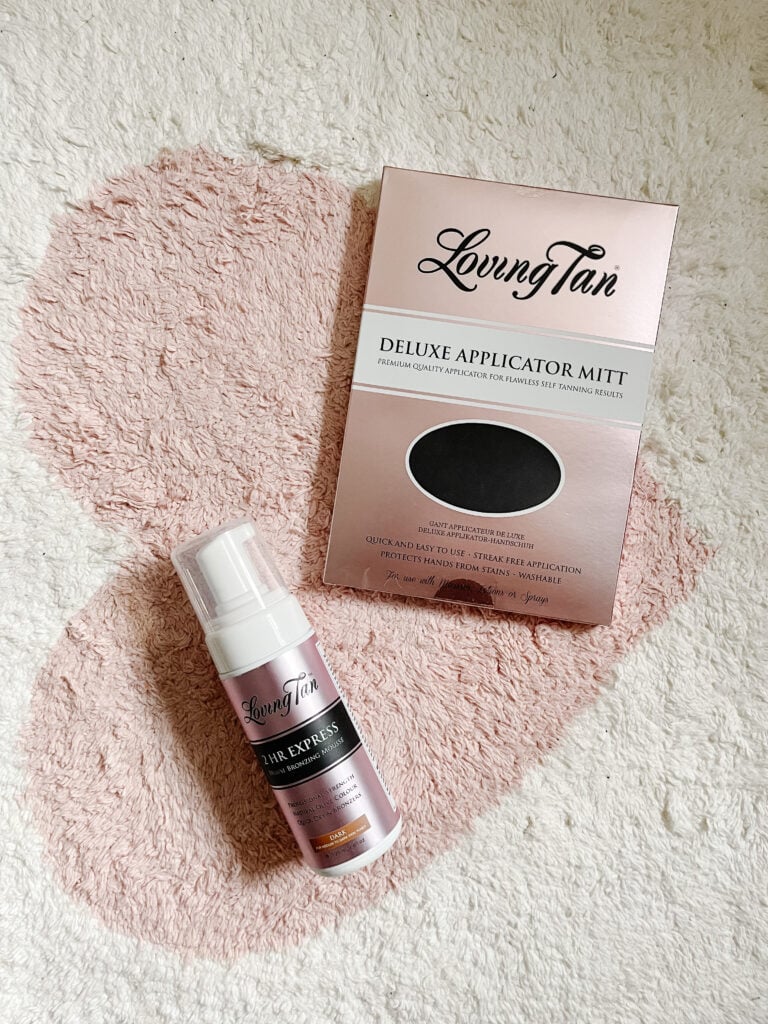 How to Buy Loving Tan 2 Hr Express in Canada
If you're in Canada, the easiest and quickest ways to order Loving Tan is from Amazon. It's not cheap but you can get it on Prime and that makes up for the shipping cost.
Let me know in the comments what product you've been dying to try but couldn't get or haven't had the chance to grab yet.