This article is about my honest review of Loving Tan 2 hr express.
If you follow me on Instagram, you probably heard me talk about self-tanners before. I've also shared a post on a local business I go to for a flawless spray tan especially since I don't intentionally tan in the sun anymore. But when I'm on vacation and I'm unable to get a spray tan by a professional, I'll usually bring a bottle of self-tan instead.
I've tried so many self-tanners in my life, from drugstores to high-end brands. A few months back I ordered Loving Tan Ultra Dark from the Australian company but apparently, there was an issue with customs and sadly, I never got it (I will disclose I did get a full refund). To be honest, I was a little upset that it didn't make it because I had heard so many bloggers and Youtubers rave about it and I really wanted to test it out for myself.
So on our annual family vacation to Florida, I figured I could finally test all the products I couldn't get (as easily) back home. The first product I'm testing is the Loving Tan 2 Hour Express in Dark and their tanning mitt which I picked up from Ulta.
I'll walk you through my self-tan process, my honest thoughts on Loving Tan's 2 hr Express, and if I would recommend it or not.
An Honest Review of Loving Tan 2 Hr Express
Self Tanning with Loving Tan 2 hr Express
Preping for the Tan
After my usual shower routine (which I'm going to share more of later this month) and a good exfoliation using this mitt, I put a little lotion on dry areas of my body. If you're going to self-tan you shouldn't use a lotion on your body because it will prevent the tan from reaching your skin. Instead what you want to do is make sure to put a bit of lotion on your knees, elbows, feet, nails, and hands just places you don't want a ton of tan sticking to because it will cling to dry skin and make you look scary.
Applying the Tan
I like using the applicator mitt from Loving Tan and it is honestly a lot nicer than other mitts I've used.
This amazon mitt is also a pretty good alternative.
Next, I pump mousse out onto the mitt and apply it in circular motions. I start with a small amount and spread the product on my skin as much as possible. A little does go a long way.
I recently got Loving Tan's Easy to Reach tan applicator, to get hard-to-reach areas like your back. So far I like it a lot more than asking someone to do my back.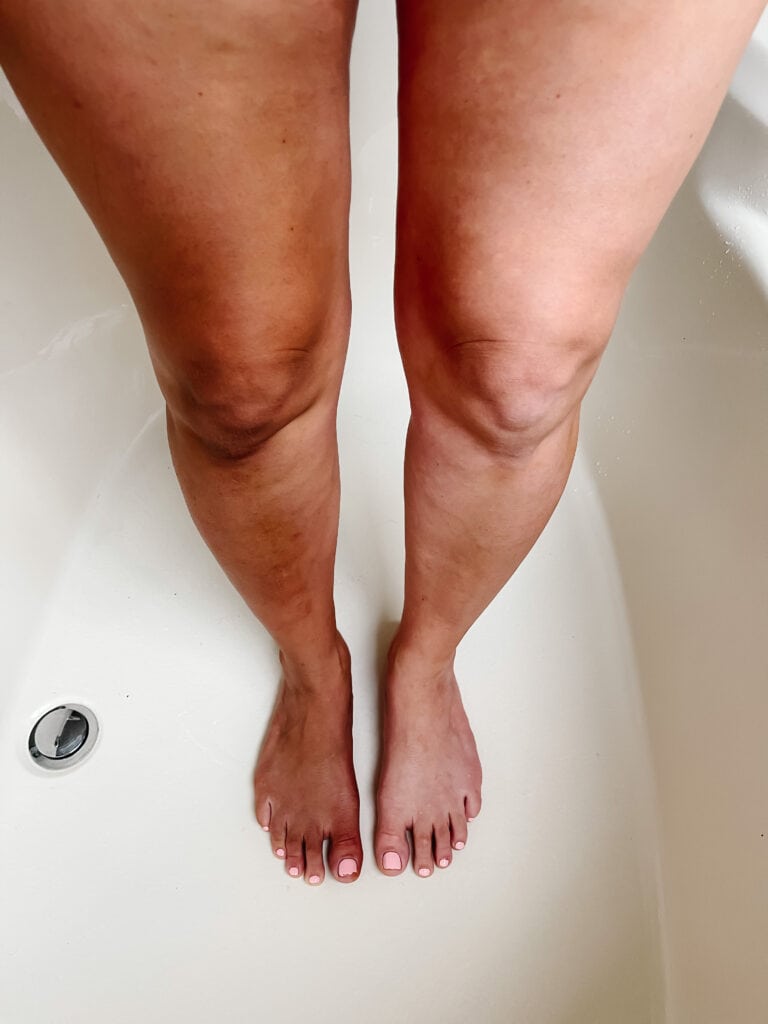 The Self-Tanning Smell
What surprised me the most about Loving Tan is the smell! It's freaking amazing and smells like flowers. NOTHING compared to the other tanning products I've been using.
The smell also happens to be one of Tony's top complaints when I self-tan at home. He hates the smell and the stains it leaves on our sheets. Which is another reason I was impressed with this self-tanner! It doesn't leave stains or streaks.
Developing the Tan
The tan was fully dry within a minute or two, and I didn't have that awful sticky dirty feeling. My skin felt hydrated and looked great.
The bottle says to leave it on for 2 hours and I've read questions asking if you can leave the 2hr express mousse on all night, and you can. However, most people also think if you leave the product on longer it will end up developing into a deeper tan. But it's not true because there is a max color you will get.
Just note that even when you rinse the color guard off the tan will still continue to develop for 24 hours. So you won't know the final color until that time, but you will notice a great color within 2 hours. I like the idea of being able to wash off the color guard while still enjoying the benefits of a developing tan.
Complaints about Loving Tan
Weirdly I've read other reviews before I wanted to try self-tanning with Loving Tan and I was surprised. Some of the reviews complained that the tanning solution didn't smell good. This is weird because I wonder what self-tanner they're using because most of the ones I've tried smell like copper or some kind of metal. I was rather impressed by the way it made my skin smell after it set. I don't know if it was just me, but I thought it smelled like it had a floral scent.
The only thing I would say is if you want to get a deeper darker tan, you would probably want to try the ultra dark formula. Loving Tan's 2-hour express was more of a natural tan on my olive skin tone, which is why I've always preferred a dark shade when it comes to self-tanners.
My Honest Review of Loving Tan's 2hr Express
+ smells nice
+ easy to use
+ doesn't stain
+ drys really fast
+ doesn't leave a sticky residue
+ doesn't get that dark
+ fades nicely
+ streak free
My final thought about Loving Tan's 2 hr express in Dark is that I am really impressed with the product. I liked the way it smelled! Not to mention the quick-drying which means I don't have to change the sheets every time. Now that we're starting to travel a bit more I suspect this is going to be my go-to self-tanner for times when I can't see Tash (my go-to for spray tans).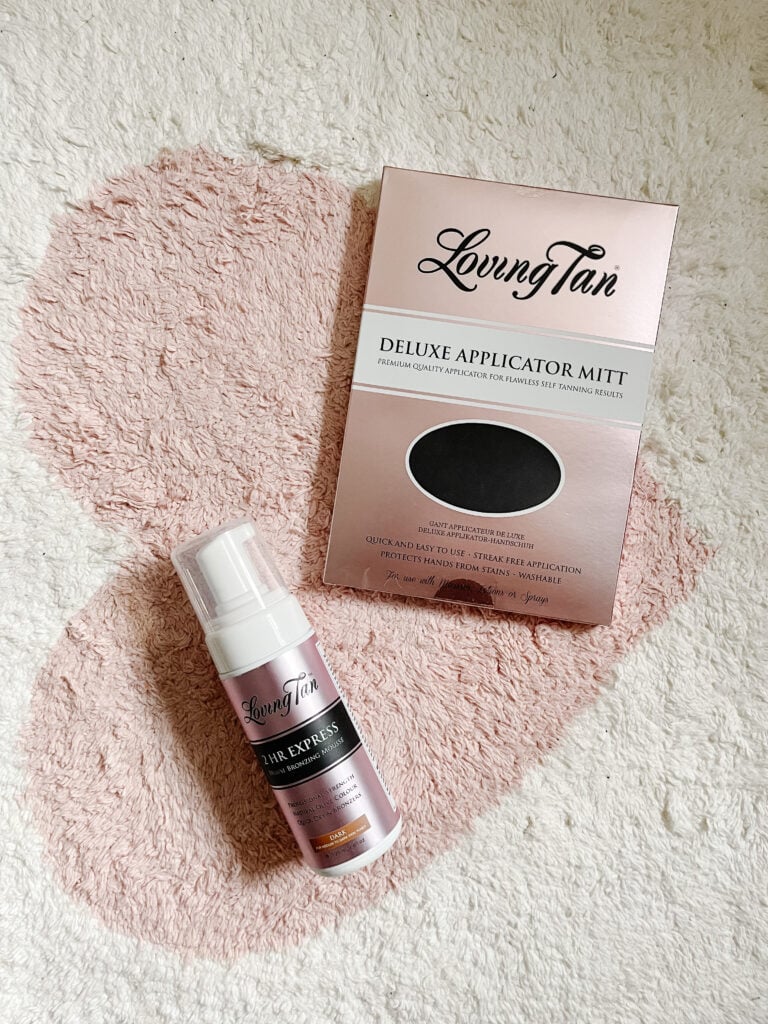 Note for Canadians
I also learned that in order to get it delivered in Canada you have to buy it through Ulta not from Loving Tan because it's based in Australia and customs can be a bit of a hassle.
Let me know in the comments what product you've been dying to try but couldn't get or haven't had the chance to grab yet?
Looking for more beauty and skin care articles?
+ My Honest Review of SkinCeuticals and How to Use them Effectively
+ Why you need to add Cleansing Oil in your Skin Care Routine.