The Cottage Cocktail – A Fresh Spin on the Classic Gin and Tonic
This is the recipe for The Cottage Cocktail, a delicious take on gin and tonic with lemon, and cucumber garnished with rosemary.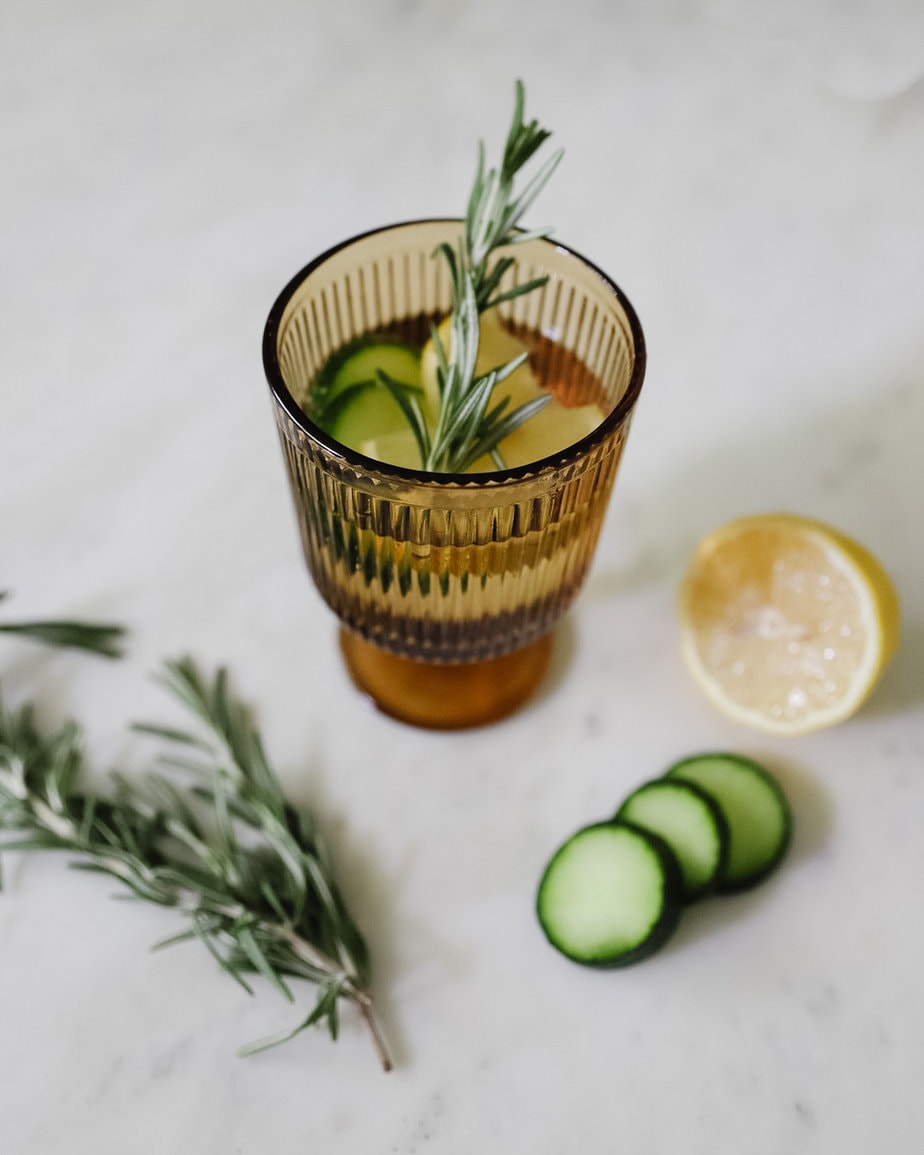 I've always loved gin and tonic, it's light, refreshing, and a low-calorie option for those who want it.
Not to mention, there are so many different gin and tonic variations. So you can literally add just about any fruit, spice, and maybe even vegetable.
This has been one of the summer cocktails we've been making at the cottage, and as promised I'm finally putting it on the blog for you to try.
If you have never had a gin and tonic with lemon, cucumber, and rosemary before, you are in for a treat.
Gin and Tonic with Lemon and Cucumber
The most popular variation of this drink is gin and tonic with lime. It tastes great, don't get me wrong. But sometimes you just want something that's a little different, with a bit more taste.
So why use gin and tonic with lemon instead of lime?
Well, lemon is used in many different recipes because of its identifiable citrus taste, complementing the earthy spices and juniper in the gin.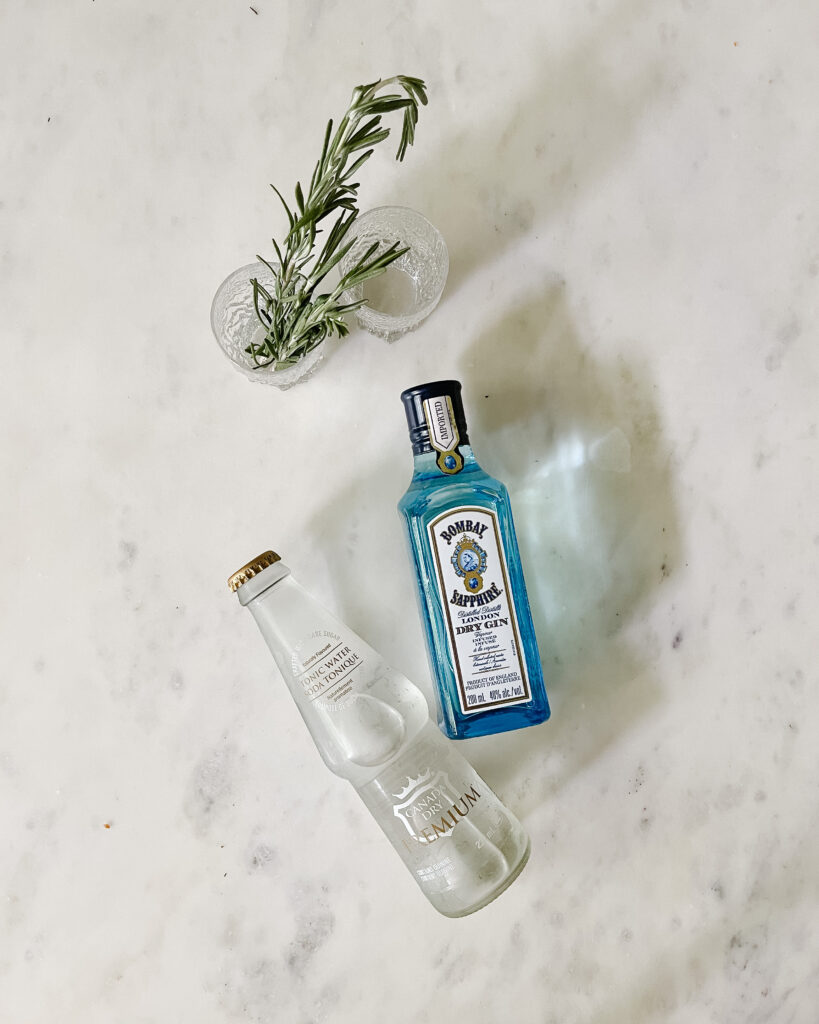 What is a Gin and Tonic Called?
Gin and tonic with lemon are called a G&T or just a Gin and Tonic. If you want to order The Cottage Cocktail, ask your bartender for lemon, cucumber gin, and tonic water on ice with a rosemary garnish.
What is the Best Gin for Gin and Tonic?
There are so many options when it comes to which gin to use for your drink. But I am going to share only the ones I have tried and enjoyed, starting with:
Bombay Sapphire Dry Gin
Notably known for making the best gin and tonics. We used Bombay Sapphire in our recipe because of its smooth taste.
[affiliates_single_product number=1 ids="31012″ align="right"]
Tanqueray
This gin is mostly used for making martini's because it's delicious and can easily be added to your favorite cocktail. This is another classic and one you can't go wrong with. The main botanicals are coriander, juniper, and Angelica which are what give the gin its crisp taste.
[affiliates_single_product number=1 ids="31014″ align="right"]
Georgian Bay Gin
This gin is locally made in Ontario, Canada. Its fresh taste is made perfect with wild junipers. I love the story the most; "where wild juniper bushes thrive among gnarled white pins and stunning granite rock formations meet the clear, cool waters of the bay". Basically, this gin was made for our cottage cocktail.
The Cottage Cocktail – A Fresh Spin on the Classic Gin and Tonic
Difficulty: Easy
This refreshing spin on the classic gin and tonic is as delicious as you can imagine. The perfect mix of gin and tonic with lemon, and cucumber reaches new levels when it's garnished with rosemary.
Ingredients
2 ounces of dry gin

4-6 ounces of tonic water

1 lemon wedge
2 thinly sliced cucumbers in a ribbon cut
1-2 twigs of rosemary
Directions
Gather all your ingredients
Put some ice in either a highball glass or an old-fashioned glass.
Next, add the thinly sliced (ribbon cut) cucumber to the glass
Run the lemon around the rim of the glass. Squeezing it into the ice. Then eave the wedge in the glass.
Add 2 ounces of gin
Followed by 4-6 ounces of tonic water
Garnish with a twig of rosemary
Recipe Video
Notes
Impress your guests by lighting the rosemary on fire slightly, only to let it smoke. Cover with another glass to let the rosemary scent sink into the cocktail. It's sure to be a hit with your guests.
You can also sub cucumber gin, add lemon and garnish with rosemary.
Can you make The Cottage Cocktail non-alcoholic?
While it is possible to make a non-alcoholic gin and tonic, we recommend a virgin gin like Ritual Gin.
I love that were are non-alcoholic options, but did you know that non-alcoholic gin still has a small amount of alcohol in it. Canada and America only allow 0.05%.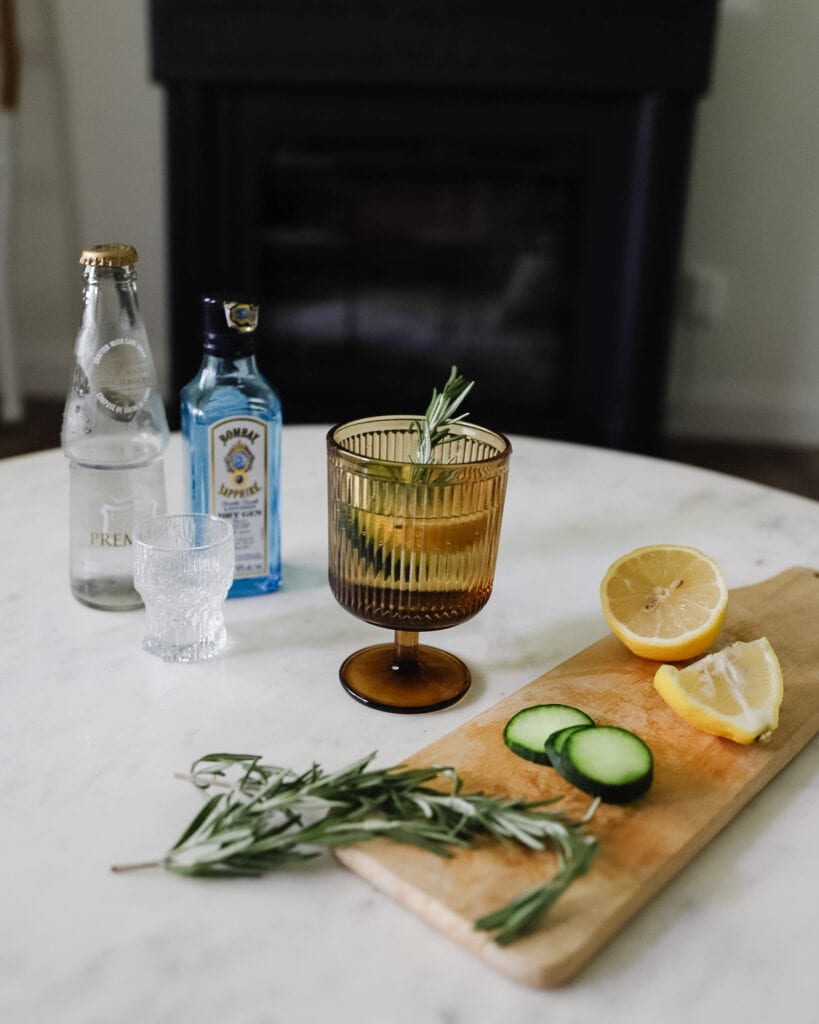 Want to really impress your guests
The best gin and tonic garnish is either mint or rosemary.
Mint will be more sweet, refreshing and a great garnish for cocktails during the day.
While at night, we love adding rosemary. We've even set fire to one of the twigs, blew out the flame, and placed it under a cup to collect the smoke. Then placed the cup of smoke on top of the gin and tonic, lemon, and cucumber.
5 other ways you can make Gin and Tonic:
Gin and tonic with lemon and mint
Gin and tonic with lime
Cucumber gin with tonic water
Grapefruit juice, gin and tonic water
Gin and elderflower tonic
Looking for more entertaining and hosting tips?
10 Outdoor Entertaining Must-Haves
What to Wear When your Hosting – Hostess Outfits
8 Fun Non-Alcoholic Bar Cart Ideas
Pin me for later!
Let me know if you've tried this cocktail, or if you have any other cocktails you want us to make and test out next.