The 15-Minute Pizza Recipe Your Guests will Love
Today we're sharing the 15-minute pizza recipe your guests will absolutely love. Plus, I share my favorite toppings and an easy recipe for homemade pizza dough.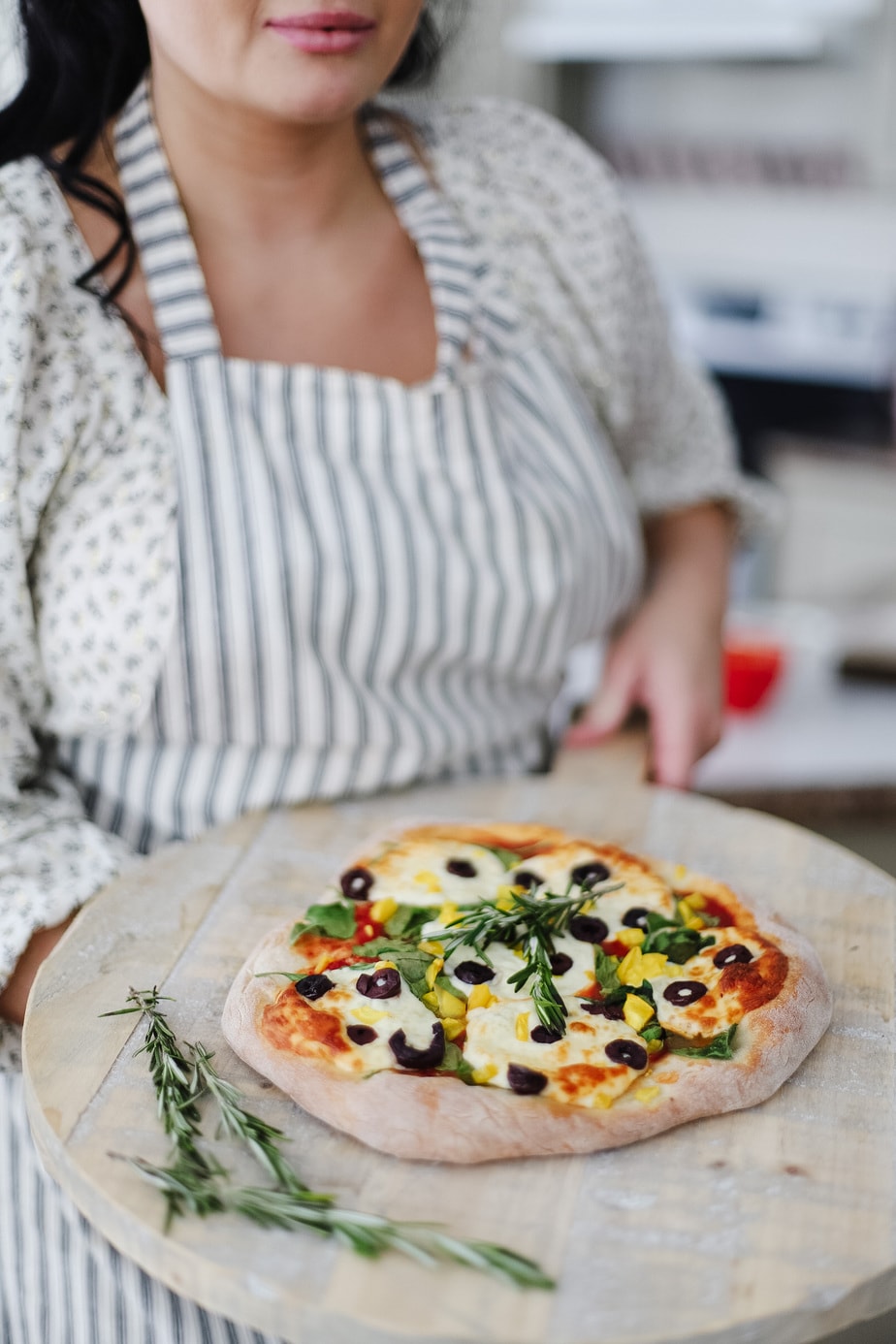 This post is sponsored by California Ripe Olives, but all thoughts and opinions are my own.
We love entertaining and hosting friends and family, but I do not enjoy being in the kitchen all evening while my guests are here. So when we host I always aim to make something quick and easy that our guests will enjoy.
Which is how I came across this wonderful idea to make homemade pizzas for dinner!
If you think about it, pizza is one of the most popular dishes known to man. They are tasty, easy to make, and can be altered to fit many different diets.
So today I'm sharing one of our newest pizza obsessions, the ultimate pizza with the freshest ingredients.
The 15-Minute Pizza Recipe Your Guests will Love
How to Make Pizza Dough at Home
The crust is one of my favorite parts of a pizza, and I know there are lots of opinions on pizza crust. For example, I love the thick crust but my husband prefers the thin crust.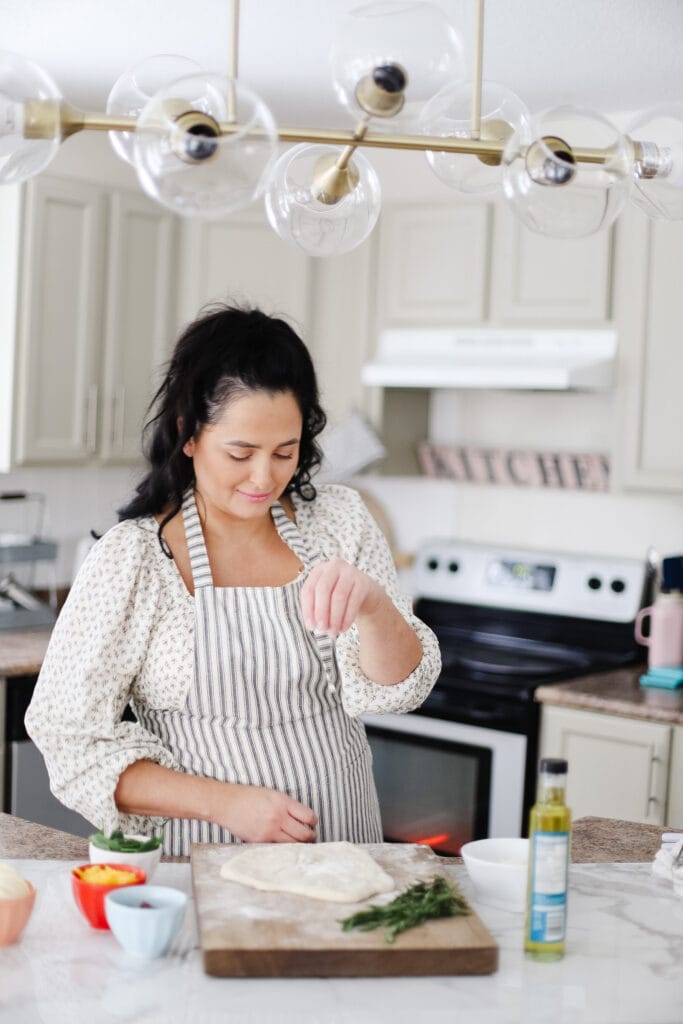 The dough we're sharing today is somewhere in the middle, which is why this is the perfect pizza recipe.
Oh, and the best part is you can make this on a pizza pan in your oven! I love that it's so easy and much less complicated than I thought it was going to be.
Now, as much as I would like to take credit for this wonderful dough. It's actually a recipe I got sent from a lovely reader a few months ago. The dough recipe is from A Couple of Cooks and I followed both their regular dough recipe and their thin crust. It's perfect, easy, and quick to make!
How to Prep the Pizza Ahead of Time
The day before we have people over, I will prepare the dough.
The total prep takes around one hour, which includes waiting on the dough to rise!
If you are using the dough the next day and storing it in the refrigerator it's important to follow these steps:
Take the dough out of the container(s)
Sprinkle a bit of flour onto a cutting board, cover the dough with a towel
Allow the dough to sit for 45 minutes until the dough is at room temperature
But I will say the best-tasting pizza dough is when you make it 2-3 days in advance! That way the dough sits longer and has a noticeably stronger and nuttier taste.
A Fun Party Idea: Try hosting a Pizza Party with your friends!
Add Only the Freshest Ingredients
We used California Olives to not only garnish our cocktails but also to elevate our pizza. They have a unique and delicious flavor that is unlike any other olives on the market. California Ripe Olives come in 2 varieties, Manzanillo or Sevillano. They are carefully hand-picked and then cured to remove their bitterness, giving them a delicious, fresh taste.
In addition to other fresh ingredients like basil, spinach, and freshly grown tomatoes, your pizza will be a huge hit with your guests.
Not to mention we especially love how the California Olives taste on pizza!
A fun way to get the kids involved is to get them to help make their own pizza. By adding their own toppings to the pizza, they will be more likely to try new foods. Plus, bonding time is what the holidays are all about.
The 15-Minute Pizza Recipe Your Guests Will Love!
Course: Dinner
Cuisine: Italian
Difficulty: Easy
The best 15-minute dish your guests will love! It's easy, fast, and delicious which makes it the perfect dish for hosting. Not to mention the pizza is completely customizable for any diet!
Ingredients
Pizza Dough

3 cups + 2 tbsp Tipo 00 or all-purpose flour (500 grams)

2 teaspoons instant or active dry yeast (8 grams)

1 teaspoon kosher salt (7 grams)

1 1/4 cups + 3 tablespoons warm water (388 grams)

1 tablespoon olive oil (13 grams)

Pizza Toppings

Spinach

Fresh Basil

Fresh Mozzarella Sliced

Cherry Tomatoes

Olive Oil

Salt

Pepper

Thyme

Dried Basil
Directions
Make your dough by following this recipe
Pre-heat oven to 375 degrees
Once the dough is ready start kneading and stretching it to your desired size. The best tutorial I found was in this video.
Mix in salt, pepper, thyme, and basil with 3 tablespoons of olive oil.
Use that as your base by painting it on the pizza dough.
Next, add your fresh toppings like California Ripe Olives!
Finish with sliced mozzarella
Put your pizza in the oven once it is heated and let it cook for 15 minutes. Keep an eye on the pizza since every oven is different.
To get that pizza oven taste and look, turn on broil for the final 5 minutes on low and make sure to watch it so it doesn't burn.
Recipe Video
Notes
We have seen others put the pizza in the oven for 5-7 minutes at 400 degrees. But I found the best results were when we did a slower cook, allowing the ingredients to cook in as well.
We hope you enjoy making your pizza as much as you love eating it! For more recipe inspiration and information on California Ripe Olives, visit https://calolive.org/.
Don't forget to pin our Pizza Recipe for Later!
How to Host a Large Party in a Small House
Hostess Outfits: What to Wear each Season
5 Tips for a Healthy Relationship with Food this Holiday Season