The ULTIMATE Paint Primer for Drywall 2023
You don't have to be a professional painter to know what the best paint primer for drywall is. We've got you covered as we explore the best primers to help you get the best results.
All great masterpieces, including successful home renovation projects, start with a strong foundation.
You've just spent hours scouring the internet, Pinterest, and your favorite design blogs for the perfect dose of inspiration and you're ready to bring your project to life.
We know that small changes can make a big impact on our spaces and a new paint color is a perfect way to make it happen.
If you are considering updating the color scheme in your home this winter, we want to ensure that choosing your refreshed color scheme is the hardest part of your project.
With so many brands, finishes, and products to choose from, we understand that going to the hardware store can feel overwhelming!
When choosing a primer for drywall, there are a few important things to remember and consider as not all primers are created equal.
The Best Paint Primer for Drywall
Last year we painted my daughter's bedroom a dark green (Card Room Green by Farrow & Ball), and it was just too dark for her already moody room. So I wanted to lighten it up, but in order to do that I needed a good primer that would cover the dark paint underneath, and limit the number of topcoats.
We also wanted to use a paint sprayer since it's much better for larger areas. This is why this research is on the perfect base coat and primer because we figured if we needed it, you might too!
Keep reading to find out why you need primer, how to choose the best one, and what primer is the best.
What is Primer?
A primer is a form of paint that is used to cover up the old paint and/or prepare a new wall to be painted.
Why Do we Need to Use Primer?
We know that primer can sometimes feel like an unnecessary step, I mean, no one is going to see it so why do a primer coat? The answer is simple but important. Using a primer on fresh drywall sets your painting project up for instant success, and will require fewer coats of paint.
Imagine spending an entire weekend painting your room, only to have it later peel, bleed, flake, or fade. Using a primer will almost always guarantee a flawless, smooth finish.
Before you add a coat of primer
Before you prime for paint, you first need to fill tiny holes and groves to ensure a perfectly even and smooth surface.
If you are fixing damaged surfaces instead of working with new or bare walls, use a joint compound or drywall mud to create that seamless base for the primer and paint.
Once you are satisfied with your base, we then recommend cleaning your walls with mild detergent and water. Fill a bucket and use a sponge to gently rub the wall, starting from the base and working your way up. This should get rid of the dust and grime on your wall, ensuring a smoother wall for paint application.
Although primers will bond to most surfaces as intended, they adhere best to surfaces that are perfectly clean and smooth.
A fun tip and trick with new drywall is the "painter in black" test. Rub a black rag or old t-shirt against the clean wall. If it shows any traces of white drywall dust, repeat the cleaning process until it rubs clean.
How Many Coats of Primer are Needed?
We recommend using two or three coats of primer to ensure a good bond between the new paint and the wall, especially if you are covering up any previous colors and not working with new walls or bare drywall. If you are covering bold colors like reds, oranges, or strange outdated colors, you can expect to need at least three coats. Most projects take on average will take two.
Why are Exterior Primers Different?
Exterior primers, similar to indoor ones, work to create a smooth foundation. It minimizes cracking and mildew growth and protects from various elements.
They come in specific formulas for wood, masonry, or metal. Be sure to select the one best suited to your climate.
Keep reading because we're sharing our favorite double-duty product below!
Primer for Light & Dark Paint Colors
Depending on what you are trying to cover, the tone of primer you select can have a huge impact on your end product. Choosing a white primer is ideal when going from dark to light.
Note: A great tip I learned is that a gray-tinged primer is recommended when going from a light color to a dark color.
Primer for High-Traffic Areas
Tough stains can easily appear in high-traffic areas such as living rooms, kitchens, and hallways. The paint you use plays an important role in keeping your home or cottage looking freshly painted, but your primer can also play a critical role in helping the longevity and time between touch-ups.
Best Brushes and Tools for Primer
Click on any of the pictures above to shop the item directly.
Pretty much any high-quality paintbrush, like Wooster Brushes will work well for applying a brush-on primer. You can also use a paint roller (again Wooster is a great brand) or a paint sprayer, like the HomeRight C800971. A Super Finish Max HVLP Paint Sprayer.
Most primers are usually low-viscosity and don't require any thinning to flow off your paintbrush. For larger spaces, you can also apply primer with a high-quality roller brush.
The Ultimate Primer for Drywall
For so many reasons, Kilz Premium Drywall Sealer continues to be our favorite. This product guarantees to seal porous surfaces, promote adhesion, block stains (hello kids and pets), hides previous colors seamlessly, and has a mildew-resistant finish, making it perfect for bathrooms and other humid spaces.
It truly is a fast-drying product with low odor and is a water-based primer/sealer and stain blocker in one.
Kilz Premium Primer can also be used on a number of surfaces including woodwork, drywall, plaster, paneling, masonry, brick, painted metal, and properly prepared glossy surfaces. An added bonus- it works with both oil and water-based paints, making it the perfect, always have on hand, primer.
We used Kilz Premium 3 Primer Interior/Exterior on our Bunk Bed Makeover.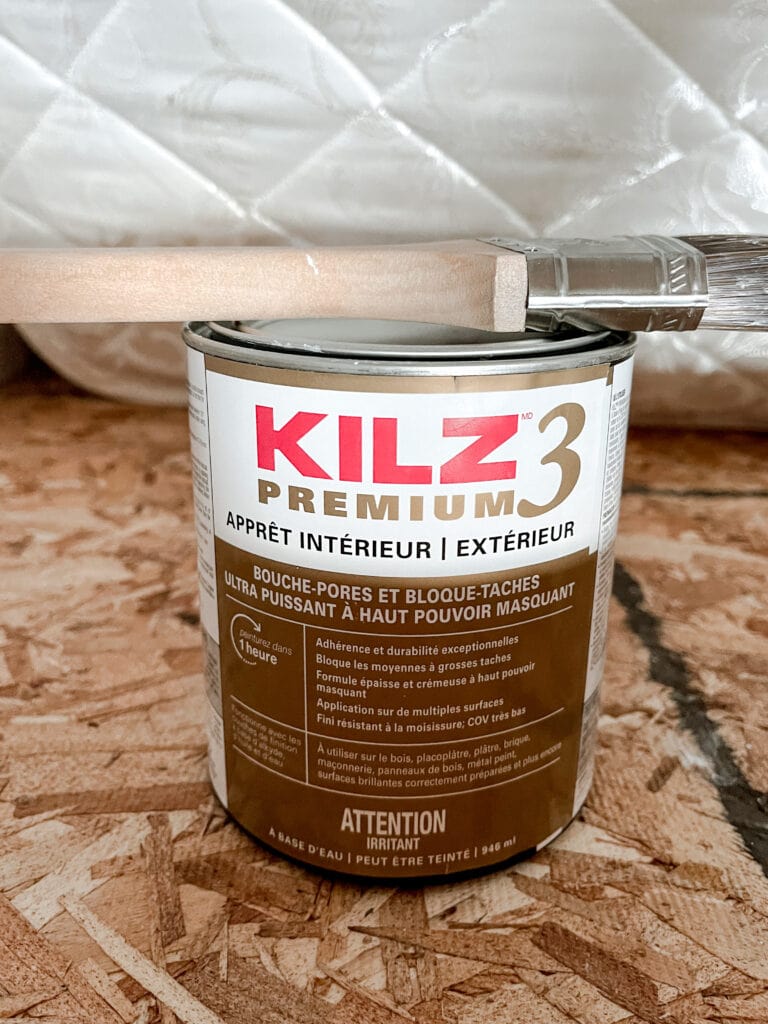 Behr Multi-Purpose Stain Blocker Primer & Sealer is another one of our go-to primers for a number of reasons. This is a paint and primer in one, saving you a step when the project you are working on is rushed or hurried. It's an acrylic blended latex pearl coating that is designed to work on a wide variety of interior surfaces and produces a highly durable, washable finish that stands up against bumps, scuffs, and scrapes.
Behr Multi-Purpose Stain Blocker Primer & Sealer
Behr Primer is also ideal for high-touch high-use areas including doors, cabinets, and walls, but can also be used on trim, ceilings, and other bare wood projects.
We used the Behr Multi-Purpose Primer on our Bathroom Oak Cabinets.
Here's how the Primer and Painted Cabinets hold up year after year.
You've primed, now what?
Most latex paints and primers will feel dry to the touch within 30 minutes to 1 hour. Patience is a virtue friend. The primer can actually take up to 3 hours between coats to dry thoroughly.
Painting and priming on the same day are definitely possible, but only when using latex or shellac primers. Oil-based primers can take four hours to a full day to dry between coats. It's important to choose your primer based on the surface you are covering, not the amount of time your project will take.
What are the different types of primers and what should I use?
Latex Primer
This type of primer is ideal and the best option for prepping unfinished drywall for painting. Latex primer is more flexible, has fast drying, and is less brittle than oil-based primers, making it less susceptible to peeling, cracking, and flaking.
Shellac Primer
Shellac primer is perfect for interior walls and is best used for stain blocking or when working with water damage or smoke damage to walls and surfaces.
Oil-based Primer
This type of primer is an excellent choice for indoor and exterior use, on unfinished and bare wood because of how well it seals the porous surfaces.
How to store leftover primer
Just like paint, a primer can be stored in a cool, dry location for a long time. But it's always a good idea to ensure it's stored away from sunlight and where temperatures stay above freezing. Before storing, ensure you wipe away any excess on the outside of the can. Most primers when stored properly have a storage life of two to three years.
What are the Best Paint Primers?
While overall the best primer for any drywall surface will depend on what you need it for. The purpose of the primer will determine if you need a latex or oil-based primer. But I can say that we personally tend to stick to self-primer paint if we can. It just costs less and makes things easier. However, we realize that's not always possible. So we've gathered the best-tested paint primers of 2023.
Looking for some more inspiration for your next paint project, head to the blog and search the keyword "paint"!
We've also included an easy-to-shop link to the best primers for drywall below.
Happy Priming!