A Buyer's Guide to The Best Outdoor Sauna
We've created the ultimate buyer's guide to the best outdoor sauna. We also narrowed it down according to budget, style, and everything else you need to know before making the purchase.
My favorite mornings start when I put on a robe and slip into a pair of sandals, and enjoy a few minutes in the outdoor sauna. Rain or shine, winter or summer, the sauna is one of the best ways to relax, destress and rejuvenate. But there are also a ton of health benefits to using a sauna like cardiovascular health, reducing muscle soreness, and arthritis pain and even lowing your risk of Alzheimer's.
So it's no surprise that the outdoor sauna has become one of the most popular cottage accessories this year, and there are tons of varieties to choose from. We'll explore the traditional saunas to the more modern options with floor-to-ceiling windows.
Whatever your style or budget is, there's an outdoor sauna for it. Keep reading to see which one is the best, and learn everything you need to know before making the purchase.
What is a Sauna?
The sauna is a small building or room that is designed to be a heated experience. A sauna can also be a wet or dry experience depending on the facility.
Did you know? That saunas have been used traditionally for thousands of years, dating back as far as 2000 BC. Even though the modern-day sauna still uses high heat or steam to make the user perspire, it's now done in different ways like infrared technology. We'll get more into the different types in a second.
What is the Difference Between a Sauna and Stream Room
While both the sauna and steam room involve exposure to hot air, the steam room has a high humidity level whereas the sauna uses dry heat.
Traditionally, a steam room is heated with a wood-burning stove, and once it reaches a certain temperature a bucket of water is poured over the rocks. This fills the room with steam. More modernly there are steam rooms that don't require you to pour the water yourself, instead you activate a steam generator by pressing a button.
Does a Sauna help detox your body?
Both sauna and a steam room help support your body's natural ability to sweat. However, recent studies show that your body doesn't actually release enough toxins through sweat to show any significant benefit.
What's the Temperature of a Sauna?
The average temperature of a sauna is usually between 70° to 100° Celsius, which is 158° to 212° Fahrenheit.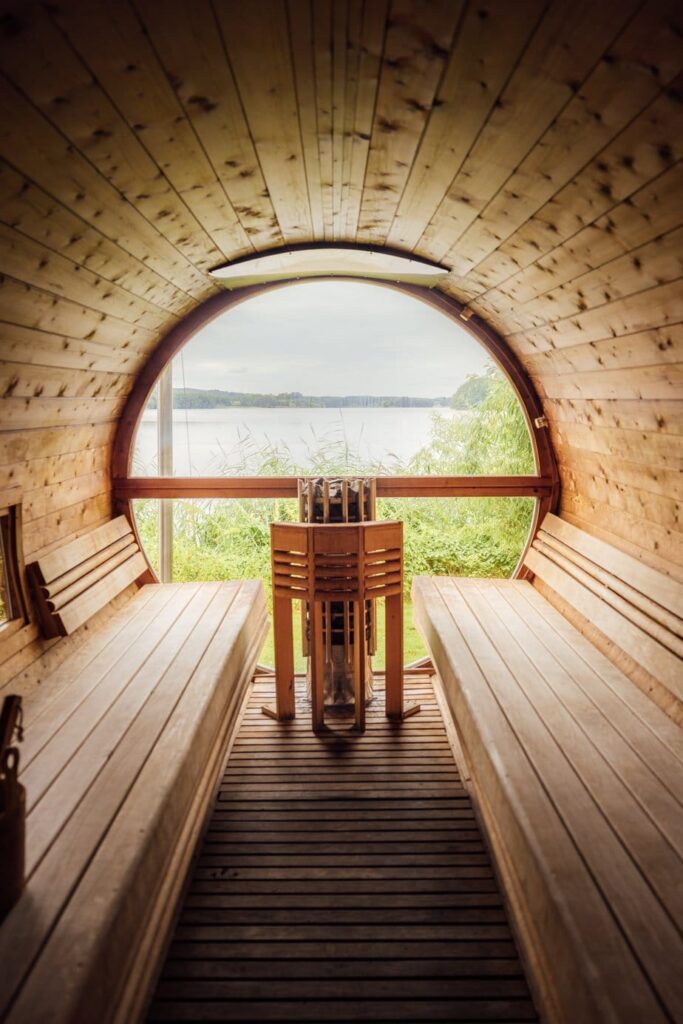 Types of Saunas
Wood Burning
Traditionally used wood-burning saunas require no electricity and tend to last longer than an electrical heater. The wood-burning heater also is the more affordable option of the three, but you will need space to store wood. There is also a bit of upkeep associated with a wood-burning heater for your sauna, like shoveling the ash after every use and occasionally cleaning the chimney.
Costs nothing extra to run!
Infrared Sauna
Infrared saunas use light to heat the body and penetrate the skin. Compared to an electrical heat or wood-burning sauna, the infrared does not heat up as high. It uses ceramic or carbon heaters that reach around 120 to 140 degrees Fahrenheit. However, users will still reap the same benefits and sweat without overheating. It also costs about $10-$15 a month to run.
Electrical Heat
Electrical heaters are usually made from galvanized metal, aluminum, or stainless steel. The electrical coils have rock laid over them and heated. We love that it can be managed through a panel or connected through your device. However, electrical heaters can take 20-45 minutes to heat because their heat output isn't as high as other forms of heat. It costs anywhere from $14.00 to $45.00 a month depending on the output needed.
Gas Heat
Gas heaters use natural gas or propane to heat the sauna, and require around 30 minutes to fully heat your outdoor sauna. We do think this is one of the safest, most cost-effective, and environmentally friendly options. They also require the least amount of space and overall many people like using them which is why you'll notice gas heaters in most public saunas. It costs about $10.00 extra to run a month.
The Best Outdoor Saunas
Best Overall Outdoor Sauna:
SunRay HL 300D Grandby Outdoor Sauna
Best Outdoor Barrel Sauna:
Aleko 4-person Sauna
Best DIY Outdoor Sauna Kit:
DIY Finnish Sauna Blueprints
Best Outdoor Infrared Sauna (Low EMF):
Kanlanth Far Infrared Sauna
Most Affordable Outdoor Sauna:
Xmatch Far Infrared Wooden Outdoor Sauna
Best Luxurious Sauna:
Thermowood Panorama Sauna
Best Modern Sauna
Muskoka Outdoor Cube Sauna
The Best Outdoor Sauna Guide
We've done a lot of research and put together a list of the best outdoor saunas, from the best affordable option to the best outdoor sauna kit, and the best all-around option.
Best Overall
SunRay HL 300D Grandby Sauna
Why it Made the List
We love the SunRay HL 300D Outdoor Sauna, and so do a lot of our followers. We polled them the other day asking which sauna was their favorite and over 65% said the SunRay. We know it looks charming and is a great price. But we also love that it has a pitched roof, made from durable, and strong material. Its thoughtful design is perfect for lasting through our Canadian winters, and did we mention that it's affordable compared to others this size?
PROS
Infrared Sauna
Includes oxygen ionization system which purifies the air
Recessed interior lighting
It is easy to assemble
Perfect size for a patio or backyard
Made from durable materials (Canadian Hemlock Wood)
CONS
It's not as strong as others
Some assembly required
Infrared Sauna
Includes oxygen ionization system which purifies the air
recessed interior lighting
Bluetooth speakers
cup holders
easy to assemble
Perfect size for a patio or backyard
made from Canadian hemlock wood
Specs
Measurements
83″ H x 57″ W x 45.3″ D
415 lbs
Max temperature 140°F
1900 wattage, 120 volts, 20 amps
Best Outdoor Barrel Sauna
Aleko 4-Person Cedar Sauna
4-person sauna
Includes everything like stones
Can be used indoors and outdoors
6kW electric heater
Why it made the list
The luxurious Aleko Outdoor Finland Cedar Sauna made the list for several reasons. Its high-quality wood is naturally resistant to weather conditions, rot, and insects, and it has durable tempered glass and supports that lift the sauna off the ground to prevent further rot. There is also a shingled roof that also extends the life of the sauna. So if you're looking for a high-quality, well-made cedar barrel sauna that will last years, this is for you.
Pros
Can be used indoors and outdoors
Free shipping
Comes with a canopy
The shingle Bitumen roof extends the life of the sauna
Can be used wet or dry
Automatic 1-hr shut off
Comes with accessories, including a heater, stones, bucket, ladle, and more.
Cons
Does not have windows
Made internationally
Some assembly required
Specs
Dimensions
Temperature
Best DIY Outdoor Sauna Plans
DIY Finnish Sauna Blueprints and Instructions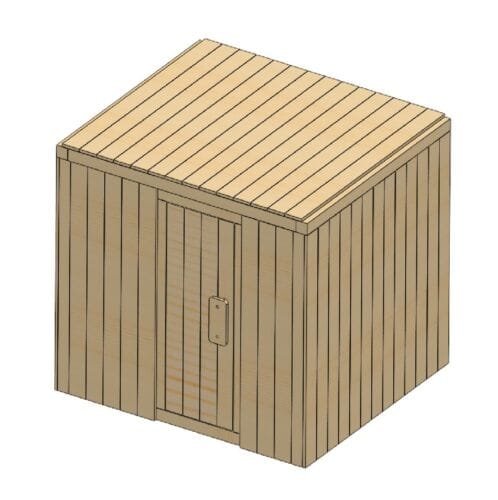 Why it Made the List
Out of all the DIY outdoor saunas, these were the best plans. We consulted with several landscapers and contractors who've built outdoor saunas, either for clients or themselves. And these we the best plans you could buy online.
PROS
Downloadable plans
Customer support for answering questions
Includes tips for maintaining the sauna
CONS
It takes time to build
Requires tools
Buy your own supplies
Heater is extra
Specs
Meausrements – 76″ x 66″ x 77″
Why it Made the List
The 4 personal infrared sauna has 8 built-in Carbon plates that are low emf, and it's made with environmentally friendly red cedar and it's not hard to assemble. We also think this is more of a reasonably priced sauna for four people.
PROS
8 built-in, low EMF heater plates
Made from red cedar
Energy efficient compared to others
EMF 3:10
Only weights 240 lbs fully assembled
No need for additional voltage can run off the household connection (needs 110-120 volts)
Fits 4 people comfortably
Control panel
CONS
Takes about an hour to reach maximum temperatures in cold weather (however, it normally takes 10-15 minutes to preheat)
Assembly required
Glassdoor (6 mm)
Specs
Measurements
1.5~1.9m (4.9-6.2 ft) tall
Temperatures
Max Temperature Up to 65°C/149°F
Why it made the list
The Xmatch Far Infrared Wooden Outdoor Sauna made the list because it is one of the best outdoor saunas for an affordable price. It is an infrared sauna that heats up quickly, looks great, and works really well for one or two people.
Pros
Infrared Sauna
9 Low-EMF Heaters
Quick 10-minute pre-workout
Preset Time and Temperature
Bluetooth Speakers
2 Led Reading Lamps
2 Chromotherapy Lights
Cons
Technically considered a 2-person sauna but might be better suited for one
Assembly Required
Not recommended for taller people (6.2 ft)
Specs
Measurements
147*104*208 cm (58 x 41 x 82 in)
Temperatures
20-65 Celsius (F: 68 – 149)
Most Luxurious Outdoor Sauna
Thermowood Panorama Sauna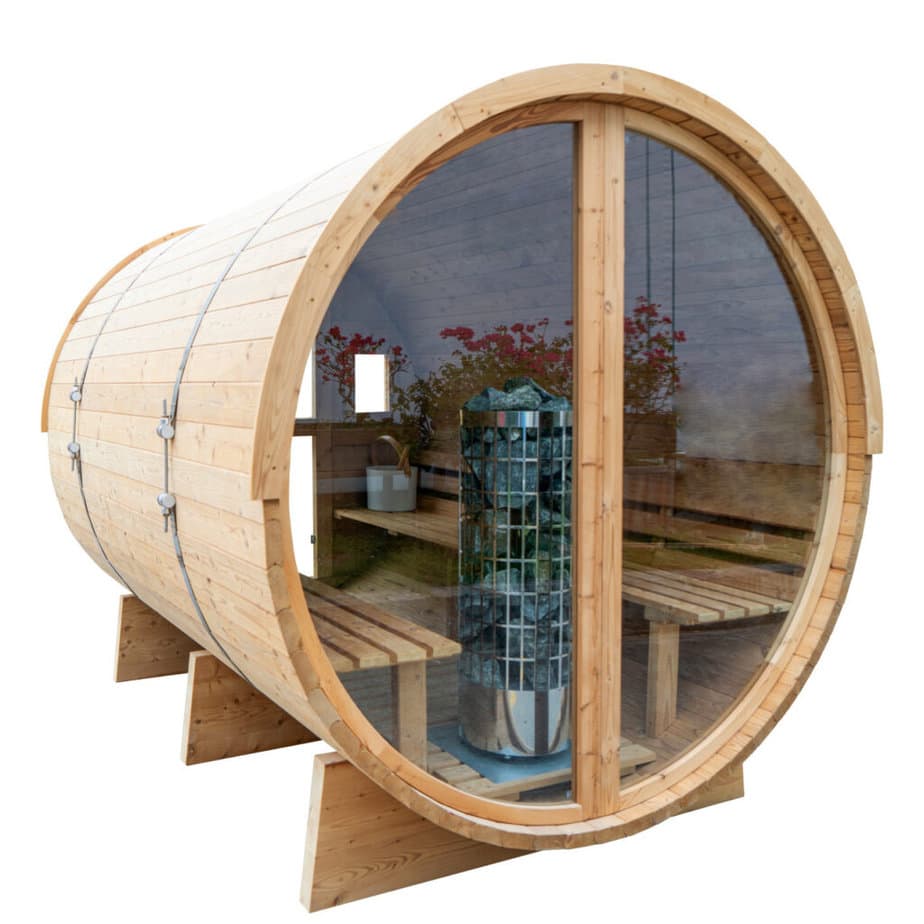 Why it made the list
We'll tell you that it wasn't easy to pick the most luxurious sauna, we had a lot to choose from. But our thought was that this particular sauna could be moved if needed and that it was more on the affordable side next to build-in saunas that cost upwards of $40,000. The Thermowood Panorama Sauna is luxurious with its floor-to-ceiling windows that can overlook the lake, the mountains, or anywhere you want.
Pros
Lots of natural light from the windows
High-quality materials
Can be moved
Stable
Environmentally friendly
Made to last
4 – 6 person sauna
Cons
Cost
Self Assembly
Does not come with roof shingles (which can be added to the package)
Specs
Measurements
71" L x 72 ¾" W x 76 ½" H
Heater Type
6kW Harvia Cilindro Electric, 9kW Harvia Cilindro Electric, or Harvia M3 Woodstove
Best Modern Outdoor Sauna
Muskoka Outdoor Cube Sauna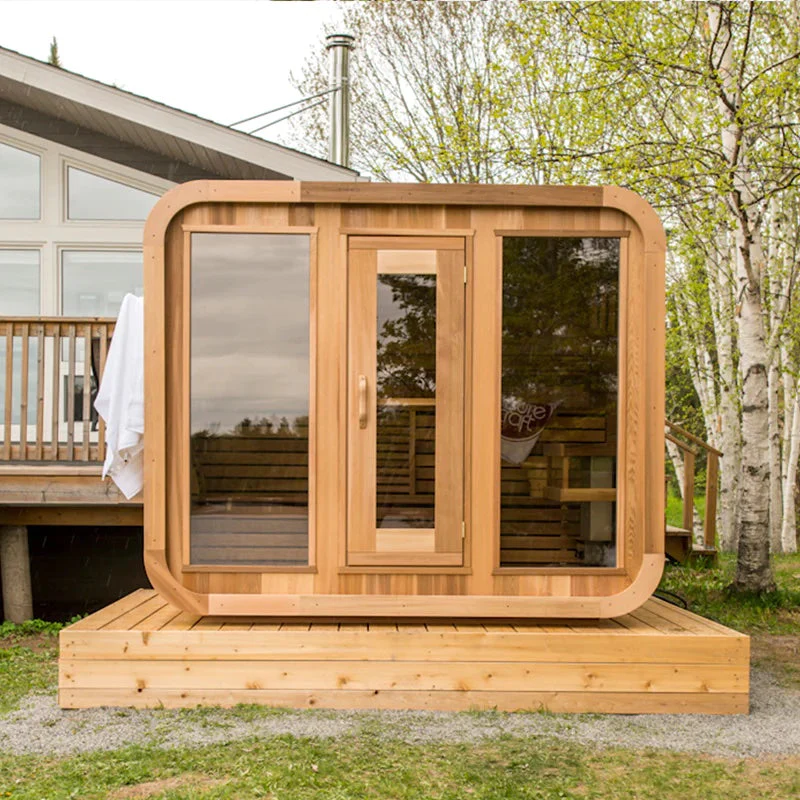 Why it made the list
One of our favorite outdoor saunas because not only is each and every sauna made to order and made to last but it's a beautiful aesthetic piece perfect for any cottage or cabin. This premium sauna is made with high-quality materials that are sturdy and durable even with lots of snow.
Pros
Made to order
Made to last
Significant height
Made with Western Red Sauna
Non-Toxic
Electrical Heat
Cons
Price
May not suit every style of home, cottage, or cabin.
Specs
Measurements
71 x 78 x 83″
Temperature
0-189 F
Now that you have everything you need in order to make the decision to purchase a new sauna a bit easier! Because we know you'll enjoy it! Don't forget to tag us @cottagelivingandstyle with a picture of you enjoying your new sauna. Or send us an email with any tips you learned about saunas.
Looking for more tips on cottage living? We've got you covered! You'll find easy DIYs, home improvement tips, cottage food and so much more.