Our Editor Shares the Best Plus-Sized Jeans for Apple Shaped Women!
We're sharing the best jeans for apple shaped plus sized women, and giving you all the styling tips you need!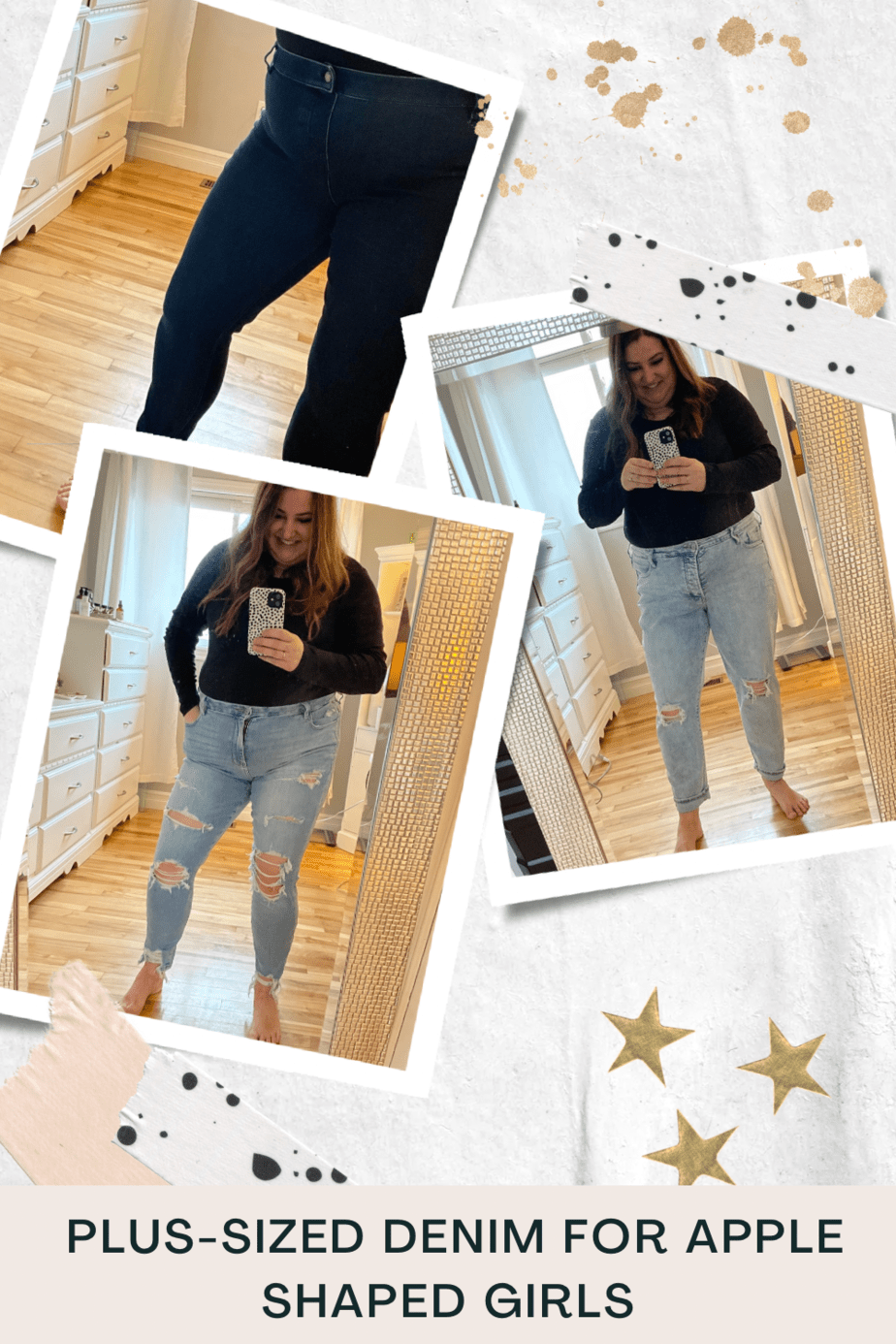 Where are my curvy girls at? Having recently joined the plus size fashion world, finding jeans to fit my current Apple body shape was something that honestly scared me. I set out on a mission to find the best denim that would flatter the right places, and camouflage my muffin top to compliment my body. Extra weight should never be a reason not to own a pair of jeans you look and feel fabulous in. Every style of jeans can work for you with some simple styling techniques!
If you are an apple-shaped woman, I've done the homework so you can hit the mall without fear and feel confident with your next denim purchase. We do recommend taking an afternoon when you are feeling good and have sufficient time to shop around and try things on. While I am a HUGE online shopper (to my husband's demise), shopping for jeans is best served in person and not online.
Keep reading to find out all the best jeans for apple shaped plus sized like me!
The Best Jeans for Apple Shaped Plus Sized Women
What is a Apple Shaped Body?
If you have broad shoulders that sit in line with your hips and the fullest part of your body is around your midsection, you have what is known as an inverted triangle or an "apple" shape.
Some other characteristics included:
How to tell if you have an Apple Shaped Body?
Above average or large bust
Your back may also carry some weight, but your bottom is mostly flat
You have a wide midriff or lack of waistline
You have slim arms and legs
Your weight gain is first visible in the central tummy area
How to Style and Accentuate an Apple Shape
In order to create balance, it's important that those with an apple-shaped body type choose clothes that add curves and fullness to the lower body while also de-emphasizing the midsection to create a more defined waist. When you highlight your most flattering assets (usually your bust and/or legs), you help draw attention away from the midsection.
You can accomplish this by:
How to Style an Apple-Shaped Body
Keeping your clothing line straight and slightly fitted
Using soft fabric to avoid unnecessary bulk around the chest and tummy
Adding details on the hemline that will bring attention to the legs
Wearing bright colors on your lower body only
Keep details and accessories above the bustline or below the hipline, everything in the middle should be plain and simple.
One big misconception we want to break is that an apple shape body is always plus size. There are all different size apple bodies and the key to determining if you fit this shape is through measurements.
Ok, let's review our favorite finds for apple shape women and the different types of jean categories. We've also included some styling tips to bring out your best features! The goal with any body shape is balance. We want the eyes to draw to our best assets and de-emphasize the rest.
Skinny Jeans
Skinny jeans are perfect for curvy women because they give the appearance of length, while also providing a relaxed and comfortable fit. Skinny jeans styles will work best for apple shapes when high-waisted, paired with a tucked-in shirt or worn with heels. Skinny jeans also help create the illusion of longer legs. Purchasing skinnies with rips will also help break up the block of color for a more flattering look.
We are currently loving the AE Ne(x)t Level Ripped Curvy High-Waisted Jegging. Stephanie introduced us all to this style a month back and we've been wearing it weekly ever since. This pair of ultra-stretch denim is a high rise, holds its shape (the perfect travel jeans), and is made specifically to flatter our beautiful curves. It has a standard zipper closure and a perfect fit. These are the ones I am wearing!
American Eagle
Ne(x)t Level Ripped Curvy High-Waisted Jegging Crop
Styling Tip: Try adding a pair of skinny jeans with a fitted tank and oversized blazer for a more professional look. You can also pair them with white button-up sneakers for the perfect weekend fit.
Straight Leg Jeans
Hourglass, apple, and athletic shapes can rock a straight-leg fit denim like no one else! Because this style is designed to be straight from the waist all the way down to the ankles, they help to balance out the hips and thighs for a more proportional look on the lower half.
The Ankle Straight Leg Jeans from Amazon are the feel-good pair of denim pants we all need in our wardrobes. They are made with hidden core shaping technology and functional back pockets. We love these jeans for their affordability and comfort, we know you will have these for years to come.
Amazon
Sexy Straight Leg Jean
Styling Tip: Pairing straight-leg jeans with an oversized item is not a good look. Try incorporating at least one fitted item in your straight-leg look for a more flattering silhouette.
High-Waist Jeans
High waist jeans are the perfect option for curvy women because they help to accentuate your natural waistline, not to mention they are very comfortable and can be dressed up or down. They also give off the illusion of slimmer hips, similar to a skinny style.
We LOVE the High Rise Elastic Waist Jeans from Amazon, because of how thought-out the product design is. These jeans are so comfortable the company swears you can wear them for hiking and climbing due to the material that stretches every way you do.
You would think pants that were so good that they would also require some high-maintenance care, however, these jeans can be washed and dried without a second thought. Did we mention they carry sizes from 0-26 in this style; We love inclusive brands!
AMAZON
High Rise Comfy Jean
Styling Tip: Try wearing your high-waist jeans with a tucked-in top. Don't think too much about the style; plaid lumberjack, long-sleeve, or your favorite tee will look great!
Elastic Waistband Jeans
What's better than a pair of flattering high-rise jeans? A pair of pull-on jeans! On days that you want to look stylish and feel comfortable, grab these! Lee's Sculpting Slim Fit Jeans are made from an ultra-soft fabric that looks and feels like real denim but with the added benefit of feeling like a pair of cotton leggings. They are so incredibly stretchy for comfortable all-day wear and have become my new go-to!
The dark wash is my go-to for a day at the office but I also find these very easy to pair with casual wear. I am wearing the shade "Blue" and can't get over the great fit!
AMAZON
Sculpting Slim Fit
Style Tip: When working with an elastic waist, wearing layers is the perfect compliment. A cozy scarf, long cardigan, or knee boots are the perfect match. Style your elastic waist skinnies like you would black yoga pants.
Boyfriend Jeans
Boyfriend jeans continue to become increasingly popular with women. This style generally involves a slouchy, relaxed fit and looks as though they belonged to your man but belong to you. This classic look is actually most flattering on apple-shaped bodies because of the baggier fit around the thighs that helps to streamline your silhouette.
The High-Waisted Button-Fly OG Straight Extra-Stretch Ankle Jeans from Old Navy might be my favorite clothing purchase so far in 2023! Even though these jeans aren't officially called "boyfriend" jeans, the lower rise, the potential for cuffing, and the distressing are all characteristics of the classic style. This type of denim works great for apple-shaped figures because of the plain, no-fuss detail at the thigh area. Being able to roll the cuffs up and down also allows for a customized length option depending on shoes and tops! We love Old Navy for its size inclusivity, different lengths, and easy-to-care-for fabrics.
Old Navy
High-Waisted Button-Fly OG Straight Extra-Stretch Ankle Jeans
Style Tip: You may be wearing jeans your boyfriend would wear, but that doesn't mean you can't wear some really girly accessories. Invest in a great pair of jeans and then hit up a fun store like H&M or Zara for some fun accessories.
Low-rise Jeans
High-rise jeans might be having a major moment but their friendly cousin, the low-rise style is still an option us curvy gals may want to reach for. If you define your shape as petite and curvy, the low-rise option will be most flattering for your shape.
The Low-Rise OG Loose Jeans from Old Navy are what they describe as the perfect yang to the yin of your high-rise jeans. This style contains stretch, a zip fly, and a classic style.
Did you know that you should only wash your jeans once every 10 years at most? This increases their lifespan as well as saves natural resources from infrequent washing.
Old Navy
Low-Rise OG Loose Jeans
Styling Tip: The trick to pulling off low-rise jeans is to pull the eye down low, which means pairing it with a heel, or ankle boots. You can also pair the low-rise jeans with a fitted tee and oversized blazer.
Wide Leg Jeans
Wide-leg jeans are a great option for those with apple-shaped figures because they will balance out the hips and thighs, creating a more proportional look.
The comfortable, Women's 207 Vintage Jeans, Wide-Leg from L.L.Bean tick all the boxes for those with an apple-shared frame. This trendy pair of jeans is also sustainable due to its EIM (Environmental Inpat Measurements) production software that helps reduce water use, energy consumption, and emissions while being fabricated. What's not to love about a trendy pair of jeans that is ultra comfortable and gives back to the planet? Nothing. The answer is nothing.
L.L.Bean
Women's 207 Vintage Jeans, Wide-Leg
Style Tip: When it comes to styling wide-leg jeans the best option is to pair them with a structured, sleeveless, or fitted top.
Well there you have it; everything you need to know about the best jeans for apple-shaped plus-sized women, and how to find the right pair of jeans.
Do you want us to do a review of another common body shape? What should we focus on next? Let us know in the comments.