What to Wear to a Country Concert
We're breaking down the best country concert outfits, how to style them, where to buy them, and even what accessories to pair with them.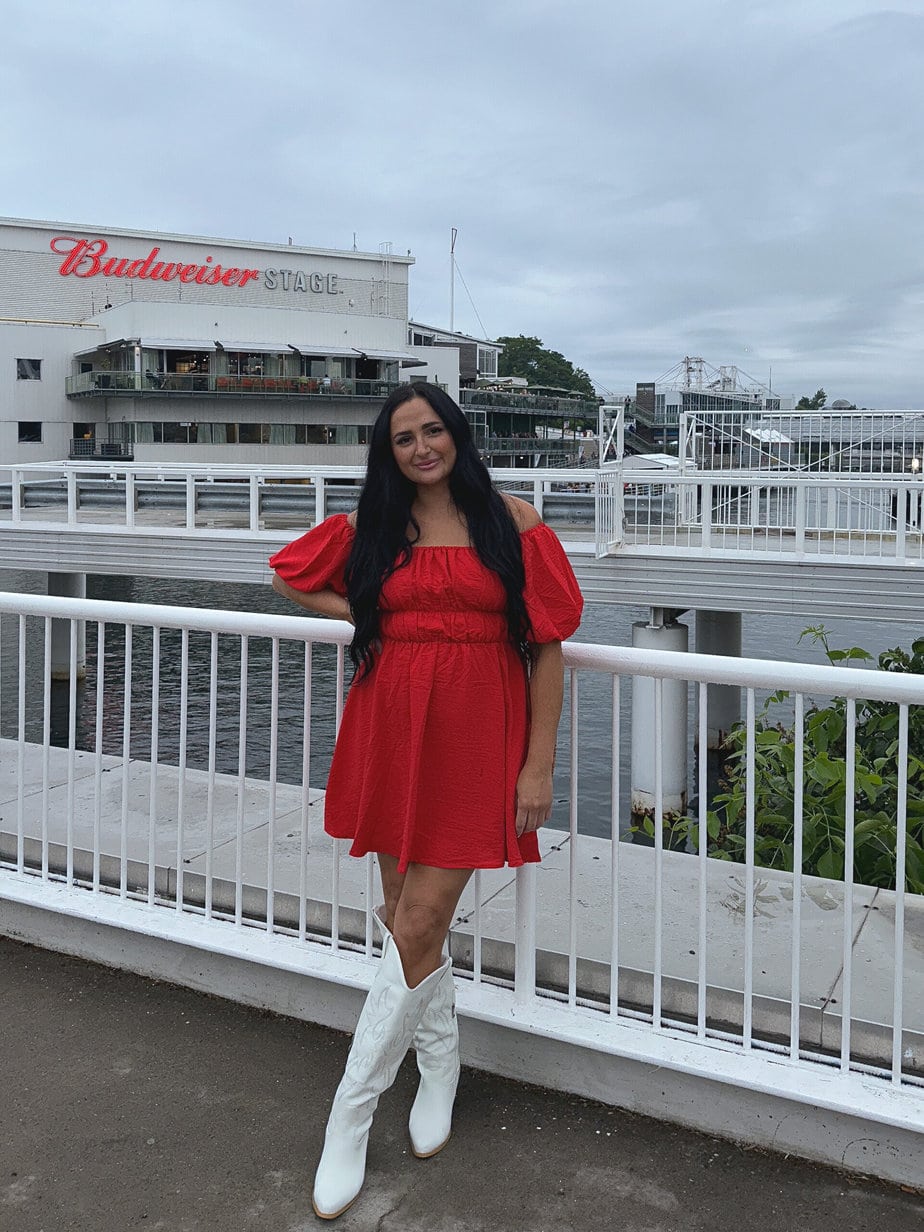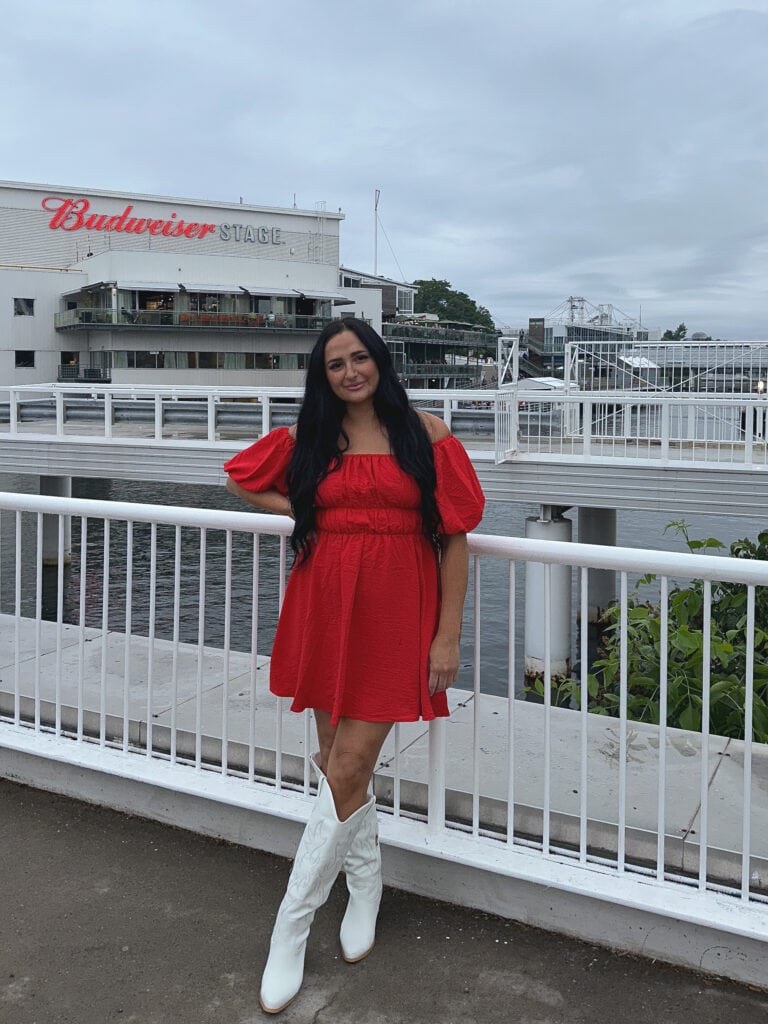 With Morgan Wallen and T-swift concerts filling up our ForYou pages and social calendars, it's no surprise that festival outfits are all the rage. Which is why today we're rounding up the very best country concert outfits. 
We know Dolly Parton would be so proud! So grab your cowboy hat and cowboy boots and get ready for your next country music concert in style.
In case you were wondering, I wanted to share my exact outfit, so I linked it below.
Keep reading to find our favorite country concert outfits, how to style them, the accessories we love, and where to buy everything.
Country Concert Outfits
Whether it's mid-summer, fall, or early spring, these cute country concert outfits are great for any season. You can easily add layers, tights, and of course, boots to warm up the look. As part of our research for this article, my best friends and I went to a Shania Twain concert in Toronto. And let me tell you, there were so many different styles of country outfits, that I felt so inspired to share them all. So let's dive into my favorite looks for your next country concert.
Red Dress, White Cowboy Boots, and Frill Purse
The look I went with for the Shania Twain concert was this red dress from Amazon (linking it for you here), white cowboy boots, and a cute purse. Everything fits true to size if you were wondering.
Denim Shorts, Band Tee
A classic country concert look, and a super easy outfit to put together. Cut-off denim shorts, with your favorite band tee is always a safe bet.
Black Denim Shorts, Black Tank, and a Flannel shirt
Looking for another denim short look? pair with a black tank top, and a large flannel shirt tied around your waist. This cute look is perfect for your next county concert, especially when you add on your favorite accessories and a half-up hairstyle.
Oversized Band T-Shirt, Cowboy Boots and Hat
Looking for a quick and easy concert look? An oversized band t-shirt, cowboy boots, and a fun cowboy hat are the best bet.
Frill Skirt, Crop Top, and Cowboy Boots
We love a good frilly skirt, a pair of cowboy boots, and a crop top. But if a crop top isn't your style, try a concert T-shirt instead.
Frill Shorts and Sequin Top
I loved this look by Emily Gemma, and I had to include this look in today's post. She paired the shorts with a sequin top, hoop earrings, and ankle boots.
Denim Midi Skirt, Denim Crop Top
I've been obsessing over this look! Pairing a denim midi skirt and a denim tank top is a perfect summer concert look! Add a few country accessories (we've shared our favorites below), like a cowboy hat, a cute purse, and some boots.
Black Denim Shorts, a One Shoulder Top, and a Pair of Cowboy Boots
This look is all about layering on jewelry, like different-length necklaces, bracelets, and rings. It's also great with mermaid-style hair and even a trucker hat.
Mini Dresses with Cowboy Boots
A mini dress with fun cowboy boots is one of the best country concert outfit ideas! It's chic, and paired with black boots is perfect for a country concert (but also works for rock concerts).
Mini Dress, White Boots
Whether you are a Swifty, Morgan Wallen fan or just love country concerts, you can't go wrong with a showstopping outfit like this. Paired with our favorite Amazon Cowboy Boots, a neutral cowboy hat, and a glamorous concert dress, this is one of our favorite looks for sure.
Summer Dresses with Cowboys Boots
I love this feminine look for an outdoor concert, but you can easily layer on a denim jacket, and tights for cooler weather.
Two Piece Skirt Set and a Pair of Cowboy Boots
There are a ton of options when it comes to pairing a two-piece set, whether it's a skirt or a short set this look is completed with a pair of cowboy boots. Style your hair half up, with a few curls, and accessorize with bracelets and rings.
Fringe Jacket with Denim Jeans and White Tank
The best thing about a fringe jacket is that it's a show-stopper on its own. You don't need a ton of accessories or the best outfit underneath. In fact, we suggest keeping it simple instead. Pair the fringe jacket with either denim shorts and a white tank or a cute midi dress.
Two Piece Short Set with Cowboy Boots
Our entire team is obsessing over this velvet look! If you can find a velvet outfit, to go with your cowboy boots and hat, then you are golden. Don't forget to add accessories, like a chunky earring or bracelet, and a dainty necklace.
Summer Dress, Denim Vest, and Cowboy Boots
Summer dresses are a classic country look, so it's great when you can throw on a jean jacket (or denim vest in this case), and your favorite cowboy boots for a quick and easy concert look.
Wide Leg or Bootcut Denim Jeans with a Crop Top
While skinny jeans have a time and a place, I promise you're going to want either a bootcut or wide-leg pants for this look. Pair with a crop top, halter or strapless tank. Wear with a cowboy hat, and leave your pant legs untucked in your favorite pair of cowboy boots.
Denim Jean Shorts with a Cute Crop Top and a Cowboy Hat
Denim jeans are great with crop tops, paisley shirts, band tees, or plaid shirts. But with this look specifically, we love the white feminine top, cross-body bag, and of course our go-to white cowboy boots. Hair is styled in effortless waves and simple makeup.
​Country Style Accessories
When putting together the best outfits, you can't forget to add accessories.
​
Where to buy our favorite country concert outfits
When it comes to finding the best outfits, we wanted to make it easy. So I found the cutest Amazon finds and I've linked them all for you here.
Denim Shorts and Flannel Outfit Ideas
Click on any of the pictures above to shop for the item directly from Amazon.
Feminine Outfit Ideas
Click on any of the pictures above to shop for the items directly from Amazon
I hope these country concert outfits inspired you for your next concert! If you have a go-to look let us know what that is in the comments.