12 Ways to Effortlessly Display a Cozy Throw Blanket this Fall
Want to know how to style a throw on a bed, according to experts? We've got the article for you!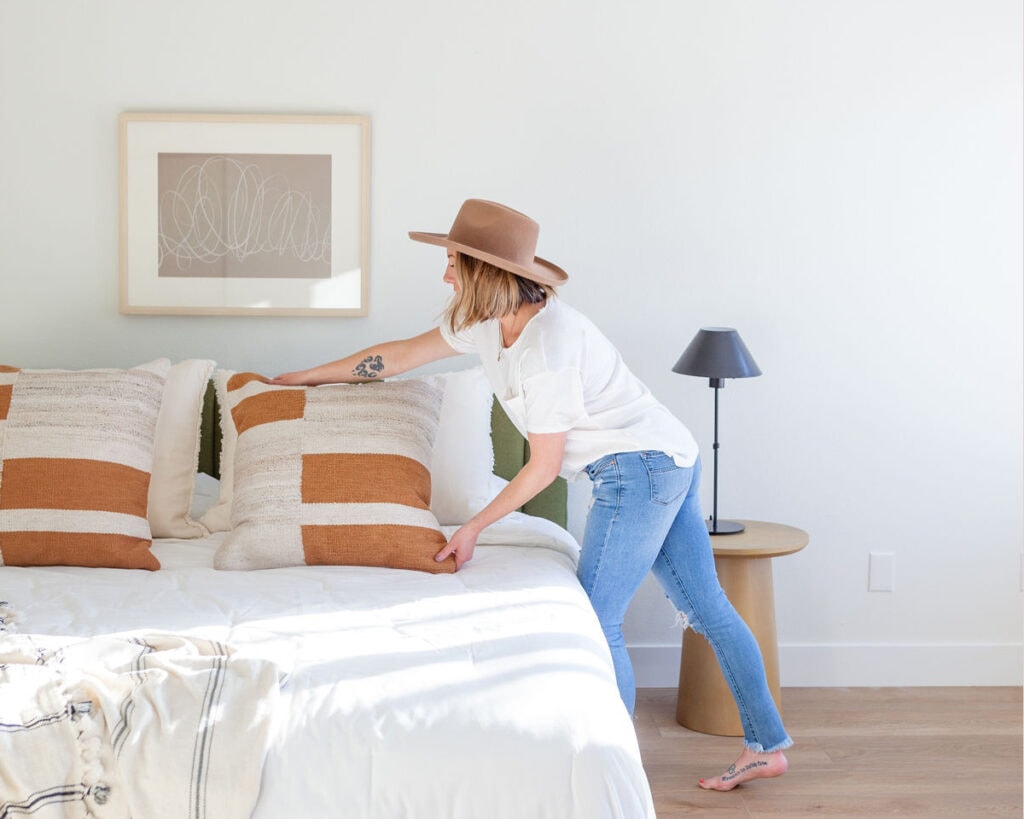 Sometimes, the littlest change in your home can make a really big impact. Nowadays, a hundred-dollar budget doesn't get you very far when it comes to changing up the look and feel of your space.
So, what can it get you, you might ask? A hundred dollars might get you enough paint to update your walls, some new throw pillows for the couch, or even a new area rug if you do your research and watch for sales.
What we know for sure, is that $100 can get you one or even two cozy new throw blankets to brighten up and change the look of your bedroom. As we head into cooler months, we're looking for ways to cozy up our homes, specifically the bedroom.
So today we're sharing exactly how to style a throw on a bed, and instantly make your bedroom feel cozy.
How to Style a Throw on a Bed
Throw blankets are a budget designer's dream. We love swapping out blankets and throws seasonally, in our living room space and bedroom because this simple change makes a huge impact without breaking the bank. Blanket and throw décor is also an easy way to make your unique taste and personality shine through in your space. Whether you love a cozy comfortable look or a chic and polished one, blankets and throws can help you achieve your desired look with ease.
Even though we're sharing how to style a throw blanket on a bed, these tips can certainly be used in other living areas to give you that perfect cozy cabin feels, even if you live in the city.
What is a Throw Blanket
A throw blanket is a medium-sized blanket, usually 3 feet by 5 feet (however sizes do vary). Throw blankets are often distinguishable by their fringed edges, different textures, or patterns and are a cost-effective décor item. Throws are often made of luxurious fabrics like chenille, faux fur, satin, or crushed velvet.
What is the Difference between a Throw Blanket and Regular Blanket
Bedding blankets or regular blankets are generally designed to provide warmth and are large enough to fit the entire surface of your bed (sized accordingly for Twin, Doubles, Queens, Kings, etc.). Throw blankets are generally smaller in size and intended to provide a bit of coziness and décor.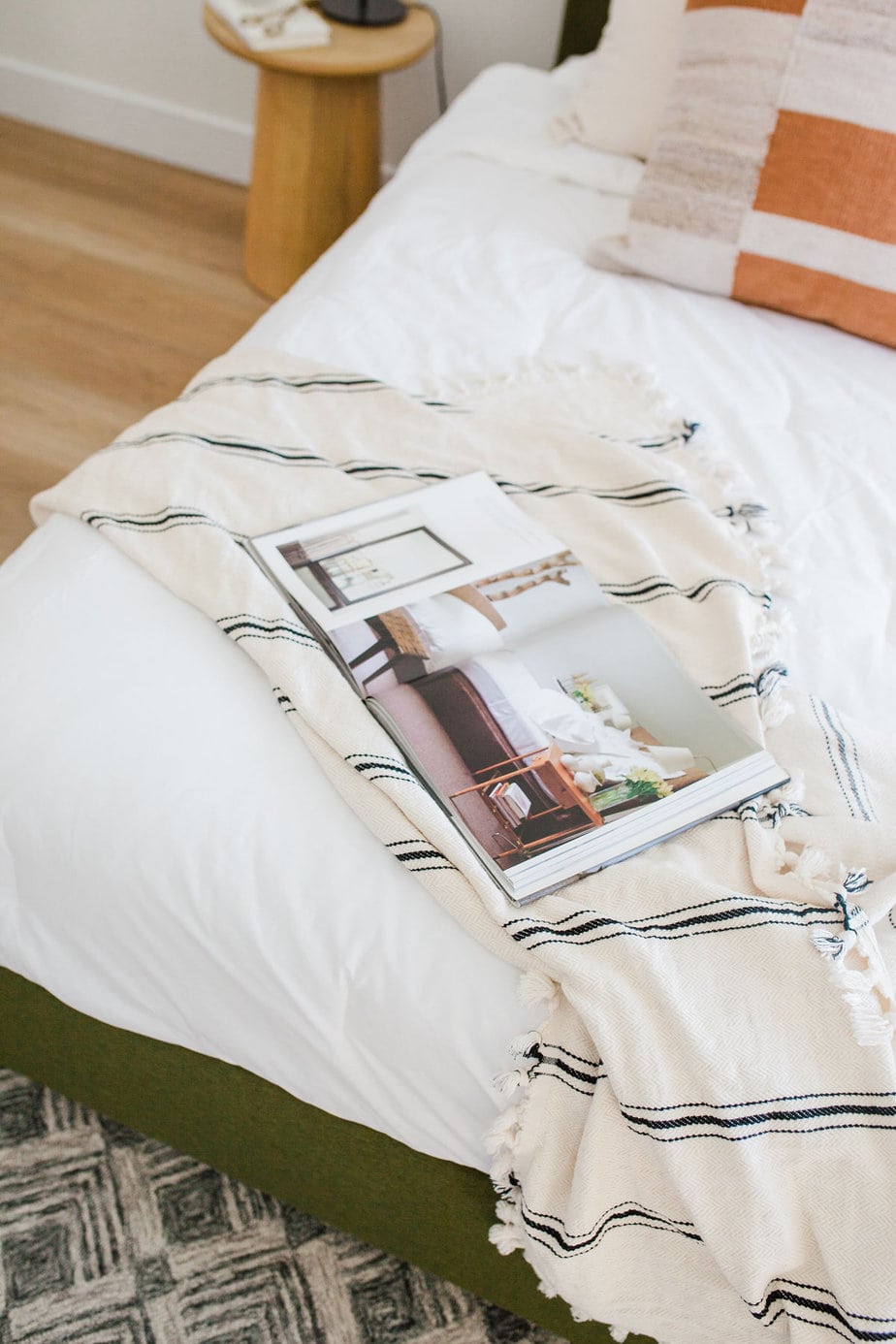 How to choose the right throw
It's important to choose a throw that compliments the color scheme and style of your bedding and bedroom decor. Also, consider the texture, pattern, and type of material when purchasing a throw. Faux fur, chunky knit, or woven throws can add depth and coziness to the bed.

How to Style a Throw Blanket
Now that we know the benefits and characteristics of a throw blanket vs a regular blanket, it's time to talk easy styling! We have 10 super simple ways to display a throw blanket that can be used in any room in your house!
Play with Textures
Mix and match textures to create visual interest. If your bedding is smooth and sleek, opt for a chunky knit or faux fur throw. Conversely, if your bedding already has texture, choose a smoother throw to balance it out.
Consider Color Coordination
If you want a cohesive look, select a throw that compliments the colors already present in your bedding and bedroom. You can choose a throw that matches one of the dominant colors or select a contrasting color to make it pop. One throw blanket can easily customize the look and feel of a bland space!
Layering
Decorating with a throw blanket is a great way to refresh your space and give it a pop of color or contrast. Decorating your bed with different colored throws in a variety of fabrics and textures will bring life to your space without overwhelming it. For a visually appealing look, layer the throw over your bedding. Start by arranging your sheets, blankets, and pillows neatly on the bed. Then, fold the throw in half or thirds lengthwise and drape it across the foot of the bed, allowing it to hang over the sides slightly.
Experiment with Folding
Instead of simply draping the throw, try folding it in different ways for a more polished look. You can hold it in half lengthwise and then drape it diagonally across the bed or fold it in thirds and lay it flat at the foot of the bed.
Don't be afraid to let it hang
This method is a classic for a reason. Keeping your throw at arm's reach will ensure you are always cozy and warm when the temperature drops. Throw blankets on the bed also can add color and texture and bring the room together. If you have a natural duvet or comforter color, adding a seasonal pop of color with your accent throw can change the look of your space season after season. You can also use lighter throws in the summer and heavier throws in the cooler months to ensure you are always at a comfortable temperature when sleeping.
Add Pillows
Enhance the overall look by adding decorative pillows in coordinating colors or patterns. Mix and match different sizes and shapes to create a layered and cozy appearance.
Design tips
Ultimate Guide to Decorative Throw Pillows
This is the ultimate guide to designer pillow covers, where to buy them, how to use them in your home, and of course, more expert styling tips.
Keep it Balanced
Ensure that the throw is evenly distributed on both sides of the bed to maintain a sense of balance and symmetry. Adjust it as needed to achieve a visually pleasing arrangement.
Don't forget about functionality
Of course, while styling the throw is fun we have to keep in mind the functionality. Remember it's practical purpose, and ensure it's easily accessible for those colder nights when you need an extra layer of warmth.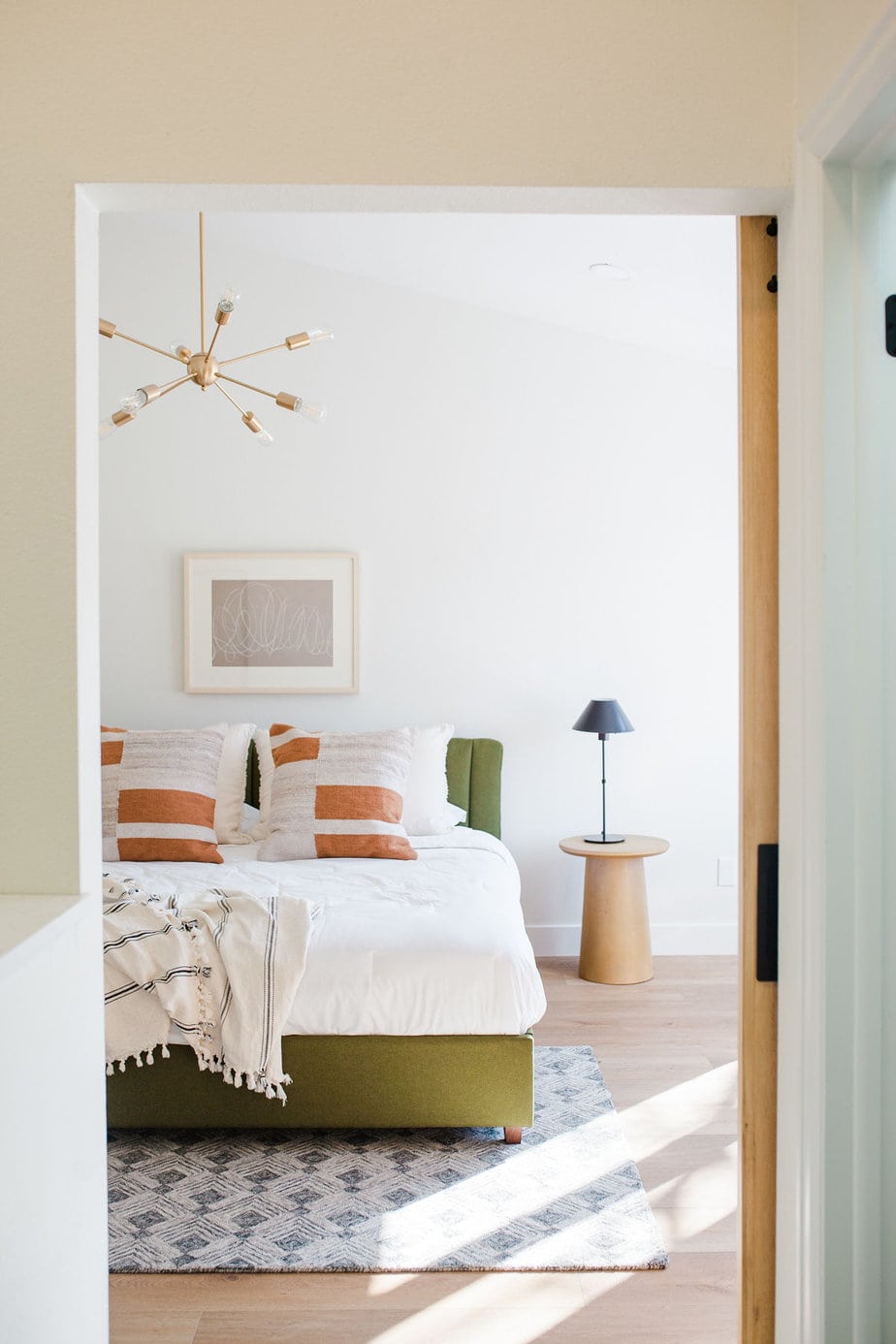 Other Ways to Display a Throw Blanket in your bedroom
On a Ladder
Draping a blanket or throwing over a blanket ladder is an effortless way to store your throws while also serving as a décor item itself. Throw ladders come in multiple shapes, sizes, and colors, so we guarantee you can find one that meets your individual style.
Over a couch
This technique looks effortless because it is! For this technique, find the center of the throw blanket and pinch the blanket about a foot about the center. Now, pull the pinched part onto the part of the couch you want it displayed. We like using the corner of the couch and setting a few cushions on top of it. You may need to fluff it to get your desired look.
For a more polished look, simply fold the throw blanket into thirds or quarters, allowing any decorative fringe or tassel to remain on the outer corners. Drape the neatly folded blanket over the arms of your couch, or the back of the sofa. Polished and perfect!
On an Accent Chair
Adding a fun throw with a pop of color or a pretty pattern is a great way to add color, depth, and dimension to your living space. It's also a visual queue for guests to feel comfortable grabbing the throw of the chair should they want to cuddle up while visiting and catching up.
On a Table
While this may seem odd at first, using a soft throw as a tablecloth or table runner is a great way to soften the look of a wooden table and to get more use from your favorite textiles. It's easy to layer a small throw blanket between wooden décor pieces like bows or lanterns while repurposing pieces you love.
In a Basket
Large baskets with blankets in them are both decorative and visually appealing on their own, but they also double as functional storage in your most used living spaces. We love when a corner of one blanket in the basket casually spills out with effortless style. Blanket baskets are best stored in corners, by reading chairs, or beside/under a console table!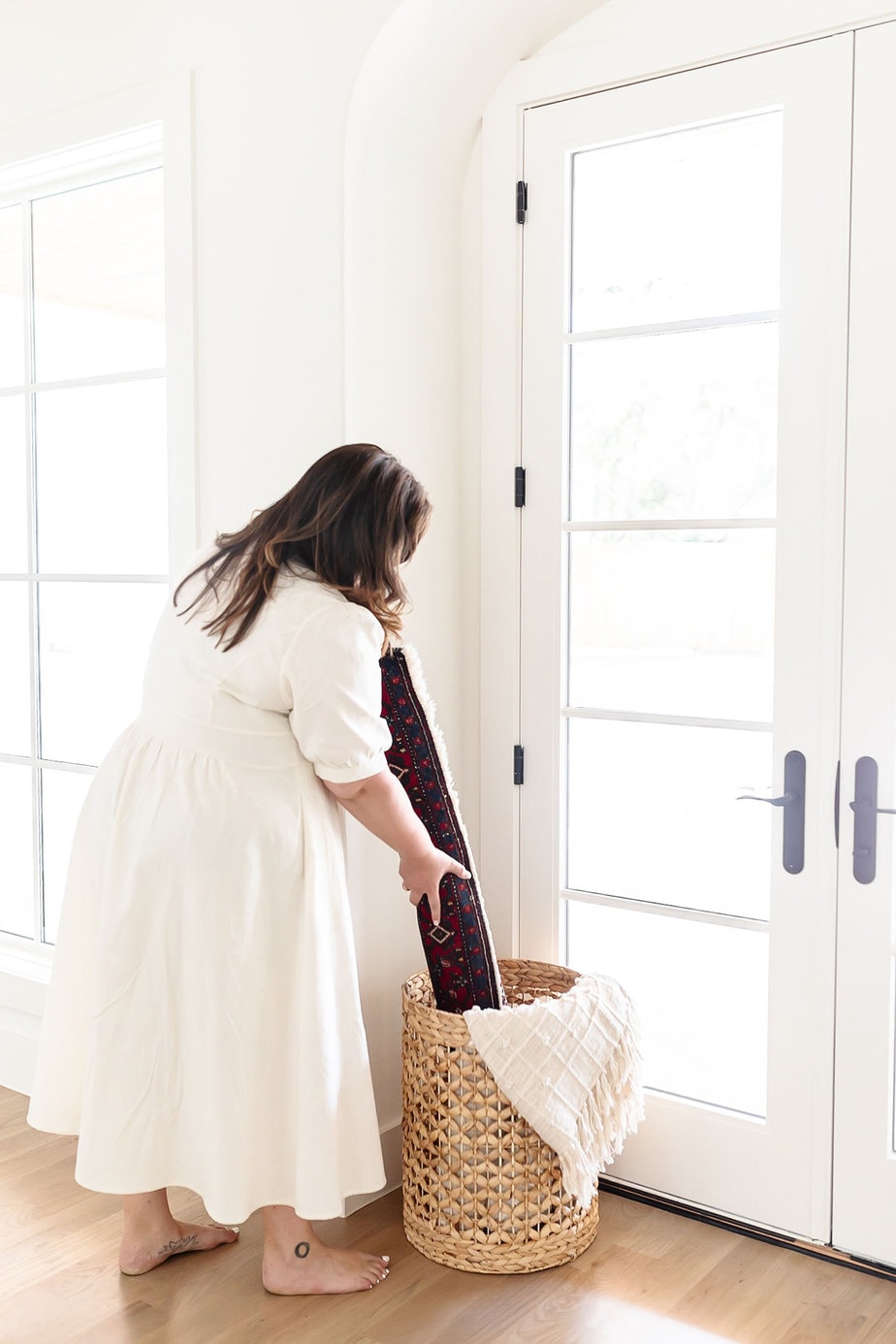 In the Nursery
In the nursery, draping a patterned throw blanket over the side of the crib adds a pop of color. You can also grab the tiny throw for a swaddle or cuddle post-nap.
Throw blankets are more than just a cozy accessory when used correctly. They can help add personality and style to almost any room in your home. With so many different colors and patterns to choose from, it's easy to find one to suit your taste while still being functional.