Buying a Cabin or Cottage in Canada
If you're interteresting in buying a cabin in Canada, we've got the perfect guide for you. We're sharing everything from how to find a good realtor, to what to expect from inspections and cabin insurance.
After years of thinking it over, you and your family are finally ready to take the plunge and purchase a secondary residence, a cabin!
Having recently purchased a cabin in cottage country, we know how much work, stress, and overthinking go into a purchase like this.
There are so many things you need to think about when it comes to cabin or cottage ownership. For example, when we were purchasing our second property, we knew that the cottage prices would mean a greater investment. But to us, this wasn't just about buying a vacation property, we actually had personal ties to the cabin.
Our cabin, which is located on an island just outside of the great Toronto area, was built by my grandfather and my dad in the early 1990s.
We're finally going to share our thought process into how we made the decision and pass along some helpful information to make your process smooth sailing from start to finish.
A Quick Guide to Buying a Cabin in Canada
While there is so much thought that goes into purchasing a second home, we hope this guide will help you get a better idea of what to expect.
Questions to Ask Before You Buy a Cabin in Canada
Are you looking for a rental property? or investment property?
Are you able to buy the land? or is it a 100-year lease?
Is it on crown land?
Are there laws in the area against rental properties?
Do you want a waterfront property? is so, are you able to build a dock? boathouse? Is a shoreline road allowed?
Cost to buy a waterfront versus a non-waterfront?
What is the water quality? has it been tested or sampled? where is it coming from?
Has the cottage or cabin flooded before? Have you looked at high and low water marks? What about insurance for floods?
Is the cottage or cabin in a rural area? remote area?
What about accessibility? year-round access? road plowed? condition of the road?
Is it a four-season cottage or cabin? winterized?
Taxes? maintenance? utilities? insurance and furnishings?
What is the size of the lake? are you allowed boats? is there good fishing?
The process seems to be the same regardless of where you are in Canada, so here are our thoughts. Now that you've decided to purchase a cabin, the next thing you need to figure out is your why. This important step will be key for your realtor in order to help you find the perfect fit.
All of these questions must be considered.
We all know Canada is a very large country with a variety of climates and landscapes. But finding a cabin should reflect the kind of lifestyle you are after and the activities you enjoy, while also thinking long-term.
Other Things to Consider – Retiring and Working Remotely
If this property will be one you retire in, you need to further consider things like how fast emergency services can reach you, steep slopes and inclines with your aging body. Not to mention, the amount of maintenance and upkeep your new space will require.
Do you plan on working from this space on occasion, is there reliable internet? If this is purely for vacation purposes, how long of a commute from your primary residence is too much? While these are only a handful of the questions you should be thinking about, these are some of the most important when considering a secondary property purchase.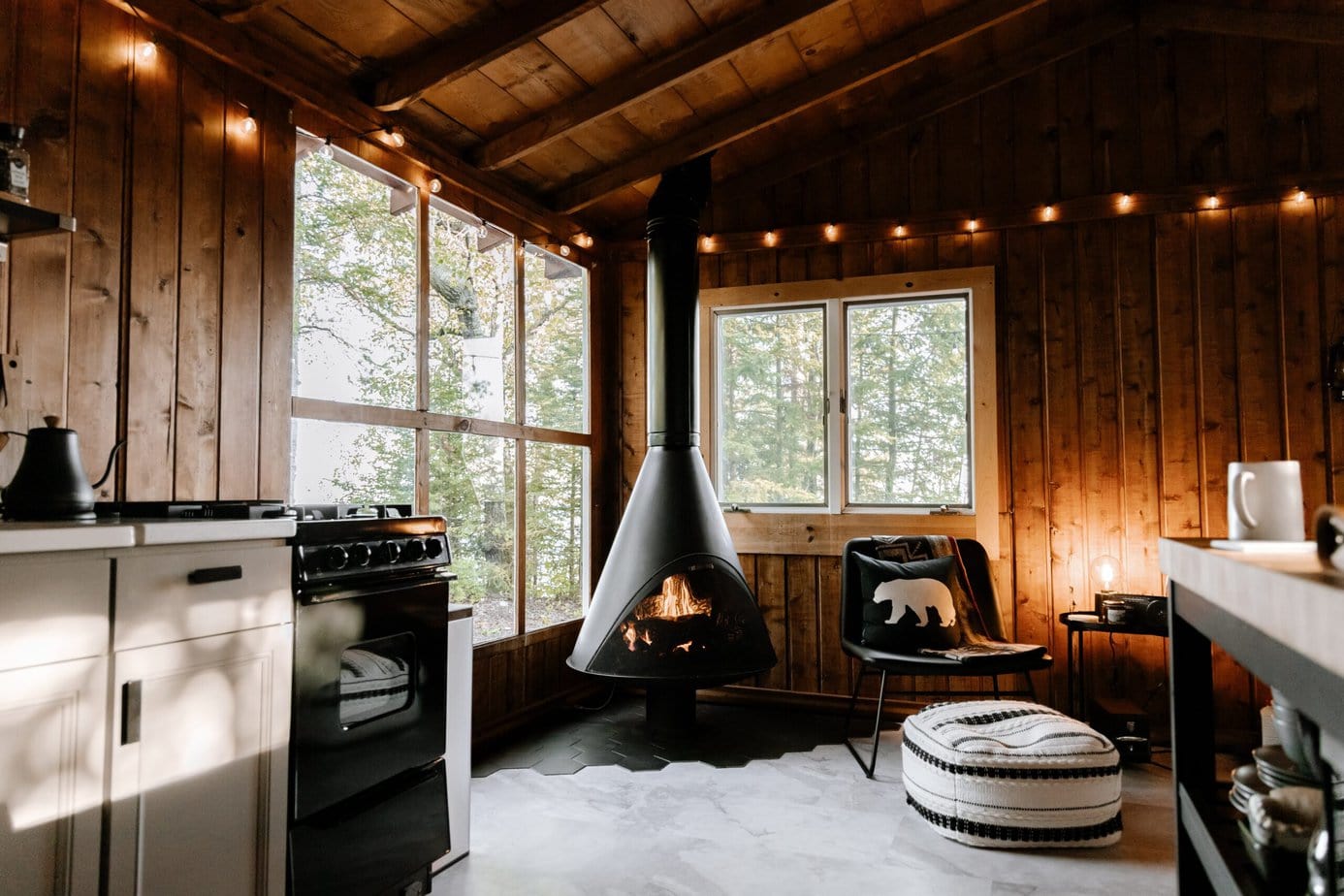 When is The Best Season to Buy a Cabin or Cottage?
Believe it or not, the off-season, winter, and fall is the best time to purchase your cabin, and here is why!
Most cottage owners have likely been thinking about selling their cottages all summer long, having waited until the very last moment to savor the summer bliss. Now that the season is over, if a cabin is on the market, it means the owner needs to sell it.
Buying in the winter means less compression in the market also, letting you take your time with this big decision, without the bidding wars that can sometimes come in prime months.
A few other key reasons winter is the best season to make a big purchase like a cabin is that the local real estate agent may be less busy. Meaning you'll get a lot more time dedicated to finding your perfect cabin.
Not to mention, getting a head start on booking contractors for the season is a good idea. Plus, seeing your new space in the winter will also be a good indicator of the ease of access to your new space during the snowy season.
What is the Difference Between a Cabin and a Cottage in Canada?
While cottages have been called many different things, from cabins, and camps, to lake houses. The main difference is that a cabin is usually smaller than a cottage, and the design leans more rustic with a lot of wood.
How Much is a Downpayment for a Cottage?
If you're looking to put a downpayment on a cottage or cabin, you should expect to pay a minimum of 5%, 10%, and even up to 35% of its value.
Can you use RRSP to Buy a Cottage?
Yes! But you will be charged withholding tax.
How Much Does it Cost to Buy a Cabin in Canada?
While the price of a cabin will vary greatly by Province, one thing we know for sure is that established "Cottage Country" areas (think Lake Muskoka, Prince Edward County, Blue Mountain, Manitoulin Island, and the Haliburton area) are always going to be popular and priced accordingly.
Cottage activities
8 Best Cottage Lakes in Ontario
The ultimate list of the best cottage lakes in Ontario, complete with a guide from locals and why we think you'll want to buy or rent a cottage here next.

The benefit however to purchasing in a popular destination is the almost guarantee of a quick and profitable resale down the road. Not to mention, it could also make a good rental property. So whether you're buying an investment property or a vacation home for your family, here are a few things to expect in terms of cost.
Here's a breakdown of what to expect province by province:
Ontario
According to Wowa, the average price of cabins and cottages in Ontario is anywhere from $400,000 to $800,000
Nova Scotia
Nova Scotia is known for its lower cost of living and this remains true for the cost of a cabin. We're currently seeing asking prices from $120,000 to $300,000.
Quebec
Expect an average of $340,000, which has had an increase of 7.6% this past year according to Living in Canada.
Manitoba
If you're looking to buy a cozy cottage in Manitoba, the average price is anywhere from $200,000 to $600,000.
Saskatchewan
Saskatchewan you'll find prices for a cabin or cottage property for $390,000 +
Alberta
For Alberta, you'll see a jump in prices, similar to Ontario. For vacation properties or secondary homes, expect to pay an average cost of $899,000 +.
British Columbia
Similar to Alberta and Ontario, BC's average cost of buying a cabin or cottage is $800,000+.
Let's talk about Financing
Your cottage will require a down payment just like your primary residence. Most financial institutions in Canada offer financing programs for cottages or second homes.
Depending on the type of property you are looking to purchase, you could be eligible for financing for up to 95% of the value. There are currently two types of financing options available in Canada.
Type A
These properties are your typical residential properties and come fully equipped with everything you need to live year-round. This includes a heat source and foundation.
Type A residences also need to be road accessible 365 days a year.
Type B
These properties lack standard heating or year-round road access. The heat source typically comes from a wood stove and the properties are generally not insulated or winterized.
Both options are available for financing, however, the amount will vary greatly.
Another thing to consider is your current primary residence and how this could help you achieve your dream of owning a cabin.
Buying Options for Cabins and Cottages
Do you have some equity in your current home? If so, you may be able to utilize up to 80% of the value of your primary home to finance the purchase of your cottage.
Don't forget, like any real estate purchase, you also need to budget for other expenses like maintenance, property taxes, and even your lawyer fees.
Like a standard home mortgage, your down payment can vary from 5% up to 35%.
We recommend talking to your financial advisor before calling your realtor!
Income Properties
As mentioned above, something to consider is whether your property will eventually become lived in full time, or if you plan to rent the space when not in use.
This is going to play a huge role in determining which property you purchase for a few reasons. Your willingness to drive six hours to your perfect place of solitude might not relate to those looking for a weekend destination.
Choosing a cabin that is near local amenities such as liquor stores, grocery outlets and gas is also an important factor for travelers when choosing a destination to rent.
One other thing to consider is housekeeping services.
Will you be the one needing to travel to the location in between renters to tidy up? If the distance is too far for you to easily travel, you'll need a dedicated housekeeping service on standby post-rental.
Finding the Perfect Realtor
Don't be afraid to take your time and explore the different people available to you when you finally decide it's time to purchase.
You want to be sure the person you decide to work with is qualified and knowledgeable when it comes to cabins or seasonal properties. Which is why we also recommend working with a local realtor, more than likely they know the areas. Especially when it comes to buying a cottage or cabin in remote locations, local realtors can tell you if the roads are accessible all year, or if the road is busy.
Take a look at some reviews from past clients and check local sales of similar properties to the one you're looking to acquire.
If you find after some time you aren't jiving with your realtor or they aren't providing valuable options, it's ok to part ways amicably and move along! It's more than just business, you're going to be creating memories for your family and friends at the cabin or cottage.
Home Inspections for a Cabin
We 100% recommend treating your cabin exactly as you would your primary residence. Just like any other property, you'll want to set aside a time frame of 2-4 hours to complete the inspection.
Trust us! Never skip a home inspection!
Once your home inspection is complete and should it pass with flying colors, we can't stress enough how important it is to regularly set funds aside for potential repair costs down the road.
If the home inspection doesn't pass, you most likely will be able to negotiate the asking price.
Similar to your primary residence, you will need to think about things like replacing the roof, having working utilities, and doing regular maintenance. That all contributes to the cost.
Cabin Insurance
Depending on how you choose to utilize your cabin (seasonally or have year-round access), your cottage insurance needs will also vary slightly.
Cottage insurance, available from most service providers, protects your property from unique risks and exposures.
While most comprehensive plans will cover the basics of the building, structure, and contents, you may want to add additional coverage for things not covered under the basic plans.
This would be especially important if you are using a septic tank or sewer backup, are at risk for frozen pipes, mold, or water damage from nearby lakes or rivers, or live in areas where earthquakes and landslides pose a threat.
Owning a cabin will surely be a rewarding experience and the memories your family makes will last a lifetime. So it's important to think of the long run, and ultimately decide what would be on your wish list in terms of area, property size, utilities, and cost.
Just remember, a cabin is a work in progress and it's ok if yours takes a few years to resemble the pins on your Pinterest page! Oh and don't forget to expect wildlife!
We hope this guide helped clear up any confusion and provide information about buying your first cottage or cabin. We realize that there's a lot to think about when it comes to making this purchase.
Whether you're looking at waterfront properties or mountain range cabins, there are always additional costs associated with purchasing a secondary home. But I promise it's worth it when you get to spend summer days with your family in the great outdoors, or fall evenings snuggled up next to a cozy fireplace. Owning a cabin is truly magical.