6 Kids Room Ideas for Rental Homes
We want to make our kids feel at home regardless of where or what home looks like. Which is why we wanted to share 6 kids room ideas for rental homes that are easy to use, temporary, and might even save you money.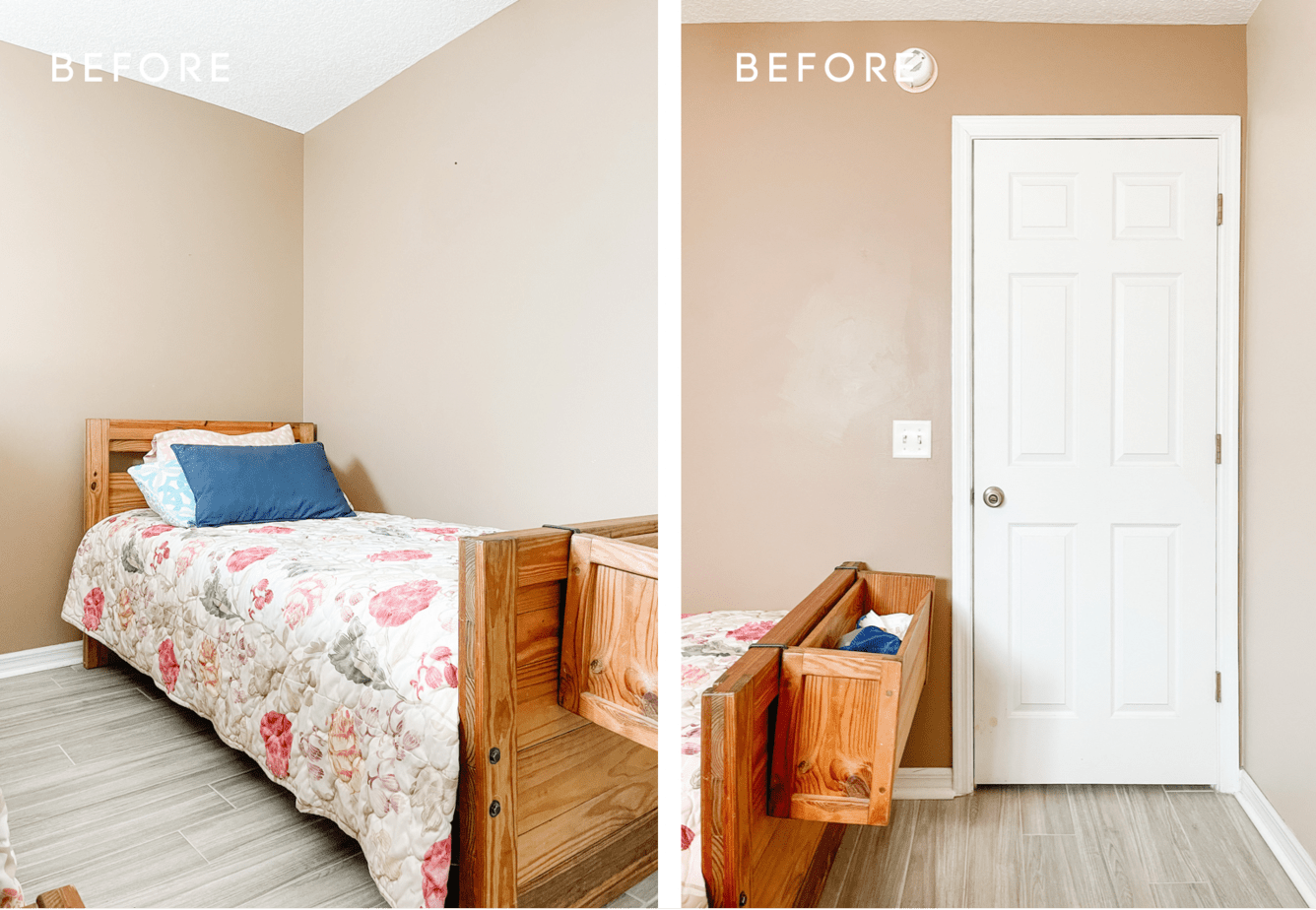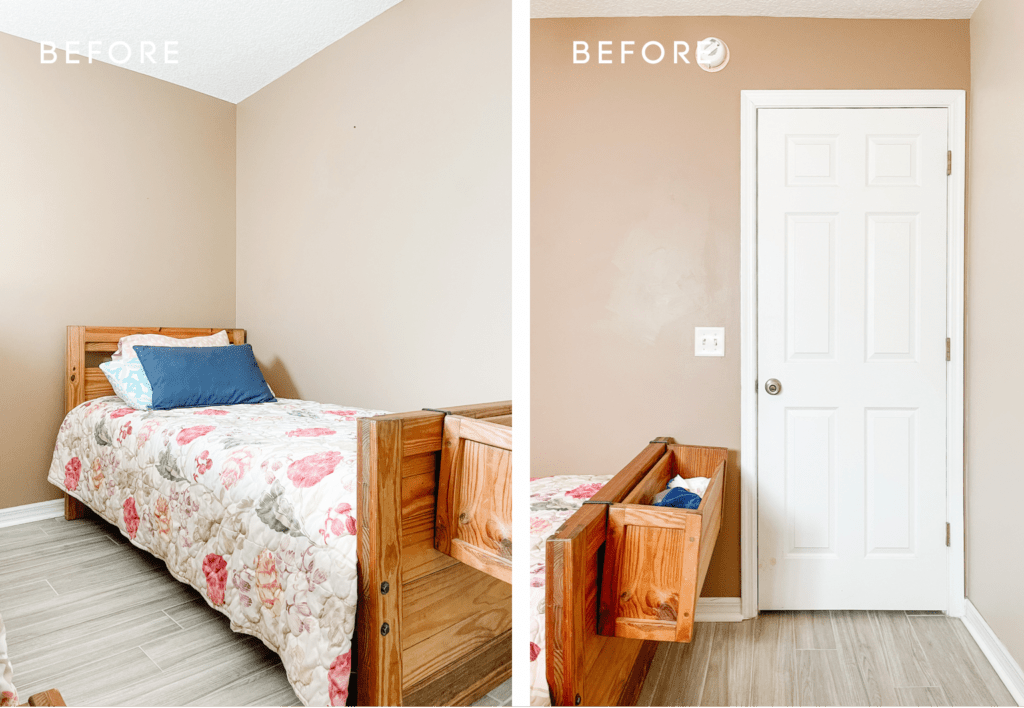 Over the years we've seen and experienced it all. From being in short-term rentals because a house was being built, renovated, or simply waiting for a contract to start for a long-term rental. We get it and today we're sharing 6 design tips that aren't permanent, can be reused, and will save you money.
If you remember we shared a tour of vacation rental, and how we're currently spending the winter months in Florida. You may also remember seeing the kid's bedroom, a small terracotta room with only a closet, nightstand, and two twin beds.
It's the room we will be making over at the end of the month so make sure to stay tuned for the before and after of it.
But today we're going to chat about the design tips we're following to make this room feel comfortable safe and happy for our daughter.
Short-Term Rental Design Tips for Kids' Rooms
Did we also mention these are budget-friendly? because let's be honest it's a rental and unless it's furniture or something permanent you don't need to invest a ton of money into it.
Use Peel and Stick Wallpaper or Wall Decals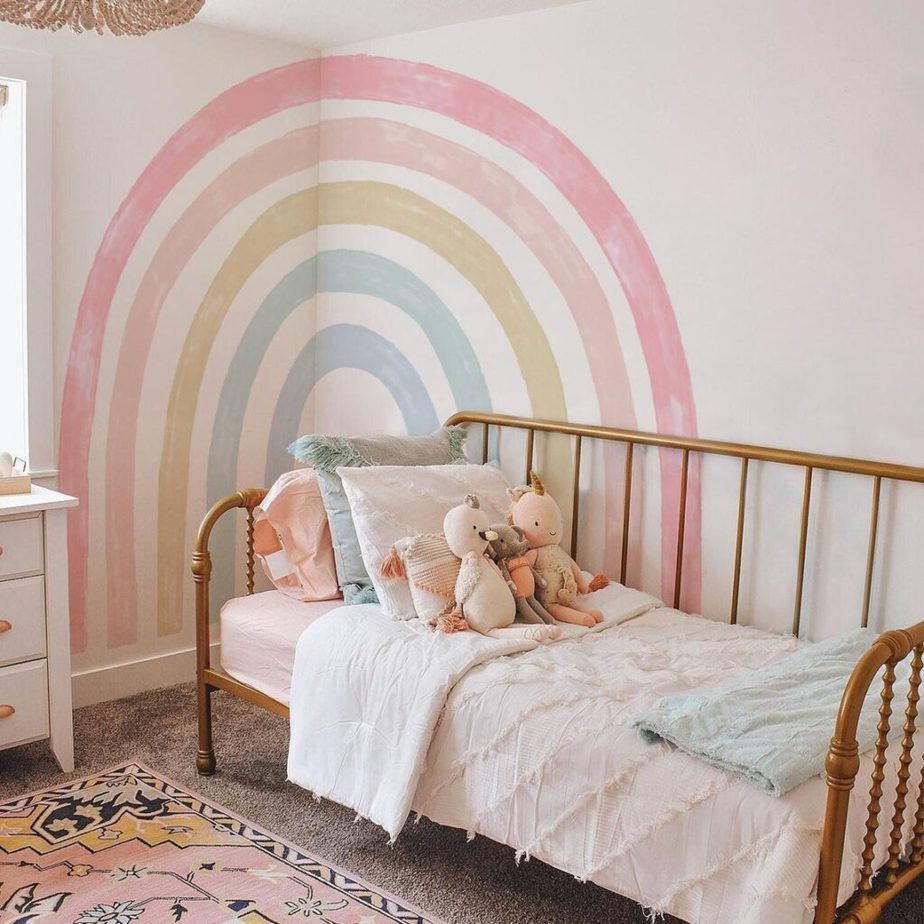 While most rentals don't allow renters to paint the walls, I know a lot of people struggle with the existing paint color. Well, wallpaper has been used everywhere in the last few years, and we've seen peel-in stick wallpaper growing in popularity. Because of the easy installation and uninstallation, we're seeing it being used more and more in rentals. But it's not always the cheapest option, which is why we like using wall decals.
Just a tip, you can find almost any design and price point on Etsy.
Not to mention there is a possibility of the wall decals being reused. In some cases, if you are really careful with them during the uninstallation, you can use them again in the future.
Here are some of our favorites:

Take Advantage of Secondary Light Sources
In cases where you can't change the main light source, take advantage of the secondary light sources. Try adding a lamp or two, but choose something you know you'll love for years to come. That way you're actually starting a collection of decor that will work for a future home or rental.
Some great ideas for kids are:

Find a Rug Option for the Type of Flooring
Even though we're not the ones in control of choosing the flooring in a short-term rental, we are in control of choosing what to layer on top of the floors. Depending on what the existing floor looks like, you'll have to figure out if it needs a textured carpet to layer on top of wall-to-wall carpet. Or a fun rug to draw the eye away from the flooring underneath. But I can promise you that there are tons of options out there for every flooring type.
Some fun kids rugs are:

Get Creative with Curtains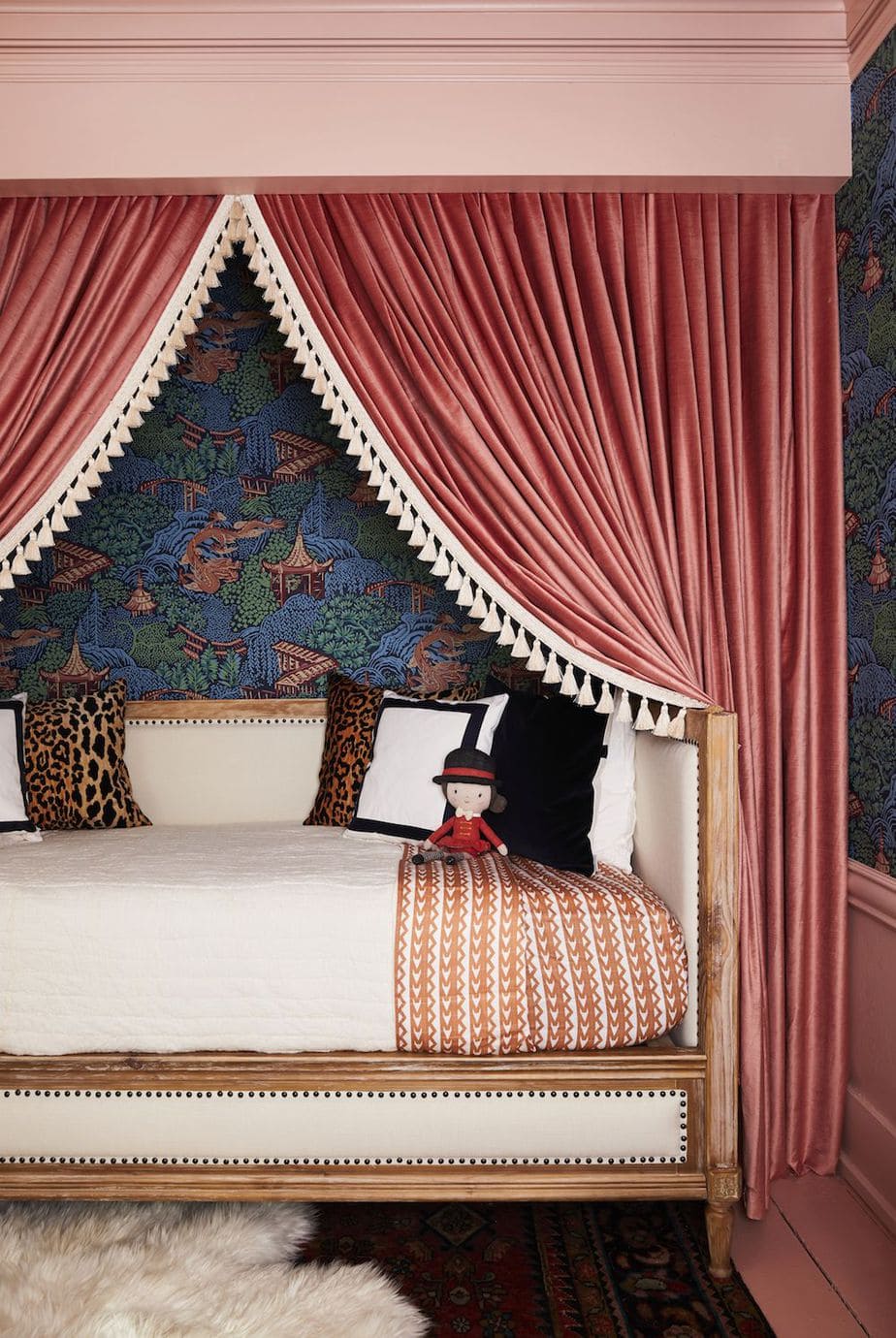 Get creative with colorful textured curtains to inject some character and change the overall look of the space.
Luckily, so many places have fun curtain options that are also budget-friendly. Pottery Barn and West Elm have great options if you want to invest in a quality curtain that you can reuse in a future bedroom.
Another fun option is of course using curtains to enclose the bed. See the photo we shared above for more inspiration.
Some fun curtains for kids rooms:

Add Some Plants (Real or Faux)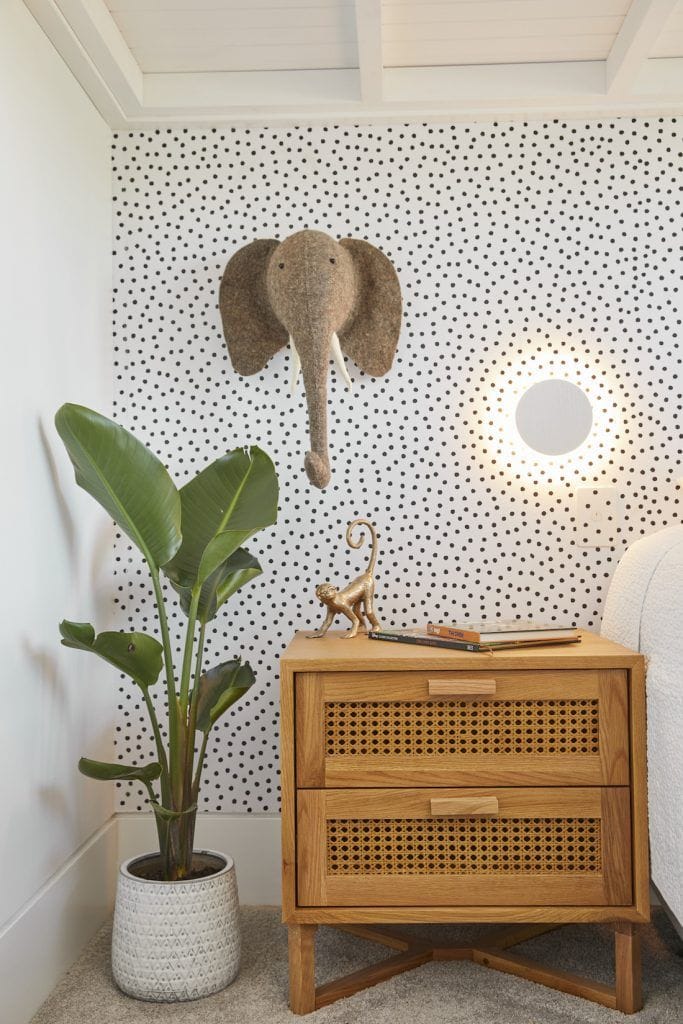 You might be thinking two things, one that a real plant could be dangerous to both a child and your decor. Or that a real plant could be beautiful in a child's bedroom, and if that's the case may I suggest a hanging plant instead. It's up high for safety but still looks wonderful.
Or you can just stick with a faux plant like we did and go for a fiddle fig or an olive tree.
Some of our favorite faux plants:

Use a few Decorative Pillows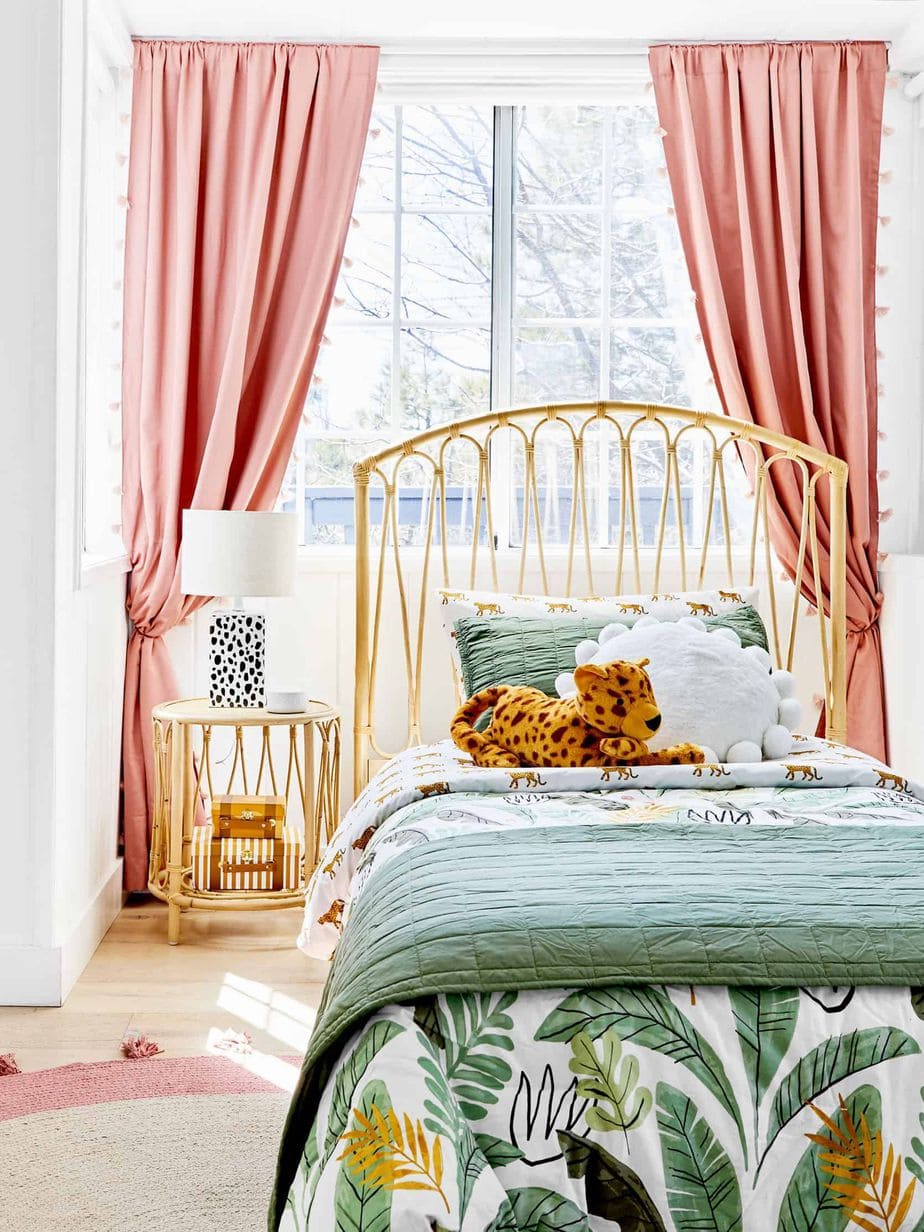 What's a bedroom without a few decorative pillows? Stores like Anthropology, Target, and Crate and Barrel have some really fun children's pillows. So when it comes to choosing kids' decor for rental homes, we like to tell people to find something fun but stay within their style. The idea is to save money in the long run by building a collection of decor you will use in your future home.
Maybe that means it's building the collection of higher-priced decorative pillows you will be able to reuse. Or decorative pillows that you love, your child loves and maybe you can repurpose one day.
Some of our favorite decorative pillows:

Before you go, don't forget to check out the kids room ideas for rental homes in action on our upcoming design project.