35+ Ideas for Easter Door Decorations
We're sharing 35 ideas to decorate your door for Easter this year, you'll find some fun DIYs and cute decor from some of our favorite shops.
Easter is around the corner, and as we start to prep for the season ahead we can't help but feel a little inspired. So today we're one of the first places your guests will see! The door is the perfect place to hang Easter decorations and we promise your guests and even your neighbors will be feeling the spring vibes.
Not to mention, DIYing your own Easter door decorations is a fun way to bond with your kids and introduce them to the new season. Which is why I'm sharing some door decorations that will also add the finishing touches to your home's Easter decor.
35 Easter Door Decorations
While I've always enjoyed crafting our own decorations, I figured I would include a mix of both DIYs and store-bought options. That way if you don't have time you have options, or if you feel crafty, you also have options.
Quick Floral Basket
We put together our own easter door decoration this year for under $40. Using a hanging basket that is perfect for the door, we filled it with faux florals. To give it an Easter theme we used light colors like baby blues, whites, and pinks. You could even add some bunnies or birds to the basket if you wanted.
Spring Porch
We can't help but love the fresh greenery greeting guests as they walk up to the front door. But why not take that spring look a little farther with some pink tulips. Why not add some more tulips to the potted plants to your front door as well.
Easter Flower Wreath
We love the look of this simple floral wreath from Target.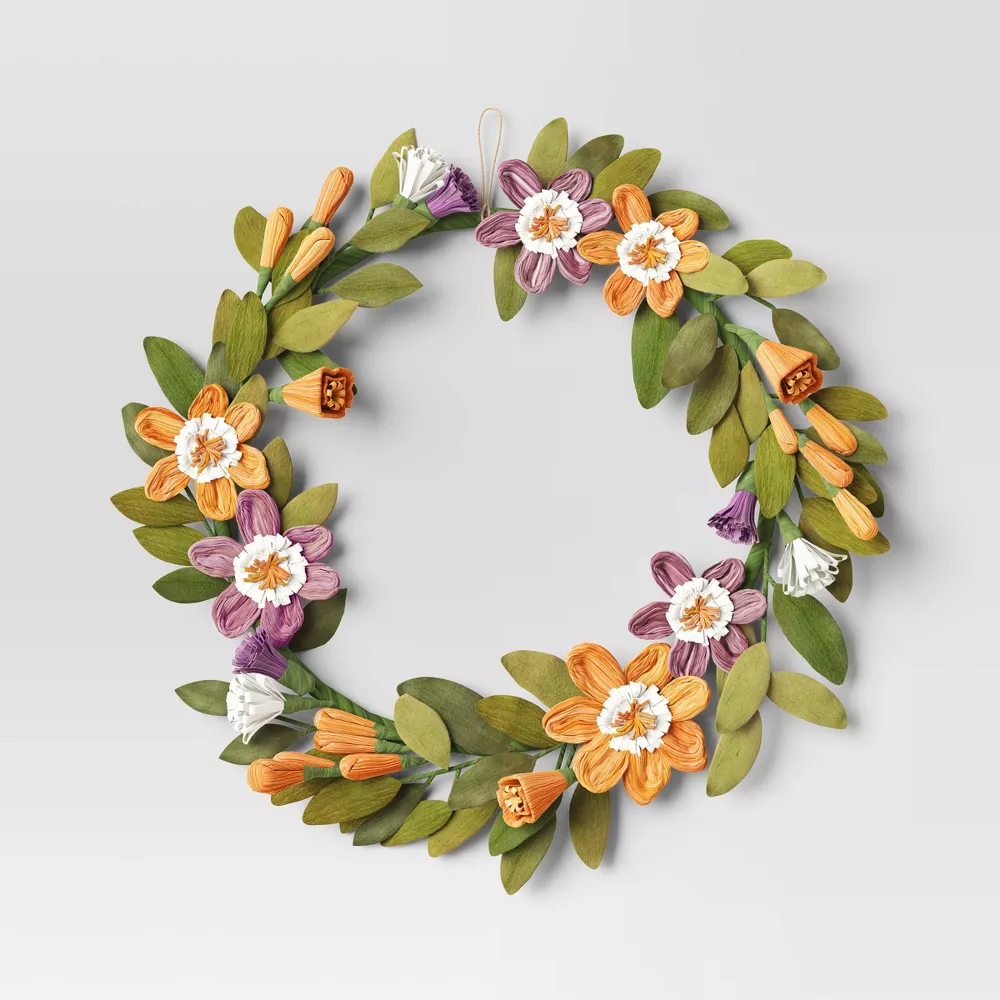 Sometimes it's just easier to buy an easter wreath, and this one from Target is adorable. It's colorful and sure to make a statement. But you can use this as inspiration and do it yourself with a little hot glue and some felt.
Moss Covered Bunny Door Hanger
This moss-covered bunny door hanger is the perfect idea for anyone looking for an easy DIY. All you need is:
Cardboard
Bag of moss (you can find it here or here)
Hot glue gun
I've always been a big fan of Etsy, especially when it comes to seasonal decor that's made by makers and small business owners. I usually buy a wreath for every season, and Easter is no exception. This colorful wreath would make a beautiful addition to your front door this spring.
Simple Carrott Easter Wreath
Jen from the Mad House made this easter wreath and I love how wonderful it looks. It's also not that complicated to put together. Don't forget to click the picture before for more details. But here are some of the materials you will need.
Materials:
A simple but beautiful bunny wreath from Etsy, and one you can reuse over and over again. It's a fun way to welcome easter in your home by choosing from three different sizes to fit your door. Plus, there are several colors and patterns so you can put your own spin on it.
One of the tips we were given to protect a wreath like this from outdoor elements is to use a waterproof
Bunny Pom Pom Wreath
I'm a sucker for white wreaths, for the simple fact that it goes well with just about any style. Not to mention this pom-pom wreath is really easy to make at home. You'll need:
cardboard
white yarn
scissors
ribbon
pen
white and pink craft paper
glue
Head to DIY N Crafts for the rest of the details.
Vintage Easter Wreath
If your style is more vintage, a vintage cottage perhaps? This is a fabulous idea for your front door. I'm also obsessed with it being homemade, with upcycled items that are glued on. Not to mention it's easily customized to fit your style.
Spring Carrot Door Hanger
Grab a bush of orange tulips (real or faux) and DIY this spring carrot door hanger.
Scapped Wood Bunnies
The cute wood bunnies are simple and easy to make using scrap wood and some wire.
This cute handmade sign is a great way to welcome Easter into your home. It can be hung outside and re-used for next year. There's something special about buying something handmade when you know a lot of time and effort went into it.
It's also possible to handmake yourself, by grabbing a circular board from a craft store, faux foliage, a hot glue gun, and some inexpensive ribbon.
Style an Easter Crate
If you are like me, some years I prefer minimal decorations. Instead of a door that screams easter, I like to grab a crate, and potted plants and add a few bunnies and call it a day. It's minimal but still very beautiful.
Speckled Wreath DIY
A perfect addition to your cottage-style home's easter decor. This speckled egg wreath is one of the prettiest ways to welcome guests into your home. It's easily created with a wreath from Amazon
We found these bunnies on Etsy and thought they were too cute not to include! Easter door decor doesn't just mean it has to hang on the door. Think about adding fun decorations like these wooden bunnies next to potted tulips.
Wooden Spring Animal Decor
While this front door idea isn't necessarily the easiest to make, it is possible to do it on your own. With several quick cuts, some mini planters, and screws, you're all set for Easter.
Easter Planters
If you're looking for a more simple front porch idea, grab an Easter basket, fill it with soil, and add some pretty spring flowers. It's a subtle way to get the easter vibes going without overdoing it.
Easter Yarn Wreath
This entire DIY only takes around 30 minutes.
Get Embed Code

Target has some really cute options for Easter decor. This Easter Carrot Wreath is made with a mix of colored twine and wire and is a pretty option for hanging on your door. It can also be placed under an outside light. With items like this Scotchgard waterproof spray, it's best to use a waterproof spray each and every season.
We love bunny wreaths at our home, for obvious reasons. Not only are they super cute but they are also really classy. It's easy to decorate with these wreaths, and they fit many different styles.
Wreath of Colorful Eggs
One of my favorite DIYs I've seen recently was this Wreath of colorful eggs. I'll of course leave the link to that DIY here. It's on my list of things I want to make this year!
A wooden bunny is a great way to get creative this Easter. For some extra decor try adding some foliage to the wreath, and personalizing it with different colored bowties. When storing this item make sure it is fully dry before placing it in an airtight bag or bin. It's the best way to prevent molding and to make sure you're able to use it again year after year.
Styled Bunny and Egg Decor
Looking for a budget option that still lets your guests know your home is styled for Easter? Try placing a cart on its side, and place a few bunnies and eggs in it. It can be simple Easter decor that you can build upon year after year. Or it can be a great option for renters who aren't ready to invest in a lot of Easter decor yet.
Found Feather and Egg Wreath
I love when people get creative and this is a perfect example of great creativity. If you have a grapevine wreath that doesn't look much like Easter at all. You can head out for a walk around your neighborhood to collect feathers and anything else that reminds you of Easter. You can also hand paint some eggs to look like birds eggs you would find. Then with your collection, grab a hot glue gun and add them to your wreath. It's a great and inexpensive DIY you could also do with your kids.
This welcome sign is one of my personal favorites. I love how you can simply add some personalization to a spring wreath. It's a beautiful way to welcome your guests over to celebrate Easter.
While this could be a fun DIY to do, you could also buy them from a small shop. I'm a huge fan of buying Homemade Doormat with Etsy. I love how creative they are, and if you don't have the time to DIY, this is a great way to get creative with your Easter decor this year.
Cute Bunny Door Hangers
These adorable bunny door hangers are a fun way to add some easter charm to your home. You can hang these on the front of your door, on the door handle, or even on the railing of your home.
If you're a fan of going big or going home, this giant reusable easter egg decoration is perfect for you. It has three levels where you can show off your favorite Easter decor. This handmade decoration for your front door can be found here on Etsy.
I've always loved rustic, farm signs, especially the super cute ones like this Peter Cottontail sign. The sign is uniquely designed to be weathered and rustic. The sign is printed on vinyl so it will hold up in all weather, which makes it a great idea for Easter door decorations.
DIY Your Own Easter Doormat
DIYing your own doormat is pretty genius because you can completely customize it for each and every season. It's also quite simple, and all you need to make your front door look instantly festive are the following materials:
For those who are huge fans of the french country, this spring wreath is a beautiful start to your Easter decor. I also did want to note that depending on the wreath you choose, many offer free shipping, especially if you are purchasing a really special wreath. It also means making sure you are taking the utmost care of them each season.
How to Protect your Easter Door Decoration
One last tip before you go, I wanted to make sure whatever Easter door decorations you choose you will be able to keep them year after year. The best way to do this is by ensuring they are weatherproof as much as possible and stored in a dry and safe bin or bag. We highly suggest grabbing a waterproof spray. It's the best option for any decor that is sitting outside, that way it prevents rot and mold from starting.
Also, dont forget to keep your decorations in an airtight bag when your not using them. This will make sure they last years!
Tools you'll need
Click on the picture above to shop the items directly.
Shop the Post