How to Decorate a Rental On a Budget
Easy and affordable decorating ideas for your rental.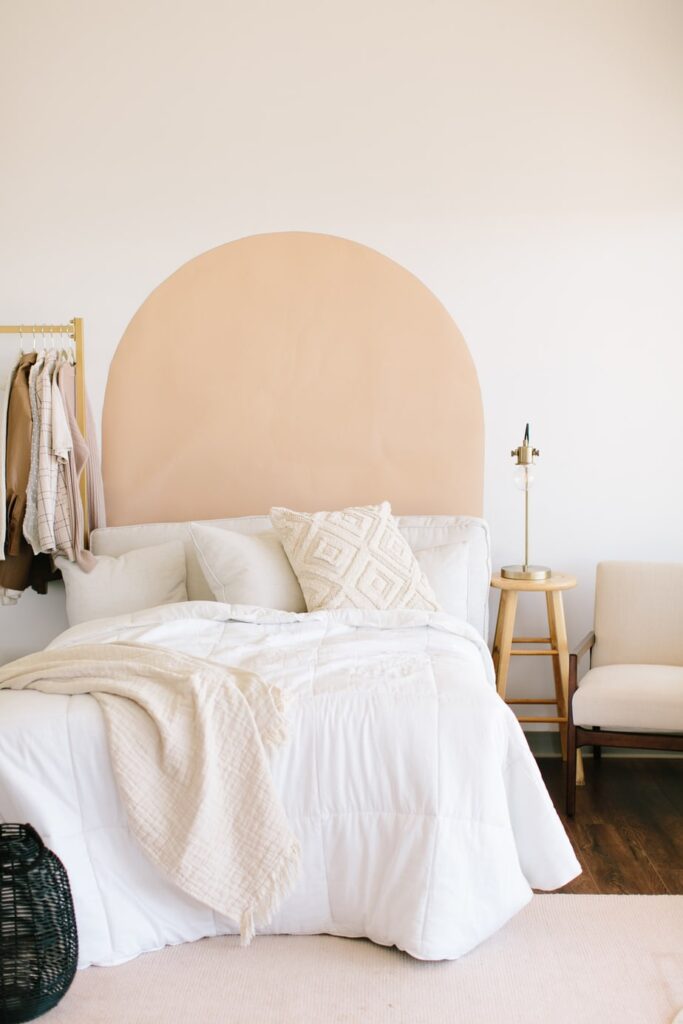 Here at Cottage Living & Style, our mission is to teach and inspire renters to create a cozy, safe, and happy home. Regardless of how long or short, your stay is, it's important to feel good about the space you live in.
Renting an apartment or home should not stop you from creating a personalized space you love. But we also know it can be a challenge to think of ways to customize the space without making any permanent changes.
Not to mention a lot of rental spaces include restrictions against even the slightest changes, and decorating a space can also be a big cost.
In today's post, we're sharing practical and creative ways you can decorate a rental without hurting your budget.
How to Decorate a Rental On a Budget
Given the current climate, more and more people are spending most of their time at home. So investing in your space has become less about how it looks, but how it benefits your mental health.
By keeping these renter-friendly decorating ideas affordable and easy, we hope it inspires you to make the most of where you are right now.
Because at the end of the day you deserve to be happy at home, regardless of whether it's a rental apartment or house.
Paint
Painting is one of the easiest changes you can make to a space. It's a cost-effective way that will instantly makeover any room. Plus it's pretty easy to paint back when it's time to leave.
If you're looking for something more personalized, there are plenty of unique wall designs that will add interest to a room if you're on a budget. Some ideas include painting a half-circle above a bed or using a stencil to make it look like faux wallpaper.
How to Paint Bathroom Cabinets without Sanding Them
Update Kitchen and Bathroom Hardware
When I moved into our rental out of college the first thing I did was change the hardware in both the bathroom and kitchen. Switching them was an easy update, and cost me under $30. Plus it was something I could add to my collection of decor that I planned on reusing in our future home.
It's not just doorknobs and cabinet pulls, it's also switch covers and hooks you can swap out for more of a personalized space.
11 Simple Bathroom Updates on a Budget

Removable Wallpaper and Decals
A favorite of renters is to install removable, peel-an-stick wallpaper. However, wallpaper can get pricey, so another option is using wall decals. We recently used them in a rental makeover because we weren't able to paint or make any structural changes.
There are tons of options for wall decals to fit each style on Etsy, and you're also supporting a small business.

Update the Lighting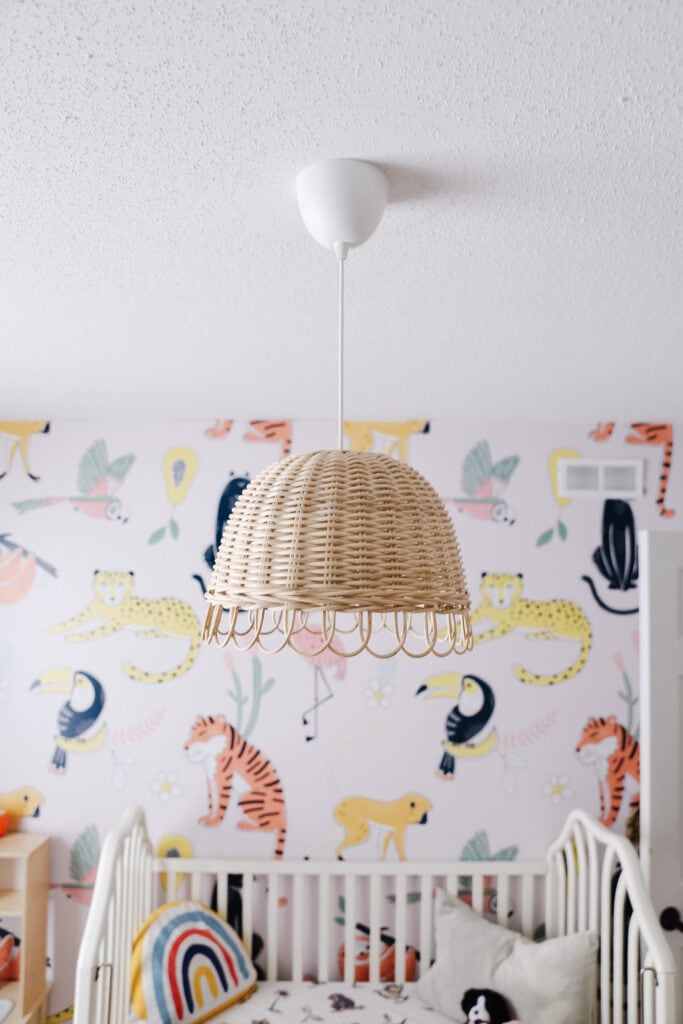 Light fixtures come in many shapes, sizes, and price points. This is great because no matter what your budget is, you can change the lights in your rental. If you're on a really tight budget, try DIYing a basket light for under $25 instead.
Or if you are able to spend a bit more, you can always switch out the light when you leave and then save it for your future home.
Also, don't forget about the secondary lighting. Lamps are amazing for making a space feel cozy, and there are tons of affordable options.

Vinyl Floor Stickers
I've seen a lot of these vinyl floor stickers on Pinterest lately. It's no surprise because they are an affordable, temporary, and easy to DIY update for renters. I'm really impressed by the reviews of how well they are holding up. It's something you want to look into if you're really interested in learning how to decorate your rental on a budget.
Along with vinyl stickers for the floor, you can also use them as wall tiles. We've seen people use them in their kitchens and bathrooms.

Layer Rugs
If your living room or bedroom has wall-to-wall carpeting, the best way to decorate is to get a rug big enough to cover a large area. The trick to buying the right size rug is to make sure it fits the coffee table, couch legs, and any accent chair legs on it.
Another tip for layering rugs is to get one that is to get the opposite of the carpet itself. For example, if the carpet is a neutral color, get a colorful rug. Or if it's a short pile get a long pile rug.

Decorate with Plants
An easy fix for a rental property is to add greenery to the space. Mix in a large tree in the corner of the dining room, a hanging plant in the bathroom, and some herbs in the kitchen.
I love adding in plants because it livens up the space, and there are tons of options at local nurseries for every budget.

Create an Art Gallery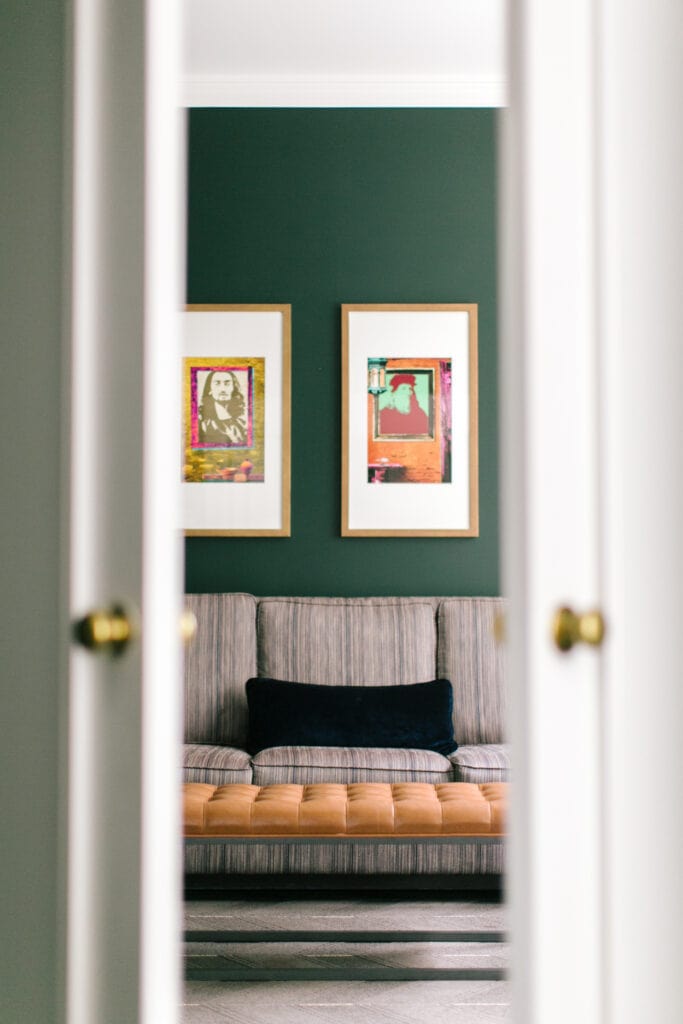 A decorating tip we use for designing rentals is to incorporate wall hangings, pictures with color or pattern, and memories.
Think about some blank walls in your home that could use some decor. The most common areas for gallery walls are the entryway, hallway, and bedrooms. To keep the gallery relatively low cost try visiting second-hand shops for frames, and buying prints online.

Decorate with Second Hand Furniture and Decor
My last tip is one of the best tips, I love upcycling furniture and decor. Not only is it a great way to protect the environment, but it's also very cost-effective. A lot of the furniture you find at thrift shops and second-hand will need a little TLC, but for the most part, they are an easy fix.
Keep an eye out for decor like baskets, dressers you can refinish and paint, coffee tables, and chairs.
At the end of the day, the best thing you can invest in is yourself and your home. It's where you spend the most time, and hopefully, it's a space that makes you feel safe, cozy, and happy.