Designing the Island Cottage Kitchen (Phase 1)
We're exploring the new design of our island cottage kitchen. We're also sharing what isn't working, and 3 cottage styles we're currently loving.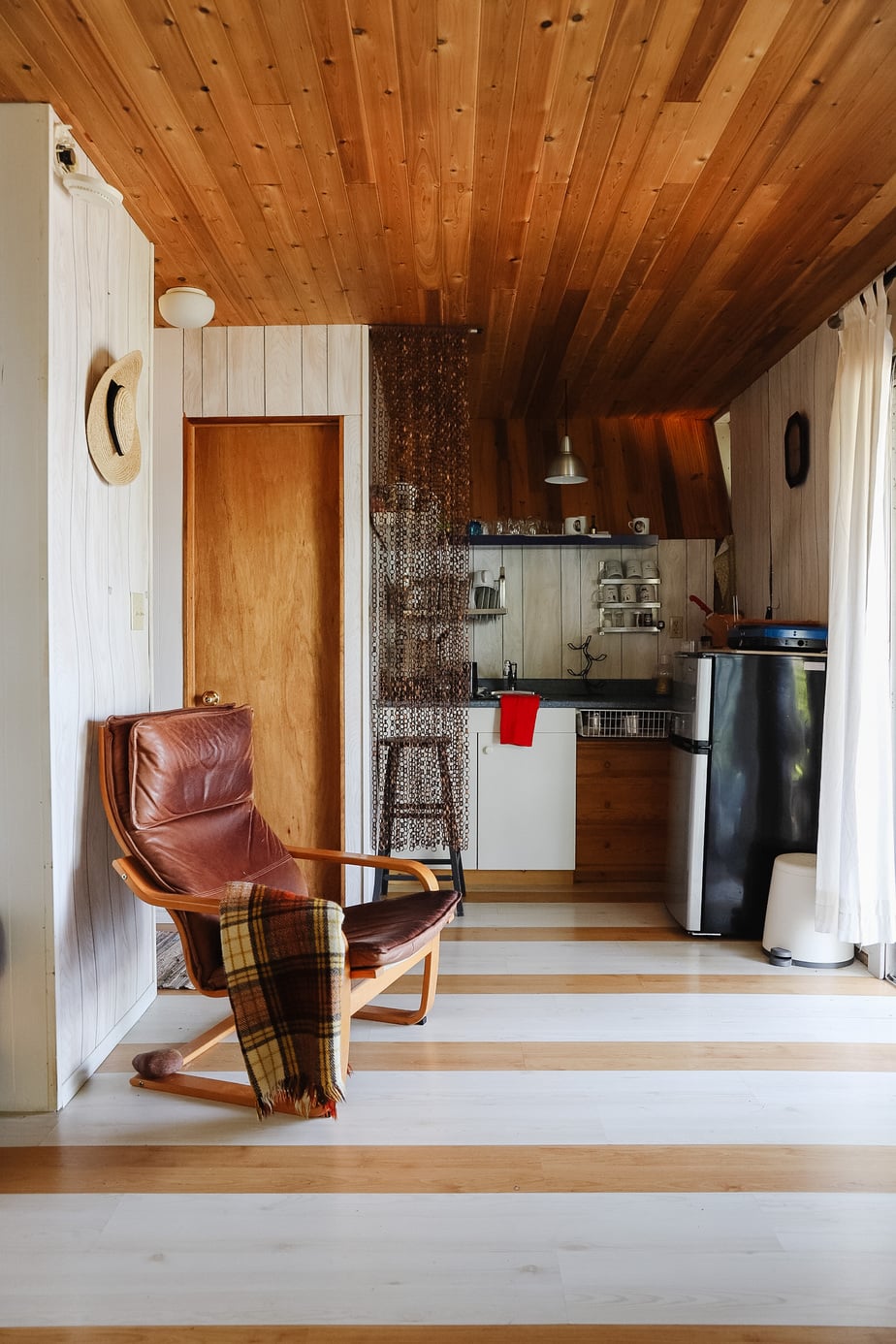 Even though we're not ready to start the demo on our kitchen, we are ready for a phase 1 makeover. So today I wanted to tell you a bit about our idea for the new design, and what our dream cottage kitchen looks like.
But first, a recap of our island cottage in case you missed it.
I wrote this article last year sharing a mini-tour, and this article about the history of the original a-frame.
Our Current Cottage Kitchen
My grandma was the real designer in the family, and her taste was what I like to call "affordable luxury". She was a huge fan of mixing IKEA furnishings with expensive antique finds. So you'll find Ikea lighting, with refurbished kitchen counters adorned with crystal glasses on the open shelves.
I really want to keep her love of European style in our new design.
So for Phase 1, we will be leaving any structural changes for next year and focusing on a cosmetic makeover.
Figuring out What doesn't Work
In order to start the design process, I need to figure out what works and what doesn't with the current kitchen. In our particular case, the kitchen feels crowded, and a bit awkward with the mini-fridge blocking access to additional storage.
The second thing is to clean up some of the counter space. We need to make sense of what we have and probably add some special decor.
Lastly, I think the entire space just needs a good "refresh". Maybe a few updated pieces, more color and I'll be sure to share every decision along the way.
Inspiration for our Island Cottage Kitchen
Costal Cottage
I've been pulling some inspiration photos for our little cottage kitchen. I love this cozy seaside getaway created by Matt Albani and Ron Brand! The rustic wooden ceiling, open shelves, and bright coastal decor were just a few things that caught my eye. I want to keep some of the cottage charms but pay homage to the island setting in the decor we choose.
2. Farmhouse-Style Cottage
Another idea we have for the kitchen is to simply highlight the wooden charm. Eventually, we will rip out the warped walls in our cottage and replace them with reclaimed walnut. Jessica Helgerson and her husband Yanni renovated this old station into a beautiful American Farmhouse-style cabin.
One of the things I really loved about their Oregon cabin is the bright and airy feel. There is something so beautiful about reclaimed wood. Jessica chose period-appropriate furnishings, avoided trends, and did right by the age of the cabin.
3. Muskoka Lake Cottage
This stunning lake Muskoka Cottage was designed by Melissa DiRenzo, a Toronto-based graphic designer. I appreciate people who incorperate color into their homes. When I first saw this photo I immediately started brainstorming ways to add more color to our kitchen design.
We may look into adding color by incorporating tile into the kitchen backsplash. I truly believe in order to "pull off" a bright kitchen you have to find a balance and add complementary colors throughout the rest of the space.
Even though it's hard for me to wait to rip out the existing walls, install new counters and tile. I think this phase 1 will not only be beautiful but also create a functional kitchen for our family.
What is your favorite style of cottage kitchens?