3 Expert Tips to Make Cheap Curtains Look Expensive
Do you want to learn how to take your cheap curtains and make them look more expensive and luxurious? Here are 3 expert rules that will make them instantly look better.
I've searched high and low for the perfect curtains. I want them to look expensive without the high price point. But let me tell you, it's a lot harder than you think.
This is why we've got 3 expert tips to make cheap curtains look expensive. So you can stop looking and start making your house into the home you've always wanted.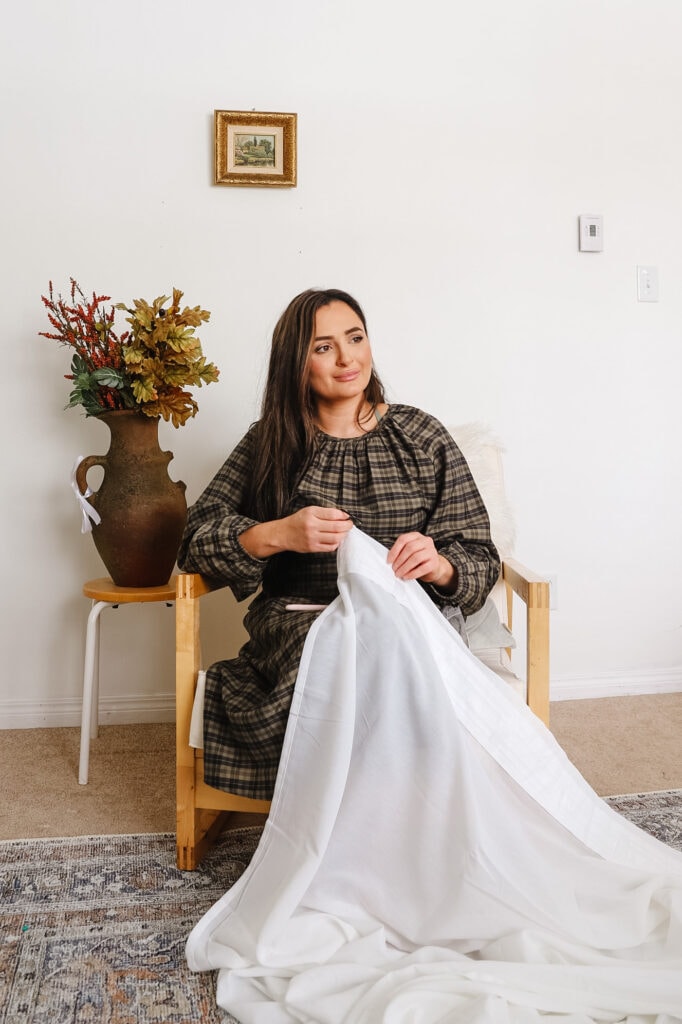 3 Tips to Make Cheap Curtains Look Expensive
After designing hundreds of spaces, I know that the average living room looks the best with 97″ curtains even if they drape along the floor.
For the longest time, I thought that meant the curtains were too long, and while some might disagree, I love the way it looks when curtains drape along the floor. Not to mention, more material tends equal more money, which also makes the curtains look a bit more expensive.
Rule #1: Get the Right Length of Curtains
This brings me to answer the question everyone asks. How long should curtains be for your home if you want them to look expensive?
The answer is simple.
If your home has standard 9ft ceilings, you should be aiming for 96″ curtains and no less.
If you have even taller ceilings you should be working with longer curtains. The rule of thumb is to make your ceilings and windows look taller by hanging your curtains higher and having the bottom of the curtains touch the floors.
I don't think I've ever intentionally used 87″ curtains on windows. But I have used 87″ curtains for closets and other DIY projects in home makeovers. But I can't stress this enough, you should never need to purchase curtains that are under 97″.
These simple changes can instantly make cheap curtains look like they were chosen by a professional.
To make things easier I have included a graphic to get the idea of how you should hang your curtains.
Rule #2: Choose the Material and Color for Your Home
There are so many colors and materials when it comes to window treatments, and choosing the fabric, color, and pattern is completely up to you.
But there are some rules we stick to when designing client homes.
The Heavier the Material the More it Costs
Expensive curtains are similar to expensive bedding when it comes to material. The heavier, thicker materials tend to cost more than thinner, lighter materials. Unless it's made from silk, but even then silk curtains tend to be heavier the higher quality they are.
For that reason, we tend to stick to these materials for curtains.
Linen
Was originally made from natural fibers from flax plants, but now cotton and hemp fibers are used more often. It's luxurious and highly durable.
Velvet
Made with natural mohair and silk fibers. Velvet drapes well and is soft.
Cotton
Cotton is usually mixed with other materials now, but it is soft, breathable, and comes in a variety of weights.
Synthetic Material
Synthetic fabric like nylon and acrylic are used in place of natural materials. Which can be stain and water-resistant, and made to look like natural materials.
Color Rules for Cheap Curtains
As for choosing the color of your curtains, it's completely up to you and the style of your home.
If I'm helping a client with their home I will most likely choose white for a bright, airy look. Forest green for a cozy home, or taupe for an earthy feel. But I also love fun pops of color and appreciate a few bold curtain panels.
Looking for more Budget Ideas? Find more HERE.
How to Make Thin Curtains Look Better
To give the illusion of a thicker curtain, I would suggest getting two or more sets of curtain panels.
We actually did this with our Amazon curtains as well as Ikea curtains (I'm linking a few below). I used four panels in our living room, and six panels in the dining room.
Either way, I guarantee it will be a tenth of what you would pay for custom drapery.
Note: For curtains that are too light, you can add a few flat weights to the bottoms to hang in a straight line and ultimately look better. I've easily installed them using nail scissors and thread.
Rule #3 The One Curtain Harware You Absolutely Need
My last tip for making cheap curtains look luxurious is to use ring clips. I grabbed mine from Walmart (linked for you) for under $20.
We used ten clips on each curtain, but you may need more if you're doubling your panels. The curtains I shared above have pockets every few inches which I used as a guide to space the clips evenly.
I did a tutorial on my stories basically showing all the ways to clip the curtains, including a really neat way to hem curtains without sewing. That way you don't need to worry about buying a seam ripper or matching thread with this product.
All you need to do is fold the top instead of the bottom of your curtains to the height you want. Then using clips to hold in place, and hang them on the rod.
Of course, I found another video on using here, but I think it's pretty straightforward. It's also easier if you bring the rod to the floor and put the rings on.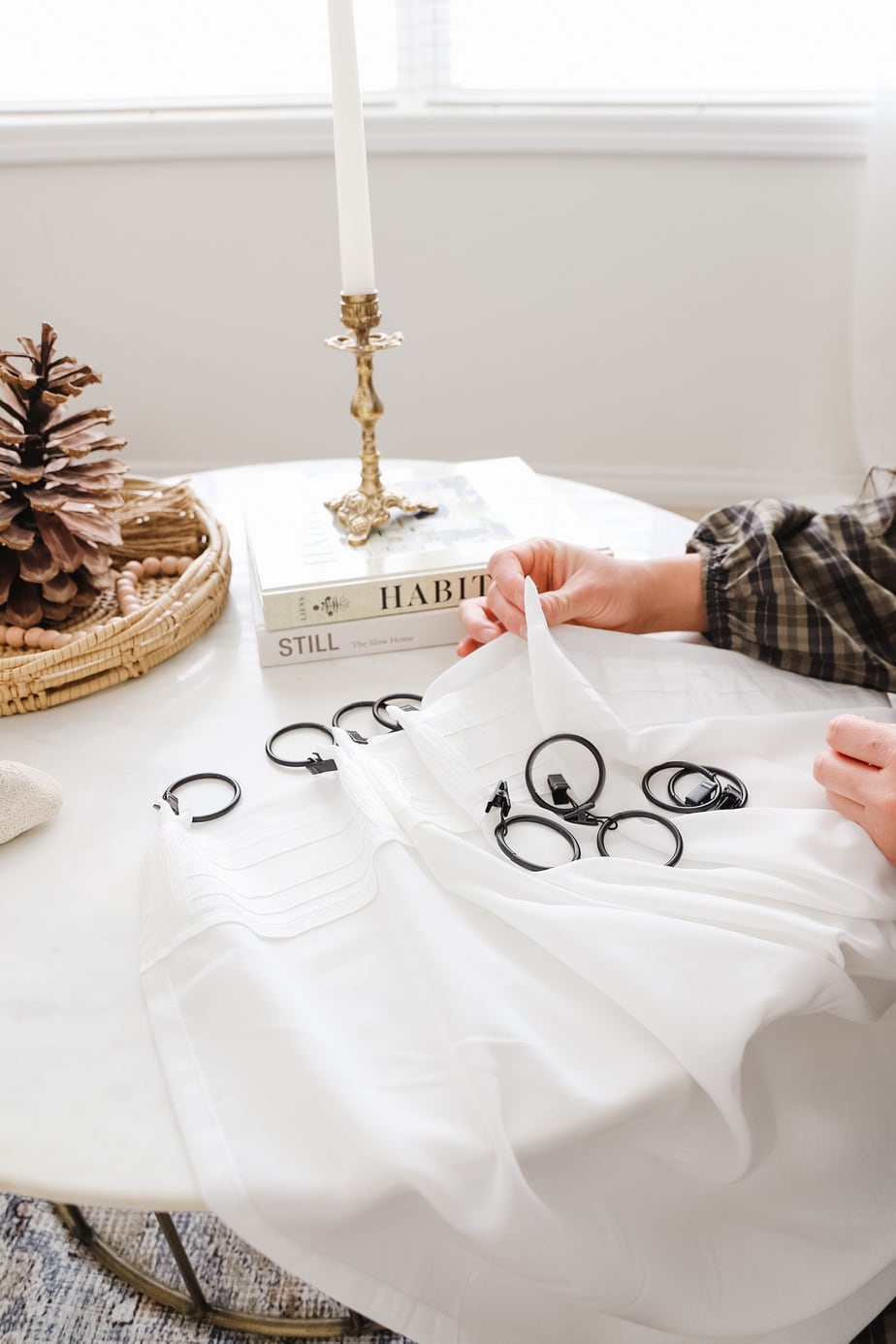 So those are the 3 rules for making cheap curtains look expensive.
I have also added shoppable links to all my favorite inexpensive curtains, curtain rods, ring clips, and even some pom pom trim for those DIY lovers.
If you have any suggestions or tips I might have missed leave them below! I can't wait to see what everyone else does in their home.