Weekly Edit: Thrifting, Holiday Collection
Thank you so much for the support on my sponsored posts lately, it honestly means SO much to me. I never want you to feel like I'm pushing products on you or convincing you that you NEED something. I know I've said this already, but I truly believe you don't need to spend money to make your home look beautiful.
Take this week for example. I had set myself a budget this month of $200 for living room decor so I can shoot the reveal soon. But instead of spending that all in one shot on either a carpet (turns out I actually need one), lamp, or even a new stool. I went thrifting before I shopped online. It was actually pretty fun trying to find that one diamond in the rough. Turns out I did find several things for our home, a small painting, and a very gorgeous canned chair.
Okay, enough of my week. How was yours? Are you ready for Halloween?
Im finding it really hard to get into the Halloween Spirit, but I do have another Halloween makeover in the works and I'm excited to share it later this week. Just in case your looking for some last minute Halloween Decor from Amazon, I've got you covered:

Young Living just released their Holiday Collection and the excitement literally broke their site! They decided to hold off on the launch another week which kind of stinks because I was hoping to have some of the holiday products to show you guys. Trust me when I say this is going to be something you're going to want! and make sure you let me know in the comments or dm's what you think would be a signup incentive from the collection! Here's a little sneak peek:
I FINALLY added my Holiday Home Decor picks to my home page, along with the Weekly Finds (I switch them out every week), and I've even included some Fall Fashion. Just to note that everything is super affordable, I keep almost everything under $100, with the exception of a few things but only if they are quality pieces that I think will last you a lifetime. If you're on mobile you can find them here, and my actual shop here.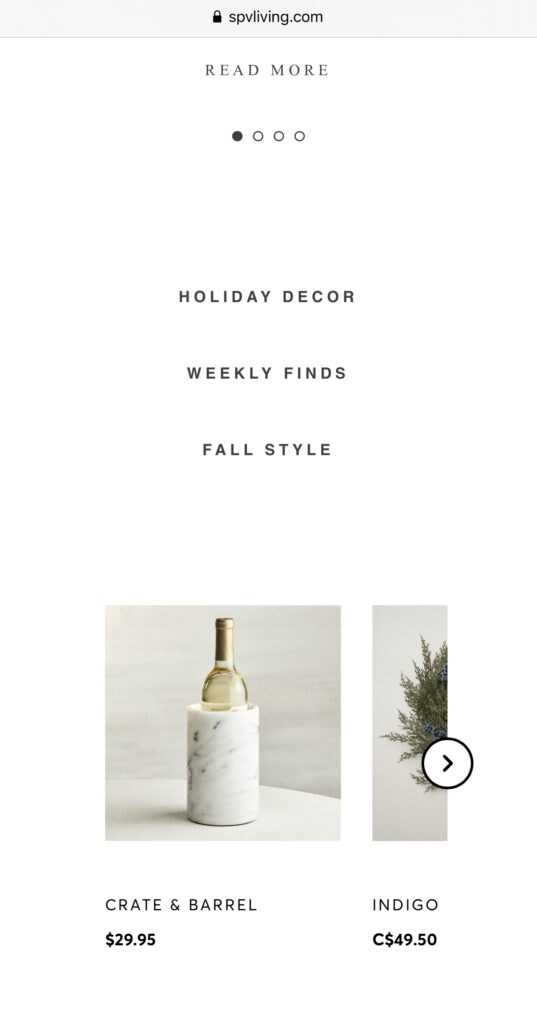 Speaking of the holidays, here are 10 of the best sales happening now. Just in case you want to get a head start on your Christmas shopping….
Anthropologie is offering 25% off everything (yes, including furniture) site-wide.
West Elm has free shipping for orders over $79 with code FALLTREAT. (They also have up to 40% off good furniture — all the items discounted are here.)
This literally never happens, but Samsung is offering up to $800 off The Frame through October 25th. Can I buy myself this for Christmas? Because I really want one!
Madewell is offering 20% off site-wide or 30% off orders of over $200 with code SPREETIME.
It's the final weekend of Rejuvenation's Porch Event (20% off curb appeal essentials) and Fall Savings Event (up to 50% a little bit of everything — over 1,200 items have been deeply discounted).
Save $50 on the mattress we just got! It's amazing TRUST ME, I even wrote about it here. Use my code SPVLIVING50 at check out (works for 10″, 14″ and their bundles).
Take 20% off site-wide at J. Crew with code WARMUP. Linking to the US site but you can change the Country at the bottom for J.Crew Canada.
If you're the card-sending type, Minted is offering 10% off all holiday cards and 15% off card orders of over $200 with code CHEER2020.
Sign up for Young Living's free membership and purchase a kit this week and get 24% off for the rest of the year, plus your own thieves spray bottle as a gift from me.
Skinstore is offering 22% off site-wide with exclusive code SKINSTORE22. One of my favorite shops for skincare because they are always having great deals!
That's it for this week! See you all tomorrow.