5 Non-Toxic Swaps I made in our Home
This article shares the 5 non-toxic swaps I made in our home recently. Along with a list of ingredients, we're avoiding!
I've been meaning to write this post for weeks now, and I'm happy to finally share 5 non-toxic swaps I made recently. It all started when my daughter was born, and we started noticing her sensitive skin would react to the products I used in our home. Things like washing her clothes with "normal" detergent became an issue. So did the cleaners I used on her high chair and toys.
I first heard about Young Living a few years ago, and their products sounded like they would be amazing for us. But it wasn't until a few months ago when I was reintroduced to them that I decided to give Young Living a try. I was pretty fed up with all the other cleaners and detergents making my family's sensitive skin worse.
Why you should make non-toxic swaps
Did you know that there was a study done by the Environmental Defence of Canada that tested the air quality or VOC in our homes after using a cleaning agent? The study showed that cleaning using chemicals and toxic cleaners considerably reduced the air quality in our homes. What's even scarier is the test was done with conventional cleaners and the VOC increased by 120 percent, when they tested using certified green cleaners the VOC went up 35, but when they tested products that claimed green the VOC went up 100 percent!
I am sharing the ingredients below for each of the 5 non-toxic swaps I made in our home. I know we can do better than 35 percent and I'm sharing how below!
The Most Dangerous Household Products
What's even scarier is the chemicals and toxins used in our household products cause everything from reproductive problems, cancerous tumors, and biological mutations. Some of the most dangerous chemicals in our homes are from candles, plugins, chemical cleaners, cleaners for your floors, toilets, drains, dishwasher soap, dish soaps, furniture polish, and even the oven cleaners we use!
House Hold Cleaner
The first thing I swapped out as soon as I finished it was our household cleaner. Instead, I replaced it with Thieves Cleaner and to my surprise, it's the only thing I've been using for months now. I bought one bottle back in June and I'm still not even halfway done! The best part is that the Thieves cleaner is completely toxin-free, and I will leave the ingredients below.
Frankly, this is an amazing product and it blows my mind how clean it actually is. Not to mention the cleaning power is unreal!
Dish Soap
Dish soap came next, and honestly, I don't know why I used the one I was for so long. There was a time last winter when my hands were so dry and rough, they looked worse than my husband's hands and he works outside! It was all because I was doing all the dishes (before our dishwasher). Anyway, the Thieves Dish Soap is another wonderful product I will always purchase. I buy one every two months, and I did want to mention that these are all concentrated products and you end up saving money in the long run. Of course, it's also non-toxic and I am leaving the ingredients below for you to check out.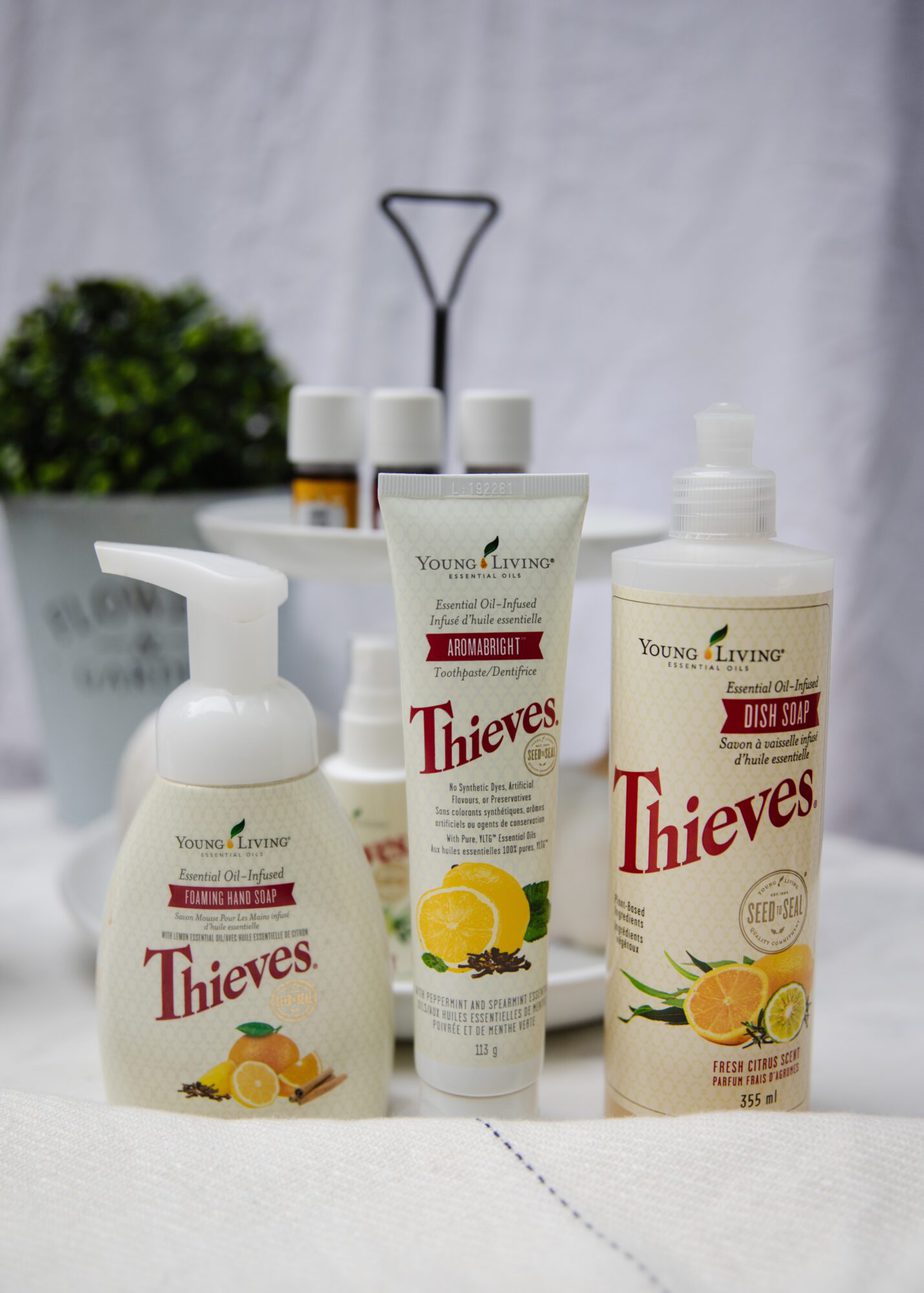 Hand Soap
Hand soap is a product we've all been using several times a day, if not more lately. I figured I would give Young Living's hand soap a try and test it out. Again it's a wonderful product that smelled wonderful and left my hands feeling soft but clean. So win-win with this product!
Laundry Detergent
This was the product I was the most skeptical about because I didn't know what to expect. I always thought that in order to really clean something I needed to use chemicals and that the more chemicals something had the cleaner it was. But that was so wrong. I couldn't stop thinking about those chemicals entering our water systems not to mention letting them touch my child's skin! Instead of doing something good like cleaning my entire family's laundry, I was unknowingly putting these harmful chemicals on their body. No wonder why we were experiencing rashes and spots sometimes. So I was impressed again with the ingredients for the Thieves Laundry Detergent, and even more impressed with the cleaning power. I've gotten major stains out and they come out smelling amazing.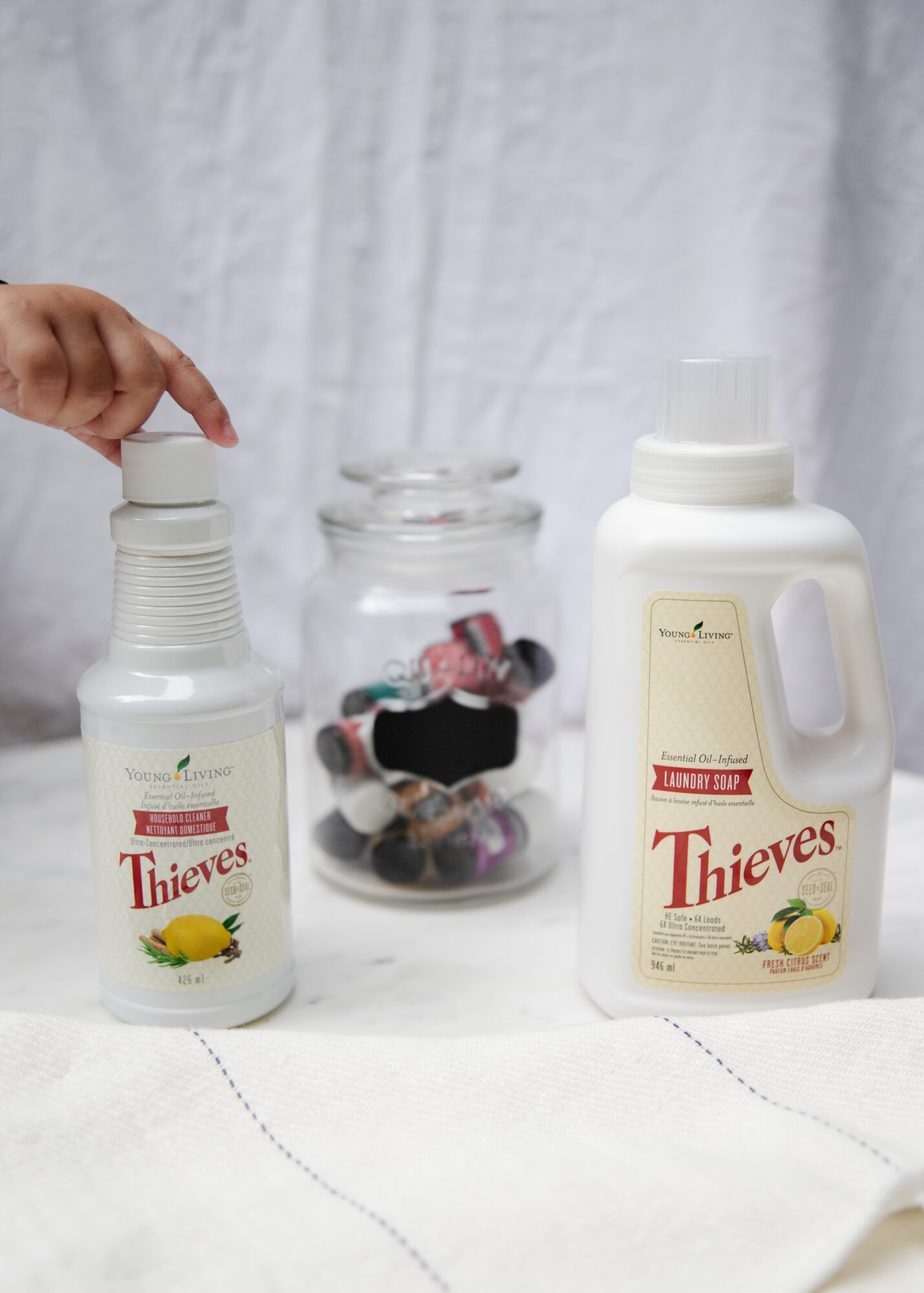 Hand Sanitizer
We've all been using hand sanitizers a LOT lately, and I started noticing there were a few that would leave my hand itchy. I started worrying even more when I saw articles circulating about contaminated hand sanitizers and I knew I had to do better. So I ordered several Hand Sanitizers from Young Living and haven't looked back since. I now feel so much better about letting my toddler use them, and I also know a lot of friends who put them in their child's bags for school.
Your turn to make some non-toxic swaps at home
I hope you were able to find either a new non-toxic product you might be interested in. Or at the very least put some thought into the products you're currently using. Let me know if you decide to make these 5 easy non-toxic swaps in your home too.
Just a note that I am a Young Living Rep, and I will receive a small commission at no extra cost to you if you purchase through these links. I recommend anyone who is interested in the product to take advantage of their free memberships that will give you access to wholesale prices (meaning 24% off the original price).