Top Decorating Ideas for a Dark, Narrow, or Small Hallway
These are the exact small narrow hallway decorating ideas we used to makeover our space in just one day.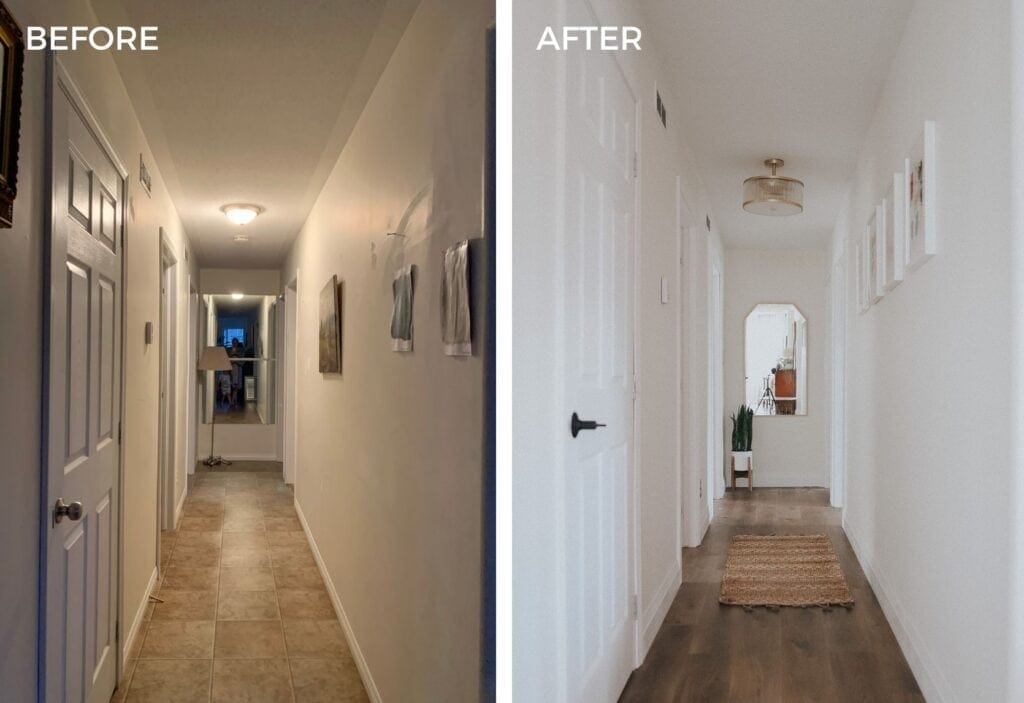 Anyone who has tried to decorate a hallway before knows how tricky it can be, especially if it's a long hallway that's also dark, and narrow. Most of the time, people will choose to leave their hallways empty, thinking it's best to avoid decorative items altogether. But we wanted to share not only the best hallway decor ideas and design tips but also our own dark hallway makeover. Which we completely updated into a welcoming space for under $600.
We recently got the opportunity to partner with The Home Depot Canada on their Healthy Home Campaign. For the campaign, we swapped out old light bulbs for energy-efficient ones, replaced the remaining boob lights in our home, and even added some smart plugs. But we wanted to highlight how we used those items in our home.
For this project, we relied heavily on the power of decorating, especially because we couldn't (and didn't want to) make any structural changes to our home.
Keep reading as I share expert tips for transforming your dark, narrow space with just paint, decor, and a few design techniques.
Small Narrow Hallway Decorating Ideas
If we were renovating this entire home, I would have installed skylights or a large window at the end of the hallway allowing natural light to fill the room.
But don't worry, because these small hallway ideas that I'm about to share will give you the illusion of more space, good lighting, and even how to give the illusion of a wider, longer, and brighter hallway.
Tools you'll need
This is a list of everything you need to give your dark hallway a quick and budget-friendly makeover without too many changes.
1. Choosing the Right Paint Colors
When it comes to painting a hallway with no windows there are a few options, which I'll share below. But there are general rules like, choosing a reflective paint if you have no windows (rules are meant to be broken). Matching trim or painting the trim a lighter color than your hallway walls will make it appear wider. If you prefer to enhance the moodiness, choose a dark cream color instead. You can also stick with light colors on your ceiling to create a brighter hallway.
Blush
Beige
Light Cream
Blue
Green
Swiss Coffee
By Benjamin Moore
2. Create a Focal Point
One of the best ways to add interest to a long hallway is by adding a focal point. This can be done in several ways, which we will each one in detail below. But a focal point doesn't have to be a wall, it can also be a bold wallpaper, a piece of furniture, a wall treatment, or a piece of decor.
3. Built-in Seating and Chairs
Whether you actually sit in a chair or not, placing a chair in the hallway can also be a great option. We've seen many spaces with a single chair, under a large-scale art and a floor lamp. I also love the idea of a built-in bench, perhaps with storage if your hallway allows for it. Getting strategic with the lighting can also help brighten and give the illusion of a wider hallway.
4. Add a Table Lamp
If you have a dark, narrow hallway that doesn't have any natural light sources, then adding a table lamp can be a great idea. In some cases, we recommend digging into the vibe by sticking with moody lighting, like a small table lamp. Sometimes, using a secondary light fixture on a console table, or floating shelf will be enough to bring a little interest to a small hallway. Leaning a mirror behind the table lamp will also bounce light around the hallway.
Table Lamps for Hallways
Shop any of the items above to shop from the links directly.
5. Pendant Lights
We're often asked if you can use pendant lights in a hallway. and the answer is, yet! Pendant lighting is actually the best for hallways with high ceilings, however, they can also work for 8-9 ft ceilings.
A good tip for finding the ideal length of a pendant is to take the height of the room and multiply it by 3 and 2.5. These two numbers (for example, 12 and 22) will give you the best range for your pendants
6. Wall Sconces
Wall sconces are wonderful to use in hallways, they can transform the look, style, and feel of a space. They can also make a hallway appear longer than it actually is by spacing a few sconces out. Click HERE for my favorite wall sconces that are 2 for under $60!
The rule of thumb for installing wall sconces in a hallway is by making sure they are equally spaced, usually sitting 6 feet apart. This will ensure that they don't look strange with dark areas on the wall. As for the height placement, we suggest installing them anywhere from 65-72 inches for 8-9 ft ceilings. However, if you have taller ceilings that placement may change to suit your space better.
7. Share Your Family Photos
A hallway is not only the perfect place to share your beautiful photos of friends and family but make the most of a blank space. One of our favorite rules is to stick with similar pictures like portraits, black and white, and colorful prints, and it's a good idea to stick with the same frame. This will help make it appear less cluttered and more purposeful.
8. Floor-to-ceiling Gallery Wall
Gallery walls are great for creating the illusion of higher ceilings, drawing the eye up and along. You can use a gallery wall to make your hallway appear taller, wider, and longer. A gallery can also work as a feature wall, which looks more modern than painting a single wall. If you're looking to create a gallery wall on a budget, we love using a mix of frames from Amazon (linked here) and Ikea's RIBBA frame.
Another option for your frames is to lean on a floating shelf, along with some decor.
9. Wall Art
When it comes to small narrow hallway decorating ideas there are other options for wall art besides a gallery wall. Some of them include wall hangings, wreaths, hanging baskets, floating shelves, and other decorative pieces. Choosing what goes best for your home will depend on your style and wall space.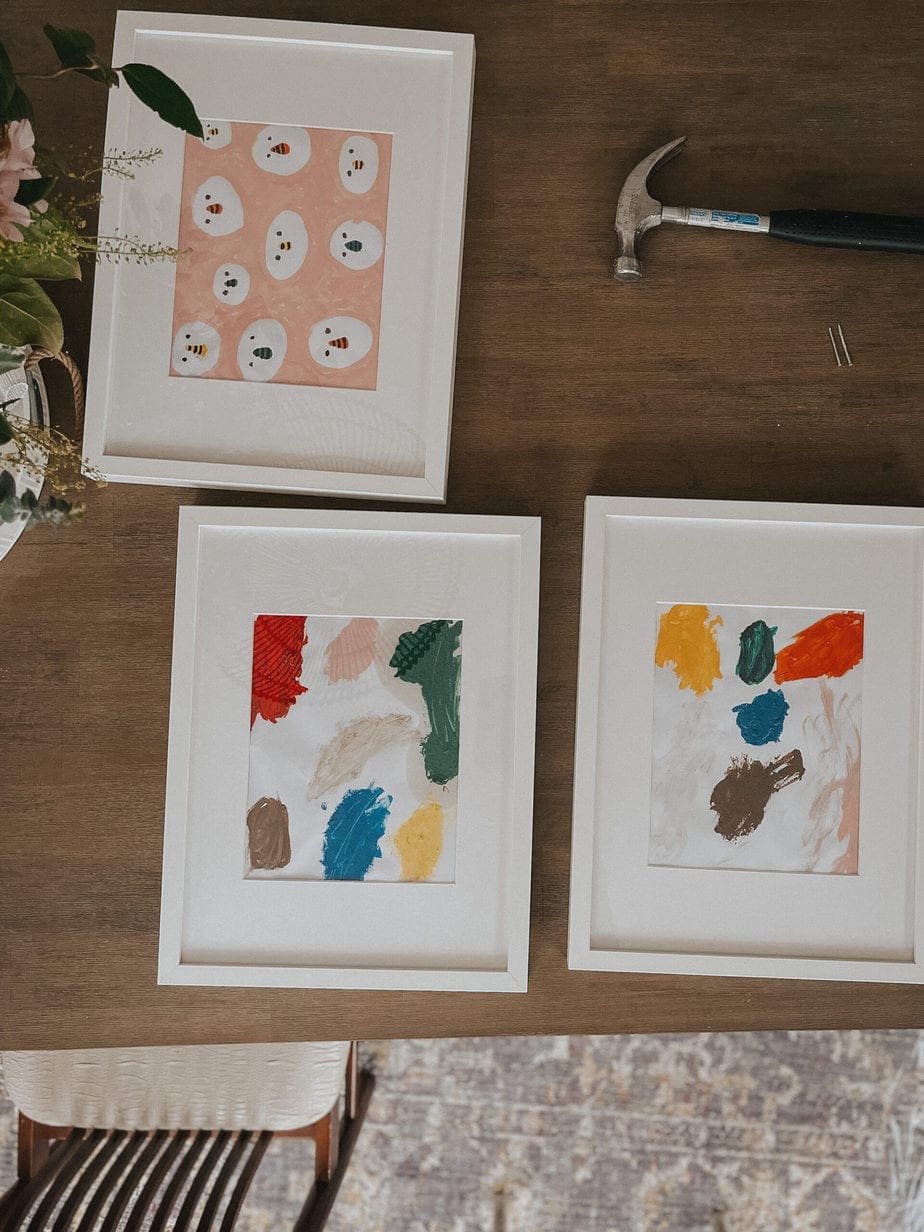 One of our personal favorites is decorating our hallways with art from our children. It's our own museum art, and it makes us smile every time we walk down the hallway.
Use Kids Artwork
Frame your kid's art! We grabbed a few Ikea frames for under $15 each and got our daughter to paint or draw some pictures. It turned out amazing!
10. Other Dark Hallway Lighting Ideas
We've chatted about pendant lights, and wall sconces, but there are a few other ceiling lights I wanted to mention. In some cases, recessed lighting might be the only option. If that's the case I would choose secondary lighting like a floor or table lamp. There are also other light fixture options like a chandelier and track lighting. The choice will depend on your interior design style and your home's architecture.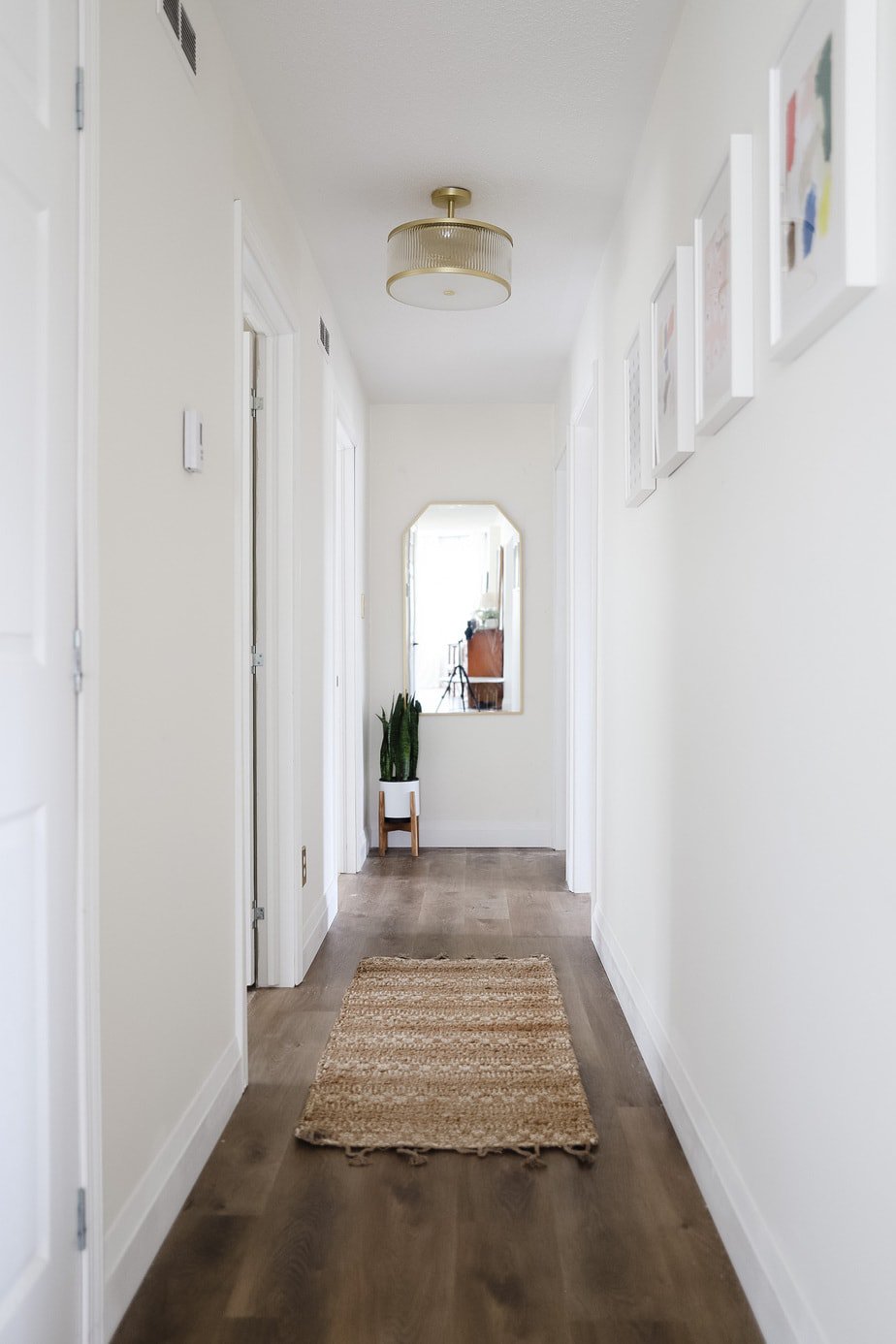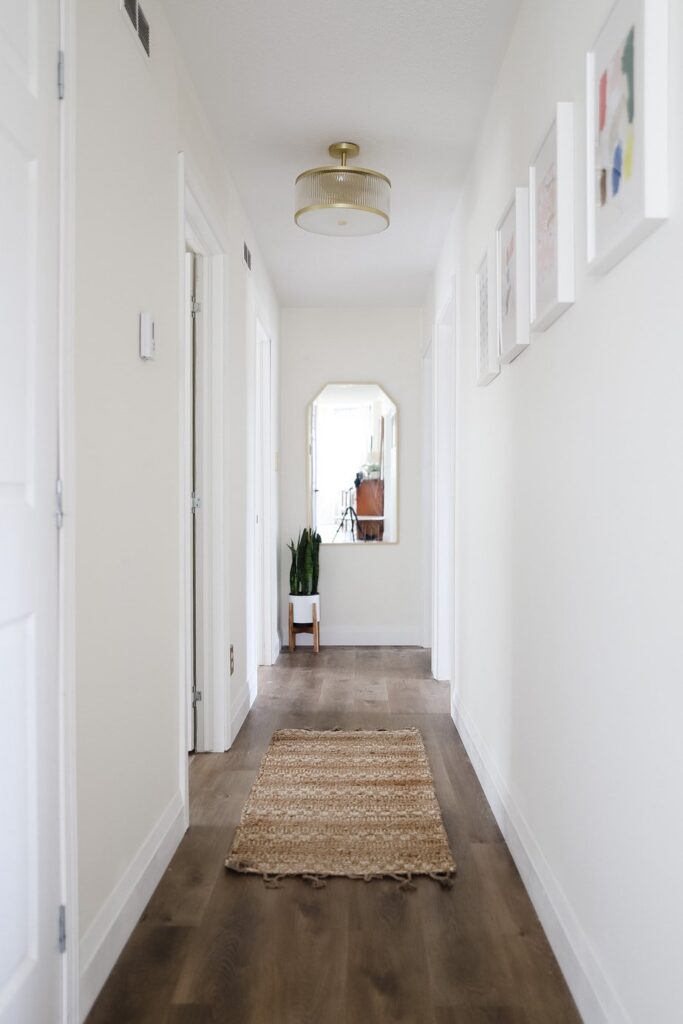 11. Hallway Storage
I like multipurpose spaces, but if you don't already have a hallway closet, then consider adding some storage units. We've seen this done in several ways, the most popular in cottage-style homes is with a wooden wardrobe. This again is a great decorating idea for small or dark hallways. You could also add closet lights when the door opens to help you see better in the dark.
Other ideas include floating shelves, built-ins, and cabinets.
12. Entryway Hallway
If you have a dark hallway that is connected to your front door, then things like a wall sconce, and mirrors could help brighten the space up. Additional decorative items like coat racks, storage for shoes, and a full-length mirror are also great ideas for a long entry hallway. Don't let a dark space be the reason you don't decorate. We've seen people use a little table with a mirror and a table lamp at their front door works well.
13. Console Table
The console table is one of my favorite ways to decorate a small hallway. If you have the width for one, it can instantly add charm and also double as storage. There are plenty of budget options out there, some of our favorites are from Wayfair and Amazon.
How do you Decorate a Hall Table?
An easy way to decorate a table is to use the rule of threes, placing a table lamp, faux flowers, and either books or a bowl to collect things like keys or decorative items.
14. Runners
Adding a runner to your hallway can instantly make the space feel cozy and appear brighter. But there are some tips we wanted to share when it comes to choosing the right size of runner for your small, narrow, or long hallway. Most hallways are 3″ wide, and we want about 4-5 inches on either side. But it's just a guide, so don't let a narrow hallway get in the way of adding a runner. Not to mention, a long runner can also make a small hallway appear longer so test it out with different options and rug designs to see what suits your space the best.
Runner Ideas for Hallways
These are all Amazon affiliate links, we may earn a small commission if you make a purchase.
15. Wall Treatments
Similarly, vertical stripes can also make the walls appear taller. When it comes to small narrow hallway decorating ideas, we prefer subtle pattern wallpaper or even a large-scale pattern. The idea is to use texture and pattern to create the illusion of a larger space. I did want to add one more idea because it's something we are currently thinking about adding. Creating visual interest with slats or panels is a lovely idea for small or narrow hallways. What wallpaper makes a hallway look bigger? Did you know you can use wallpaper to make a hallway look bigger? Adding wallpaper with horizontal stripes will make a narrow hallway look longer by drawing the eye down.
Wainscoting for Hallways
One of my favorite small narrow hallway decorating ideas is to add dimension and interest to a hallway. This is done by installing wainscotting, board, and batten or shiplap to an otherwise boring space.
16. Low Light or Faux Indoor Plants
We've chatted about large low-light plants in the past, but if you're not confident in your ability to keep a plant alive, then a faux plant may be the best option. I personally love having a plant (faux or real) in every room. It gives a warm welcome to anyone who steps foot in the space.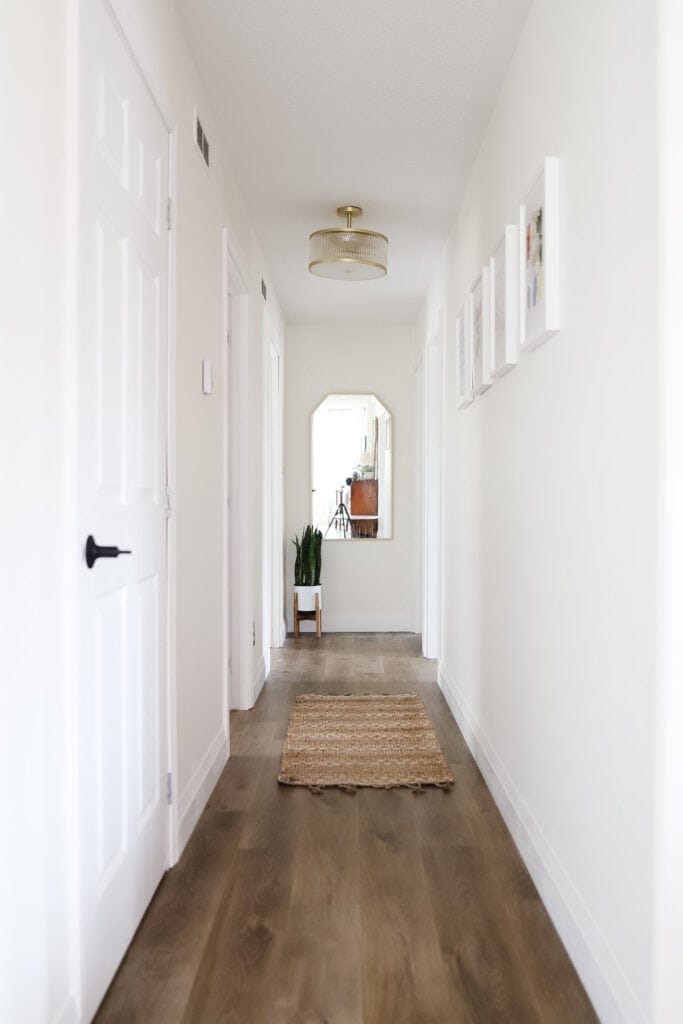 17. Use a Mirror
You can use mirrors to give the illusion of a brighter, wider, or longer hallway. Placing a large mirror at the end of our hallway, and bouncing light from the dining room gave the illusion of another window in the hallway. If you want the hallway to appear wider, place the mirrors on the sides of the walls. And if your hallway is really dark, placing a mirror in front of a table lamp will cast light around the room.
Our Dark Hallway Before and After
Im so glad we finally updated our dark hallway, and it turned out amazing! I followed a lot of the ideas we shared above and it honestly made a huge difference. Not to mention we stayed on budget, this entire makeover cost us less than $600. Including the paint, new flooring, lighting, and all the decor.
​Our flooring made a huge difference because we were able to cover the linoleum with luxury vinyl planks in Coyote Storm (to match the living room and kitchen). I used the paint color, Simply White which I shared in this guide to white paint.
As I said, we are working with The Home Depot Canada on their Healthy Home campaign. We're sharing easy updates you can make to your home that have a positive impact on your home, family, and the environment. So for our home update, we removed our existing boob light and installed a new semi-flush light, that uses new energy-efficient LED light bulbs. We also removed the old "boob lighting" and replaced it with a brand-new semi-flush mount light. This is another quick and affordable way to change the look and feel of your dark and narrow hallway.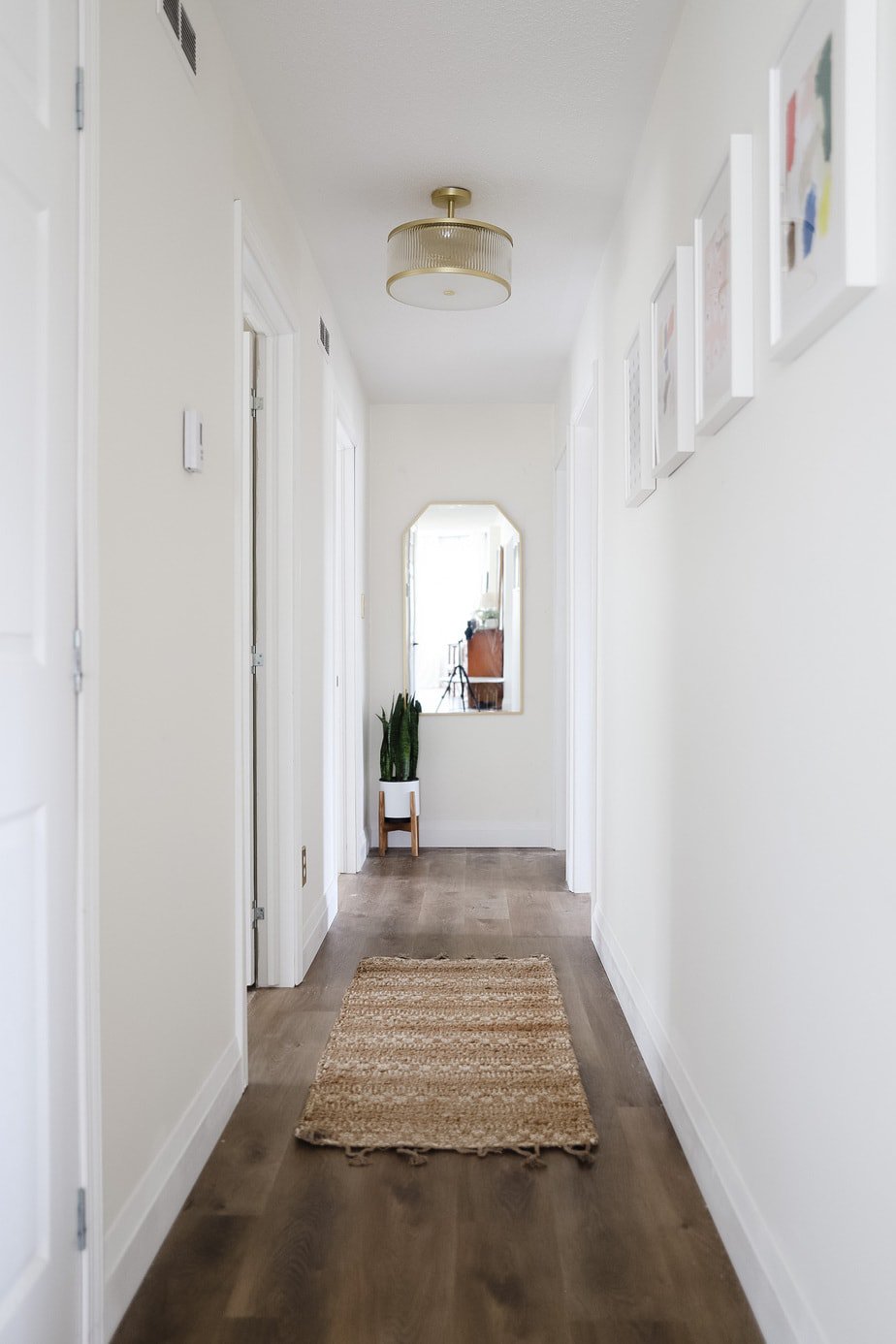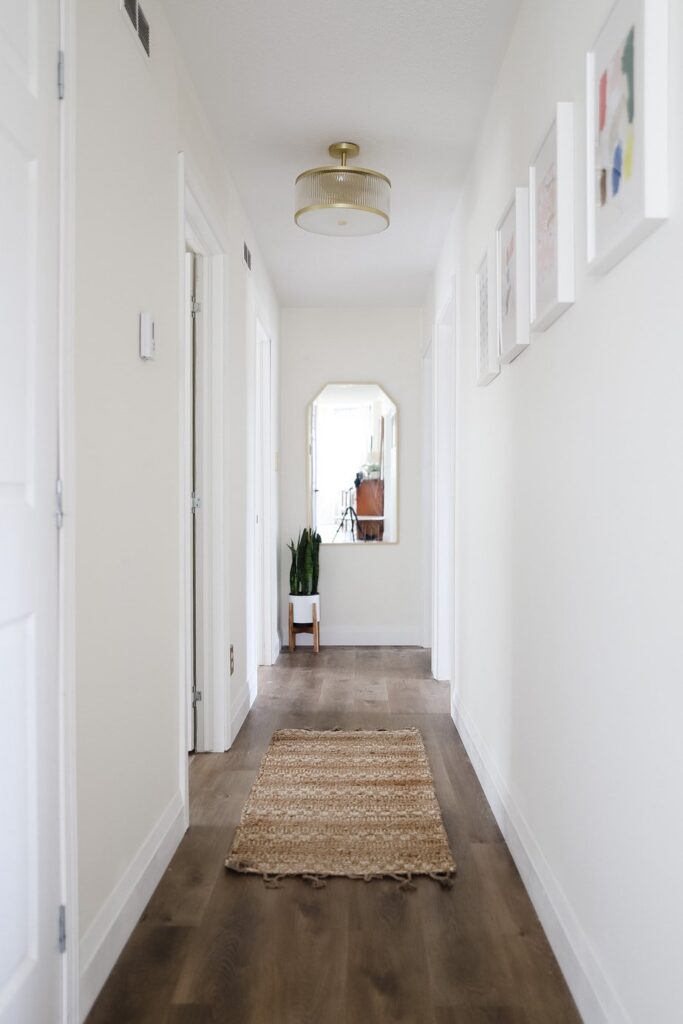 Since our hallway already had mirrors at the end, I could tell how much we needed to include a mirror in the design. Even though they weren't my style at all, they did a great job of bouncing the light from the main area of the house. But I still wanted to keep our project on budget, so we opted for a gold mirror from Amazon that matched the new gold light.
This is why decorating is my favorite part of the entire makeover, but it can also be the hardest.
It's also why I like to start every makeover or project with a mood board. So I can make sure the colors work, and the items look good next to each other.
When it came to decorating the hallway we kept it very simple and focused a lot of our attention on the details. Since we obviously don't have a ton of space for decor, we decided to focus more attention on the lighting, and mirror, swapping out the door handles, and even the plug covers. Because details are everything in a project!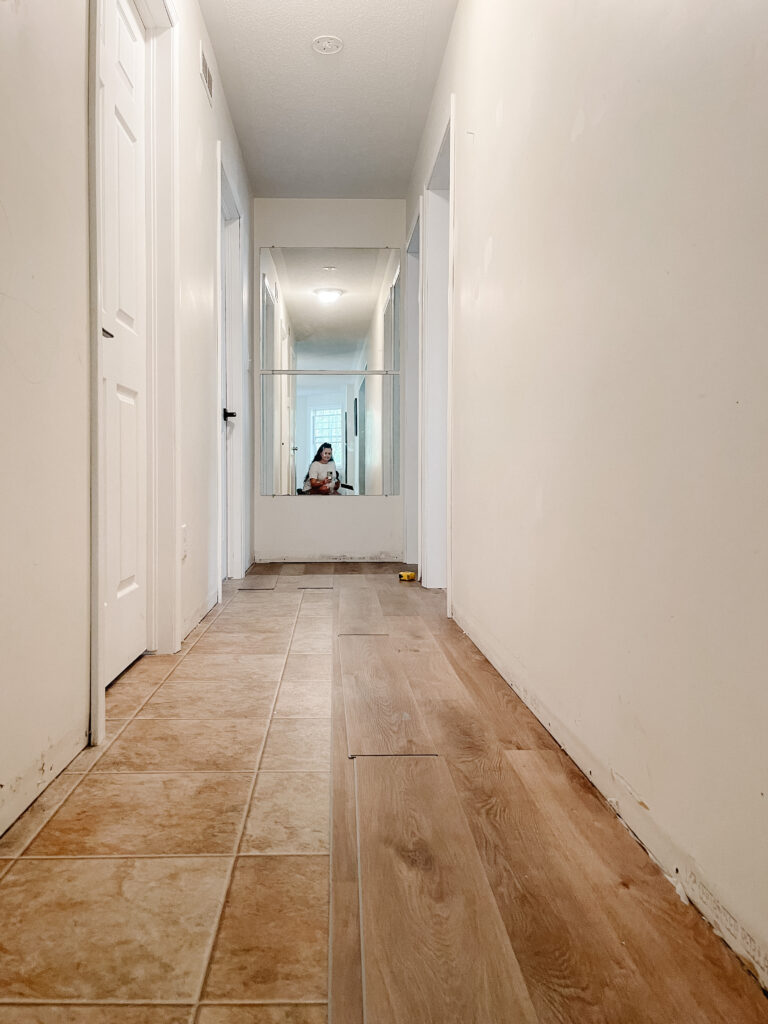 I hope you were able to find some small narrow hallway decorating ideas that work for you and your home! As always, if you have any questions, let us know in the comments and we'll be happy to get back to you.