This is how we made over our dark narrow corridor or hallway in only two days for under $600.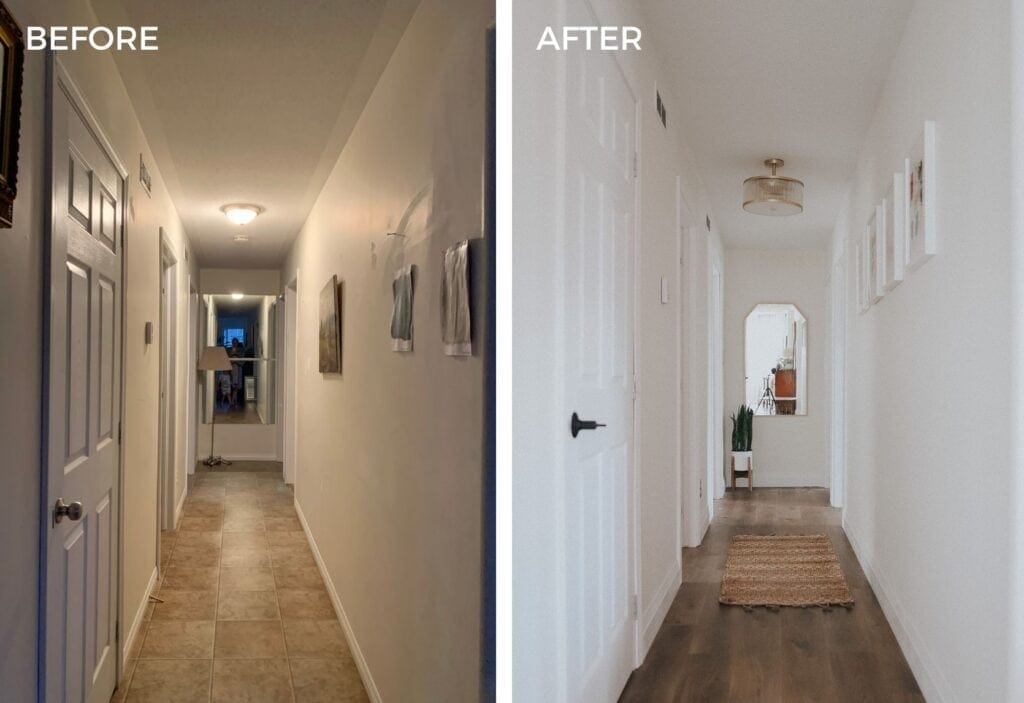 Last week we got the opportunity to partner with The Home Depot Canada on their Healthy Home campaign. For the campaign, we swapped our old light bulbs for energy-efficient ones, replaced the remaining boob lights in our home, and even added some smart plugs.
But dark hallways are always challenging to decorate especially when you can't make any structural changes to your home. And since we were already swapping out the lights, we decided we would makeover our dark and narrow hallway too.
How to Brighten a Dark Narrow Corridor or Hallway
In a perfect world, I would have loved to have a giant window at the end of the hallway.
Letting all that natural light, and gifting me more places to put my plants.
But since we aren't able to make any structural changes, we devised a plan to give the illusion of a bright and modern hallway for under $600.
Paint Colors for a Narrow Hallway
There are two ways to go when it comes to choosing the perfect shade for your dark and narrow space.
First, you could use moody paint colors to amplify a narrow dark hallway. Exaggerating the size of the hallway with a deep shade of paint creates a misleading depth of field, and blurs any defining edges of the space.
Swiss Coffee
By Benjamin Moore
Second, the safe bet is to use white paint as we did here. We choose Swiss Coffee to give a fresh and clean look to our walls and ceiling.
Choosing the Perfect Flooring for a Hallway
When it comes to flooring in a hallway, we recommend using luxury vinyl. It's the best for high-traffic areas like an entryway or hallway. Plus it's also durable, scratch-resistant, and easy to clean.
Which is why we replaced the old flooring with a new luxury vinyl flooring in Coyote Storm for Fuzion Flooring.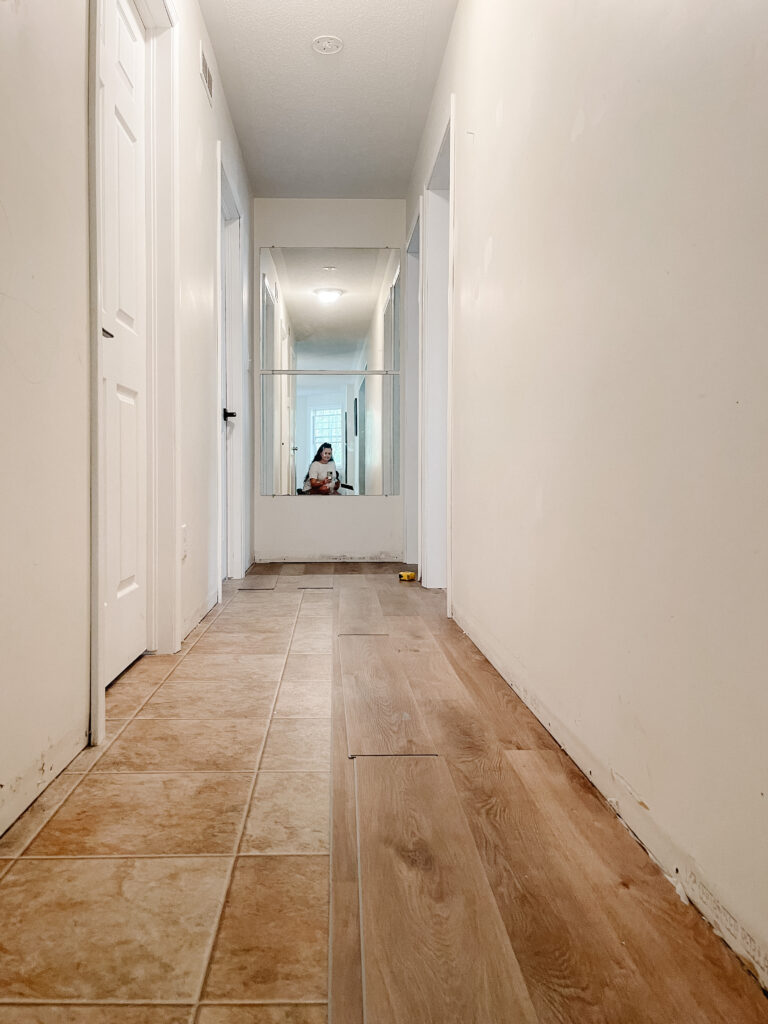 Want to know more about our go-to LVP? We've shared all the details in this article.
Vinyl Luxury Plank Flooring
Lighting for a Dark Hallway
As I said, we are working with The Home Depot Canada on their Healthy Home campaign. We're sharing easy updates you can make to your home that have a positive impact on your home, family, and the environment.
So for our home update, we removed our existing boob light and installed a new semi-flush light, that uses new energy-efficient LED light bulbs.
We also removed the old "boob lighting" and replaced it with a brand-new semi-flush mount light. This is another quick and affordable way to change the look and feel of your dark and narrow hallway.
Gallery Wall for Narrow Hallways
Adding art can do wonders for a space, especially dark or otherwise hard-to-style spaces (like hallways). One thing I recommend is choosing art that is colorful and bright.
A budget-friendly tip is to frame your kid's art! My daughter calls it her "art museum". Which I absolutely love.
Use Kids Artwork
Frame your kid's art! We grabbed a few Ikea frames for under $15 each and got our daughter to paint or draw some pictures. It turned out amazing!
And there's also a trick to making kids' art look great, we let them use the colors we want.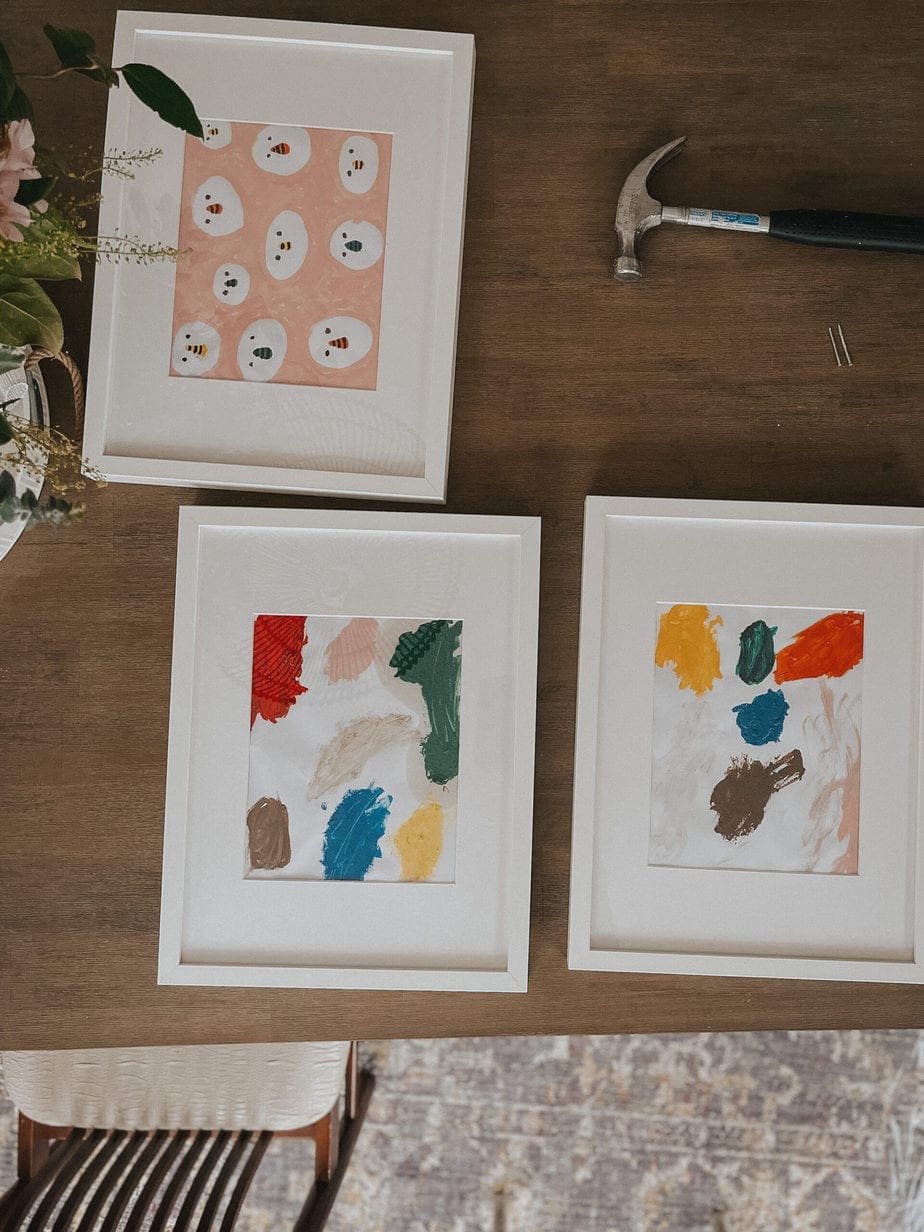 For example, we stick to 4 or 5 paint colors or crayons that we want to see in our space. Again it depends on your goal and vision for the space, but imagine having a minimal style and then having your child draw several line drawings! That would instantly update any space.
From there I'll choose a few I absolutely love, or they love and we add them to our growing art museum.
We have a mix of frames from Amazon (linked here) and Ikea's RIBBA frame.
Mirrors for Dark Hallways
Our hallway already had mirrors at the end, but they weren't my style at all. Even though they did a great job of bouncing the light from the main area of the house, into the hallway.
I still wanted to keep our project on budget, so we opted for a gold mirror from Amazon that matched the new gold light.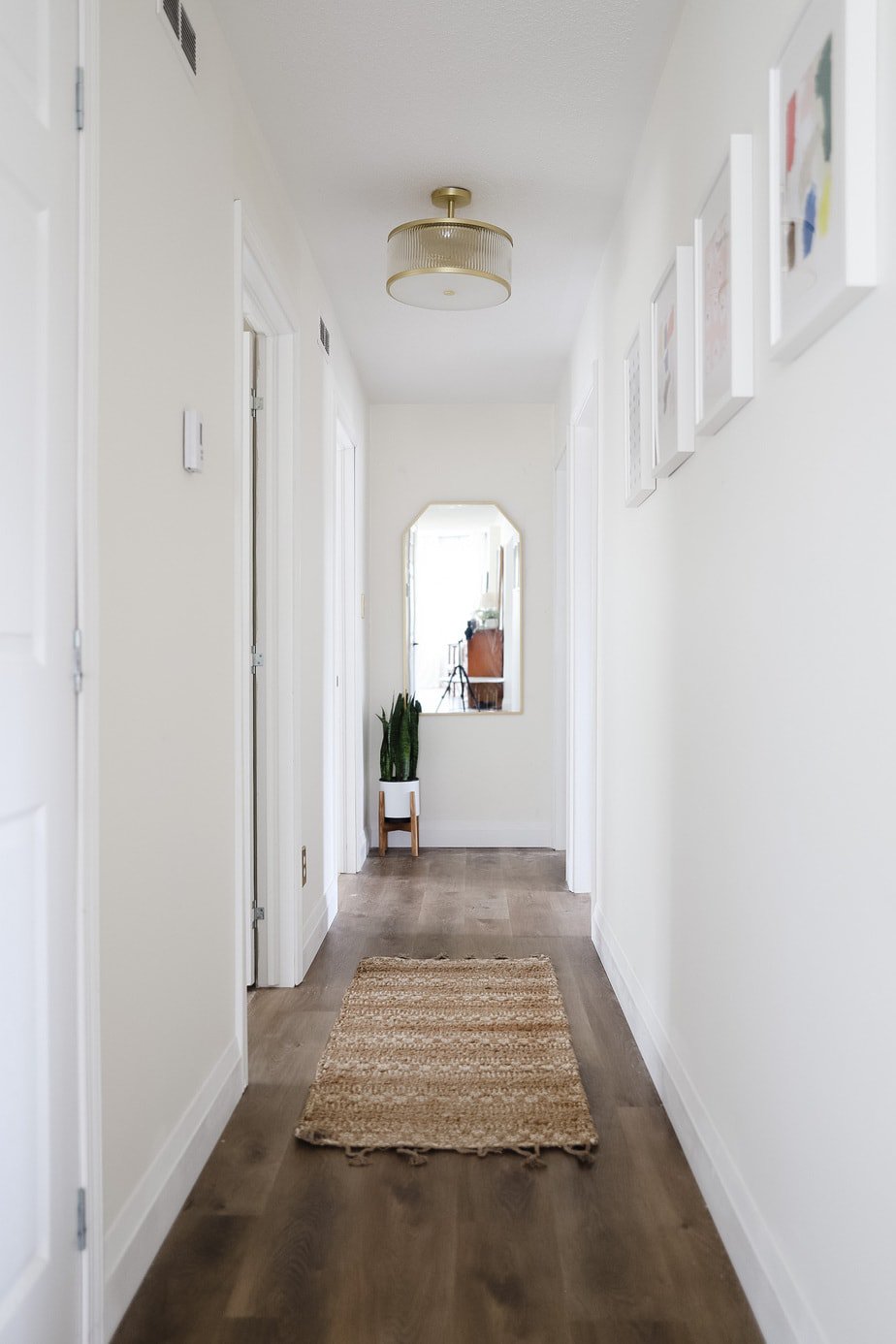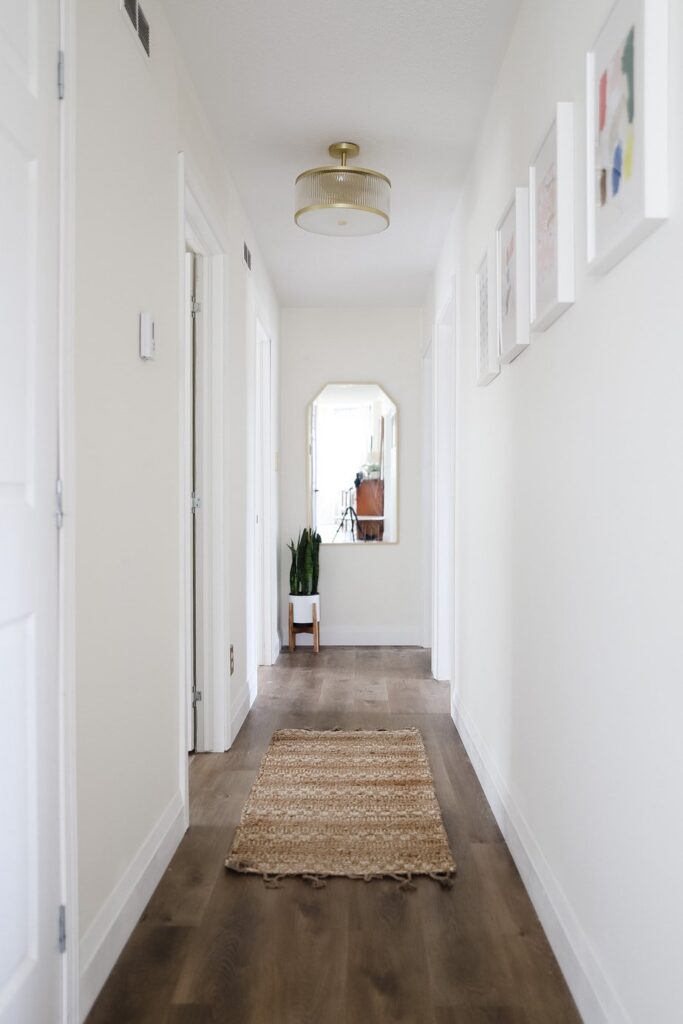 How to Decorate a Dark-Narrow Hallway
Decorating is my favorite part of the entire makeover, but it can also be the hardest. I like to start every makeover or project with a mood board. So I can make sure the colors work, and the items look good next to each other.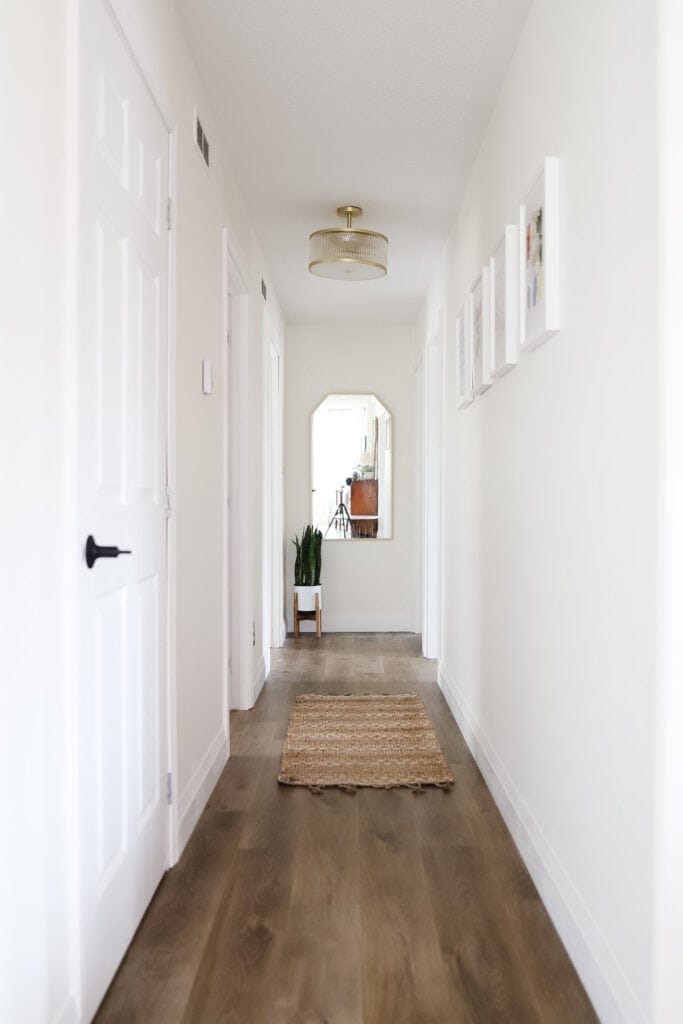 When it came to decorating the hallway we kept it very simple and focused a lot of our attention on the details. Since we don't have a ton of space for decor, we decided to focus more attention on the light, and mirror, swapping out the door handles, and even the plug covers.
So really the only thing left to do was to find a runner and a cute plant. But there are so many other options like adding more art, a little table, or floating shelves at the end of the hallway. It all depends on what you have the space to do, and your style.
Here's a list of my go-to's when it comes to decorating a dark and narrow hallway:
Faux Indoor Plant
We know how hard it can be to keep plants alive in a bright sunny space, let alone in a dark and narrow hallway. Unless you have a green thumb and love low-light plants, we suggest a faux indoor plant like this one from Amazon.
Small Console Table
We've decorated a few narrow, dark hallways with a small console table at the end. It's a perfect space (if you have the room for it) to add a vase with flowers, a wooden bowl, and a picture or piece of art. We loved this affordable wooden option from Amazon.
Floating Shelf
I've seen people use floating shelves a time or two, and depending on the space, of course, it can look really cute. We usually see thrifted pieces, mixed with a few picture frames. Just remember you'll have to place them where people won't hit their heads or it won't be a hazard. Oh and use picture frame tape to keep things in place.
Runner
A runner is essential to any makeover! We use carpets to ground the room and give shape and structure. It's usually one of the first things we figure out when we begin because it's that important in the design. A few options to help you get started are an oriental runner, vintage runners, and my personal favorite a jute runner.