The Cabin Bunk Beds Design Plan + Mood Board
Today's a fun post! We're sharing the cabin bunk bed plans, a mood board, before photos, and our hopes of repurposing and DIYing a minimalist bunk bed.
We're back from summer vacation, back to blogging and creating content full-time. It was a really great summer (I know it's not quite over just yet). But I told myself I would take more time off on weekends and spend intentional time with the kids. And that's just what we did!
But now that we're back, I can finally share the design plan for the bunk beds at the cabin. While progress has been steady, I wanted to catch you up on everything, starting from the very beginning.
Cabin Bunk Bed Plans
So let's take a look at what this space was used for and what it looked like. Then we'll go over the design plans, and mood board and share our ideas for repurposing materials.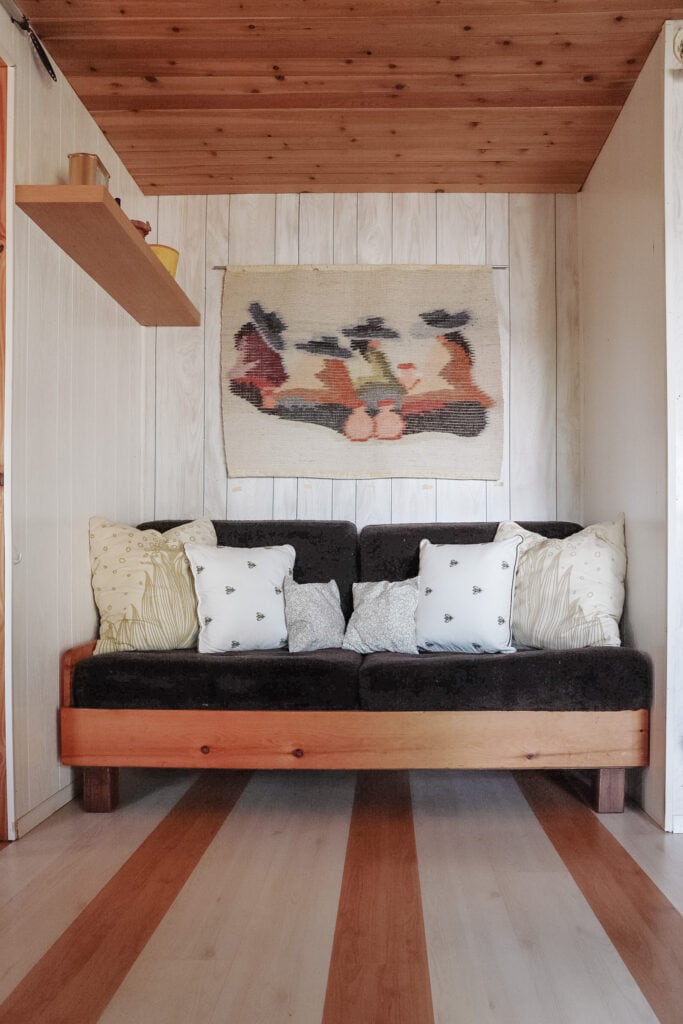 Before Photos
If you've been a reader for a while, you might remember this post where I shared the square footage of our tiny cabin. Which is about 370 square feet, and this little nook which is 7ft wide was created as a sort of built-in sofa.
The base of the sofa bed was actually made by my grandfather, whose hobby was making wood furniture. And he was quite good at it! I loved how much he enjoyed making things with his hands, it definitely runs in the family.
As you might also remember, my plan has always been to repurpose and reuse as much as I possibly could. So hopefully, we can either repurpose the base of the sofa bed or reuse some of the boards.
The Progress
We've actually made a lot of progress, however, there's still plenty left to do. First, we decided to replace all the fiber panels. When we initially took the cabin over, I noticed there was a musty smell that wouldn't go away. I was worried that meant we had a mold issue.
Thankfully we didn't!
After some detective work, we narrowed down where the smell was coming from… the fiberboard panels. So I knew it was time to replace them, especially since they clearly didn't hold up as well as they should have. I also felt the nook would look better with drywall, which was less expensive than doing shiplap. I did, however, decide to keep the wood panels that flanked the nook (yes, there are two different materials used for the wall paneling).
The reason why is that the wood panels held up so much better than the fiber material. So if you're ever looking to use a particle board or panels. Here are a few quick tips that might help you make a better choice.
LDF, MDF, and HDF.
The LDF is a low-density fiberboard, kind of like cardboard. Which is what we removed, and replaced with drywall. Where as the better option (and more expensive option) would have been to use an MDF (medium-density fiberboard) or even better, they should have used a HDF (high-density fiberboard).
That way you're not having to replace the panels every few years, and they hold up much better over time.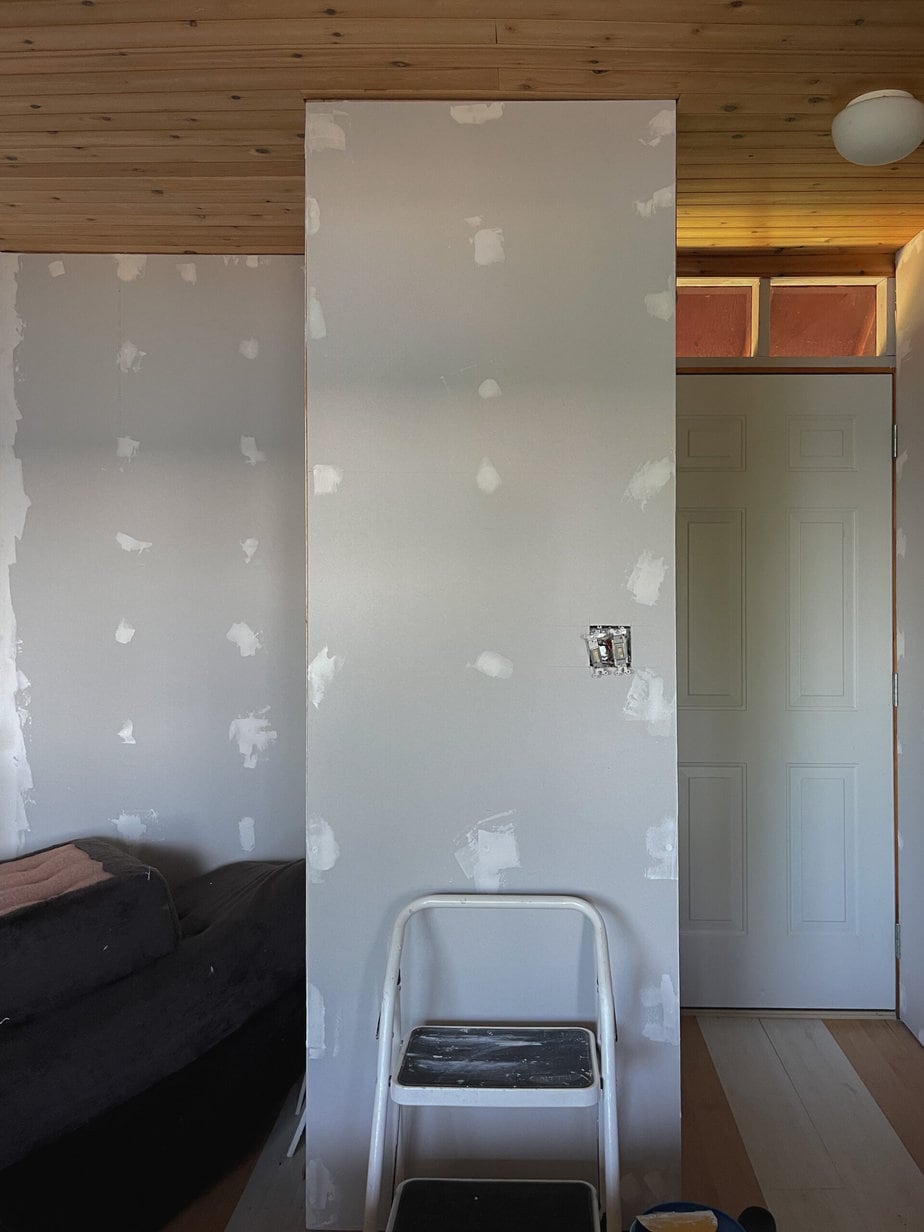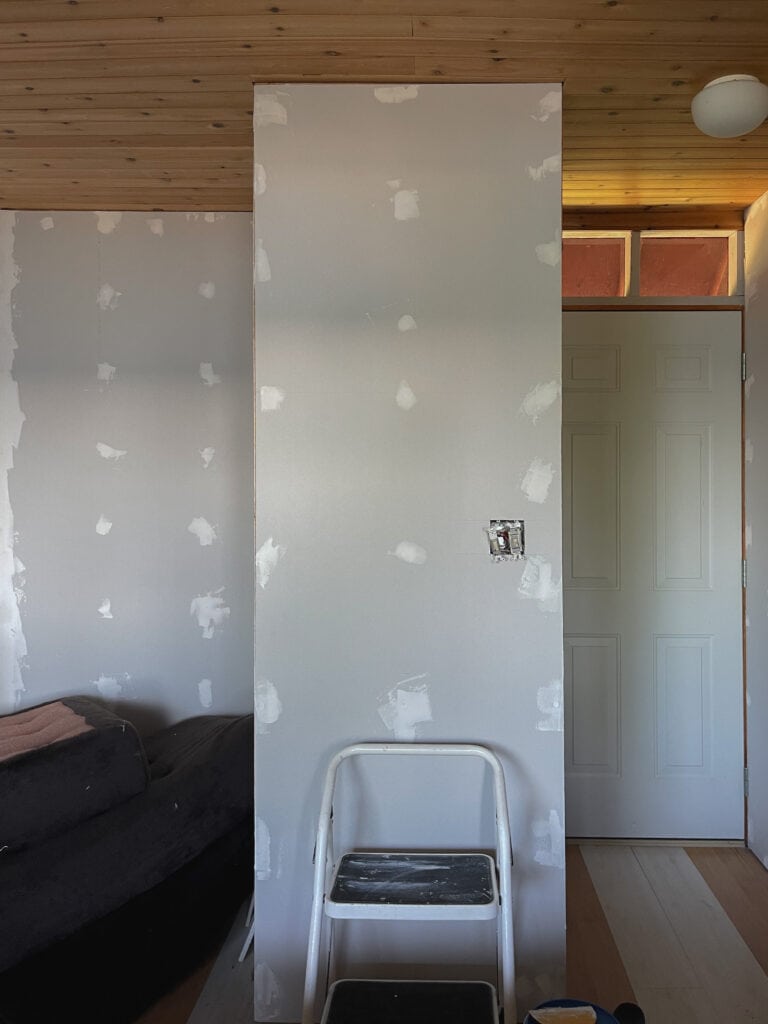 So back to the drywall. I think at the end of the day stripping it down, and replacing the panels gave us a piece of mind. It also reassured us that we didn't have a mold problem.
After we finished installing the drywall, I mudded, sanded, and painted. I also choose to paint the entire room with Swiss Coffee by Benjamin Moore. Which is one of my favorite whites to paint a room.
I still have to order some trim, and fill the gaps between the panels and the drywall. Which looking back was probably a mistake. I probably should have used drywall all around, so we didn't have the issue with the corners. But it did save us money, that I am now able to put towards some beautiful decor.
Cabin Bunk Bed Plans
Okay, now for the fun part! I've had so much fun creating this design and planning this space. I know the kids are going to love their bunk beds for years to come. My hope is that they will be able to visit the cabin when they are teenagers still enjoy their bunk beds and separate spaces to sleep in.
Or even have guests visit and sleep in the bunks at the cabin! I just feel like bunk beds make the best use of a small space.
Like I said, our hope for the cabin is to reuse and repurpose decor and furniture as much as we can. So there are a few items we already had here that I think will work for this space, and other items on my list to buy.
The things we already had:
Other items on my list to buy:
The Plan for DIYing Minimalist Bunk Beds
I am so excited about this DIY. We are planning to create a very minimalist bunk bed, keeping the design simple and repurposing when we can.
So make sure you stay tuned for our next blog post, as we start putting the design together.