Eclectic Modern Cottage Dining Room
Check out how we made over a builder-grade dining room into a fun eclectic mid-century modern cottage dining room!
When we bought this ranch-style bungalow in the country, it was a typical builder-grade home. But over time we've been able to make this house into a home our entire family loves.
Since our dining room is where we spend the most time, we knew we wanted to work on making this space fun and inviting. It's where our family and friends eat dinners or spend mornings chatting over breakfast. It's also where our kids spend time doing arts and crafts and eventually will be a space where we do homework at night with them.
Builder-Grade Dining Room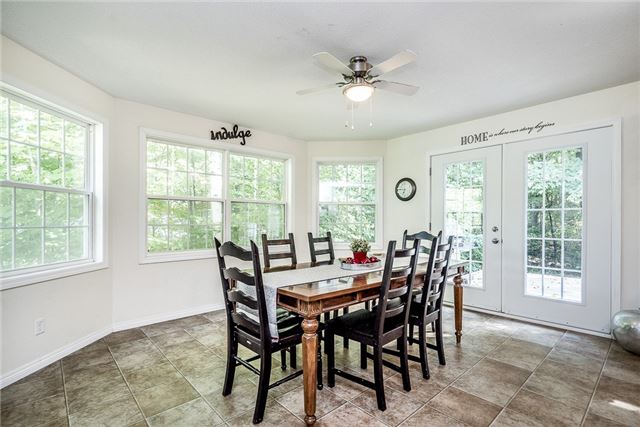 Like, I said, our dining room was a very typical, builder-grade dining room. We had a fan over our dining table at one point, that I swapped with our master bedroom as a temporary fix for a hot room.
We had linoleum sheet flooring that stretched into the kitchen and hallway. And we had a dining table set as a placeholder until I found the harvest table of my dreams.
Our Eclectic Mid-Century Dining Room
The entire design started with this peel-and-stick wallpaper from Form Paper co. I love the Graphic Arches, and they fit so perfectly with our mid-century modern style home.
The dining table is from Modern Komfort (I wrote an entire review on the table here). It's quite literally my dream dining table. I'm working on styling it for the spring and summer seasons, so I'll be sharing more in an upcoming post.
For now, I used what we already had around the house. Which was this pretty potted spider plant, called a Chlorophytum. I placed it in a wicker pot on the table as a centerpiece with two wooden candlesticks and a pink runner.
The flooring is Coyote Storm by Fuzion Flooring. I went with a sort of dark oak flooring because I didn't want light beach house flooring or anything that was too orange or yellow.
We laid the luxury vinyl flooring over top of the linoleum floors. And I couldn't be happier with how much of a difference new flooring made in this space.
While styling a space can make a huge difference to a room, it can only do so much. The flooring was a huge part of this makeover and it's what originally took us so long.
In the summer this entire room looks like you are in a cabin in the forest. We live at the edge of a Provincial park and there are so many trees that surround our home. So in the spring and summer, there is so much tree coverage you literally look as if you are deep in a forest.
Because of that, I didn't want to take away from that view, but I knew we had to frame the windows somehow. So I choose the beautiful Ritva Curtains from Ikea.
They are inexpensive but very good quality. I've used Ikea curtains many times on our design projects and every single time I am so impressed with them.
Check out this post I wrote on how to make cheap curtains look expensive.
I choose a floor-length mirror to lean on the wall. Letting in all the natural light, making the room appear larger and covering our strange electrical panel.
Oh and now that we don't have the old fan over top of the dining table. I wanted to go with something fun and organic. I came across this Rattan Ceiling Light from Bouclair and I absolutely love it.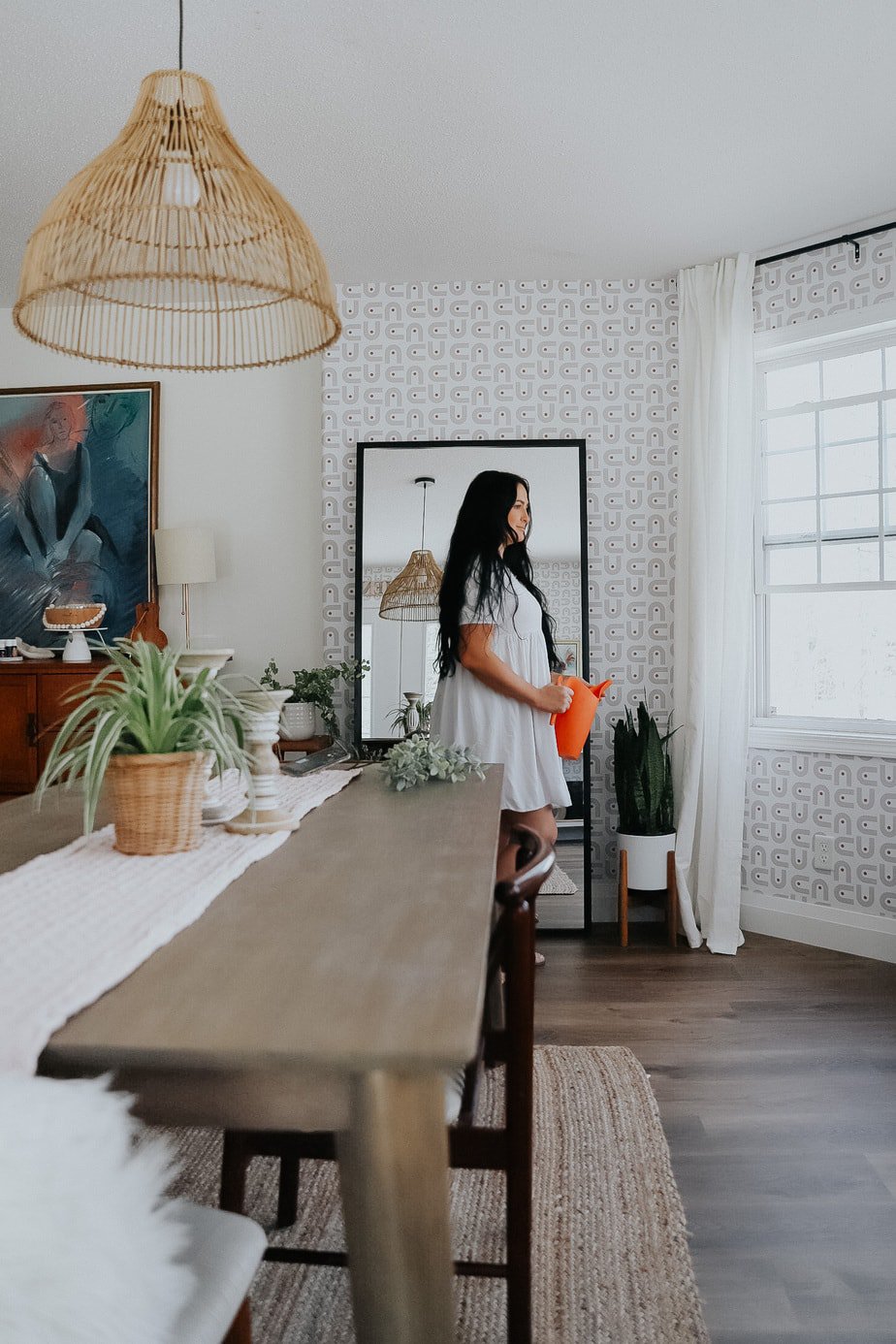 This room still needs a few changes, but things that I can work on over time. One of those will be a larger rug. I wanted to see how a jute rug would look in this space before I ordered a larger one for it. So I took borrowed this one from the kid's room until I figured it out.
Eclectic Mid-Century Modern Dining Room Source List
Geometric Arches Wallpaper from Form Paper Co.
Eastern Harvest Dining Table from Modern Komfort