14 Affordable Cottagecore Bedroom Ideas to Create a Cozy Aesthetic
Today we're sharing 14 cottagecore bedroom ideas that we used in our own home, to create a cozy feel. We're also sharing our favorite cottagecore decor that we feel is perfect to create an aesthetic room.
Spring is here at the cottage and like every season, I like to refresh our bedroom. Usually, it's with inexpensive home decor and simple changes, like new bedding, and art prints. But sometimes it means bringing in new to me furniture and rugs.
Today I'm sharing all our cottagecore bedroom ideas that helped create the coziest room in our house. Keep reading to find out how you can take those tips and style them in your own home.
What is cottagecore?
When I think of cottagecore, I think of a romantic, whimsical existence with a rural lifestyle, in a location like the English countryside. A cottagecore home is usually filled with vintage furniture, shabby chic decor, and floral prints. The person who lives in a cottagecore home is someone who craves a simple life and has a love of the natural world. The aesthetic is filled with simple living and traditional skills like sewing, bread making, and gardening.
What is a cottagecore bedroom design?
When it comes to understanding the basics of cottagecore bedroom design, you need to think of how you will incorporate the following design elements into your home. Whether you live in a countryside cottage, or in a small apartment. These tips and tricks will help you create that cottagecore aesthetic for your bedroom on a budget.
Cottagecore Bedroom Ideas
Before you start planning all the decor and furniture you'll need to buy, I would recommend taking time to go through your home and take inventory of what you already own. The key element in cottagecore design is sustainability. So we want to be conscious of our purchases.
Tips for being conscious of purchases, buying thrifted and second hand.
Here are our favorite and affordable cottagecore bedroom ideas that will help you create a cozy space.
Start with a Muted Color Palette
We're starting with paint colors that are perfect for a cottagecore bedroom. Our favorites are earthy tones and pastel colors. You'll also find a lot of pale greens used in bedrooms.
Integrate Natural Materials
Using natural elements in your room like wooden furniture, fresh flowers or even stone walls is a great way to flood your space with warmth.
Floral Prints
Floral patterns are at the core of cottagecore, and there are so many options for incorporating floral prints into your room. We choose to incorporate botanical prints in our bedroom, but you could install floral wallpaper on an accent wall instead. Depending on your style, you could find a duvet cover with a subtle floral print or something with floral motifs.
Wicker Baskets
Baskets are great for not only decoration but also double as a laundry basket, or storage for shoes, linens, or anything else. They can also be used as wall decor.
Cottagecore Light Fixtures
When I think of cottagecore lighting I think of fairy lights or string lights. Hang them above your bed, along the window, or over the doorway.
Add Some Antiques
Use antiques in your bedroom design, like antique furniture or decor. It can be anything from an antique dresser to an antique vase. If you are on a budget, and finding a vintage hand-me-down isn't possible. Then go for a modern take on a vintage find, like this retro alarm clock from Amazon. Basically, anything with a vintage feel will do.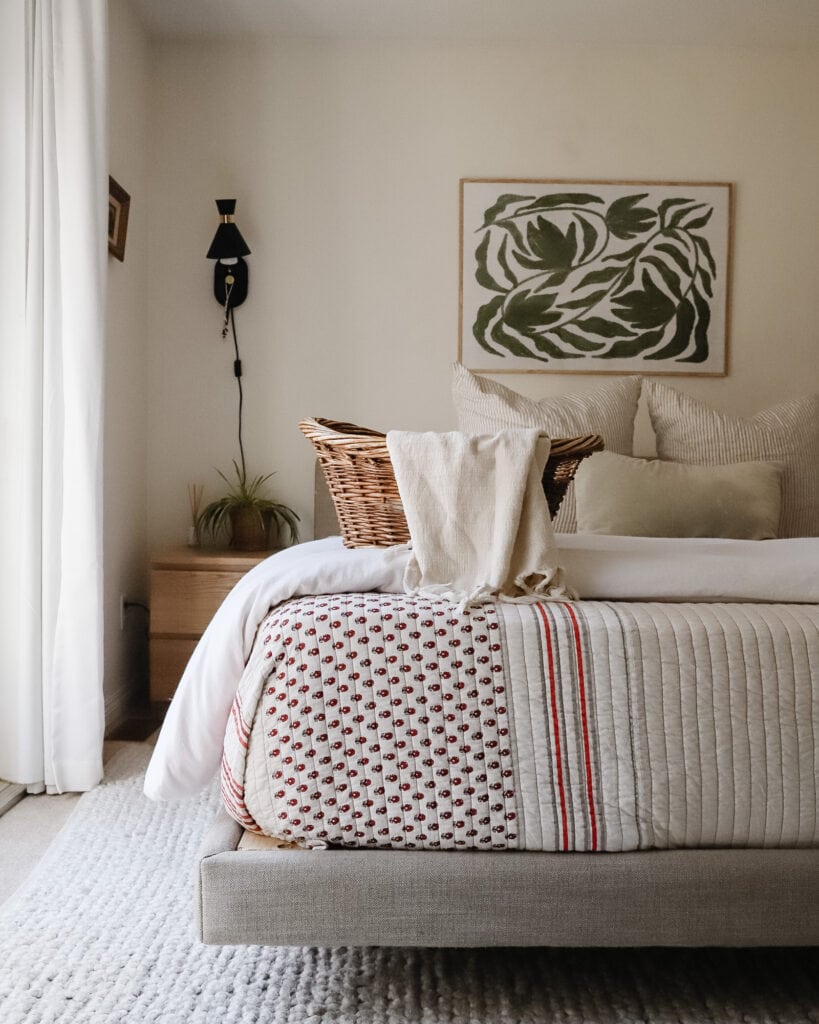 Use Books as Decor
A favorite cottagecore trend of mine is using books as decor. Especially if they are classics like Little Women and Anne of Green Gables. Nothing says cottagecore vibe quite like reading a good book with a cup of tea in the evening.
Grow Little Garden
An indoor garden doesn't have to be a huge hydroponic system. Instead, grab some plants and flowers from your local garden center to use in your bedroom. The more the merrier! We love seeing overgrown plants, and unruly wild flowers. Don't worry if you don't have large windows or natural lighting, because we've put together a list of our favorite low-light-loving plants you can use.
Traditional Crafts
When I think of crafts, I immediately think of my mom. She loves collecting trinkets like old bottles and vintage items. Which is perfect for cottage bedrooms, because it's an easy way to create a collection of your favorite things.
Places to Shop for Cottagecore Decor on a Budget
Good news! some of our favorite places to find vintage pieces and cottagecore room decor is from local shops. Some of our favorites are listed below.
The Flea Market
Facebook Marketplace (or other Social Media apps for buying and selling)
Local Thrift Stores
Local Vintage Store
More Cottagecore Spaces
Looking for more inspiration and cottagecore style? We've got you covered. Here are some of our favorite cottagecore bedrooms!
Neutral Cottagecore Bedroom
Cottagecore doesn't have to be in your face, it can be subtle and neutral. Sometimes it's simply mixing vintage furniture, floral bedding, muted colors, and some picked flowers from the garden. A neutral room is never a bad idea, and if this is a space that calls your name. We have found some wonderful cottagecore decor to help you put your room together.
Cottagecore Decor Ideas
By purchasing through any of the links above Cottage Living and Style may earn a small commission.
Cottagecore Patterns
Mixing plaid and striped pillows with a muted blue bed sheet is perfect, against the floral wallpaper. We loved how beautiful Heather Taylor Home's designs are, and if this is something that inspires you then we suggest the following:
Grandmacore
Wait, is that a thing? Because I kind of love it! The beautiful muted tone bedding, floral wallpaper, vintage nightstand, and art is so chic. If you are interested in recreating this look we suggest the following:
Vintage Cottagecore
One more because I love this style so much. Especially the vintage trunk! If this is a style of cottagecore that is calling your name then we've put together a quick list to help your dream cottagecore bedroom come together.
By purchasing through any of the links above Cottage Living and Style may earn a small commission.
I hope you got a few new ideas for decorating your cottagecore bedroom, and maybe picked up a few new design tips as well. Let us know if you have any you'd like to share in the comments, we always love hearing from you and seeing your room designs.