The Best Ways to Organize your Ziplocs from Amazon
Want to know how to organize Ziplocs in your kitchen? We've got all that and more. We're also sharing some of our go-to kitchen organization must-haves and how we use them.
For me, a clean and tidy home means a happy one. Over the last few months, I've been deep cleaning one area of my home per week. When I say deep cleaning, I mean it. I recently did the entry shoe closet and my sanity was instantly restored when the shoes were stored with their mates, it was swept, dusted, and mopped and older styles were either thrown out or donated.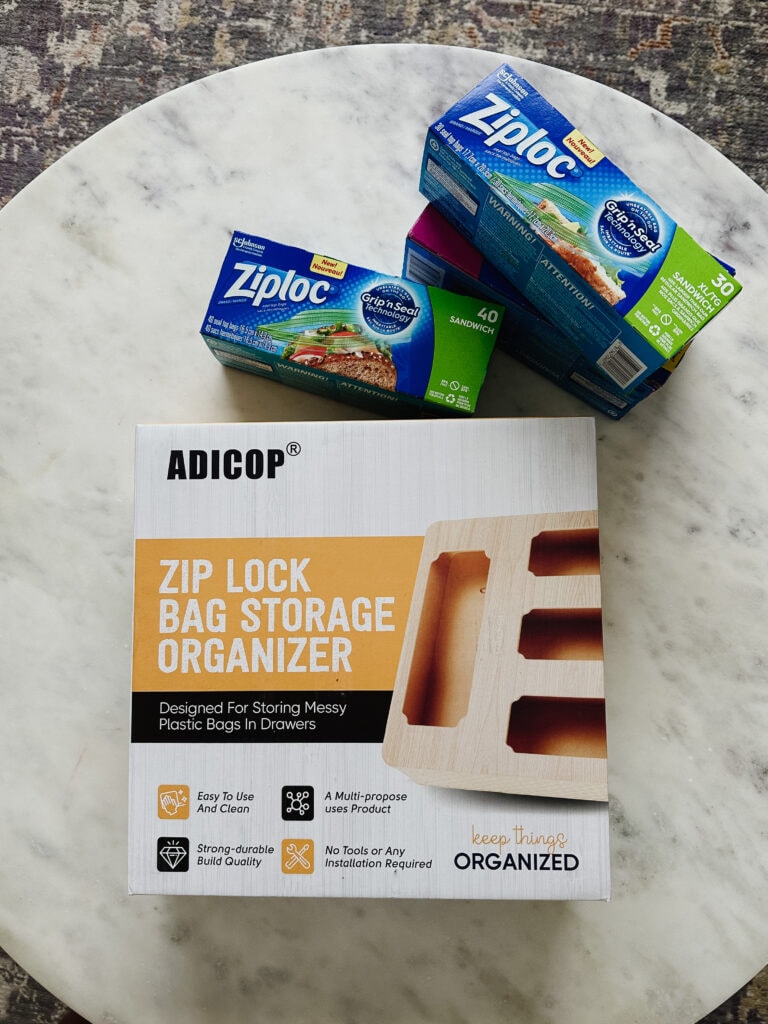 This week, I tackled the kitchen drawer that houses all of the sandwich bags and reusable sealable bags, plastic wrap, and aluminum foil among other things. I know you all have this one drawer in your house that is always overflowing and simply put, a disaster. We're not here to shame, but here to help you get it under control like we did (and if you're anything like us, you're likely already browsing online for pretty storage solutions for your space)!
Tools you'll need
Click the picture to shop the item directly from Amazon
Keep reading to find out how to organize ziplocs in your kitchen, and see some of our other favorite kitchen organizers from Amazon.
How to Organize Ziplocs in your Kitchen
Today we're sharing our favorite cost-effective storage solutions you didn't know you needed but will definitely be ordering. While lots of options exist on the market, we want to maximize the little space you have with convenient plastic food storage bag solutions.
Meet the wooden Ziploc bag organizer (the tool that is about to become your new best friend). This nifty little gadget can be found on Amazon and is a great way to store your sandwich bags, by size! The wooden box set comes with a compartment for gallon bags, quart bags, snack bags, and sandwich-size bags and if you ask us, is the best way to store these bags!
This little device will make meal prepping for busy work days or school lunches a breeze with the easy access compartments.
Did we mention how beautiful this bamboo drawer organizer is in person? Stunning! After lots of research on how a professional organizer would handle the task, we feel confident in our recommendation.
We now know how to organize ziplocs, but we still need to get our messy kitchen drawer tidied up with these easy-to-use drawer dividers. These dividers are made from the same beautiful natural bamboo as the drawer organizer above and are another great option for organizing your baggies and kitchen gadgets.
These nifty little divers are expandable, so you can customize them to your unique space or drawer size. They can even adjust to different lengths, creating extra space for a better storage solution. Because they are made with a spring-loaded mechanism, you can adjust them and install them without any tools or damage to your drawers or cabinets. This tool would also be perfect for your utensil drawer or spice drawer. Even better is the two-day delivery times standard with Amazon Prime!
Ok, so now that your drawer is looking better and your plastic Ziploc bags have a proper home, you may still have items that need a place to go. We bet our paycheck that the cabinet door under your kitchen sink is the most underutilized space in your home.
This over-the-cabinet door organizer, for less than $20 is about to become your new favorite storage item. It's super easy to install (you just slide it over the door frame) with the basket facing inwards from the cabinet.
All of this new ample space inside your kitchen cabinet can be used as storage space for taller items like tin foil, parchment paper rolls, extra large Ziploc bag storage, or other kitchen essentials that you would normally throw into a drawer.
You could also easily add this organization rack, to place ziplocs as well.
The best part – you can easily find what you are looking for without having to dig through messy drawers! These do come in a variety of sizes, shapes, and colors so we're sure you can find one to fit your door and design style.
Another item that can easily clutter up a small space is grocery store plastic bags. If you still live in an area that gives you plastic bags when you shop for groceries, you likely also have a collection of these shoved under your kitchen sink. Since we are deep cleaning this area, we wanted to show you one super easy plastic bag holder storage solution we are loving.
This two-pack from Amazon has a hanging design so you can stuff it full and then pull one out as needed. When not used, you can easily fold and store it. Made from high-quality washable materials, this is the perfect solution for the abundance of loose bags we know you currently have floating around. We actually use one for blue recycling bags, one for clear garbage bags, and one for grocery store bags and hang them inside of the opposite kitchen counter door with 3M command hooks.
Now when I need a bag, I can simply pull one out!
You can also use these bags to store small toys and office supplies such as binder clips or even use them to store hats and mittens in your linen closet!
Other Kitchen Organization Tools We Love
Even though today's focus is on how to organize various-size plastic bags effectively, we do want to mention that Ziploc has a couple of new products on the market that we know you are going to love. Ziplock Big Bags are extra large and perfect for large item storage and closet organization.
I recently switched over all of my non-breakable holiday decorations, seasonal items extra linen into these bags and I couldn't be happier. They protect the items inside from moisture, dirt, and dust, have heavy-duty handles with expandable bottoms, and come in several different sizes!
Did we mention you can get an extra large bag for less than $14 on Amazon with free shipping? It's no wonder this new line already has hundreds of 5-star reviews.
Ziploc Big Backs
Click any of the pictures above to shop directly.
Feeling inspired? Now that you have some ideas on how to organize ziplocs, we want to see your new kitchen organization IRL. Tag us @cottagelivingandstyle so we can celebrate your success with you