Here's How to Properly Clean any Rusted BBQ Grill
BBQ season is right around the corner and the last thing you want to do is worry about cooking anything on a rusty grill. So here's how to properly clean a rusted BBQ grill, and tips to keep it that way.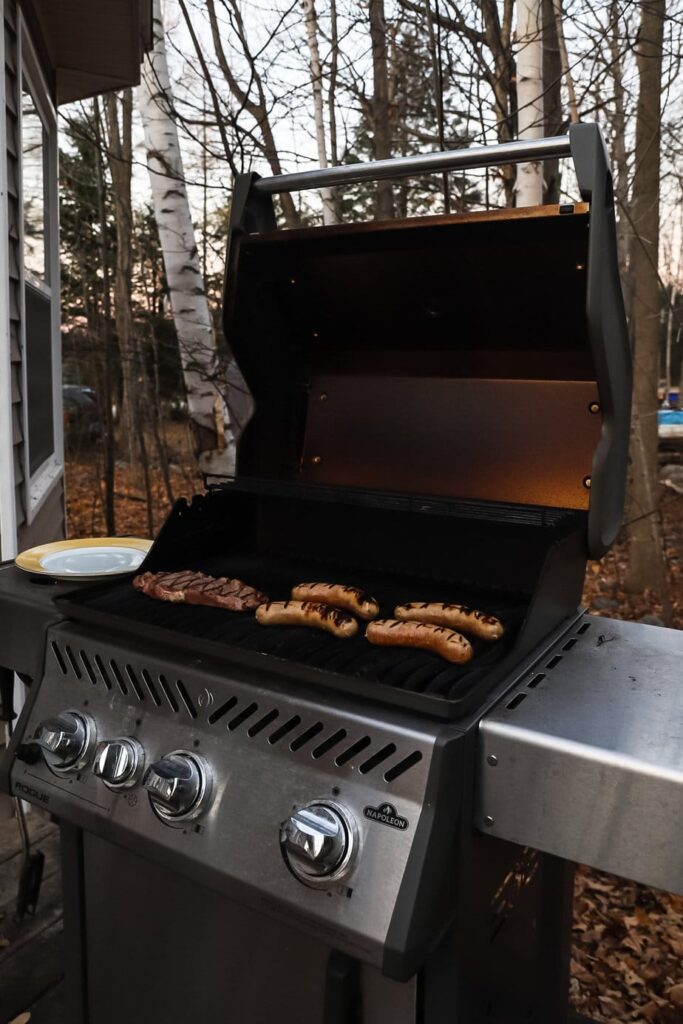 With the official start of Spring right around the corner, we are gearing up to bring you our best tips and tricks for getting your homes, yards, and wardrobes ready for warmer weather, longer days, and outdoor fun.
I know some of our readers are avid BBQ'ers and grill year-round. If where you live allows for that and you are set up with a space to grill in the Winter months, we are seriously jealous.
At the end of each season, my husband and I carefully pack up all of the outdoor furniture, planters, lawn games, and the BBQ and store it safely in the shed for the snowy months. On that first sunny day in March, when I get that Spring is coming feeling, we dig it back out for another season.
One thing that I have been horrible at the last few seasons since purchasing our new grill is cleaning it properly. Some things, like winter coats, I will wash before storing them for the winter. Other items, like the BBQ, I like to clean when I take it back out (no spiders in my grilled food please!).
Keep reading to find out exactly how to clean your rusted BBQ grill.
How to Clean a Rusted BBQ Grill
Today, we're sharing the best way to clean those rusty grill grates. We are going to provide some handmade recipes and a few commercial rust removers you can also grab to get the job done with ease.
Tools you'll need
Click on any of the pictures above to shop the items directly from Amazon.
What is Surface Rust?
BBQs are one of those items that we use a lot and they definitely get some abuse in seasonal months. Because they also live outdoors and battle the elements, they are more likely to accumulate rust (even if you followed all the end-of-season care, it's still possible). Rust on a BBQ grill will usually appear as a reddish-brown color of corrosion.
Surface rust on your BBQ happens when iron particles of steel are exposed to oxygen and moisture, simultaneously. This same type of rust may also appear on your patio furniture so the same methods for removing it from the BBQ can also be used to tidy your furniture items up as well!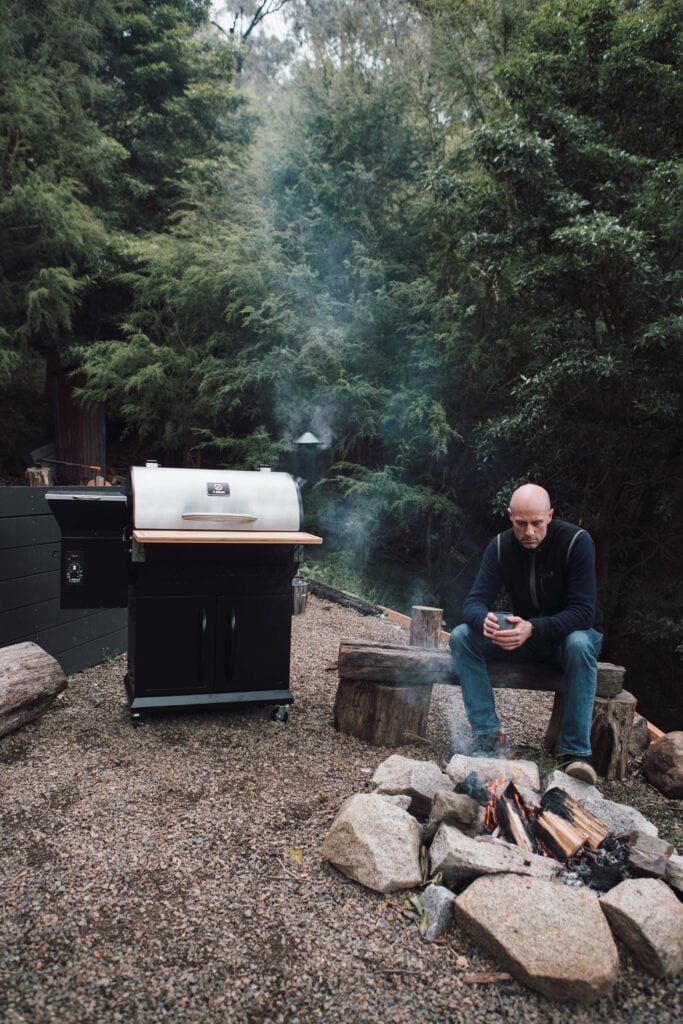 The good news is that with a little scrubbing, you can get your grill looking good as new for another delicious season. We do want to point out that grill rust does peel away layers of your grill each time the rust accumulates and is removed, which over time, can weaken and damage your grill.
A grill that is properly cared for before, during, and after each season can last many years and today we're helping you extend the longevity of your favorite outdoor summer appliance.
Why is it Important to Remove the Buildup?
For many reasons, your BBQ should be cleaned before, during, and after every season. Not only will your grill work better, but your food will also taste better on a clean grill. Germs can thrive on dirty grill plates, so your family's safety is also a concern.
One of the most important reasons besides food safety is general safety. Grills that are not properly cleaned on a regular basis are a serious fire hazard, especially if yours has a grease trap. A burnt dinner or patio is not the end goal.
How to Clean Cast Iron Grill Grates in 3 Easy Steps
If your grill has cast iron plates, cleaning is as simple as can be.
Step 1
Turn the grill on to warm the plates (approximately 350 degrees Fahrenheit).
Step 2
Once they have warmed up for about 15 minutes, wash them with mild soap and warm water and gently scrub them with a soft brush.
Step 3
For Stubborn Rust
Use this mixture with a steel brush or scraper.
For really stubborn rust, mix one part white vinegar with one part water (a 1 for 1 ratio mixture) and use this on the warmed plates as mentioned above. Don't forget to rinse with soap and water!
Quick Tip – If you don't have a steel brush or scraper on hand, crumpled aluminum foil will give you the same results!
How to Prevent Cast Iron Grates from Rusting
When your grill has cast iron grates, the best way to remove rust is to prevent it from forming in the first place.
Step 1
After each cooking session, allow the heat left inside the grill post-grilling to burn off excess food and sauces that are stuck to the grate.
Step 2
After that, use a grill brush to scrape and clean the grates. Ready for our secret weapon?
Use a small amount of olive oil or cooking oil on the warm grates
Step 3
Apply a thin coat of olive oil or cooking oil to the grates in a very thin coat while the grates are still warm. This process is essentially the same as seasoning a cast iron pan.
Step 4
The oil, when brushed on while warm, mixed with the heat of the grill, polemizes into the cast iron.
How to Clean a Charcoal Grill
Similar to a cast iron grill, using aluminum foil as your cleaning mechanism is going to yield excellent end results. You can also use steel wool if you have that laying around the house.
However, a modern twist on cleaning a charcoal grill is to use warm soapy water and a heavy-duty Magic Eraser Sponge.
Because this sponge has an abrasive side, it's an excellent tool for cleaning built-up rust on the grill. Once you clean with the sponge, you can use warm soapy water and a regular paper towel to gently wash away any debris.
Keep reading to learn more about how to clean a rusted bbq grill and keep it clean.
If your Grill Plates Need a Heavy Cleaning
If your grill plates are in serious disrepair, a heavy-duty solution may be needed.
A basic oven cleaner is perfect for this tough job.
Simply spray (in a well-ventilated and outdoor area) and let the mixture sit to penetrate.
After the time recommended on the oven cleaner bottle, you can use warm water and basic dish detergent, and a scrub brush to remove the stuck rust.
You can use the same products inside of the grill if rust has also formed in that area. Be sure to thoroughly rinse all areas the solution has touched as oven cleaner does contain toxic chemicals that should not be ingested.
Like the cast iron grill, preventative maintenance is the best way to ensure your grill lasts for years to come!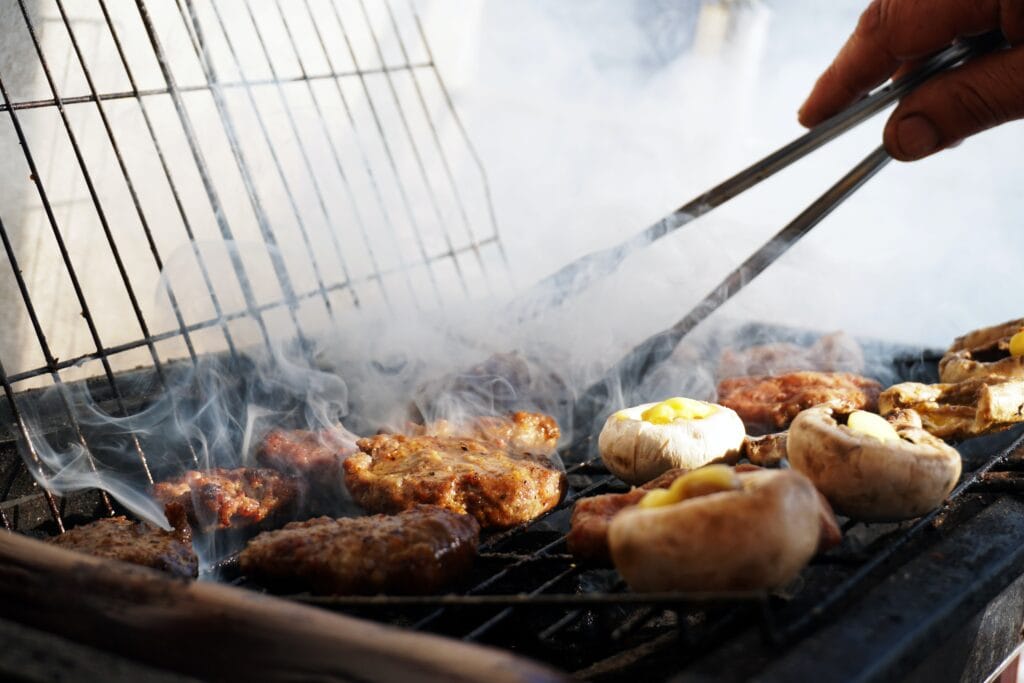 How to Clean a Gas Grill
Cleaning a gas grill will require a bit of a different approach than the two mentioned above.
We also recommend having a shop vacuum on hand, a flashlight, and a stainless steel wire brush.
Step 1
For this type of grill, you are actually going to remove the grates from the frame to properly clean it. We suggest taking a few photos before and as you remove them so you can easily put them back together (because we know your instructions are long gone).
Step 2
In a clean spray bottle, mix 20 percent dish liquid with 80 percent water and give your grill plates a really good spray down.
Step 3
Now, carefully remove the plates and set them aside for the solution to penetrate. While this soaks, you can use the shop vacuum to get any loose debris at the bottom of the grill. If any really stuck rust is lingering, you can carefully use a putty knife to scrape this away. Again, you want to make sure to vacuum up any remaining debris.
Step 4
Using the stiff wire brush, scrape the grates over a garbage can or garbage bag. Once most of the stubborn rust and old food debris is removed, you will want to rinse with dish soap and clean water to reveal your former glorious bbq grill grates.
Step 5
Those photos you took, dig those out so you can put it all back together. Now fire it up and get those hot dogs grilling!
How to Clean Stainless-Steel Grates
A stainless steel barbecue grill can be cleaned using the same methods as the charcoal grill above. The best method is a gentle abrasive tool, mild detergent, and regular cleaning!
Our Favorite Store-Bought Rust Removers and Tools to Make your Cleaning Project a Breeze
A good brush can make or break your grill cleaning project. The Grillart BBQ Grill Brush works on any type of grill plate and will remove stubborn food particles with ease. The long handle will ensure you don't burn yourself when using it. The bristles on this brush are also very secure thanks to the patent-pending technology so you never have to worry about getting a dangerous bristle in your dinner. One last reason we love this is that you can purchase replacement heads each season and continue to use the original handle.
We get that rust formation and rust removal can sometimes be tricky with homemade solutions, especially if the entire surface is covered. For a really rusty surface, we recommend picking up a bottle of the Goo Gone Grill and Grate Cleaner. Similar to an oven cleaner, you simply spray on, wait, then scrub off. This powerful cleaner promises to remove sticky messes, and surfaces with a lot of rust and is plant-based with natural citrus ingredients!
The easiest way to remove most rust is with soap, water, and a little elbow grease.
Rust spots are easier to prevent than remove.
Clean bbq grill grates will ensure your meals taste better and your family stays safe.
Each grill type or type of material uses a slightly different cleaning process for the best results.
Well, we hope you learned how to clean a rusted bbq grill in a few easy-to-manage steps. Because we are already counting down until we can enjoy quiet nights on the deck and a good BBQ hot dog!