Here's the Deal with a Seasoned vs Unseasoned Cast Iron Skillet
Before you buy a cast iron pan, you'll want to know the deal with a seasoned vs unseasoned cast iron skillet. We'll share why it's so important to know, and what you can do if you don't have a seasoned cast iron pan.
Is there anything better than a delicious one-pan meal? The answer is yes. A delicious one-pan meal made in a seasoned cast iron skillet is about to take your dinner game to an entirely new level.
Cast-iron pans have been around since the beginning of time and most households to this day have at least one cast-iron pan in their cooking arsenal. Cast iron pans are incredibly durable, heat up quickly and keep a consistent temperature for long periods of time.
During the cooking process, a small amount of Iron from the pan will also absorb itself into the food you are cooking. While this may sound dangerous, it's actually a benefit! Iron is an essential nutrient that your body needs to transport oxygen throughout your body.
Benefits of Cooking with Cast Iron:
Ever wonder why your parents or grandparents cast iron pans just make food in general taste that much better than your newly purchased one ever does, even when using an identical recipe and ingredients? It's because new pans are considered unseasoned cast iron skillets.
Keep reading to find out the difference between a seasoned vs unseasoned cast iron skillet.
The Difference Between a Seasoned vs Unseasoned Cast Iron Skillet
A pre-seasoned cast iron skillet does not mean salt and pepper or other spices have been added to the pan. Seasoning is the process of using cooking oil (a thin layer of oil) over high heat and in return causing the fatty acids to oxidize.
Once this happens, it creates a protective layer on the surface of the pan, creating the best nonstick surface you can get. The more you cook with the pan, the better it gets. This is why those pans that are passed down from generation to generation are literally irreplaceable.
Great Grandma's Cast Iron Pan
Preseasoned cast iron pans used to be passed down through generations, because the more you cook with cast iron, the better it gets. Now you can buy them preseasoned!
Pre-seasoned skillets can actually now be purchased directly from major manufacturers such as Amazon and Lagostina making them ready to use the minute they come out of the box.
Unseasoned Cast Irons
Do not fear an unseasoned cast-iron skillet. You can easily get your new pan to be perfectly non-stick by cooking acidic foods in excess oil or vegetable oil over high temperatures. The seasoning process will take time, but trust us, it will be worth it should you find a great deal on an unseasoned pan.
How to Season an Unseasoned Cast-Iron Skillet
Heat your oven to 350 degrees Fahrenheit
Coat your entire pan from top to bottom with oil (including the handle)
Bake your cast iron skillet upside down for one hour (with a baking sheet on the lower rack)
After 1 hr, turn the oven off and leave the pan to cool.
All the details are shared below
An easy way to tackle the initial seasoning process is to heat your oven to 350 degrees Fahrenheit, coat your entire pan (top, bottom, and handle) with a thin layer of oil, and bake your skillet upside down for 1 hour (be sure to place a baking sheet with foil on the lower rack to catch any drips because we know you don't want to have to clean your oven).
Once the hour has been reached, turn the oven off and leave the pan in the oven until it's completely cool.
Professional chefs actually suggest doing this step even if you purchase a new pre-seasoned pan for the best results when cooking.
Tip – Always use oven mitts when handling them as these pans retain heat for extended periods of time. Safety first.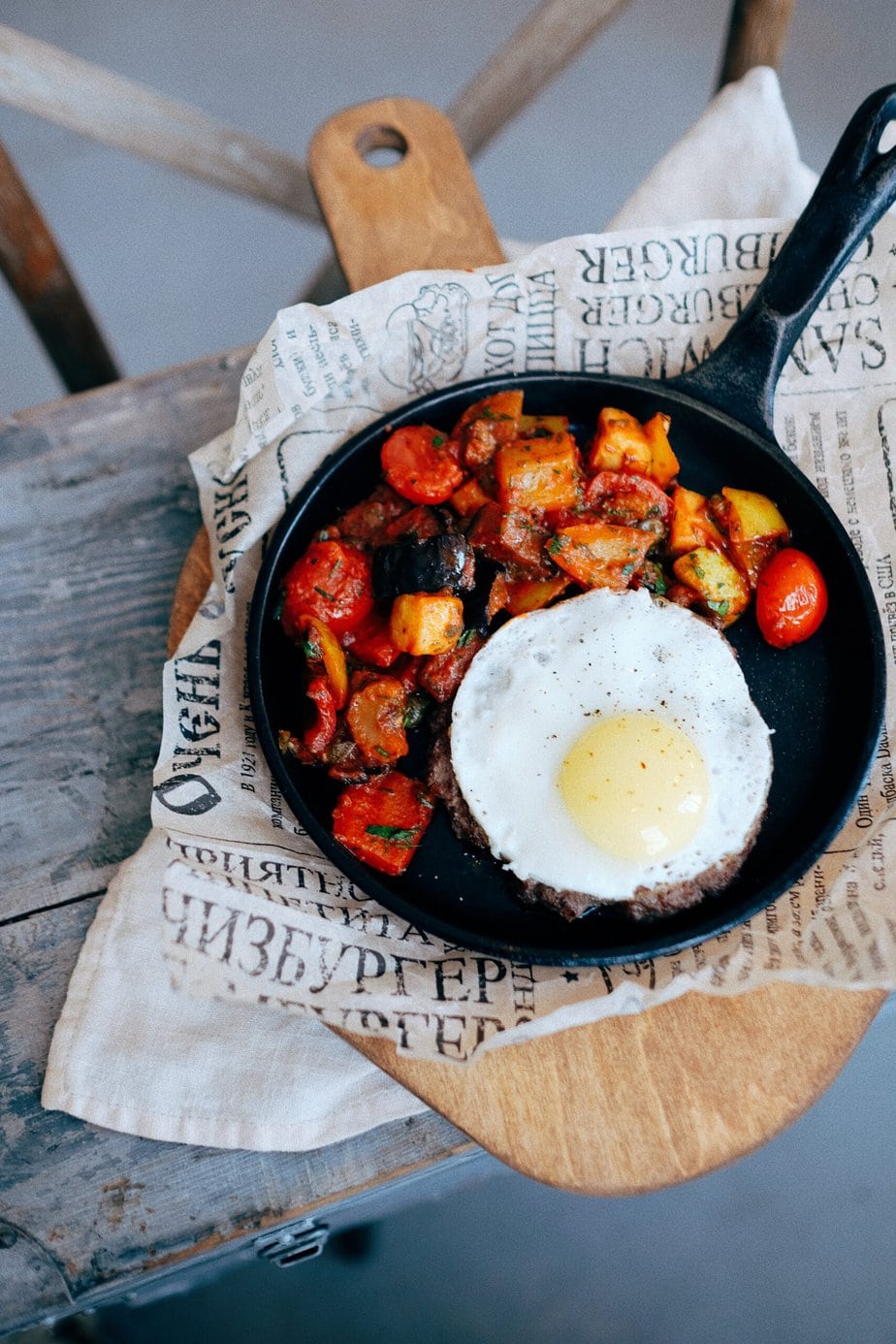 What Oil works best with Cast Iron?
Canola oil or vegetable oil is the best choice when cooking and seasoning a cast iron pan. Grapeseed oil and flaxseed oil are also two wonderful choices. Oils that leave a high level of unsaturated fat will make the pan work better and food taste amazing.
How to Clean Cast Iron?
Proper care of your new pan will ensure it lasts for years to come. Part of what makes a cast iron pan special is the layer of seasoning it gets with continuous use. Gently cleaning your pan will ensure your hard-earned seasoning does not come off in the wash. Remember, the more seasoning, the more non-stick your pan!
Once your pan has cooled, rinse the pan in warm (never cold) water. This will help break up any stuck-on food particles like pieces of eggs or charred meat. If you are really worried about food sticking, you can pour a cup of warm water directly into the pan while it sits on the stovetop to cool down.
Do not soak your cast iron pan in water. Cast iron is not rust-proof. Never place your cast iron pan in the dishwasher. Never, ever.
Contrary to popular belief, you can use a little mild dish soap to help loosen stuck-on food and clean your pan. Using a soft cleaner (a regular dishcloth is perfect or a pan scrapper) and a little elbow grease, you can easily clean your pan using this method. Abrasive scrubbers like steel wool are not recommended because they can actually remove layers of seasoning on the cooking surface that you spent so much time trying to create.
Once your pan is clean, wipe it down right away with a clean lint-free cloth (dark colors should NOT be used as the pan will stain lightly colored towels). Drying right away is to prevent it from rusting.
To make your next cooking session even tastier, brush the now-clean pan with a light layer of oil using a paper towel. Do not let the oil linger in droplets. If this happens, it means you've used too much and you can use another clean paper towel to soak up the access. Now you have a protective coating for your next cooking adventure.
Looking to purchase a new cast iron pan that is pre-seasoned? Here are two of the best-cast iron pans on the market.
The Lodge Cast Iron Skillet from Amazon Basics has an amazing price point and over 60 thousand positive reviews. This pan will be your new best friend when you need to sear, saute, bake, or broil. One of the beautiful things about cast iron is its ability to go from stovetop to oven with ease. This pan will last you for decades if properly cared for.
The MASTER Chef Pre-seasoned pan from Canadian Tire is another fantastic product you can get at your local store (with easy and free curb-side pickup!). This pan will quickly replace all of your others when it comes to food quality (goodbye stainless steel pans) and can be used on any type of stovetop including gas, electric, and even induction surfaces.
Cast Iron Recipe Books
No new cooking tool would be complete in your home without a recipe book to go along with it.
Here are two of the best-cast iron grill pan books on the market.
The Complete Cast Iron Cookbook by the Coast Kitchen has over 300 amazing recipes to test out for all skill levels. The book also includes tips and tricks to care for and store your pan so it will last for years to come. The book promises that once you start cooking with a well-seasoned cast iron pan, you will never go back. It's also hardcover, which we love in a cookbook.
Cast-Iron Cooking by Rachel Narins is our second choice because of how simple and accessible the recipes included are. The book is simple to follow, has beautiful imagery, and will have your tummy growling for more.
So who's hungry?