Christmas Simmer Pot Printable + Instructions
Post Summary: This Christmas simmer pot printable makes the perfect last-minute gift! Just in case you still need teacher gifts, neighbor gifts or you want to make your whole house smell amazing for Christmas morning.
I wish you could smell my house right now, seriously. One of my favorite things to make around the holiday season is a Christmas simmer pot. This easy DIY Christmas recipe can be done two ways (both with amazing results) and takes very little effort to pull off. If you make this, your entire house will smell like Christmas. Using a mixture of fresh ingredients and natural ingredients, we are going to mimic expensive essential oils you might find in a specialty goods store. Did we mention this is an inexpensive way to give a wonderful gift?

Not only did we include free printable gift tags, but we wanted to make sure this was an easy but beautiful DIY Christmas gift.
For this recipe, I used the same ingredients and followed two different sets of instructions for the actual preparation. Option one is a fresh simmer pot, great for a last-minute hostess gift as it takes only a minute of prep and is perfect if you are short time. The second option is a dehydrated fruit simmer pot, great for gifting closer to the holidays as the dehydration process gives you a longer shift life on the fresh ingredients we are using!
So keep reading to find out how you make the perfect simple Christmas gift idea and a free Christmas Pot Printable.
Easy Christmas Simmer Pot Printable + Instructions
Tools you'll need
These are our favorite Amazon items that we use whenever we make our Christmas simmer pots.
Okay, here we go! An easy Christmas stovetop potpourri, done two ways!
Ingredients:
Fresh Lemons and Fresh Oranges or Citrus Fruit of your choice (I've used ripe clementines before!)
Fresh Cranberries
Cinnamon Sticks
Whole Cloves
Star Anise
Small Mason Jar(s) or plastic gift bag(s)
Scissors
Ribbon
Printer
Parchment Paper
Two Baking Trays
Stop top pot
Optional Ingredients:
Fresh pine branches from your yard
Other ground spices that evoke holiday memories for you (Nutmeg for instance)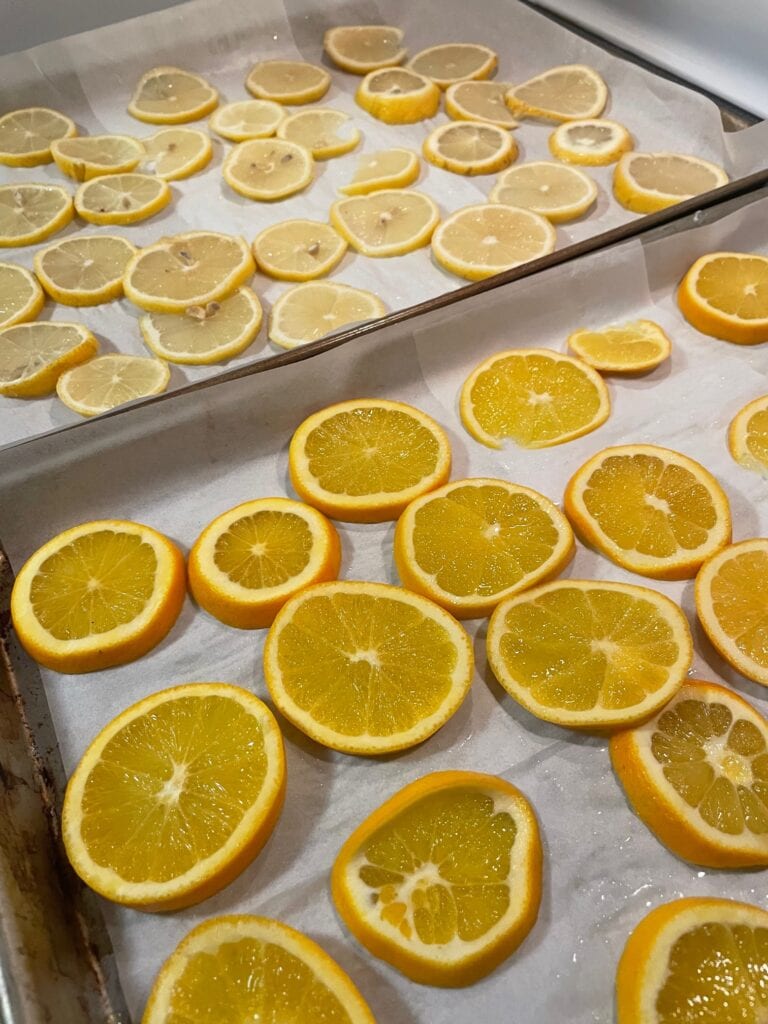 Instructions for a Dehydrated Simmer Pot:
Slice oranges, lemons, and citrus fruit very finely (half-inch slices). If you have a mandolin sitting in the back of your cupboards that you never use, now would be the perfect time to whip it out. If you are like me and have minimal kitchen tools due to lack of space, grab a sharp knife and thinly slice the oranges and lemons (throwing out or composting the nubby bits on the end).
Preheat your oven to 200 degrees.
Lay out the thinly sliced fruit in an even layer on a parchment-lined baking sheet.
Pop into the oven and plan to bake for about three hours total. I rotated my sheets and the fruit every hour to help speed up the dehydration process. Make sure not to bake at a higher temperature as your fruit will burn and singe.
You will know your fruit is fully dehydrated when you can blot it with a piece of paper towel and no water or moisture comes off. Your lemons may take slightly longer than the oranges, depending on how ripe they are!
Once fully dehydrated, let them cool completely on the pan. If you aren't packaging these up today, put them in a zipper seal bag and keep them in a dry place until you are ready to use them.
I actually dehydrated the cranberries in my Pampered Chef air fryer using the dehydrator setting!
These also took 2-3 hours to fully dehydrate but helped me finish all the fruit at the same time as only the citrus fruit fit inside the oven!
Packaging your Dehydrated Simmer Pot:
Because we took the time to dehydrate the fruit, we removed the potential for it to grow mold, making it the perfect make-ahead to give away holiday gifts. You can now put a small handful of the dehydrated fruit, two cinnamon sticks, two full star anise, and a sprinkle of cloves into a bag. Tie it with a festive ribbon, print out the attached cards (see below for the free printable tags), and give the gift of a pleasant aroma!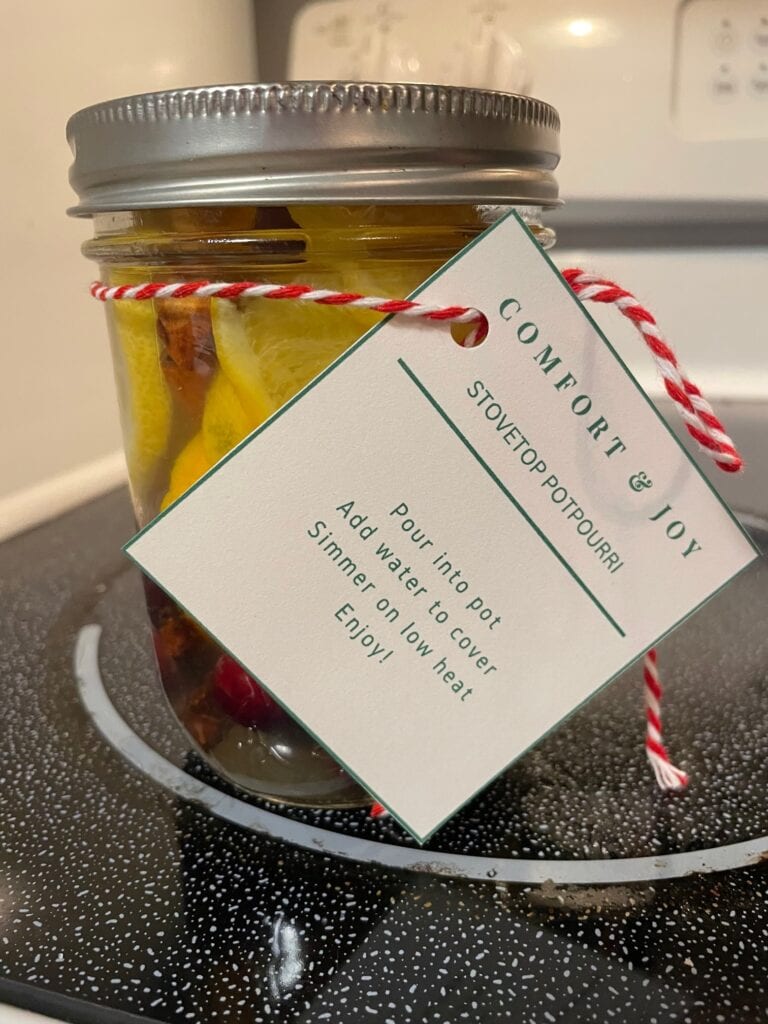 How to use your Dehydrated Simmer Pot:
Using is simple! Pour the dry ingredients into a large pot, two cups of water, and cover with low heat your stovetop. You can simmer this all day as long as you continue to add fresh water as it evaporates. Your whole house is about to have a wonderful seasonal scent.
The unused dehydrated stovetop potpourri will last several weeks if sealed properly.
If you are short on time (because I know we all don't have 2-3 hours of spare time around the holidays), then the second method for a holiday simmer pot is likely for you!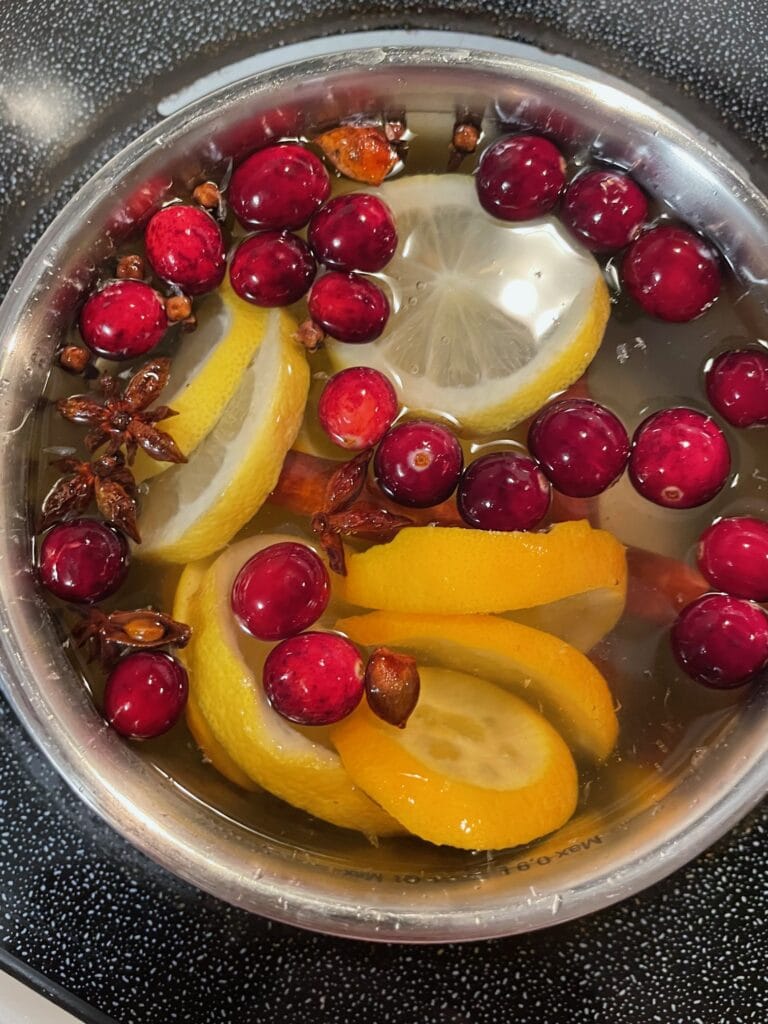 Fresh Simmer Pot Instructions:
Slice oranges, lemons, and citrus fruit very thinly (half-inch slices). I used one orange and one lemon for one mason jar.
Grab a large mason jar. If you only have smaller ones on hand, simply reduce these instructions by half or use as many mason jars as needed to use the ingredients.
Throw in a handful of fresh cranberries.
Throw in 2 cinnamon sticks
Throw in 2-star anise.
Sprinkle in some whole cloves (or other warm spices)
Add in your fresh pine if using.
Fill the mason jar to the top with cold water, and seal it with a lid.
Print this tag (we made one for mason jar simmer pots too!) and tie it with a festive ribbon. Comfort & Joy (3).pdf
To use this, the instructions are the same as above. You can continue to top it with fresh water throughout the day. The only thing to remember is that the fresh simmer pot has a 1-2 day shelf life if kept in water in the refrigerator, so it's best to make this gift on the day you plan to gift it and if you know the recipient will be able to use fairly quickly.
Here's our Free Christmas Pot Printable!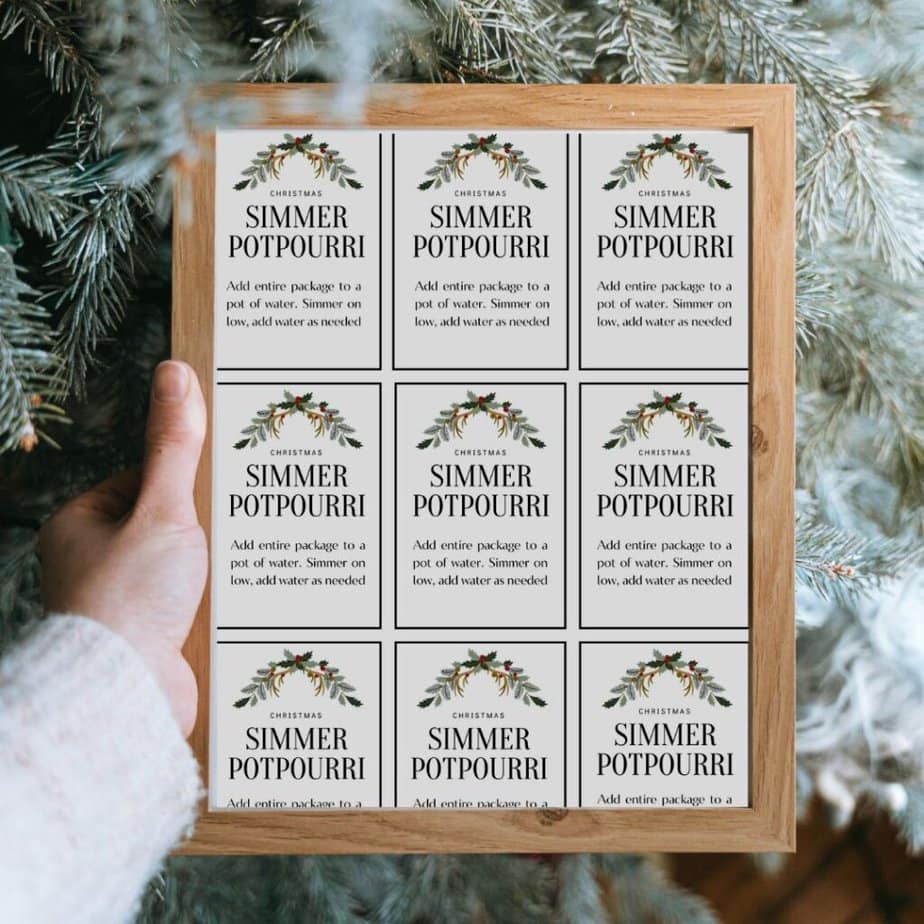 We hope you enjoyed making this simple recipe for stovetop potpourri. Using simple ingredients you likely already have at home, you can bring natural scents into your home this holiday season, without the additional cost of having to buy air fresheners and expensive sprays to prep for visitors! This beautiful gift is a super easy way to impress this Christmas. Now sit back, grab a hot cocoa (or an Aperol Spritz), and relax!