This post has all the tips you need for hosting a gingerbread decorating party.
Every winter we write a bucket list, full of the things we hope to do and the things we hope to make. But one of the things I look forward to the most is having a gingerbread decorating party. It's a fun way to celebrate the holidays, and hosting a gingerbread house decorating party can make the holidays feel more festive and magical.
It's also a great idea to start as your own family tradition, that both kids and adults will enjoy.
So we're going to share scenes into our down decorating party but also dedicate an entire post to sharing how you can host a memorable gingerbread house decorating party that everyone will enjoy.
10 Tips for Hosting a Gingerbread Decorating Party
Our goal here at Cottage Living and Style has always been to create a home you not only feel safe and happy in but also one you feel good about entertaining in. And we hope to share how you can make this gingerbread party one your guests will be excited to come back to year after year.
Creating a Guest List
Let's start with the guest list. We won't tell you who to invite but we will share some fun ways to make sure you have everything you need. Like this fun guest list printable!
Sending out Invitations
Whether or not you choose to handwrite invitations (I love sending out handwritten letters). If you choose to send out an email invite, here are some fun options we found on Etsy.

Create a list of supplies
Trust me on this, you'll need a list. I always end up forgetting something without one, and I even made a fun printable below just in case you want to use it and make things a lot easier for yourself.
Planning your space
Along with decorating (which we'll get into next), it's always important to plan your space before guests arrive. Somewhere with enough seating, enough light, and someplace you can easily clean. For us, that was our dining room, but for others, that might be the kitchen island or basement.
Decorating your home for the party
As you may know, decorating is one of my favorite things to do. This is why I tend to go all out when it comes to hosting for the holidays. But I will share a few must-haves and things that I found helpful.
An easy to clean tablecloth
Small measuring bowls
Large platters for the gingerbread houses
Table top trees
Candy canes
Graham crackers (for the bowls)
The BEST gingerbread house kits
I've included a few gingerbread house kits from Walmart, which make gingerbread house building a breeze. All you need to do is come up with some decoration ideas and grab the decorating supplies.

Creating "glue" ahead of time
A tip I learned from having young kids, who don't have a lot of patience. It's important to make the glue ahead of time, and have it ready to go (especially if there's going to be young kids at the party). We recommend checking out this post by Martha Stewart for piping tips, and this recipe on royal icing because it is honestly the best.
Planning other activities
We love to entertain and as fun as gingerbread house making is, we also like to have other activities for our guests to do as well.
Some suggestions for Christmas party activities are:
How to host a large party in a small house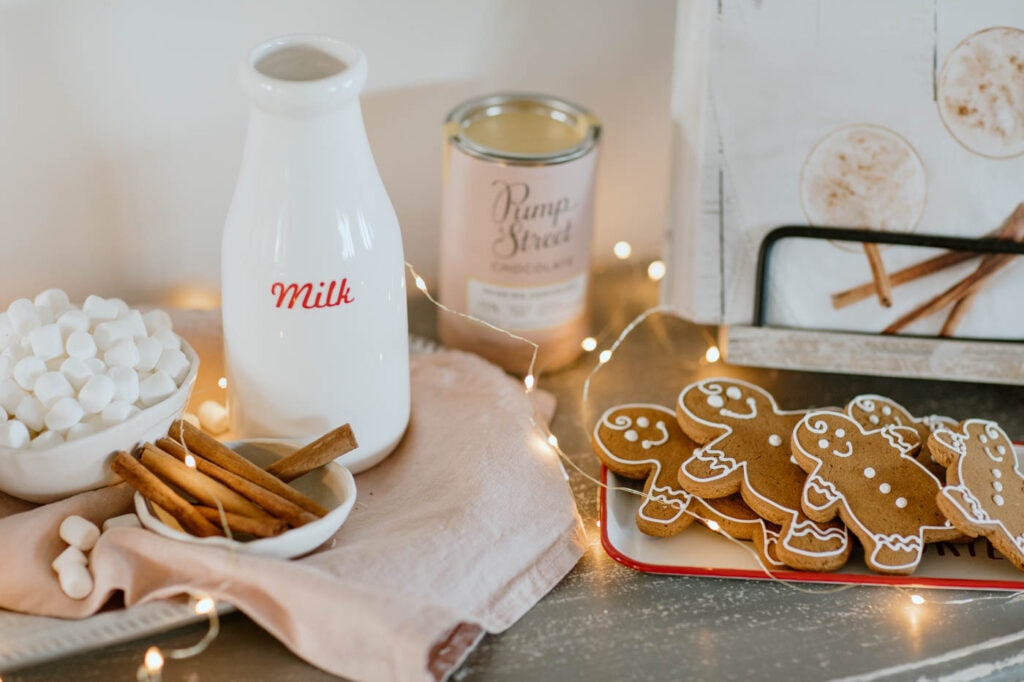 Stocking up on enough decorating
When it comes to decorating your gingerbread house you want to make sure you have enough supplies. Things like graham crackers, candy canes, pretzels, and gumdrops are great for not only the houses but also the gingerbread house decor!
Don't tell me I'm the only one who's made a gingerbread couch before. It's fun to get creative and if you're going to throw a party you might as well include everything you can.
Grab the list I shared above for some ideas on decorating supplies.
Preparing the food/drinks
We prepare everything ahead of time (that we can). The only thing we wait to make and serve is the hot chocolate. Which is why we wanted to share some other drinks you can do ahead of time so you're not running around making drinks the entire time.
We hope this inspired you to make Gingerbread House Parties your new family tradition! It's fun for the whole family we promise.