Hosting a Gingerbread House Decorating Party
This post contains links to affiliate websites, such as Amazon, and we receive an affiliate commission for any purchases made by you using these links. We appreciate your support!
Looking for a new fun tradition? Try hosting a gingerbread house decorating party. We're sharing cute invitations, grocery lists, and a lot of other fun tips.
Every winter we write a bucket list, full of the things we hope to do, like bake a Christmas cake, and go sleigh riding with the kids. But this year I wanted to host a gingerbread decorating party. It's something I've been wanting to do for years, but never got the chance.
So now that we can finally host parties again, I was thinking we can make this an annual tradition. It's a fun activity that has no rules and is fun to create. Which makes it the perfect party idea for both kids and adults.
Join us as we plan our menu, the invites, and the music. Plus we'll share some of the best decorating ideas because we want you to host a memorable gingerbread-house decorating party that everyone will enjoy.
Hosting a Gingerbread House Decorating Party
Decorating gingerbread houses reminds me of when I was a kid. I remember going to town on it. I would make marshmallow men, and use hot chocolate as a road, and of course jelly beans as the landscaping.
It was fun to get creative and of course, by the end of it, I wanted to save it. I'm pretty sure one year my mom kept mine (fully intact) for at least six months. So I guess I'm kind of an expert gingerbread house decorator. Kidding! But I am excited to share that excitement with my children now.
Send the Perfect Invite
Let's start with the guest list. We won't tell you who to invite but we will share some fun ways to make sure you have everything you need. Like this fun guest list that we linked for you in Canva, you could easily add your name, address, phone number, and the date of the party.
Whether or not you choose to handwrite invitations (I love sending out handwritten letters). If you choose to send out an email invite, here are some fun options we found on Etsy.
Or better yet, why not make invite cookies? We bought these and added some frosting on top with the date and time. Fun right?
Create a List of Supplies
I love it when party planning goes smoothly and easily. My tip for making that a reality for your party is to plan ahead.
So here's a quick list of supplies you might need:
Planning your Decoration Stations
Along with decorating (which we'll get into next), it's always important to plan your space before guests arrive. Somewhere with enough seating, enough light, and someplace you can easily clean. For us, that was our dining room, but for others, that might be the kitchen island or basement.
For the decoration stations, you'll want to lay down butcher paper across the entire table. If you're using gingerbread kits, then you'll really just need the decoration supplies. You can do this a few ways, either use muffin tins and fill them with each item or use mini bowls. For the frosting and pretzel rods, I put out plastic cups to help keep things a little more tidy.
Another tip is to have each group of 2-3 with their own set of decorations.
Tools you'll need
Click the pictures above to shop for the item directly from Amazon.
Decorating your Home for the Party
As you may know, decorating is one of my favorite things to do. This is why I tend to go all out when it comes to hosting for the holidays. But I will share a few must-haves and things that I found helpful.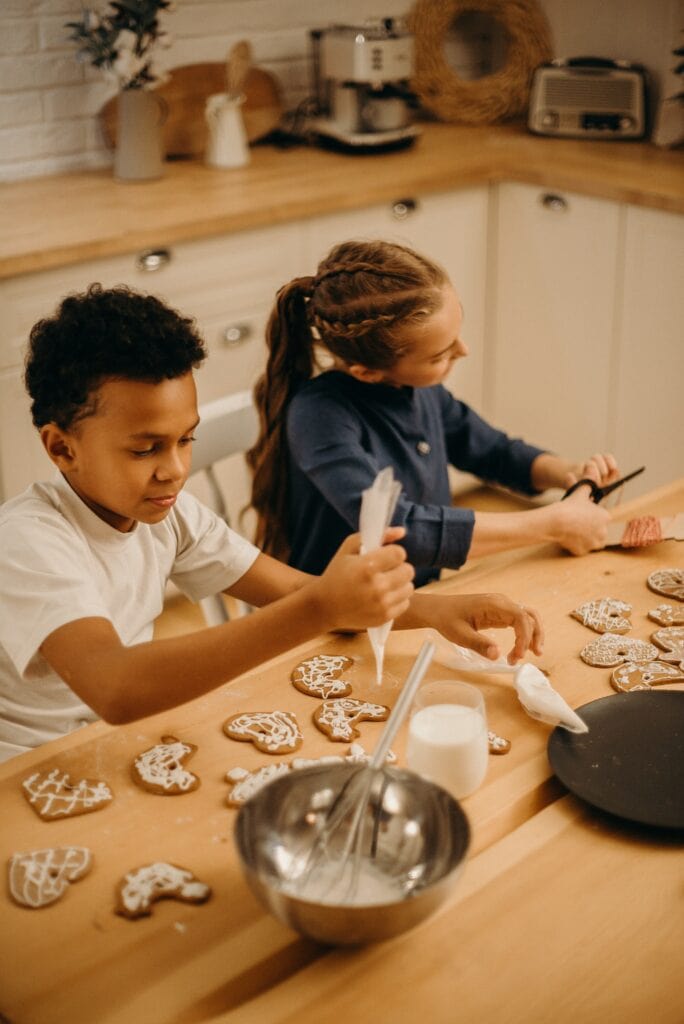 Gingerbread Guest Bags
Before your guests leave, don't forget to send them a homemade gingerbread cookie and their gingerbread house. To make sure their houses don't get wrecked on their way home, we suggest ordering some of these cake boxes (extra tall) from Amazon.
The BEST Gingerbread House Kits
I've included a few gingerbread house kits from Amazon, which make gingerbread house building a breeze. All you need to do is come up with some decoration ideas and grab the decorating supplies.
Tools you'll need
Click on any of the links above to shop the item directly from Amazon.
Creating "glue" ahead of time
A tip I learned from having young kids, who don't have a lot of patience. It's important to make the glue ahead of time and have it ready to go (especially if there are going to be young kids at the party). We recommend checking out this post by Martha Stewart for piping tips, and this recipe on royal icing because it is honestly the best.
Planning Activities
We love to entertain and as fun as gingerbread house making is, we also like to have other activities for our guests to do as well.
Some suggestions for Christmas party activities are:
Looking for ideas on What to wear to the party check out this post!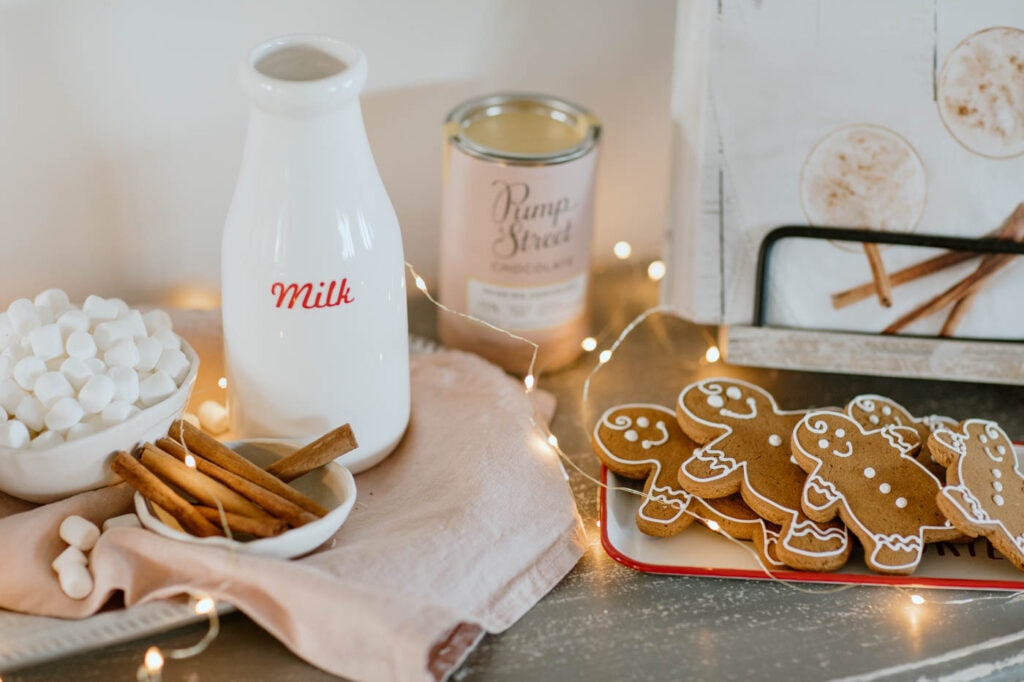 Stocking up on enough decorating
When it comes to decorating your gingerbread house you want to make sure you have enough supplies. Things like graham crackers, candy canes, pretzels, and gumdrops are great for not only the houses but also the gingerbread house decor!
Don't tell me I'm the only one who's made a gingerbread couch before. It's fun to get creative and if you're going to throw a party you might as well include everything you can.
Grab the list I shared above for some ideas on decorating supplies.
Preparing the food/drinks
We prepare everything ahead of time (that we can). The only thing we wait to make and serve is the hot chocolate. Which is why we wanted to share some other drinks you can do ahead of time so you're not running around making drinks the entire time.
We hope this inspired you to make Gingerbread House Parties your new family tradition! It's fun for the whole family we promise.
PIN THIS FOR LATER