50+ Ways to Have the Best Halloween Movie Night!
This post contains links to affiliate websites, such as Amazon, and we receive an affiliate commission for any purchases made by you using these links. We appreciate your support!
Post Summary: Here are all the Halloween movie night ideas you need to have the best time with your family. Complete with spooky decorations, Halloween-themed treats, classic horror movies, and family-friendly films for unforgettable spooky fun!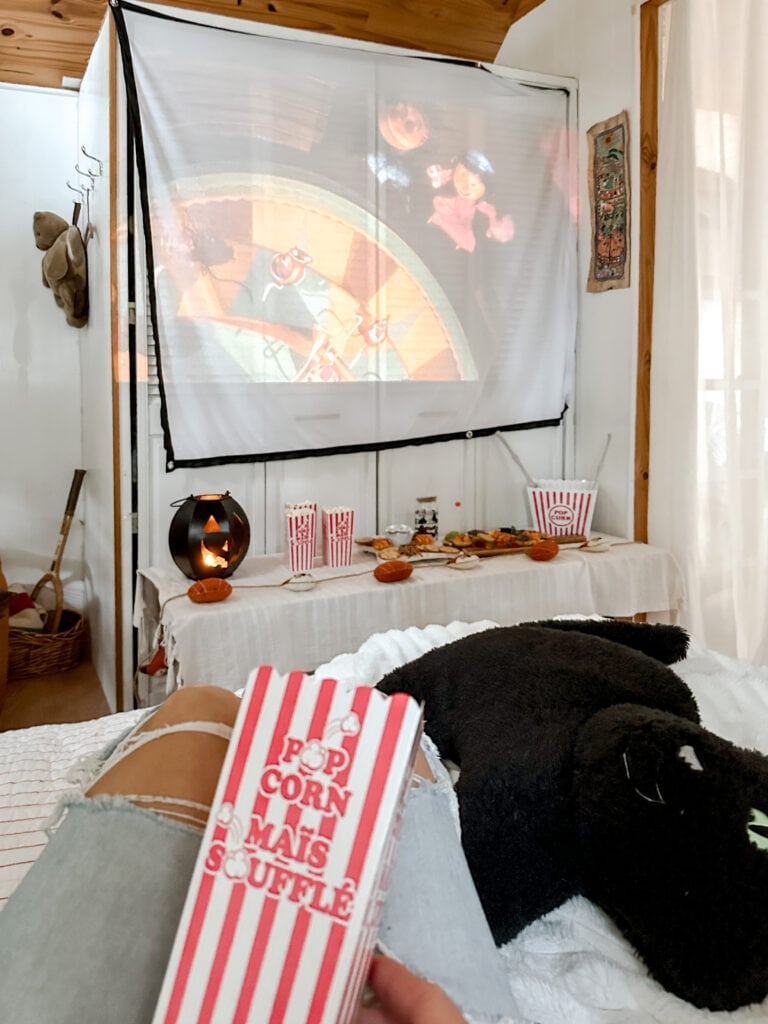 October is here, the air is crisp, the leaves are falling, and the ghouls and goblins are ready for trick-or-treating. It's one of my favorite times of the year because I get to host a Halloween movie night party and turn my living room, outdoor space, or cabin into a fun Halloween-themed event for the kids.
This year I decided we would have a smaller, but still fun night watching my favorite scary movie and eating a store-bought treat or two. So last week I ordered a projector from Amazon, grabbed a few new decorations from The Dollarstore and all the ingredients I needed from Walmart, all on a budget of course. I'm sharing exactly how I put together such a fun evening, so you can too!
Plus keep reading as I share several fun ideas that I used to take our Halloween-themed movie nights to the next level.
​Halloween Movie Night Ideas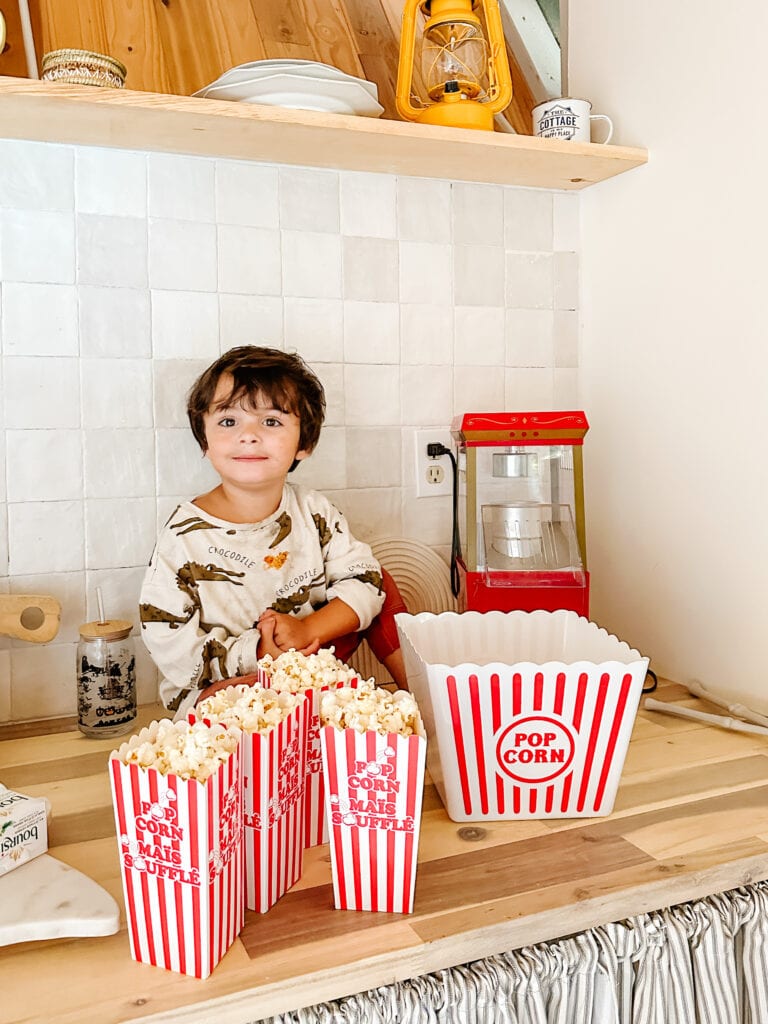 I loved how our movie night turned out, the kids were obsessed with not only making the popcorn and snacks, but they watching some of not so scary movies too. Not to mention, Tony and I we really impressed by how well the projector worked because it was so inexpensive (don't worry I'll link the one we bought from Amazon below). We'll also explore all the ways you can create your very own family night, including our favorite movies to watch with or without kids.
How to Set up a Halloween Movie Night
Whether you prefer the comfort of your own home or an outdoor movie night, creating a spooky atmosphere is crucial. I like to do this by incorporating things like string lights, spider webs, and other inexpensive but reusable decorations. Even if you can only get some simple Halloween decor, that's enough to transform any space into a spooktacular theatre. I'm sharing a few more ideas below of course but I wanted you to know you don't have to spend a ton in order to make this a special night. 
If you're planning an outdoor viewing, you'll need a white sheet, a mini projector, and a few lawn chairs, cushions, or bean bag chairs for seating. You'll also need some of your favorite snacks either on an outdoor table with a tablecloth or a bar cart that's pushed by Skelaton, and you've got the perfect family movie night outdoors.
​Halloween Decorating Ideas
Haloween themed Decorations
Halloween Wall Decor
Halloween Wall Decals or Stickers (Like Printable Bats HERE)
Haunted Portraits or Spooky Wall Art
Table and Snack Area
Spooky Centerpieces (with pumpkins, skulls, etc.)
Lighting
Movie Room
Halloween Throw Pillows and Blankets
Confectionery and Food Decor
Halloween Candy Wrappers
Halloween Cookie Cutters (for themed snacks)
Halloween Cupcake Toppers
Edible Candy Eyes (for spooky food decoration)
Outdoor Decorations
Yard Tombstones
Hanging Ghosts
Halloween Door Wreath
Miscellaneous
Spooky Sound Effects CD or Playlists
Halloween Themed Photo Booth Props
Bonus Items
Fog Machine (for creating a ghostly atmosphere)
Halloween-themed Cups, Plates, and Napkins (for serving snacks and drinks)
DIY Halloween Craft Supplies (if you prefer to make some decor items yourself)
Halloween Decor
Click on the pictures above to shop for the item directly.
Shopping Tips
Visit local party supply stores or big-box retailers for seasonal decorations.
Consider using Pinterest for DIY decoration ideas if you're feeling crafty.
Look for multi-packs or sets of decorations to save money.
Compare prices between different sellers to ensure you get the best deal.
Remember, the objective is to create a spooky and fun atmosphere, so choose the decorations that best fit your theme and budget!
How to Pick the Perfect Halloween Movie
Time for my favorite part! Choosing the best Halloween movie for my family and friends has been so much fun over the years. When it comes to choosing something for little kids you can't go wrong with old favorites like "Hocus Pocus," "The Addams Family," or "The Great Pumpkin Charlie Brown,". But for those seeking a scarier experience my favorites are horror movie classics, complete with serial killers like Michael Myers, Freddy Krueger, or Jason Voorhees (IYKYK). 
When it comes to renting or streaming the movies, I like streaming services like Amazon Prime because they offer a wide of movie choices ranging from spooky to fun, making it a one-stop shop for all your Halloween movie needs.
Making Spooky Snacks and Halloween Treats
What would a Halloween movie night be without themed treats and Halloween candy? Spice up your movie snacks with gummy worms, store-bought treats, and other spooky food. You can also prepare some Halloween treats like 'Jack Skellington' cupcakes or 'Haunted House' cookies. For a fun way to serve, consider arranging your snacks on a Halloween-themed cutting board. Don't forget to add some Halloween-themed drinks to complete the experience.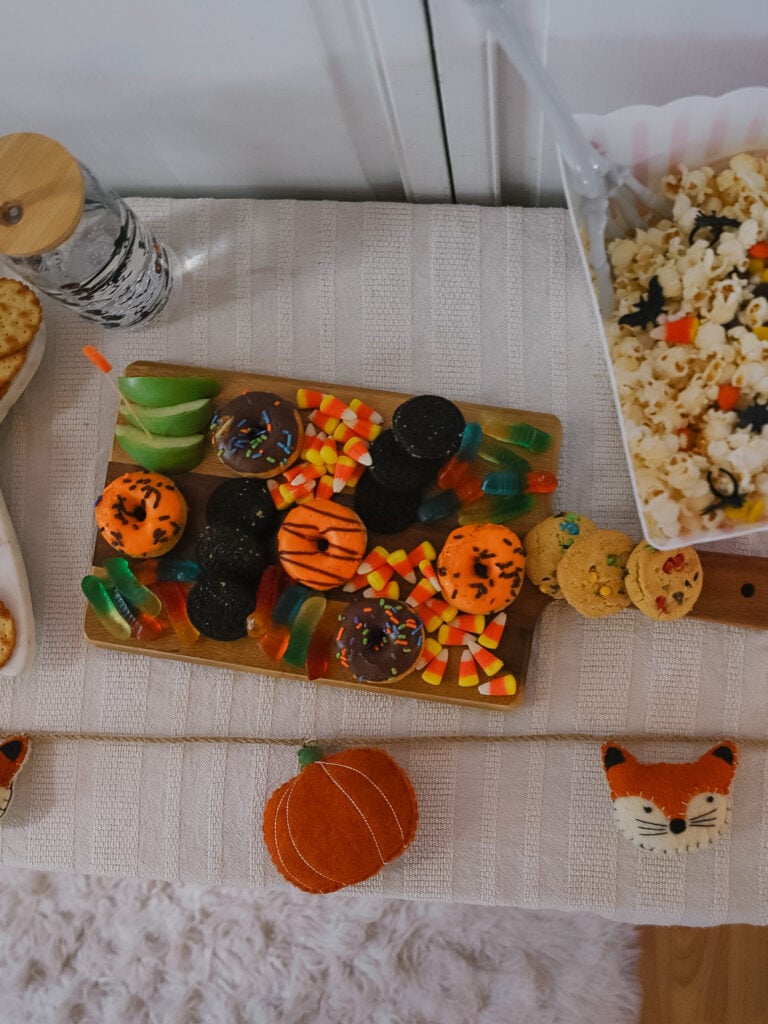 Halloween Movie Night Grocery Shopping List
Candies & Sweets
Gummy Worms
Candy Corn
Chocolate Eyeballs
Jelly Pumpkins
Marshmallow Ghosts
Sour Bats
Licorice Spiders
Chocolates
Mini Chocolate Bars
Orange and Black Wrapped Halloween Chocolates
M&Ms (Halloween-themed)
Snacks
Popcorn (consider colored popcorn for extra fun!)
Pretzels (look for Halloween-shaped ones)
Caramel Apples
Pumpkin Seed Trail Mix
Cheese Balls (perfect for a "pumpkin" bowl)
Baked Goods
Halloween Cupcakes (look for spooky toppers or decorations)
Sugar Cookies (in the shapes of bats, ghosts, pumpkins, etc.)
Pumpkin Pie
Themed Treats
Drinks
Apple Cider
Orange Soda
Glow-in-the-Dark Lemonade (use tonic water and black light)
Healthy Alternatives
Clementine "Pumpkins" (peeled clementines)
"Boo" nanas (bananas cut in half with chocolate chip "faces")
Veggie Platter with "Goblin" Green Dip
Remember, you can get creative with the names and presentations to add more Halloween spirit to your spooky movie night treats!
How to Host a Costume Contest
Encourage your party guests to come in their favorite Halloween costumes. You can organize a costume contest as a fun addition to your Halloween night. It's not only a good idea to keep the Halloween spirit alive, but it also makes for great Halloween party photos!
Movie Marathon
For those who want to extend the Halloween season, hosting a movie marathon is a great idea. Mix in some family-friendly options like "Eddie Murphy's Haunted Mansion" for younger kids along with scarier options like "Texas Chainsaw Massacre" or "Elm Street" for older viewers. This way, the whole family can enjoy the marathon in shifts or together, making it a family tradition.
For great Halloween movie night ideas, a visit to an online retailer can provide decor ideas, Halloween movie night essentials, and more, often with affiliate links to guide you directly to the products.
The Month of October Celebration
Okay, if you're wondering why you should limit the spooky movie night to just one evening? The entire month of October is the perfect time for hosting several Halloween-themed movie nights, integrating fun movie options, spooky snacks, and more each time. Include a mix of Halloween and Christmas movies from Tim Burton, making every night a uniquely themed experience.
Great Halloween Movies to Watch this Month
Movies to Watch with Kids
"Hocus Pocus" (1993): Three witches are accidentally resurrected and cause chaos on Halloween night.
"The Nightmare Before Christmas" (1993): Jack Skellington stumbles upon Christmas Town and decides to bring the holiday back to Halloween Town.
"Casper" (1995): A paranormal expert and his daughter move into a haunted house where she befriends a friendly ghost.
"It's the Great Pumpkin, Charlie Brown" (1966): The Peanuts gang celebrates Halloween while Linus waits for the Great Pumpkin.
"Monster Family" (2017): A family must come together to reverse a witch's curse that has turned them into monsters.
"Hotel Transylvania" (2012): Dracula operates a high-end resort away from the human world but problems arise when a human finds the hotel.
"Coraline" (2009): A young girl discovers a parallel universe where everyone has buttons instead of eyes, and danger lurks.
"The Addams Family" (1991): The Addams Family's lives begin to unravel when they face a treacherous imposter.
"Spookley the Square Pumpkin" (2004): A square pumpkin learns about accepting oneself and others' differences.
"Monsters, Inc." (2001): In a world where monsters scare children to generate power, two monsters discover a little girl in their world.
Movies to Watch with Adults
"Halloween" (1978): Michael Myers escapes from a mental hospital and returns to his hometown to continue his killing spree.
"A Nightmare on Elm Street" (1984): Freddy Krueger haunts the dreams of teenagers and, if killed in the dream, they die in real life.
"Friday the 13th" (1980): Camp counselors are stalked and killed by an unknown assailant while trying to reopen a summer camp.
"The Texas Chain Saw Massacre" (1974): A group of friends falls victim to a family of cannibals while on a road trip.
"Psycho" (1960): A secretary embezzles money and checks into a remote motel run by a disturbed innkeeper.
"The Exorcist" (1973): A young girl is possessed, and two priests must save her through an exorcism.
"Get Out" (2017): A Black man uncovers disturbing secrets when he visits his white girlfriend's family estate.
"Hereditary" (2018): A family haunted after the death of their secretive grandmother uncovers dark and terrifying secrets about their ancestry.
"The Shining" (1980): A family heads to an isolated hotel where an evil presence influences the father into violence.
"The Conjuring" (2013): Paranormal investigators work to help a family terrorized by a dark presence in their farmhouse.
DIY Decorations
If you're anything like me, I love to get crafty. If you want to take your Halloween movie night to the next level, consider DIY Halloween decorations. Create your own spooky season crafts, bringing a personal touch to your Halloween party. From homemade spooky snacks to handcrafted decor, the possibilities are endless. Last year we created printable bats, and of course, I'll share the blog post HERE.
Halloween Movie Night Games
While this is more suited for older children and adults it can also be tailored to younger children as well. One of the best ways to have a little more fun is to play a Halloween movie night board game, like Alice Cooper's Horror Box which is the ultimate horror movie game, or Disney's Haunted Mansion board game. But the fun doesn't have to stop there, we personally love playing a game of Halloween Charades. 
Hosting a Halloween movie night is a great way to embrace the spooky season, whether you're planning a scary movie night, a family Halloween movie night, or an outdoor Halloween movie night. With themed treats, spooky decor, a range of movie snacks, and your favorite Halloween movie, you can create the perfect Halloween movie night from the comfort of your own home or outdoor space. So, grab your gummy worms and string lights, and let the spooky movie marathons begin!