We Found the Best CeraVe Cleanser and
This post contains links to affiliate websites, such as Amazon, and we receive an affiliate commission for any purchases made by you using these links. We appreciate your support!
Post Summary: Looking for the best CeraVé cleanser according to your skin type? We put them to the test and this is what we found out!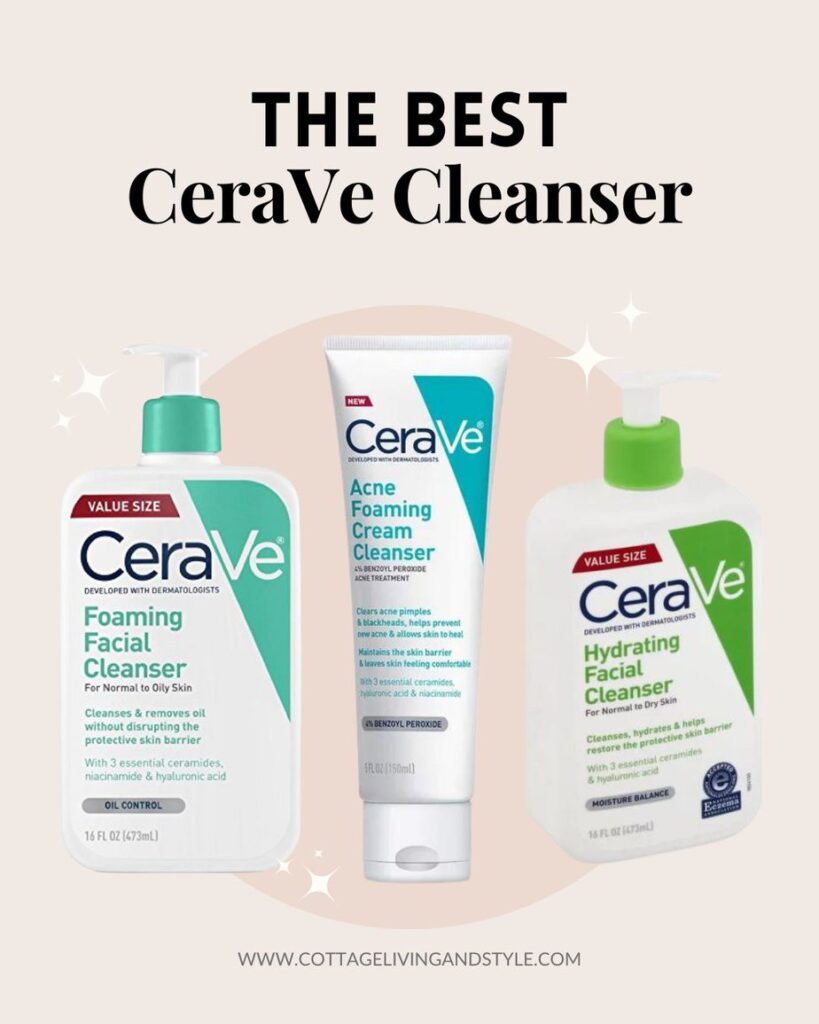 If you're like us, chances are you have a vanity or drawer full of skincare products you had to have but didn't end up loving. My husband and friends all call me a product hoarder because of how often I buy and try new beauty-related things. Since entering my 30s, my skincare has become an even bigger focus.
Want to know what my current favorite product line is? Ceravé!
Out of all the products I've tried, from high-end brands to other drugstores the Ceravé family of products has quickly become the one I reach for the most often.
All of the products contain the same active ingredients, for a fraction of the price of some higher-end counterparts. One of Ceravé's main principles is promoting the science behind the essential ceramides that your skin needs and craves. Ceramides are key to healthy skin!
If you're looking for the best Cerave cleanser, keep reading! We're breaking down the differences and linking our favorites below.
The Best CeraVé Cleanser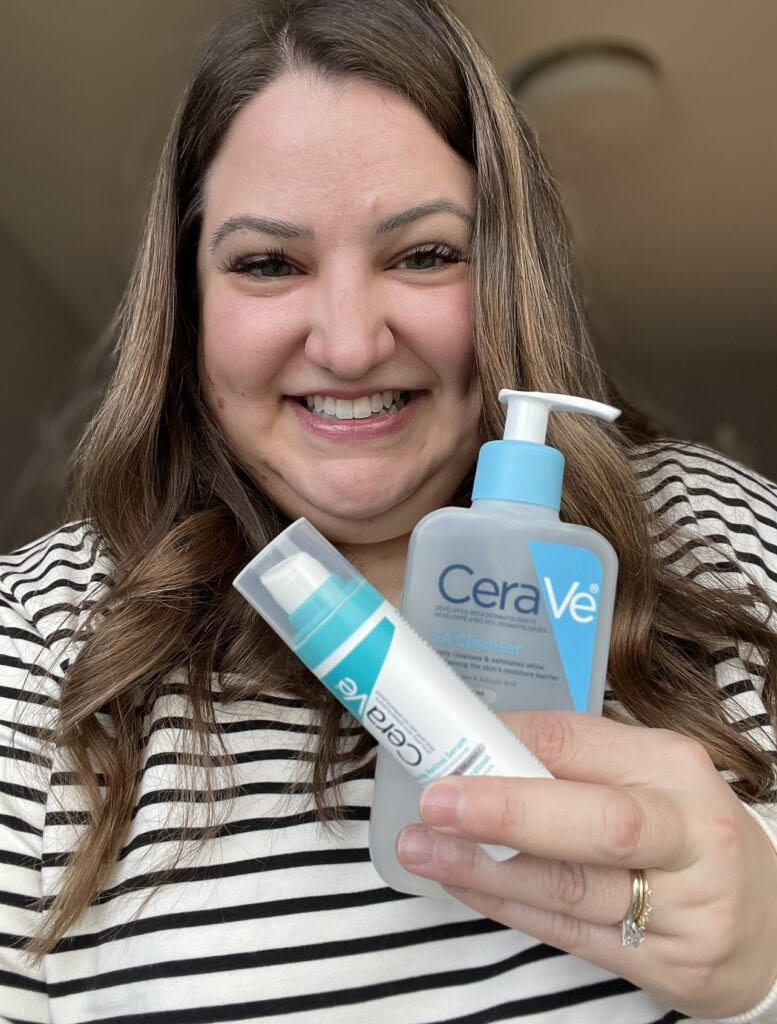 Keep reading to not only find out which one is the best CeraVe Cleanser, but we're going into detail on why we like it so much. You'll also find out what the best option is for your skin type and other CeraVe products you should know about. Did we mention you can buy every one of our favorites on Amazon? We love the convenience.
What are Ceramides?
Ceramides are lipids that makeup 50% of the skin's lipids to form the natural skin barrier.
Ceramides are essentially the glue that holds our skin cells together to keep our skin barrier intact and healthy. A healthy skin barrier helps seal in moisture and seal out harmful elements.
Why CeraVé?
Cerave's line has something for everyone; dry skin, oily skin, normal skin, acne-prone skin, sensitive skin, dehydrated skin, mature skin…you get the point. All of their products are also gentle enough for everyday use the best Cerave products are famous for good reason.
We want to help you find a skincare routine that helps your skin concerns and your wallet this winter so we tested out their product line to bring you real reviews of their products!
This skincare brand is world-famous for a reason. If you don't already have a skincare routine, we hope this line inspires you to invest in yourself.
My mom used to tell me all the time when I was younger, "Take care of your skin, face, and hair because they are the only outfits you wear every day, for your entire life". Now as a 34-year-old woman, I have to admit that's some pretty solid advice!
When it comes to skincare I'm a huge fan of finding affordable products that actually work! If I don't need to spend money on luxury brands and get the same results, I'm all for it. So let's chat about each CeraVe cleanser below, why I think you'll like it, and of course, I give my honest opinion of each one.
Whether your skin is normal or oily, this foaming cleanser will be your best friend. This extra gentle formula promises not to disrupt your skin's natural barrier (you know that dry and tight feeling) and contains ingredients to help maintain your natural moisture balance.
The key ingredients in this product are ceramides, hyaluronic acid, and niacinamide. Because this entire product line was developed by dermatologists, this non-drying cleanser is perfect for normal to oily skin types because it washes away excess oils without disrupting your skin barrier. This wash is a gel cleanser formula. I have combination skin, and I can honestly say my complexion has never looked better since I started using this gentle cleanser.
If you are someone who is always battling dry skin, the Cerave Hydrating Cleanser is for you! When selecting a face wash when you already have dry skin, it's extra important to choose a formula that won't disrupt your skin's natural protective barrier or further strip your skin of its natural moisture.
This refreshing face wash will gently clean without over-stripping or leaving your face feeling tight and dry. It also includes a patented time-release MVE technology so you can expect all-day hydration without having to reapply (horary for one less thing to worry about!). My husband has naturally dry skin and has never used a facewash in his life. I begged him to test this out for me and he was shocked at how good his skin was feeling after only a couple of days of use!
Those with acne-prone skin can take comfort in knowing that this product pacts major benefits. This salicylic acid cleanser gently exfoliates for healthy and smooth skin and effectively removes dirt, oil, and makeup at the same time.
A key to keeping acne at bay is clean skin. Another thing we love about this product is that while its purpose is exfoliation, it does not contain harsh microbeads that are bad for your skin and the environment. This product also has a dual purpose and can be used as a body wash for acne-prone and psoriasis-prone skin. Who doesn't love one product with multiple uses?
CeraVé Acne Foaming Cream Cleanser
For serious acne-prone skin, the Acne Foaming Cleanser contains 4% benzoyl peroxide and helps clear acne pimples quickly, preventing new breakouts from forming all while allowing the skin to heal.
We understand that acne is a common skin concern at any age (I experienced significant acne in my late 20s) and I used this product for over a year while I got my skin back under control.
Another reason we love Cerave is their extended product line; they are way more than just cleansers!
Other CeraVe Products You Should Know About
Our team has been testing out all the Ceravé products we can lately, and these are notable mentions if you're in the market.
This no-rinse product was made for busy people! Are you someone who often goes to bed without washing your face? Perhaps you should consider picking up a bottle of this to keep on your nightstand!
This micellar water cleanser is ultra-gentle and removes excess oil, dirt, and makeup without the need to rinse. It's formulated specifically for people with sensitive eyes, making removing stubborn mascara and other makeup a breeze.
With over 125k reviews on Amazon, this product is a must in many homes! I have one in the bathroom, bedroom and at the office, because it's just that good. Especially in the winter when skin is extra parched and aggravated, this moisturizing cream helps to reinforce the skin barrier with hydrating ingredients.
The best part, you can use it on the skin and face and it's safe to use with skin conditions like eczema and psoriasis. Oftentimes around the holidays, this product will be packaged with a few smaller-sized versions and I always stock up for the year when I see them. Costco is also currently carrying this product with even more bang for your buck.
I've suffered from dark circles my entire life (hello hereditary traits and thank you, Dad!). Since starting with this product a few months ago, I have seen a dramatic reduction in eye puffiness and dark circles in my eye area.
This eye cream was created to help smooth and brighten delicate skin areas and is fast-absorbing, non-greasy and a little goes a long way. I wish I had taken a before shot way back when so I could show you how excellent this product is!
This product is the newest addition to the Cerave family and is 100% my favorite product in their line, to date. If you are like me and suffer from post-acne marks, uneven skin texture, and brightness, this product is going to change your face care game.
It reduces visible skin infections within days, is non-drying like some retinol products, and actively works to protect your skin's protective barrier. This product contains potassium phosphate, which also helps in reducing the signs of premature aging! With continuous use, it guarantees to help even skin tone and texture. Trust me, you want to go and buy this!
We've heard it before, summer bodies are made in the winter, and right now is the perfect time to start a lotion routine.
This salicylic acid lotion is an effective way to restore the smoothness of your skin by gently exfoliating dry skin in problem spots like elbows and knees. Ceravé's SA Lotion for Rough and Bumpy Skin also contains sodium lauroyl lactylate, which is an emulsifying ingredient that makes the product creamy, smooth, and easily penetrable to the skin.
I hope we've convinced you to give this affordable cleanser line a try. Cerave is a great choice for any skin type and budget so what do you have to lose? Oh did we mention, that they are all available on Amazon? Convenient, affordable and a great product.
CeraVe Must-Haves