How to Plan the Best Dinner Every Time
This article shares how to plan the best dinner every time by sharing our expert tips for planning, organizing, and buying fresh ingredients.
I don't know about you but lately, I've been feeling uninspired when it comes to cooking. Around here we probably eat the same 10 things every single week and even thou they are healthy and good for weight loss I just need a little more excitement when it comes to food. I mean there's only so many times I can eat the same rice and turkey, or pasta and spinach. On top of that, we were just saying how Penelope only ever eats noodles and apples (weird combo I know). That's why I really wanted to make cooking dinner enjoyable and trying out new recipes easy.
If you're looking for a snack to give your picky toddler try this recipe.
How to Plan the Best Dinners
So recently I came across these meal planning pads I found on Amazon (of course). I immediately ordered them and I'm so glad I did because they've totally reinspired me to plan different types of meals. To be honest I've always loved cooking and trying out new recipes but planning them stressed me out. It was hard for me to mentally remember everything I needed at the grocery store and also remember the amounts and plan on how long they would keep. It just overwhelmed me!
When I found the Kate Spade Weekly Meal Planner I thought it was pretty, but also functional. There is enough space to write out your meal ideas, and an easy to tare grocery list so you can bring it with you. I also wanted to say that there is no right or wrong way of meal planning but I do want to give you some tips that have helped me plan better.
Spend one day a week planning your meals and sorting through recipes.
The two ways I find recipes for the week are from my favorite cookbooks (I've shared below with direct links) and I also use Pinterest to find new recipe ideas.
Ask your family what they like to eat
I always have to plan around what my family likes to eat. Some of them are super picky which can mean I make a separate dish just for them.
Start doing theme nights
Its so much fun doing theme nights and certainly makes it exciting for children. We have taco nights and I get Penelope to help with putting tacos together, I get to try a new tequila and we watch Coco or some other movie that relates to the theme. The key is to make it fun to try new things!
Designate a day for shopping
Never ever forget your shopping list, because I have and it was a massive fail. Now I always keep a backup picture on my phone just in case.
Plan for the season
I love shopping in season and using produce that is available from local growers. It's not only fresher but you're also supporting local farmers.
Plan for leftovers
What's great about most of the meals we use, is that there is usually a lot left over which makes planning tomorrow's lunch super easy. I'm all about saving time!
Prep the food as soon as you get home
That means we chop the onions, wash and dry lettuce and put them in glass containers in the fridge. Sometimes it's a good idea to label them if you can so you know when you bought it and when it needs to be used by.
Keep your plan where you can see it
Pinning your plan somewhere that you can see it every day is a good idea, that way you can prepare and food you need too or double-check your ingredients. I also keep a running list of groceries as they get used up or if there is something I forgot or might need.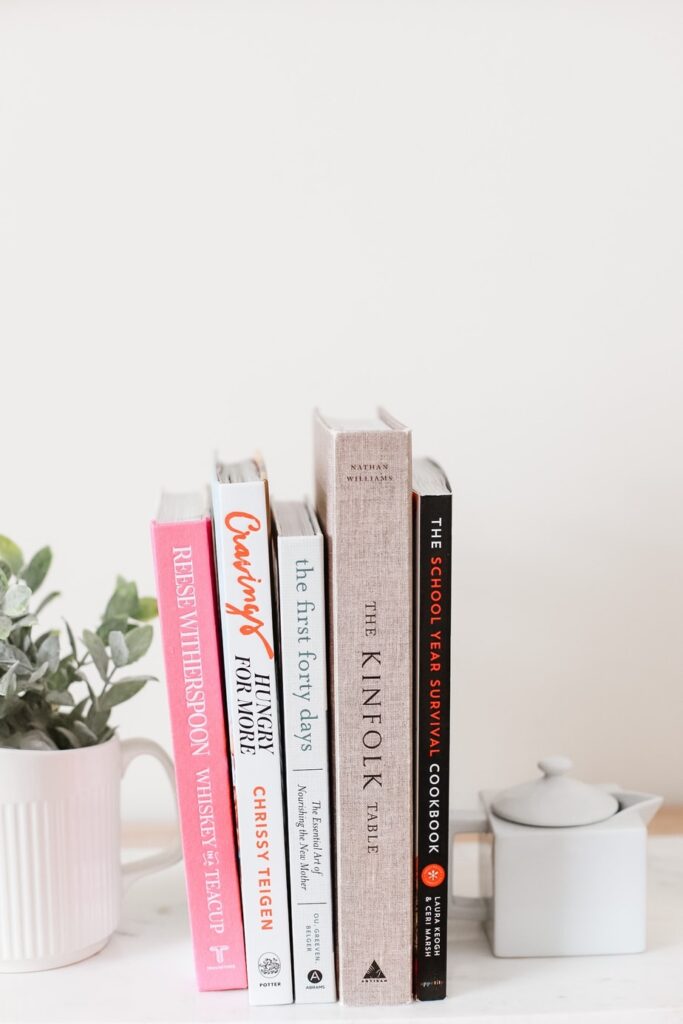 5 fun recipes to try this week
My favorite cookbooks
The School Year Survival Cookbook
Magnolia Table by Joanna Gaines
The First Forty Days (great for new mothers)
Cravings: Recipes for all the food you want
Reese Witherspoon: Whisky in a Teacup
I would love to know if you have any favorite cookbooks, also I am looking for some vegan and gluten-free cookbooks to try.
p.s
My friend Rasi has a post on the best way to meal prep and live healthy! She has some great tips. Check it out here: https://www.wackyvanilla.com/healthy-meal-prep/