Valentine's Day Treats – Love Letters
Cute and simple Valentine's Day treats that are perfect for kids, teachers, Valentine's Day parties, or a Galentine's Day get-together's.
Today we have a very exciting guest on the blog. She is someone who we absolutely adore and love following on Instagram. We've also completely fallen in love with her DIYs, photo styling, and affordable finds. Patricia is now sharing some Valentine's day treats with us and I hope you love them as much as we do!
Hi everyone, my name is Patricia and I run the Instagram account prettyhappysimple where I create simple DIYs to elevate everyday life.
I am a busy mom of two, I work full time in interior design & construction. With that being said, I don't have a lot of extra time on my hands, however, I do believe that everyday life deserves to be celebrated and special.
I love making things pretty yet super simple and fairly quick to pull together.
What I am about to share here is a perfect example of that. We're going to be making some fun and easy Valentine's Day Treats called Love Letters.
Valentine's Day Treats – Love Letters
We know whoever you choose to make them for they will surely love them as much as we do. Without further ado, here's a list of ingredients and directions to make these sweet treats.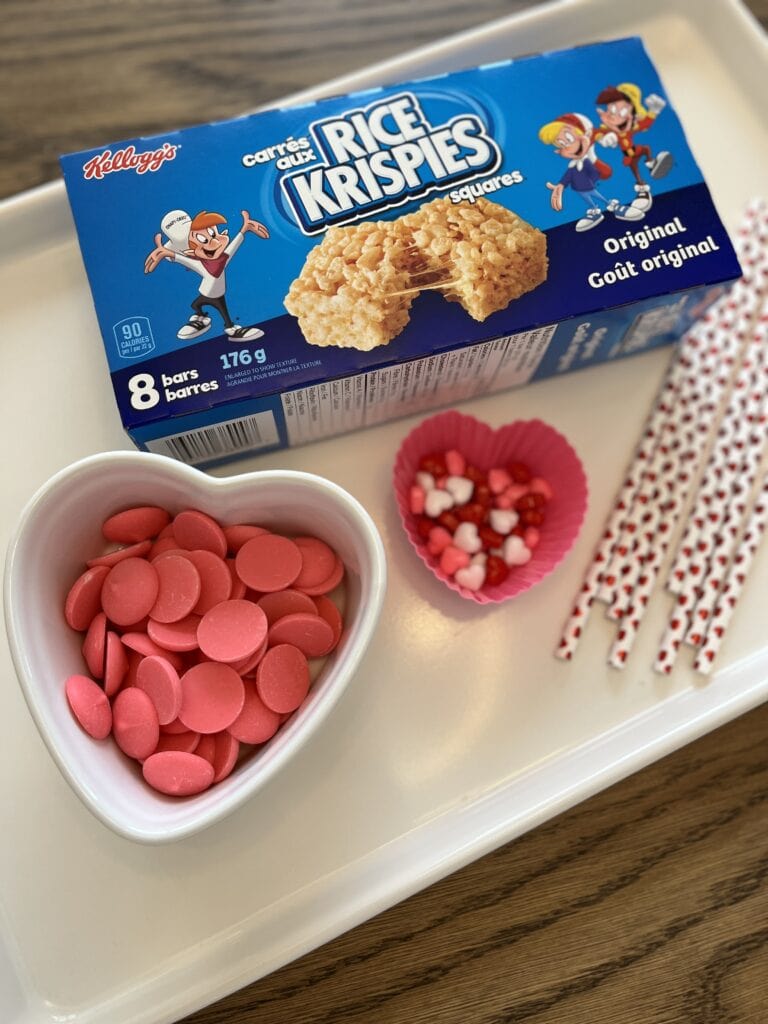 Ingredients
All you will need are three things:
A box of rice krispies squares (already made!)
Pink chocolate candy melts / wafers (available at your local bulk store, grocery store or even craft store)
Heart shaped candy or sprinkles (or both!)
Directions
Boil a pot of water
Then add chocolate wafers to a stainless steel bowl
Place the stainless steel bowl over the pot of boiling water
Stir until wafers are melted
Add melted wafers to a ziplock bag and cut the corner of the bag to use for piping
Create your envelope shape with the chocolate
Decorate as you wish
Let the chocolate set & serve!
Tip: If you want to avoid little ones getting sticky hands while they eat these, add a straw to the bottom and turn them into Krispie-pops.
Thank you to Cottage Living & Style for having me as a guest. I hope you enjoyed this sweet and simple Valentine's Day treat idea.
Happy Valentines Day friends!
Looking for more? Check out our Valentine's Day Charcuterie Board!