How to Host a Girls Night
Everything you need to host a Kardashian style girls night.
I've always loved hosting girls' nights, there's nothing quite as fun as inviting your girlfriends over for a night of wine, snacks, and a chick flick. It's a fun and intimate way to spend time with your girlfriends and is also great for your overall wellness. Being able to relax and unwind with your girlfriends while catching up without any interruptions is just what the doctor ordered.
The next time you're debating about hosting a girl's night, just remember you're in full control over the food, drinks, decor, and music! So whether you plan on hosting a 90's themed girls' night or spending the night in comfies watching the bachelor this is exactly how to do it.
How to Host a Girls Night
Like any event, you'll want to start with a plan. A plan comprised of everything you want to do, and how you want to do it. We also want to make this super easy, and completely fool-proof. That way you're getting the best night you can possibly can with your best girlfriends.
Where you're going to host a girls night
In my own experience figuring out the details of where and when is usually the hardest. Which is why we're going to start with figuring out where you're going to host a girl's night first.
Will it be in your home? in your backyard (movie night), an Airbnb, lake house, or even in a chic guest house.
Wherever you decide to host, you'll want to make sure you have a few things in check first. Is there enough room for everyone to comfortably sleep? space for cooking, if not will you need catering? Or what about other activities, like is there a big tv where you can all watch movies together or is there enough space for eating together?
Choosing a Theme
Don't worry, if you're feeling overwhelmed, it might help to focus on a theme. Sometimes when we can pull together our thoughts, we can make better decisions. I love the idea of a themed girls night, and I always think, "what would the Kardashians would do?".
While I'm sharing some fun girls' night ideas below, I want to take it a step further and help you come up with a theme first. Fun themes for hosting a girl's night might include:
90's night, where everyone dresses in their favorite 90's outfits and bring their favorite movies or music from the 90's.
Host a Kardashian Party. Watch a season of the Kardashians with your girlfriends, while each friend dresses as their favorite Kardashian.
Still, need some more ideas? See our full list of themes below!
How to invite your best girls?
I am obsessed with making cute invites! I'm not talking about a paper invite, I'm talking more around the lines of invites you send to your bridesmaids. A gift box of everything they need for your girl's night.
While I've seen some really adorable ideas over the years, my favorites are always focused on the theme. An invite for a backyard movie night might include, a canvas bag filled with the essentials.
Depending on the budget, those essentials might be things like a Barefoot Dreams Blanket, Lavender roller, a pair of UGG slippers and a bag of movie style candies.
Prepping your Space
Prehaps my favourite part is prepping your space because the work is in the details.
Going off the Backyard Movie Night idea, you might start prepping the following:
Find seating, blankets, pillows and bean bags
Get a popcorn machine set up for movie style popcorn
Create a drink menu, complete with a bar cart filled with everything you need
Planning the Food and Drinks
Like we said the work is in the details, and we love adding fun details such as drink menus and special food for girls nights.
Use your theme as your guide to planning what food and drinks you will need. For example, a backyard movie night could use food like:
Popcorn
Hot dogs
Fingerstyle food
Your drink menu would be:
A cocktail named after the movie your watching, or a character from the movie.
Hot tea could be an option for the evening
Prepare Plenty of Extra Seating
When you're prepping your space it's imperative to think about how many guests you will have, and plan accordingly. Are you inviting a handful of guests? or did you invite more than ten girlfriends?
Making sure everyone has a comfortable spot to not only sit, and eat at but also to sleep is important.
Keep it Casual
I wanted to leave you with one more thing. Just because I love a Kardashian-style girls night (and parties for that matter), doesn't mean you have to. The most important part of hosting a girls night is to focus on having a good time with your girlfriends.
As adults, and (personally) as parents, there's not a ton of opportunities to just hang out with your girlfriends and host girls nights anymore. So if the planning details overwhelm you, maybe its best to keep it casual.
Girls Night Ideas
So you want to host a girls night? Here are a few of our favourite girls night ideas and how to do them.
Group Cooking Class
Love the idea of hosting a group cooking class? most cities have chefs that you can hire to come over and show you how to cook your favourite dish. But if that's not an option, set up a YouTube cooking class and follow along at home.
90's Themed Party
Anyone who knew all the lyrics to the Super Bowl halftime show this year, probably remembers the 90's quite well. If you want to throw a 90's themed girls night this is for you.
Send the date and time on a CD
Wrap the gift in a band tee
Add in overalls and tiny elastics and you're set
Ask your guests to wear their favorite outfit from the 90's
Dig out (or ask on facebook) if anyone has a VCR, and choose your favorite 90's movies to watch
Snacks might be twisslers, pb&j finger foods and whatever 90s food you love.
Drinks could be pop rock and champagne, or cotton candy cocktails.
Wine Tasting Night
I actually hosted a wine tastings night with a few girlfriends, and it was so much fun. We hired a local winery to show us their favourite wines, followed by a cute charcuterie board of cheese and meats.
The invites included a box filled with a wine glass, two of our favorite style of cheese, liquid IV and of course some hydrating facemasks for the next day.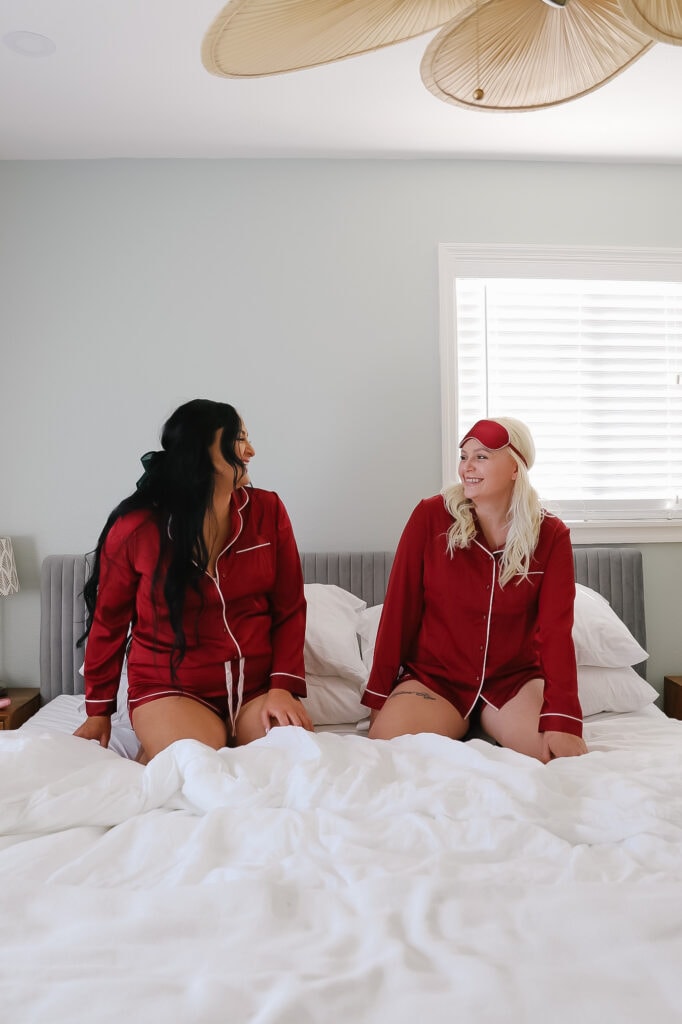 Ladies Spa Night
A great idea for anyone looking to host a ladies night. This invite looked a little something like:
When it comes to the acitivies for a fun girls night, party favors include wine, tea, and some healthy salads.
Movie Night
Depending on the time of year, hosting a movie night in your backyard is a great idea. I love the movie night ideas that include a basket of gifts, like Barefoot Blankets, organic tea, slippers and some hand lotion. It's extra special when you take it a step farther and decorate your backyard with all the blankets, beanbag chairs and pillows for your guests to get comfy.
Food and drink ideas like movie style popcorn, matcha and tea, and cocktails named after the movie your watching.
So next time you plan on hosting a girls night, remember to start with a theme. It will make your party prep so much easier.