10 Outdoor Entertaining Must Haves
If you plan on hosting this summer, you're going to want to check out our outdoor entertaining must haves.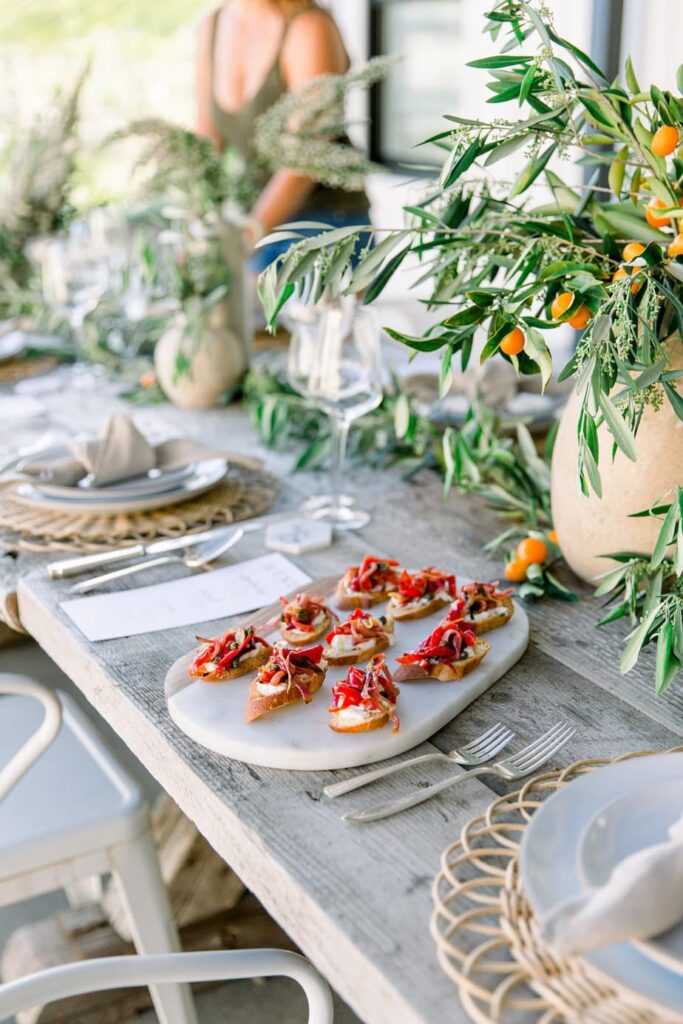 As the temperatures start to warm I can't help but dream of all the outdoor parties and gatherings. It's a great way to take advantage of outdoor spaces and to change up the scenery. We've had plenty of indoor get-togethers during the colder months but it's finally time to get outdoors and enjoy the warmer weather.
If you are planning some outdoor parties this season, there are a couple of things you can buy that will make your outdoor entertaining more comfortable, fun, and stress-free. Today I'm sharing a roundup of outdoor entertaining items that you can have in your arsenal to take alfresco dining to another level.

10 Outdoor Entertaining Must Haves
I've always loved hosting parties outdoors, there's just something about having sunshine on my face, as I enjoy a delicious meal with friends and family. And over the years I've collected a rotation of outdoor decor and furniture that are must-haves for the summer. These are 10 of my favorites that I think everyone needs!
1. Outdoor Dining Table or Patio Set
The first thing you'll want to get is an outdoor dining table or patio set. It doesn't have to be expensive, in fact, there are plenty of outdoor dining tables you can get on a budget from stores like Home Depot, Wayfair, and Walmart. However, if you want to spend a bit more on a quality piece of outdoor furniture my favorite places to shop are, Pottery Barn, and West Elm.
Check out our own Patio Makeover!

2. A BBQ or Tabletop BBQ
I can't think of a time where I've either hosted or was invited to an outdoor party where there wasn't some kind of bbq or smoker. It's essential to any outdoor dining experience because there are tons of different recipes that are perfect for entertaining. If this is something you are in the mood for, there are plenty of options according to the budget which I'll link below.

3. String Lights
Lighting is absolutely essential to setting the mood of the party. While there are many different styles, we like to stick with classic black string lights. Try hanging one of two 20-50 blub strings above the patio or lighting the way to the fire pit. Recently we added a timer to our lights, but you can also get solar powered lights that come on once the sun goes down. Giving you one less thing to worry about, and we promise guests will love it!

4. Outdoor or Portable Speaker
Music is a must for summer entertaining. A Bluetooth speaker is perfect for playing a party playlist for your guests. Portable speakers have come a long way in terms of sound quality. You can now listen to music as loud as you want from a small device. Not to mention they come in so many shapes and sizes, so it's sure to fit your aesthetic and style.

5. Citronella Essential Oil or Hanging Coil
No need to worry about uninvited mosquitos buzzing around your guests, thanks to citronella essential oil and this portable diffuser. It's a great way to add to the ambiance and an option for those who don't use citronella candles anymore.

6. Faux Candles
Speaking of candles, we love using flameless outdoor candles. No one likes to clean wax from tables or worry about an open flame while they are entertaining. Some great options are linked below, but we personally love faux outdoor candles from Pottery Barn.

7. A Big Sun Umbrella
Tired of the sun on your face blinding you? a large patio umbrella is one of our favorite ways to make sure guests have some shade while they eat. Depending on your outdoor table, you may be able to use a regular umbrella, or a patio umbrella if there is not a space to pop the umbrella in.

8. Melamine Dinnerwear
When it comes to choosing the right dinnerwear for outdoor entertaining, it's best to stick with a durable, shatter-resistant material like melamine. There are so many options that are beautiful and look just like expensive dinnerware. Plus these will last for a long time!

9. Outdoor Pillows
Outdoor pillows are great for decorating outdoors. But if you're looking for something fun to do on a summer night, grab the projector, some pillows, and blankets for an outdoor movie.

10. Unbreakable Glasses
Whether or not you have an outdoor bar, or you just need to use unbreakable glasses for your party bucket. Try these stylish glasses that won't break and are outdoor entertaining essentials for any party.

Don't forget to check out some other summer entertaining tips and tricks here!