Valentine's Day Charcuterie Board
An easy, step-by-step tutorial for a delicious Valentine's Day charcuterie board.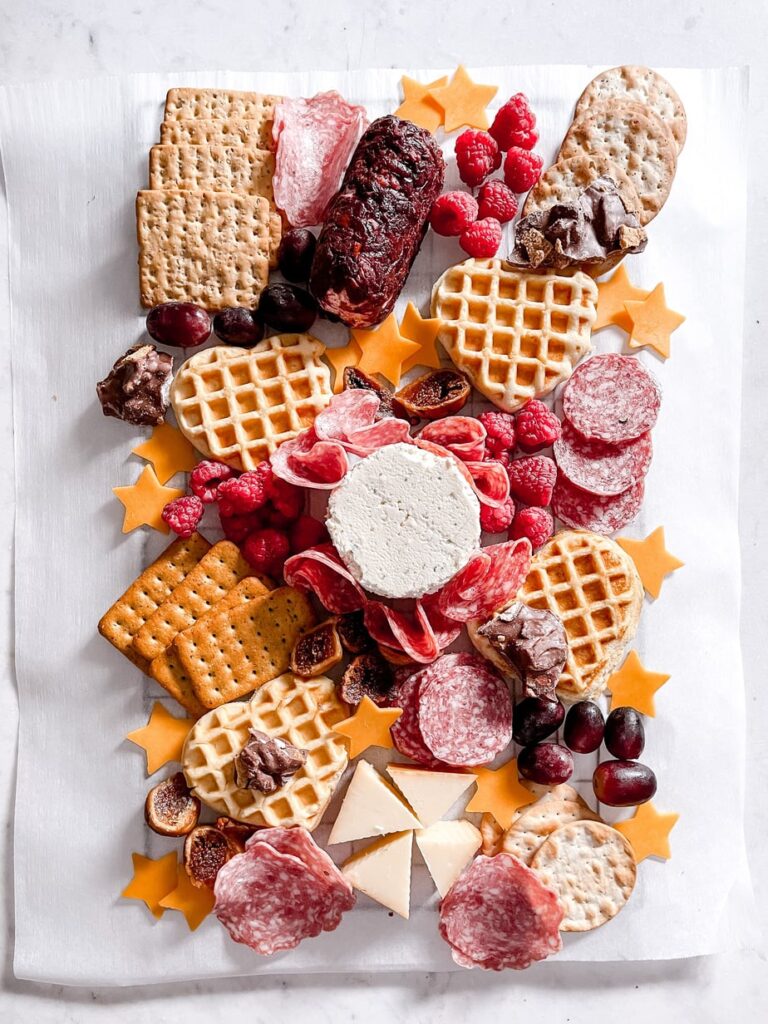 They say food is the way to the heart. So this Valentine's Day grab some wine, cheese, crackers, fruit, and anything thing else your heart desires.
Charcuterie boards are one of the best party foods you can make. They are perfect for kids, or hosting guests. Not only are they completely customizable in terms of diets, but can also fit within any budget.
Today I'm sharing a Valentine's Day charcuterie board packed with heart-shaped waffles, cheese, meat, and fruits.
Valentine's Day Charcuterie Board
Classic charcuterie boards are served with meat and cheese, but in recent years we've seen a lot more variety. I personally love changing up the ingredients I use each time, so that every board is slightly different.
Doing so gives us a chance to try new cheeses, crackers, sweets or meats. Because of this, every board has a unique look. So if your's doesn't look like mine or a picture on Pinterest, it doesn't mean it won't taste amazing. I promise your guests will enjoy it either way, and it's something you'll be able to experiment with over time.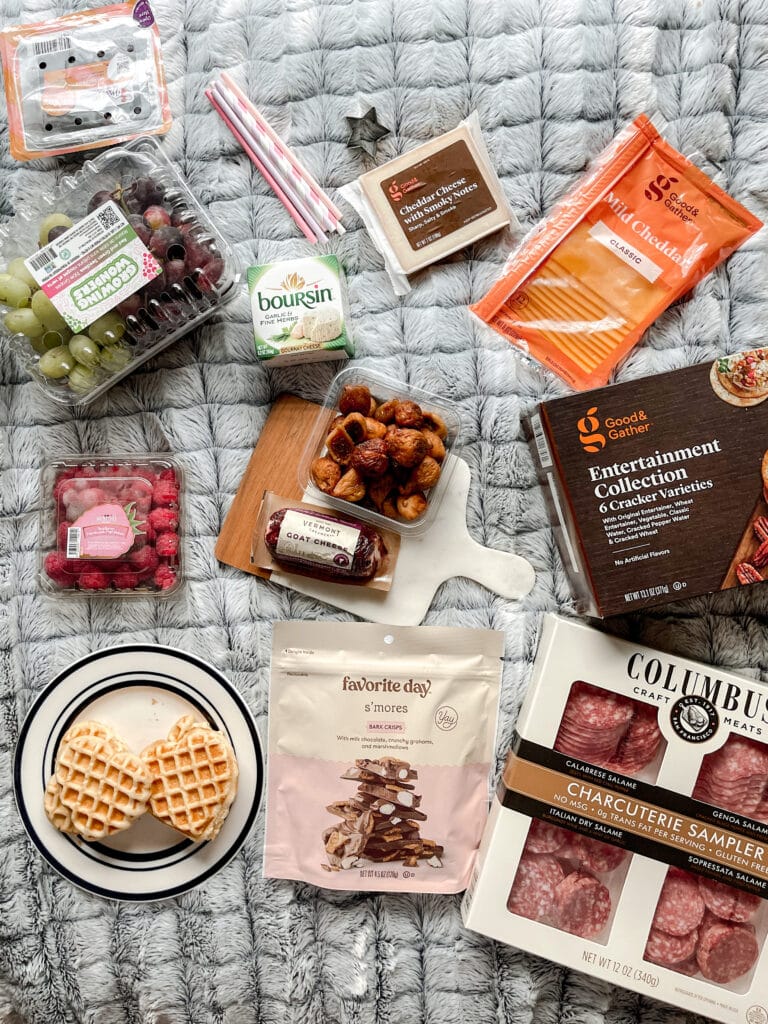 Ingredients
Heart Shaped Waffles made with Pancake Mix and Mini Heart Waffle Maker
Charcuterie Sampler from Columbus
Cherry Goat Cheese
Green and Red Grapes
Boursin Herbs Cheese
Blueberries
Directions
Step One – Choose your Board
Choose a board, cookie sheet or you can even use wax paper on your table. Just make sure your table is clean, and you have something to put the cheese and crackers on like a wax paper.
For my charcuterie board I used a cooling rack (it was all we had at the time) with wax paper on top to prevent cheese from sticking.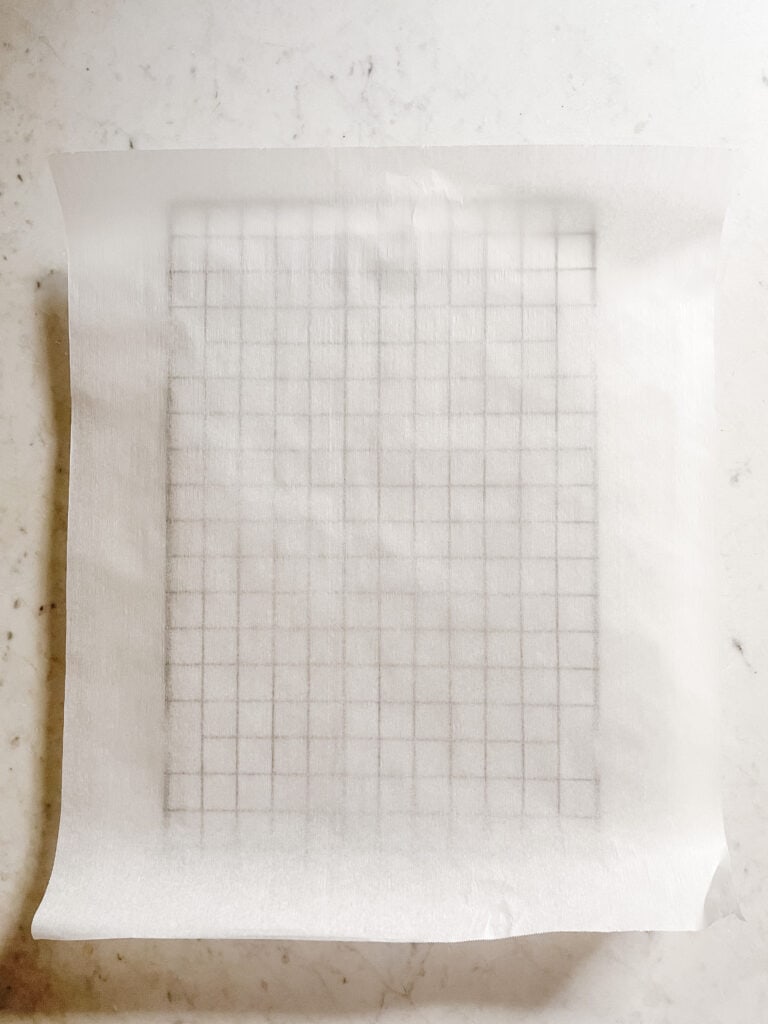 Step Two – Start Laying your Base Items
Choose your base items, they are usually the bigger items. In our case we are using heart shaped waffles, a handful of crackers and some cookies.
When laying them out, I like to group each type of food in fours. Carefully spreading them apart from like items. So we never have a big group of food in one corner and everyone of your guests has a cracker, cheese, meat and fruit in front of them.
Step Three – Choose Two or Three Cheeses
The trick to creating the perfect Valentine's Day charcuterie board is choosing at least two or three cheese types and consistencies. Placing each one on the board apart from each other. We like to get three of the following according to our budget:
Goats Cheese
Smoked Cheese
Brie
Soft Cheese with Herbs and Cherries or Jams
Gouda
Mascarpone
Camembert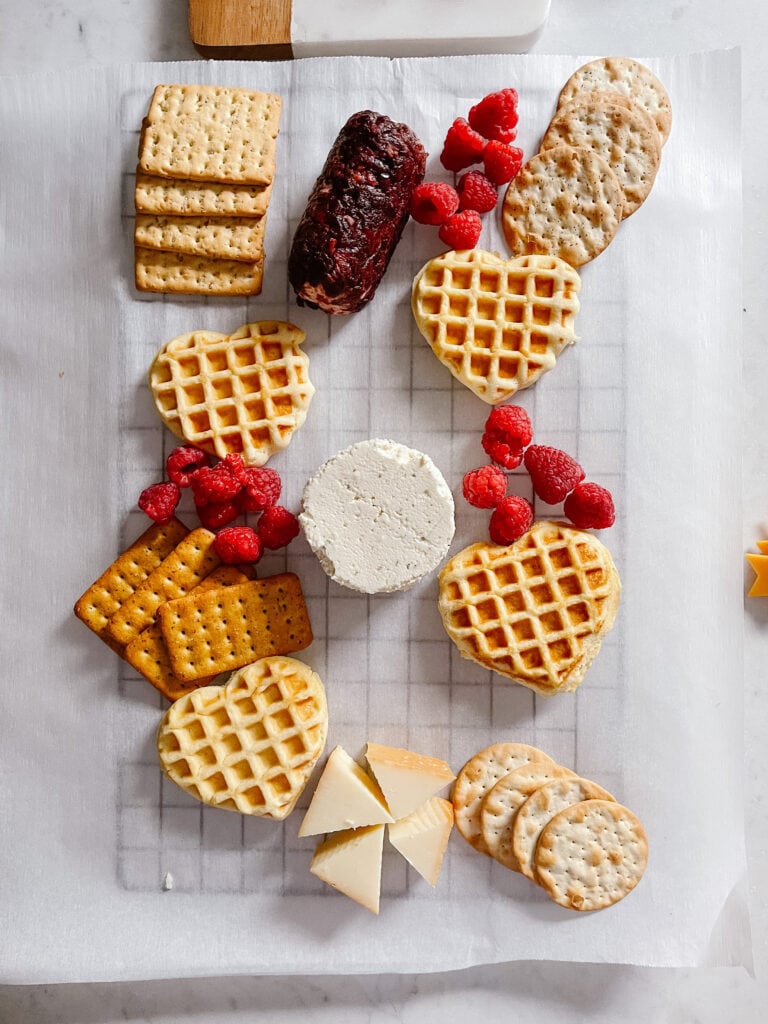 Step Four – Add Filler
Finally you want to add your fillers to any empy space. This is where we like to use fruits, like figs, berries, grapes, blueberries and other frut. We will also add chocolates, a small jar of jam, or even cookies or S'mores.
Whatever you choose, make sure you have enough for several sets of four to fill each area. If you noticed below I also added more cheese that I cut in a star shape to make the board appear more full. It's okay to keep building ingrendients until you feel it's complete and ready for your guests.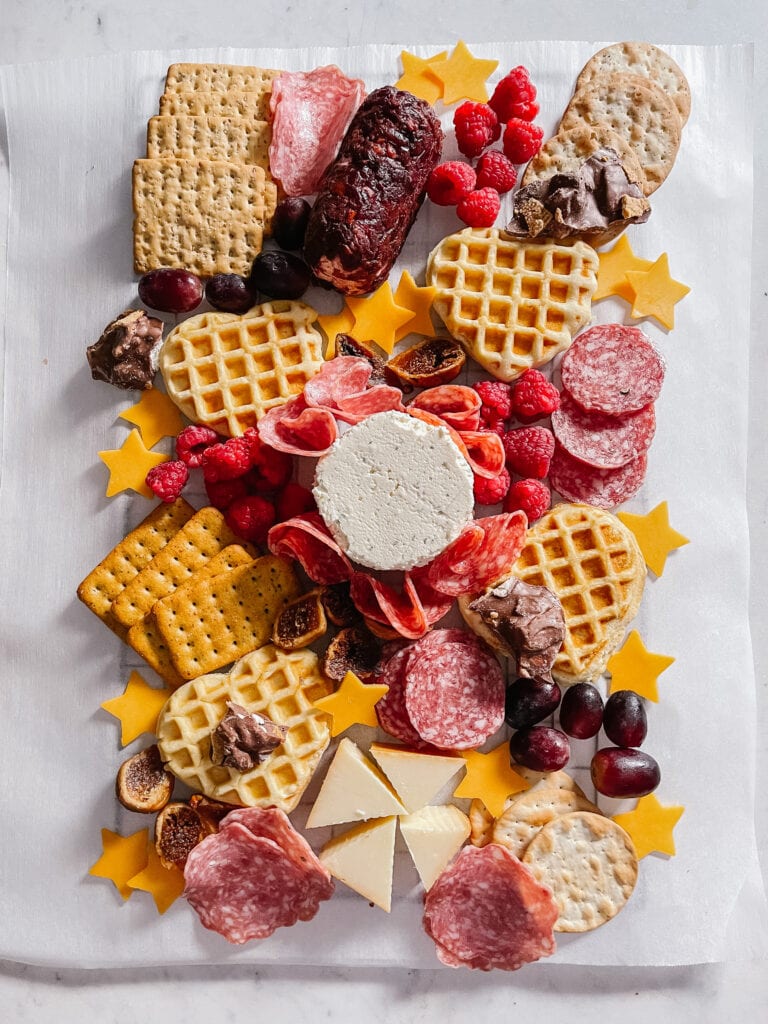 I hope this was easy to follow along, and we'd love to see what you create! So don't forget to tag us over on Instagram so we can see it and share it.
Save this pin for later!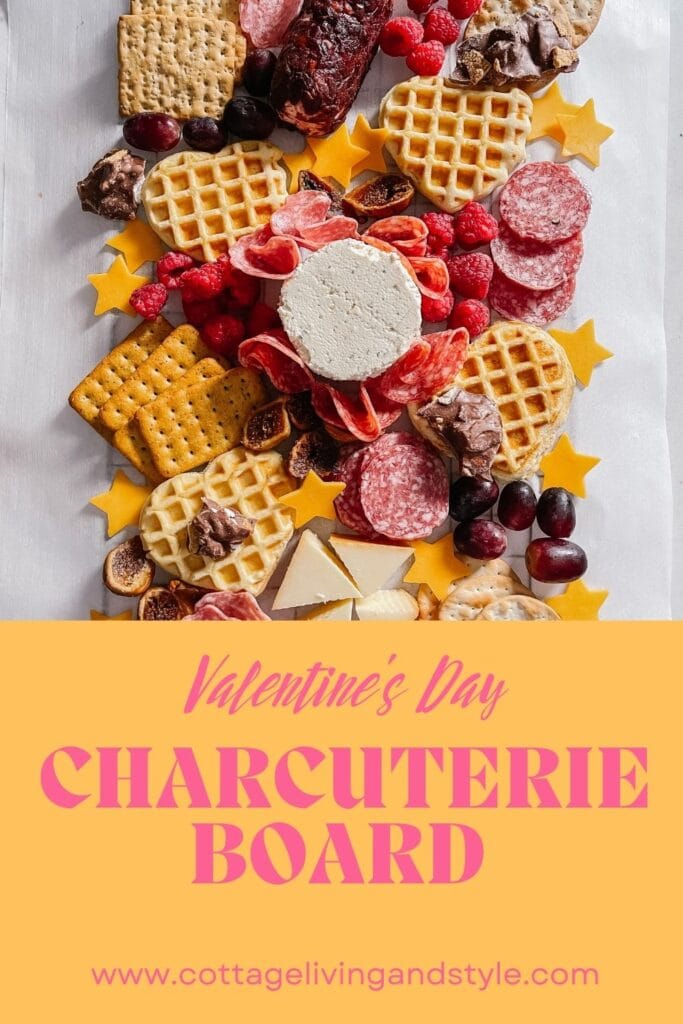 Shop the Post!