What to Wear When Riding an ATV
Need some ideas for what to wear four wheeling? We've got the best clothing and gear for men and women.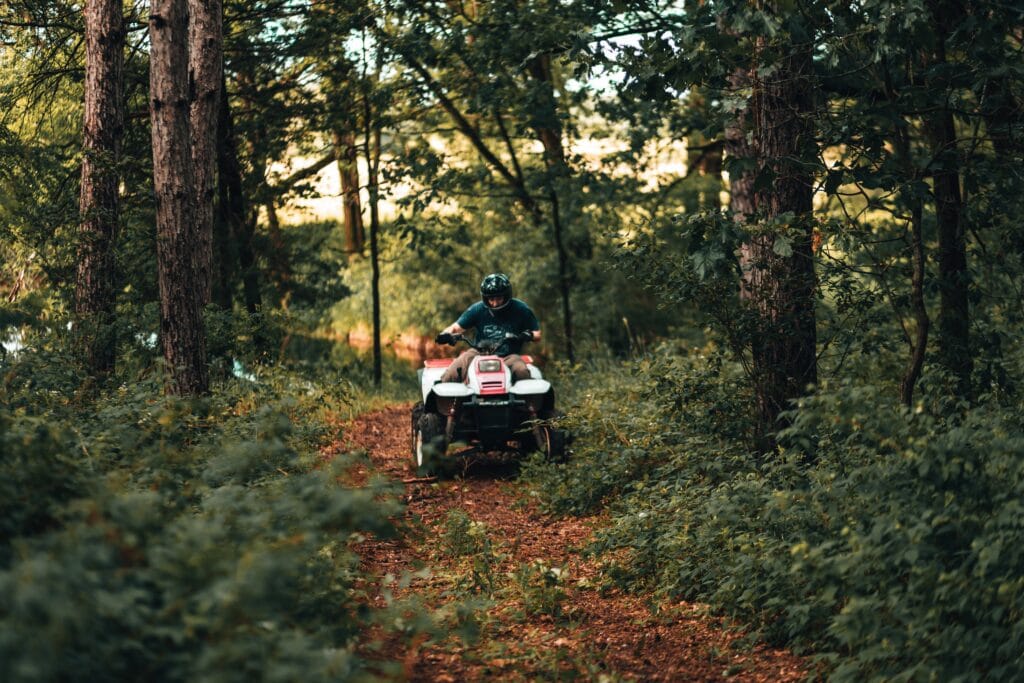 Riding is a classic country girl activity. As country girls ourselves, we can attest to how much fun it is to feel the wind in our (pink) helmets and get a little muddy with the boys.
Dressing properly for an ATV adventure is an important detail that should not be overlooked. Having the right gear, especially for cold weather, will make all the difference in how your adventure in the woods will go.
While lots of blogs exist online for how to dress for a day on an ATV, the majority of these blogs are geared only toward men. We wanted this guide to be inclusive for both men and women!
Today we're breaking down exactly what to wear when you plan to enjoy a day using off-road vehicles, or ATVs. In true Cottage Living and Style fashion, we promise to provide functional and stylish options. Before we jump into the required gear, let's review some basics!
Keep reading to find out what to wear four wheeling for both men and women.
What to Wear Four Wheeling
What is an ATV
ATV stands for All Terrain Vehicle. They are also called four-wheelers, quads, or quad bikes. More recent to the market for off-road vehicles is the side-by-side, which is a four to six-wheel off-road vehicle that is equipped with a steering wheel, bucket or bench seat with seatbelts, foot pedals and a roll bar or cage for safety. Side by Side vehicles are actually road legal in certain areas of the country, like Newfoundland.
When Can I Use My ATV?
ATVs can generally be used in all four seasons if properly equipped as they are built to withstand muddy or snowy trails. True ATV enthusiasts would never miss a day on the trails, even for heavy rain and snow.
Where can I take my ATV?
An ATV is designed to drive through rough terrain. ATV Vehicles should not be driven on paved roads and in most Canadian cities, is illegal to do so. ATVs are meant for rugged terrain so best to stay in wooded areas and avoid public roads.
What Should I know before going on an ATV
Before we even get into what to wear four wheeling, ATV safety should be your top priority. A comfortable ride starts with safety. A few things to keep in mind before debarking, besides your clothing, include:
– Know your ATV's cruising range and always start with a full tank of gas.
– If you are the owner of the ATV, get acquainted with the owner's manual before your first trip. We also suggest watching a few YouTube videos on the make and model of your ATV.
– Inspect your ATV before riding. Check tire pressure, brakes, and oil level.
– Say no to tricks, especially if you are a new driver. Keep all four wheels on the ground at all times.
– Ensure the owner has proper registration, insurance, license, and paperwork on their person at all times.
– Ensure riders understand what correct riding posture is to prevent injury.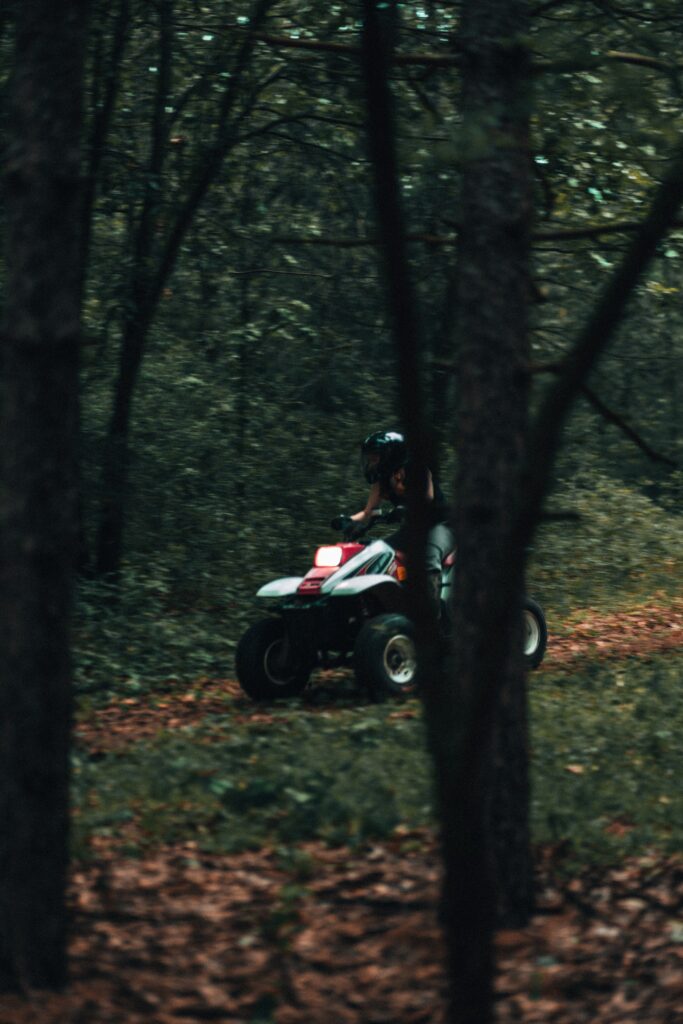 What Should I Wear?
So the real question here is what to wear for a day on the trails. Dressing for an ATV trip is the same for colder months as it is in hot conditions. We're breaking your shopping list down from head to toe so you can feel comfortable and confident on your next adventure. Casual clothes are key for ATV riders or an ATV tour. Trust us. If you are experimenting with an ATV for the first time, we suggest borrowing these items from a friend or family member as the initial purchase of gear is considered an investment. If you decide that ATV'ing is for you, you can later purchase your own gear! Proper equipment and gear will make all the difference and it only takes one trip without an essential item to learn this lesson.
Helmet
The single most important thing you need to wear when on an ATV is a proper helmet that is approved by the Department of Transportation. Helmets that meet this standard will have a DOT label visible on them. A helmet can save your life. A full-face helmet provides the most protection, but any DOT-approved helmet will work as an off-road helmet for an ATV adventure.
Since we know everyone will have a different style preference, we're sharing a few favorites, below!
Best Helmet Overall for Female Riders
The AHR Motorcycle full-face helmet comes equipped with a built-in dual visor and comes in several fun colors to suit your personal style. It also comes in multiple sizes so you can ensure a perfectly secure fit.
It also has these important features:
Meets or Exceeds FMVSS-218 and DOT Safety Standards
Helmet Liner / Cheek Pads are Lightweight, Soft and Easily Removable and Washable
Sleek and Lightweight Design Reduces Wind Noise
Modular Flip-Up Function Anti-Scratch, Anti-Fog, and Wide View Clear Visor
The Yema helmet is our other favorite pick and is the same helmet I own and love.
It also has these important features:
Professional grade motocycle helmet
Meets and exceeds DOT Standards
Reinforced chin strap, chin curtain and quick release buckle
Removable and washable
Ventilation and sunvisor for an easy-use switch
Long-Sleeved Shirt
Long-Sleeve Shirt Ideas
Click on any of the pictures above to shop the items directly.
A long-sleeved top might seem silly in the warmer summer months, but protecting your arms is just as important as protecting your head and face. When using an ATV in wooded areas, it's very easy to get scratched from low-hanging branches and bushes. ATVs are built to move through tight spaces, but in these scenarios, exposed skin can easily be scraped or scratched up. Wearing long sleeves is a smart way to protect your skin from this, while also protecting you from UV rays. In the cooler months, you'd likely already be wearing one for warmth, however, safety should also be considered year-round.
Long Pants
Long pants are an important item, even in hot weather. Similar to a long sleeve shirt, long pants are necessary for your off-road adventure to protect your legs from the elements and scratches from stray branches and trees. ATV moves are at such high speeds that you inevitably will get scratched or scrapped almost every time you hit the trails. Your THIS stylish pair!
Ankle Boots/ Closed Toe Shoes
Best Shoes for ATVs
Click on any of the pictures above to shop the item directly.
Because your feet are fully exposed on an ATV, it's so important to make sure your feet and calves are protected. Wearing ankle boots or anything higher will ensure your feet do not get injured while riding. If your ATV has a manual foot shift pedal, the safety factor and need for high-rise, closed-toe shoes increase even more. Waterproof boots are ultimately the way to go because your toes will be protected, your feet will be dry and your ankles will not be exposed. A classic pair of Hunter Boots will take you anywhere.
If you own a side-by-side, it differs slightly in the fact that your feet will not be exposed. We still recommend closed-toe shoes, just in case you get stuck in muddy or swampy areas and need to get out quickly.
Never wear flip-flops while on an ATV. If you plan to stop frequently to socialize, tour, or swim; pack a pair of flip-flops to change into.
Note: Pack two extra pairs of socks with you! Keep one in your truck or at the campsite, pack one in a ziplock bag and store it on you while out for the day. An enjoyable ride can end quickly if you have wet feet.
Eye Protection
Protecting your eyes is just as important as protecting your skull. We recommend investing in a good pair of goggles or sunglasses to ensure your eyes are protected from the sun, but also from dust, dirt, rain, and unexpected branches. In a car, you can easily pull down a sun visor to protect your eyes from bright sunlight while driving, but an ATV does not have this same luxury so it's imperative that your eye protection option of choice also have UV protection. The best type of goggles to purchase is a pair that has shatterproof glass should you ever mind yourself in an accident, and ones that don't easily fog up for good visibility. This pair checks all the boxes!
Protective Gear
Protective Gear for ATVs
Click on any of the pictures above to shop the items directly.
A safety helmet isn't the only item you need to make your ATV adventure successful. Protective outer gear is essential for safety and comfort, no matter what season you're riding in.
A good riding jacket is an essential item, even more so if it's a waterproof jacket. Leaving with sunny skies and coming home in a downpour is a natural occurrence for avid motorized off-highway vehicle drivers. A waterproof riding jacket will protect you against this and will also keep you warm and comfortable.
Same goes for waterproof riding pants or hip waiters. Long rides can quickly become uncomfortable if you are not wearing the right clothing, especially if rain is in the forecast. Cooler weather also means a higher wind chill when riding, so warmth and dryness are two essential items. Canadian weather is far from desert conditions.
Another critical reason to wear long sleeve shirts, gloves and durable pants is to protect you in case of tragic incidents like flips and tips.
A good pair of riding gloves is another essential accessory. Choosing a pair that is firm and fits comfortably will ensure a reliable grip on the steering wheel while also offering protection from branches, bugs, and harmful UV Rays. Using an ATV can require fine hand movements so it's really important to make sure your gloves fit, well, like a glove. Riding in rough terrain means lots of bumps and friction. Your riding gloves will also protect your hands from painful blisters and calluses.
Wearing all of this protective clothing might seem obsessive but it's an important safety measure that should not be overlooked.
Other Items
Frequent riders know that comfortable and protective gear isn't the only thing you need for a day in the woods. One of the most overlooked aspects of an ATV trip for a new rider is additional protection in the form of safety kits and essential tools. Accidents and mishaps happen all the time, so it's better to be prepared for them ahead of time. Having an off-road riding tool kit is key. This kit should include the basics like a trail map, multifunctional screwdriver, and a basic air pump.
A travel first aid kit is also important to have on your ATV. We have this one and love that it has everything you need to handle minor cuts, scrapes, and scratches in the woods.
ATV enthusiasts who plan on doing serious riding may also wish to invest in ATV Communications Systems. Now that you know what to wear four wheeling, who's read to go?