5 Canadian Jewelry companies we are loving + the real truth behind gold plated earrings
Along with 5 of our favorite Canadian Jewelry companies, we're also answering a few questions. Like, are gold plated earrings hypoallergenic? can they tarnish? and more.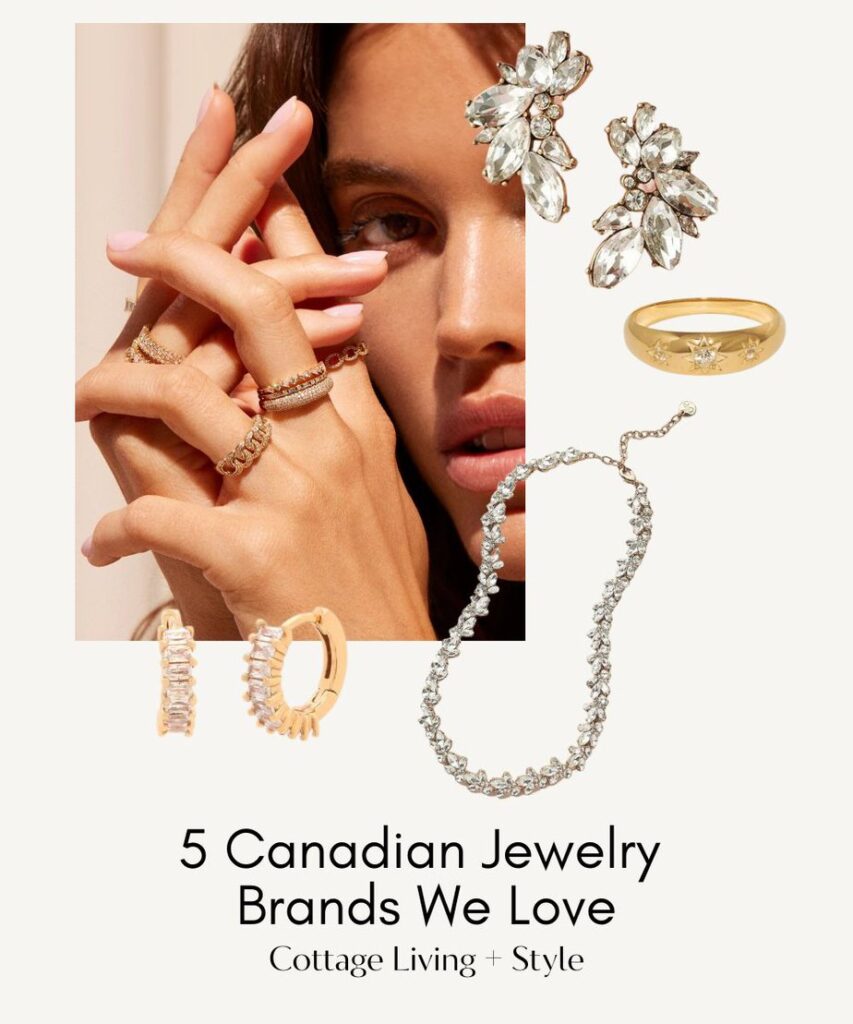 My love for shopping and jewelry started at a very young age. I can fondly remember flipping through the Sears Christmas Wishbook, year after year, and circling the items on my wish list. This obsession was so bad that my mom always had to get me my own copy because, by the time the holidays actually rolled around, I would have the pages so mangled that the book was useless for anyone else to read or peruse.
I would do the same thing with her Avon catalogs and her new Chatelaine magazines. To be honest, I was obsessed with shopping even then.
You can likely guess by now what my most wished-for item was; jewelry! Those birthstone rings and cheaply made gold hoop earrings were at the top of every Christmas and birthday wish list I would write.
As you've probably guessed, I've loved jewelry, especially earrings, for as long as I can remember. Since the days of my childhood (hello 90's!), the manufacturing of high-quality, reasonably priced jewelry pieces has drastically improved. Gone are the days of having to purchase pure gold earrings for a long-lasting product that you can proudly wear for years to come.
Keep scrolling for 5 Canadian jewelry companies we're currently loving, our favorite earrings, and we answer reader questions like, what is gold plating? and are gold plated earrings hypoallergenic?
What is Gold Plating?
Gold-plated jewelry or gold vermeil is typically made from a base metal other than solid gold, with a thin layer of gold plating over top. The plating layer must be greater than 0.5 microns in order to officially be considered gold-plated. Common base layers include stainless steel or pure silver.
Are Gold Plated Earrings Hypoallergenic
So are gold plated earrings hypoallergenic? the short answer is yes.
Those with sensitive skin can now rejoice because gold-plated earrings when created specifically to be made hypoallergenically are safe for sensitive ears. In fact, nickel is more often than not the common culprit of jewelry-related skin allergies. So if you're someone that has sensitive skin, looking for a base metal other than nickel will ensure you avoid a skin reaction or skin irritation.
What Metals are Hypoallergenic?
Pure metals, such as gold, fine silver, copper, sterling silver, titanium, and stainless steel are all considered hypoallergenic metals. These metals do not contain nickel or any trace amounts of nickel. A nickel allergy is the most common trigger of a jewelry reaction or metal sensitivity. Those with allergies or sensitivities should avoid costume jewelry (hello green skin and red patches!) and be extra cautious when choosing earring posts to avoid any unwanted reaction.
Will Gold Plated Earrings Tarnish?
The only downfall to gold plating vs solid gold is that eventually, if not properly cared for, gold vermeil jewelry will tarnish. Gold vermeil will tarnish due to the reaction of oxygen with the base metal and is most extreme when made with silver. Several factors that can lead to tarnishing include sweat, perfume, and humidity. If cared for properly, however, your pieces can last anywhere from 5-10 years! For the price point compared to solid gold and the ever-evolving changes to popular styles, investing in a fun gold vermeil piece is usually the smartest decision! Removing items at bedtime, before showering or working out will ensure your pieces last.
5 Canadian Jewlery Brands We Love!
Today, the jewelry industry is busting at the seems with cheaper options to up your accessories game. If you are looking to add a few new pieces to your everyday wear rotation, we're going to share our current favorite beautiful jewelry finds at some truly affordable prices!
For the Seconds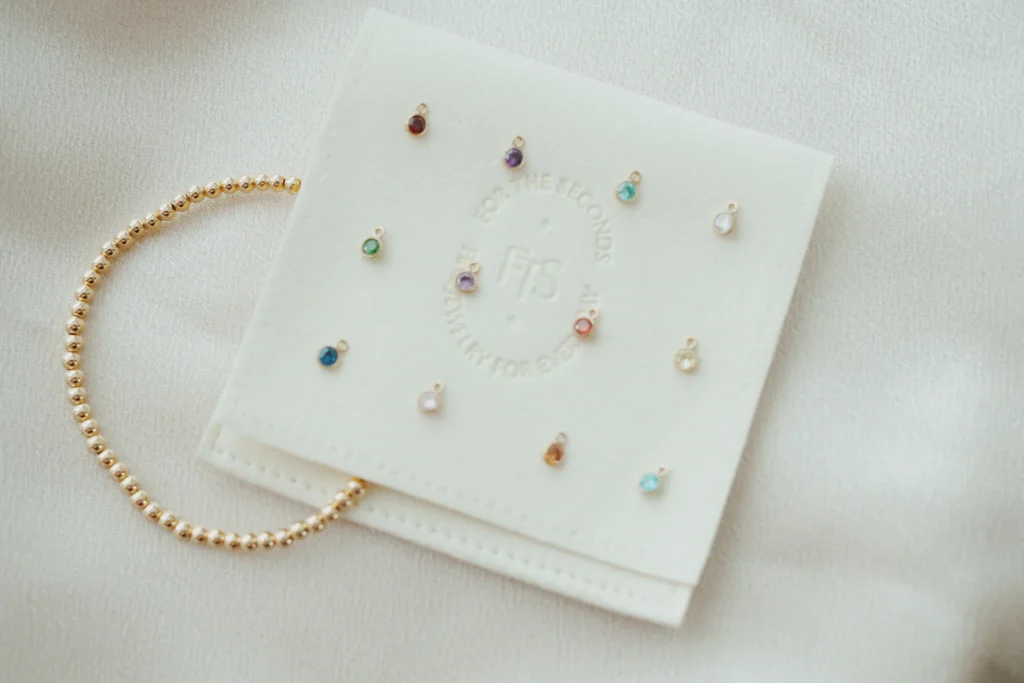 We love For the Seconds because everything is perfect for everyday wear. This one-woman show small business has some beautiful high-quality gold vermeil options. They guarantee their items to be water and tarnish-resistant and easy to keep on all day; even when in the shower!
We love the Unconditional Earrings because they are like two pairs in one! You can wear it with the pearl, or without!
Melanie Auld
Now a household name for a reason, Melanie Auld is bridging the gap between fashion, timelessness, and affordability. Her gold-planted or demi-fine collection is one of the most robust and stylish goings. You can easily snag a pair for around $125 but we guarantee to choose just one is going to be the hardest part. Each piece of jewelry in her collection was thoughtfully chosen to be versatile, layered, and styled to evolve over time. Another fun fact, most of her pieces are crafted in Italy using recycled materials. That's a win for your wallet and the planet if you ask us.
We are loving the baguette style of the CZ stones in the Serena Huggies. These would look adorable paired with a simpler second hoop. #earstackgoals
Olive & Piper
Olive & Piper have one goal, and that is to keep you shiny and confident, every day! Their collection of timeless, classic, and feminine pieces is designed in Vancouver, Canada studio, so they can control the materials and the quality of every single piece. Using high-quality materials, you are about to fall in love with their collection.
For every day, we are loving how truly unique, intricate yet simple the Maddie Hoops are. You can easily dress these up or down and they look just a little bit extra.
Leah Alexandra
As one of Canada's most well-known jewelry designers, Leah Alexandra is known for having the perfect mix of fine and demi-fine pieces. Leah Alexandrea has a lot of beautiful jewelry pieces to choose from at extremely reasonable prices. If you are looking for the perfect pair of earrings for everyday wear, this should be one of the first places you shop.
How bold and stunning are the Deja Earrings! These earrings are a nod to the past while still being distinctly contemporary. These earrings have a stud back and the shape was creatively crafted to perk up your lobes to make you feel strong and ladylike at the same time.
So Pretty Cara Cotter
Timeless and unique is how you can describe the pieces at So Pretty Cara Cotter. Each item was created with a thick layer of 18K gold vermeil, to layer perfectly with one another and to always be an excellent choice for every outfit (think jeans and a t-shirt or an elegant evening dress).
The Fraiche Inspired Hoop Earrings in Rose Gold is dainty and feminine and a great choice for everyday wear. These super affordable earrings would make a great option for Valentine's gift.
So, what do you think? Will your next splurge purchase be on gold-plated jewelry instead of fine jewelry? Your ears and wallet will thank you for this great hypoallergenic option.