The Ultimate Minimalist Summer Capsule Wardrobe from Amazon
We know building a minimalist summer wardrobe can feel daunting, which is why we've got the ultimate guide to help you create one.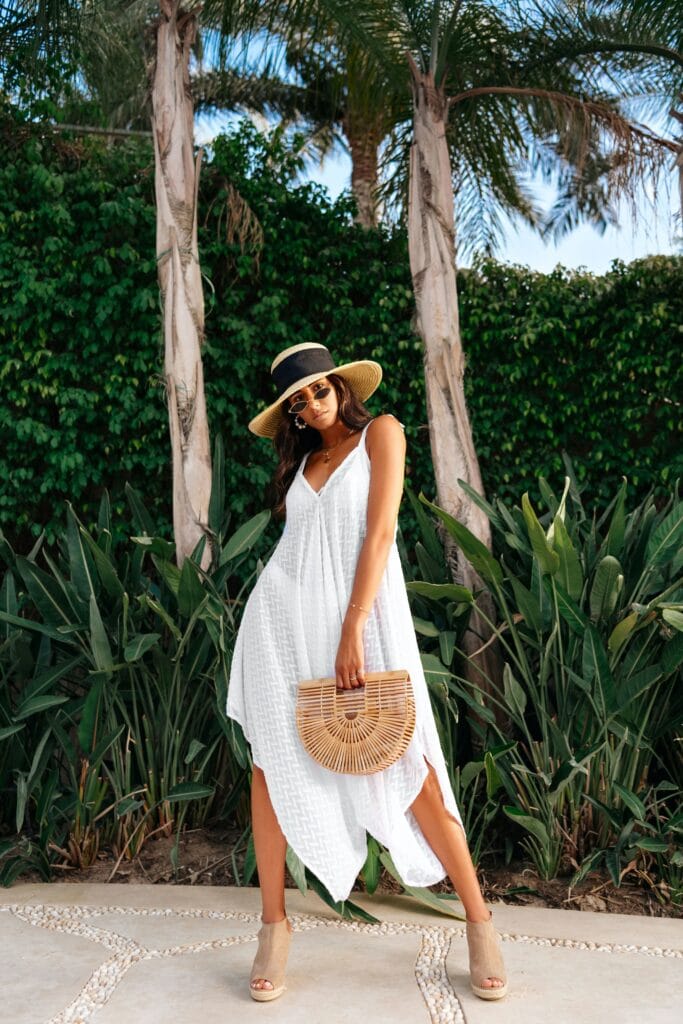 Capsule wardrobes are currently all the rage with fashion bloggers and on social media and we guarantee you know at least one friend or acquaintance who is currently committed to reaping the benefits of this lifestyle. 
Several years ago, we published a guide on how to style a fall capsule wardrobe, which is to say that this is not a new trend. Since that early publication, we've also rounded up ideas on how to declutter your closet with ease, focusing on a capsule wardrobe method, and have come back to the simple concept of a capsule wardrobe time and time again.
The summer months can be tricky to dress for and to style for, depending on various factors such as the changing temperatures of the climate that you live in (Hello summers in Canada!), your lifestyle (hybrid work is more popular than ever!) and sticking to your personal style first and foremost.
Since we've dug into the theory behind a capsule wardrobe in several blogs already, below is a high-level review of a capsule wardrobe for our new readers or those who need a quick refresh.
Keep reading about how to create a minimalist summer wardrobe in a few easy steps.
Minimalist Summer Wardrobe
What is a Capsule Wardrobe?
A capsule wardrobe is a mini collection of clothing that you can use in rotation for any occasion and doesn't go out of style.
What is the Point of a Capsule Wardrobe?
The whole point of a capsule wardrobe is minimizing the amount of clothes you need, focusing on quality, and taking the pressure off finding something to wear because everything in a capsule wardrobe, in theory, should fit your body type, personal style, and taste perfectly.
​Capsule Wardrobes also generally save you money in the long run by purchasing less "fast fashion" or impulse pieces and provide greater sustainability for the environment by consuming less.
How to Choose Pieces for Your Capsule Wardrobe
Capsule wardrobes are special in the sense that you cannot just choose random items from a clothing store and expect them to automatically create this effortless wardrobe in your own closet. Capsule wardrobes have several defining factors that make them successful.
Neutral Colors
Capsule wardrobes are defined by their versatility. By incorporating mostly neutral colors into your new wardrobe, you can easily mix and match the items to create new looks without worrying if things match or complement each other. Which is why choosing a color palette that suits your skin tones and personal taste is important when creating a capsule wardrobe.
Did you know that you can easily determine which colors will pair nicely with your skin tone?
A colour analysis is all about taking your natural coloring (hair, skin, and eyes) and pairing those tones with a combination of other hues that complement or contrast them. This is done through makeup, clothing, and even jewelry.
The video above breaks down everything you need to determine your perfect color combination and I recommend taking the self-guided assessment before going out to shop for your own capsule wardrobe. We know you're here for the style inspo, so let's jump right into the key pieces every woman needs for a minimalist capsule wardrobe this summer!
White T-shirt
A classic white shirt (and we mean a perfect fit, basic t-shirt) should be a staple in every woman's wardrobe, regardless if you are trying to achieve a capsule collection or not. This versatile piece will work with a variety of outfits and is a minimalist closet must-have.
Classic cuts like a v-neck or scoop neck will never go out of style and are the first thing we recommend you purchase if you don't already own it. Basic tees don't need to break the bank to be well-fitting. We love these classic-fit t-shirts from Old Navy!
Half Sleeve Cropped T-Shirt
This light weight, casual t-shirt is perfect for everyday wear.
Basic Tank Tops
Similar to a white tee, any capsule wardrobe needs a handful of well-fitting basic tank tops. These versatile pieces can be used on their own with shorts and jeans, or as undergarments when wearing blazers, with low cut tanks or sheer tops. Please do not splurge on these new pieces. Well-fitting basic tanks can easily be purchased from stores like Old Navy.
Basic Ribbed Tanks
These basic tank tops come in a variety of colors and sizes. They are machine washable, seamless, and ribbed for added interest.
A White Button Down
An entire wardrobe could be built around the classic look for button-up shirts and a well-fitting white button-down is both a staple for any wardrobe, but THE staple piece you need when it comes to minimalist wardrobe essentials. We could and should write an entire blog on how to style different looks using a white button-down, but for now, we will stick to the basics.
Oversized White Button Down
This oversized white button-down shirt is a key staple in any wardrobe. While they do come in a variety of sizes, the most popular choice is white.
A white button-down can be paired with jean shorts and a basic tank top, can be used as a swimsuit coverup, can be worn over a dress on cooler evenings, and the list goes on. For warmer summer months, we love rocking a white button-down linen shirt. Our favorite white button-down of all time can be purchased here (it frequently sells out but always comes back in stock).
A Pair of Shorts
Summer in Canada is the perfect time to show off your legs which is why shorts made the summer capsule wardrobe checklist. We know that lots of options exist on the market for summer shorts, but we're recommending three specific items so you have fewer clothes in your closet and more money in your pocket.
Capsule Shorts
The affiliate links above may earn us a small commission, at no extra cost to you.
A pair of white denim shorts, classic denim shorts, and a pair of linen shorts in a neutral or classic color are what we suggest adding to your collection this summer.
White denim shorts or linen shorts are also easily dressed up, making them a perfect travel option as well. But you can't go wrong with a classic pair of denim shorts, they are the equivalent of the perfect pair of skinny jeans in the fall; and pair perfectly with everything, which generally makes any woman feel like a million bucks! 
Summer Dress
Summer dresses are what our editors live in to combat the summer heat. By purchasing clothing with a good fit, that is high-quality pieces, you will never have to worry about what to wear to special occasions like an impromptu date night. We recommend adding a couple of different dresses to your arsenal, such as a maxi dress, formal occasions dress a well-fitting warm weather sundress will ensure you are covered for any occasion.
Amazon Summer Dresses
Click on any of the pictures above to shop the item directly.
White Jeans
White jeans or denim are also the equivalent of skinny jeans in the fall. Fashion icons like Jackie Kennedy, well before the Cottage Living and Style fashion era, have been spotted wearing different outfits with white jeans as the focus. While we don't recommend these pieces for super hot days, they are worth the extra cost to invest in when you need them.
Straight Leg Jeans
These straight-leg jeans from Amazon, pair well with any outfit and are a perfect piece to your capsule wardrobe.
A Light Knit Sweater or Jacket
On rare occasions in the summer, the humidity breaks, and a light sweater or jacket is needed for a summer evening out. Having a light cardigan in your clothing arsenal is always a good idea. If you choose a neutral color, you can likely extend this versatile item into other seasons, like a spring capsule wardrobe. 
A linen blazer is the perfect option for the office to throw over your capsule wardrobe dresses.
Tools you'll need
Cottage Living and Style may earn a small commission through each purchase, at no extra expense to you.
Money Saving Tip – At the end of every season, browse your favorite stores for their end-of-season sales. Purchasing a "last year" cashmere cardigan in a neutral color like black, grey, white, or beige, for instance, will save you hundreds of dollars, and will look almost identical to the new ones you will see in stores a few months later. Classic clothing items never go out of style. Do you see the trend here?
Light Jacket
A light jacket or two in your capsule wardrobe will be the finishing touch to everyday wear. Consider purchasing a few classic pieces like a trench coat, leather jacket, and high-quality denim jacket. These outer pieces will also transition perfectly from your minimalist summer wardrobe to your winter capsule wardrobe. Classic styles like a leather jacket and trench coat will also never go out of style; we are confident!
Lightweight Zip-up Jacket
This lightweight jacket is perfect for summer days, it's comfortable and enough to keep you warm without overheating.
Straw Hat
​Have you ever heard the saying that your hair and face are the only pieces you wear every single day? That is how our editors convince themselves that every hair accessory and makeup purchase is a necessity. Jokes aside, protecting your hair and scalp from the harsh sun, especially when spending long summer days outdoors, is critical. A straw hat is the perfect classic accessory to have in your wardrobe arsenal.
Floppy Straw Hat
This floppy summer hat is a key piece to every capsule wardrobe because it goes with everything and it's lightweight.
A Statement Piece
A statement piece is your chance to have some fun with the new season. Adding a statement item or two will add personality and flare to the timeless pieces you will be purchasing above. Consider fun fashion pieces like a straw tote, or earrings and scarves in bright colors.
Straw Tote
This large canvas straw tote is the perfect accessory to pair with just about any outfit in your summer capsule wardrobe.
When you purchase classic pieces, your accessories are where you can spend a little less and have a little fun to make your style shine through. Purchasing a few pairs of shoes in fun colors or current trends is also a great way to add your personal style statement.
Ok, let's recap the basic pieces you need or that we recommend you purchase to make several outfit ideas come to life!
Summer Capsule Wardrobe Reference Guide
Your guide to the perfect summer capsule wardrobe!
White t-shirt
Basic tank tops in classic colors
White button-down blouse
Jean shorts
Linen shorts
White denim shorts
Light cardigan
Linen blazer
Maxi dress
Sundress
Special occasions dress
White denim pants
Lightweight coat or jacket
Straw hat
Fun statement pieces
Who's ready to go shopping for new clothes for their capsule wardrobe this summer? Use this minimalist wardrobe checklist to see what you already have in your arsenal of clothing and what you need to head out and purchase. A true capsule wardrobe will take months to complete, but we promise, you will love the results and those extra 10 minutes of sleep in the morning!
Cheers to the perfect minimalist summer capsule wardrobe!