How to Actually Read Colleen Hoover Books and in What Order
If you're as obsessed with Colleen Hoover as we are, then we have you covered! This is the complete list of Colleen Hoover's books in order.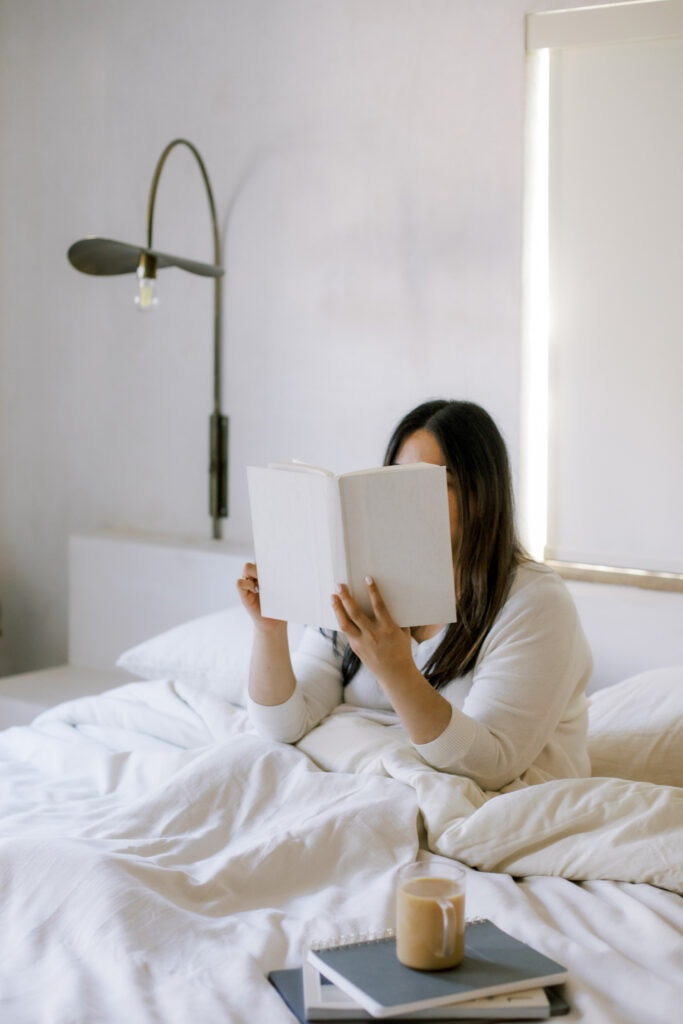 Looking for the perfect summer reading list? Colleen Hoover literally has you covered. With over 20 books under her belt and new releases still scheduled for 2023, 2025, and 2027, we've rounded up the best Colleen Hoover books in order. This New York Times bestselling author and international bestseller of Young Adult, thriller, Women's Fiction, and Paranormal Romance is your complete summer reading bucket list!
OK, let's dig right in! We've broken the list down by series and stand-alone novels for easy choosing!
Colleen Hoover Best Books in Order
Lately, I've been finding it hard to find time to actually read a book. So I started using Audible, and it's been such a game-changer. Now I can listen to my favorite books while driving, cooking and even working out.
Get a Free Audible Plus 30-day trial!
Slammed Series
Book one of the Slammed series introduces readers to eighteen-year-old Layken and new neighbor, Will, a handsome twenty-one-year-old whose mere presence leaves her flustered. Not long after their heart-stopping first date, they are slammed to the core when a shocking discovery brings their new relationship to a sudden halt. Will the two be able to overcome this revelation and live in a world where love is a cause for celebration and not regret?
Book two of the Slammed Series, Point of Retreat, continues the love story between the main characters Layken and Will. A stunning and unforeseen revelation about Will's past leaves them questioning everything they thought they knew about each other. With their future at risk, they must decide whether they are willing to fight for one another or retreat to a life alone. It will take something truly extraordinary to keep them together, something that will change the lives of everyone they know.
In the final book of the Slammed series, we get to hear Will's side of the story. Layken and Will's love has managed to withstand the toughest of circumstances and the young lovers, now married, are beginning to feel safe and secure in their union. As much as Layken relishes their new life together, she finds herself wanting to know everything there is to know about her husband, even though Will makes it clear he prefers to keep the painful memories of the past where they belong. Still, he can't resist his wife's pleas and so he begins to untangle his side of the story, revealing for the first time his most intimate feelings and thoughts, retelling both the good and bad moments, and sharing a few shocking confessions of his own from the time when they first met. This story tells their complicated relationship from, his point of view.
Hopeless Series
The Hopeless Series consists of four books, following the lives of Sky Davis and Dean Holder. Sky realizes very quickly after meeting Dean that he has this uncanny ability to make her feel things she's never thought possible. He both terrifies her and captivates her after their first encounter and Sky struggles to keep him at a distance. When she can't resist any longer, Sky quickly learns his unpredictable behavior comes with a good explanation, an explanation that will test her faith in the boy she's now fallen in love with.
In the sequel to Hopeless, we the readers, and Sky, our main heroine, finally learn the truth about Dean Holder. Haunted by the little girl he couldn't save from imminent danger, Dean's life has been overshadowed by feelings of guilt and remorse. In this gripping novel, Dean reveals the way in which the events of Sky's youth affected him and his family, leading him to seek his own redemption in the act of saving her. Loving Sky is the only way that he can imagine healing himself.
Meet 18-year Daniel. A chance encounter in the dark leads Daniel and the girl who stumbles across him to profess their love for each other. But this love has conditions: they agree that it will last only one hour, and it will only be make-believe. When the hour is up and the girl rushes off like Cinderella, Daniel tries to convince himself that what happened between them only seemed perfect because they were pretending it was perfect. Moments like that with girls like her don't happen outside of fairytales. One year and one bad relationship later, his disbelief in Insta-love has stripped away the day he meets Six: a girl with a strange name and an even stranger personality. But Daniel soon realizes that fairytales don't exist, and unfortunately for Daniel, finding Cinderella doesn't guarantee their happily ever after…it only further threatens it. (Excerpt taken from colleenhoover.com) **This book can be read as a standalone or as book three in the four-book series**
In the final book of the Hopeless series, several of Colleen Hoover's most beloved characters return. This book is told from the point of Daniel from Finding Cinderella and readers will finally get the answers to the questions they've been asking.
Maybe Someday Series
At twenty-two years old, Sydney has a great life. She's in college, working a steady job, in love with her wonderful boyfriend, Hunter, and rooming with her best friend, Tori. But everything changes when she discovers Hunter's cheating on her and she's left trying to decide what to do next. Sydney becomes captivated by Ridge, her mysterious neighbor. She can't take her eyes off him or stop listening to the passionate way he plays his guitar every evening out on his balcony. And there's something about Sydney that Ridge can't ignore, either. When the inevitable encounter happens, they soon find themselves needing each other in more ways than one.
In book two of the series, when Warren has the opportunity to live with a female roommate, he instantly agrees. It could be an exciting change. Or maybe not. Especially when that roommate is the cold and seemingly calculating Bridgette. Tensions run high and tempers flare as the two can hardly stand to be in the same room together. But Warren has a theory about Bridgette: anyone who can hate with that much passion should also have the capacity to love with that much passion. And he wants to be the one to test this theory. Will Bridgette find it in herself to warm her heart to Warren and finally learn to grow? Maybe, but maybe not.
What is more important, Friendship, loyalty, or love? Colleen Hoover and Griffin Peterson collaborate once again to bring fans of Maybe Someday back into the musical world of Ridge Lawson and Sydney Blake. And Maggie. And Warren and Bridgette. Maybe Now is a follow up-novel to Maybe Someday. It follows the cast and characters as they navigate new relationships and old friendships. Maybe Now is a follow-up to Maybe Someday, which means Maybe Someday should be read First. Maybe Not is a companion novel to both books and can be read 2nd to 3rd behind Maybe Someday, or Not at All. (Excerpt taken from colleenhoover.com)
Stand Alone Books
In this stand-alone novel, we are introduced to Tate Collins, and Miles Archer, two characters with undeniable mutual attraction. The two quickly agree on a perfect not friends, strictly benefits-only relationship. Two rules only exist for this arrangement to work; 1. Never ask about the past and 2. Don't expect a future. The book explores the outcome of this sounds-good-on-paper arrangement gone completely wrong.
Beyah Grim's childhood was full of poverty and neglect but now, she has her hard-earned ticket out of Kentucky in the form of a full ride to Penn State. Two months before she is set to finally break free from the perils of her life, an unexpected death occurs that leaves her homeless and forced to spend the remainder of her last summer in Texas with a father she barely knows. Enter Samson, the wealthy, brooding guy next door. With their upcoming futures sending them to different ends of the country, the two decide on a casual summer fling in light of their intense connection. What could go wrong? (Excerpt taken from colleenhoover.com)
Morgan Grant and her sixteen-year-old daughter, Clara, would like nothing more than to be nothing alike. Morgan is determined to prevent her daughter from making the same mistakes she did. By getting pregnant and married way too young. Morgan put her own dreams on hold. Clara doesn't want to follow in her mother's footsteps. Her predictable mother doesn't have a spontaneous bone in her body. With worrying personalities and conflicting goals, Morgan and Clara find it increasingly difficult to co-exist. The only person who can bring peace to the household is Chirs- Morgan's husband, Clara's father, and the family anchor. But that peace is shattered when Chris is involved in a tragic and questionable accident. The heartbreaking and long-lasting consequences will reach far beyond just Morgan and Clara. While struggling to rebuild everything that crashed around them, Morgan finds comfort in the last person she expects to, and Clara turns to the one boy she's been forbidden to see. With each passing day, new secrets, resentment, and misunderstandings make mother and daughter fall further apart. So far apart, it might be impossible for them to ever fall back together. (Excerpt taken from colleenhoover.com)
All your perfects is a profound novel about a damaged couple whose potential future hinges on promises made in the past. This is a heartbreaking page-turner that asks: Can a resounding love with a perfect beginning survive a lifetime between two imperfect people? Quinn and Graham, our perfect couple, are about to find out.
In this standalone romance novel, Auburn Reed has lost everything important to her. Her goal is to now rebuild her life, with no room for error. When a job search leads her to a Dallas art studio, she least expects to find love with Owen Gentry. For the first time, Auburn allows her heart to take control. After a short time, she discovers that Owen is keeping a major secret from coming out and the magnitude of the secret threatens to once again destroy Auburn. Her only way out is to cut Owen out completely, but love is never that easy, is it?
The Voss family is anything but normal. They live in a repurposed church, newly baptized Dollar Voss. The once cancer-stricken mother lives in the basement, the father is married to the mother's former nurse, the little half-brother isn't allowed to do or eat anything fun, and the eldest siblings are irritatingly perfect. Then, there's Merit. Merit Voss collects trophies she hasn't earned and secrets her family forces her to keep. While browsing the local antique shop for her next trophy, she finds Sagan. His wit and unapologetic idealism disarm and spark renewed life into her – until she discovers that he's completely unavailable. Merit retreats deeper into herself, watching her family from the sidelines, when she learns a secret that no trophy in the world can fix. Fed up with the lies, Merit decides to shatter the happy family illusion that she's never been a part of before leaving them behind for good. When her escape plan fails, Merit is forced to deal with the staggering consequences of telling the truth and losing the one boy she loves. (Excerpt taken from colleenhoover.com)
Layla (Stephanie's Favorite!)
When Leeds meets Layla, he's convinced he'll spend the rest of his life with her- until an unexpected attack leaves Layla fighting for her life. After weeks in the hospital. Layla recovers physically, but the emotional and mental scarring has altered the woman Leeds fell in love with. In order to put their relationship back on track, Leeds whisks Layla away to the bed-and-breakfast where they first met. Once they arrive, Layla's behavior takes a bizarre turn. And that's just one of many inexplicable occurrences. Feeling distant from Layla, Leeds soon finds solace in Willow- another guest of the B&B with whom he forms a connection through their shared concerns. As his curiosity for Willow grows, his decision to help her find answers puts him in direct conflict with Layla's well-being. Leeds soon realizes he has to make a choice because he can't help both of them. But if he makes the wrong choice, it could be detrimental to all of them. (Excerpt taken from colleenhoover.com)
Sometimes it is the one who loves you who hurts you the most. Lily hasn't always had it easy, but that's never stopped her from working hard for the life she wants. She's come a long way from the small town in Maine where she grew up – she graduated from college, moved to Boston, and started her own business. So when she feels a spark with a gorgeous neurosurgeon named Ryle Kincaid, everything in Lily's life suddenly seems almost too good to be true. Ryle is assertive, stubborn, and maybe even a little arrogant. He's also sensitive, brilliant, and has a total soft spot for Lily. And the way he looks in scrubs certainly doesn't hurt. Lily can't get him out of her head. But Ryle's complete aversion to relationships is disturbing. Even as Lily finds herself becoming the exception to his "no dating" rule, she can't help but wonder what made him that way in the first place. As questions about their new relationship overwhelms her, so do thoughts of Atlas Corrigan- her first love and a link to the past she left behind. He was her kindred spirit, her protector. When Atlas suddenly reappears, everything Lily has built with Ryle is threatened. It Ends with Us is an unforgettable tale of love that comes at the ultimate price.
Lily and her ex-husband, Ryle, have just settled into a civil co-parenting rhythm when she suddenly bumps into her first love. Atlas, again. After nearly two years separated, she is elated that for once, time is on their side, and she immediately says yes when Atlas asks her on a date. But her excitement is quickly hampered by the knowledge that, though they are no longer married, Ryle is still very much a part of her life- and Atlas Corrigan is the one man he will hate being in his ex-wife and daughters' life. Switching between the perspective of Lily and Atlas, It Starts with Us picks up right where the epilogue to It Ends with Us left off.
This much-anticipated book is launching on June 27, 2023, and as readers, we cannot wait to dive right in. This novel is said to be a physiological suspense novel of obsession and dangerous love. The story follows Sloan. Sloan will go through hell and back for those she loves. And she does so, every single day. Caught up with the alluring Asa Jackson, a notorious drug trafficker, Sloan has finally found a lifeline to cling to, even if it meant compromising her morals. She was in dire straits trying to pay for her brother's care until she met Asa. But as Sloan became emotionally and economically reliant on him, he in turn developed a disturbing obsession with her-one that becomes increasingly dangerous every day. When undercover DEA agent Carter enters the picture, Sloan's surprised to feel an immediate attraction between them, despite knowing if Asa finds out, he will kill him. And Asa has always been a step ahead of everyone in his life, including Sloan. No one has ever gotten in his way. No one except Carter. Together, Sloan and Carter must find a way out before it's too late. (Excerpt taken from colleenhoover.com)
Which Colleen Hoover book has been your favorite so far? Do you have another author you love? Share it with us! We're always looking for our next great read.