Our Bungalow Living Room Makeover
Check our this bungalow living room reveal with Article. We're taking a look at how the space looked before, and how we designed it perfect for a family with small children.
When I first started planning this space, I knew we needed to change a few things to make it feel like us. But like every other makeover, this turned into a much bigger project and timeline.
Not to mention, this is our most used room in our entire home so the pressure was definitely on. I had to make sure I was designing a space that our whole family could enjoy and love. Which we really feel like we accomplished with this makeover.
Thank you Article for sponsoring this post.
Bungalow Living Room Before
I dig up a picture of the living room the way it was when we saw it for the first time with our realtor. The previous owners obviously styled it to sell, conveniently coving the severely stained carpets.
But, I saw the potential that this space had.
Our bungalow has an open concept floorplan that connects the living room and entryway, so my mission was to figure out how to separate the two areas.
Bungalow Living Room After
I can't stop starting at these before and after pictures!
The first thing we did was rip up the wall-to-wall carpet and replaced it with luxury vinyl flooring. Then, painted the entire space, including the entryway in Simply White by Benjamin Moore.
Finished up by replacing the builder-grade baseboards with 5 1/2″ Mitre Baseboards.
We planned on adding a fireplace, but figured it was a major cost we could do without.
Instead, I found a brand new electric fireplace from Habitat for Humanity for $70, and the fireplace mantel for free on Facebook Marketplace. We then spray painted the fireplace with Behr's Chalk Spray Paint in Classic Noir.
This DIY was a great way to add a focal point to your space at an affordable price. It's much cheaper than installing a new fireplace.
I love shopping your home first, because you never know what you might come across. Plus your doing good things for the environment (and your wallet) by find new ways to reuse old items. Which is exactly what we did with the vintage dresser.
Truthfully, we rarely drink but I love having options for guests. So I knew when I saw the dark wood dresser that I wanted to see how it looked styled with wine bottles and glasses.
To be honest, It's fun, but won't be permanent. I just needed to have a dark piece of furniture against that wall to give some symmetry with the black fireplace.
Since we're going to be working on a entryway makeover next, so you'll see even more changes in this area soon.
Yet, the biggest change was adding our new Sven Charme Tan Sofa from Article. It was the perfect addition to this space, giving it the right amount of color and texture. It was also a great way to separate the living room from the entryway.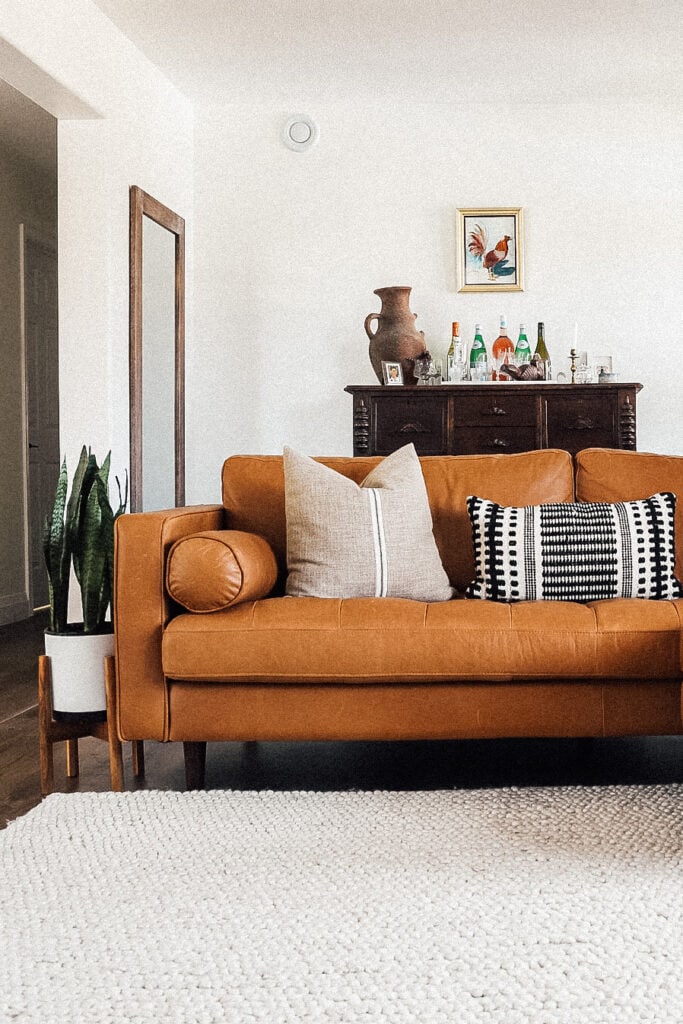 Along with the tan sofa, we ordered the Sven Charme Tan Ottoman from Article. It's a piece that is sold separately but totally goes with the sofa.
We decided an ottoman would replace our marble coffee table.
Since Lake is starting to walk we felt the ottomon is a better fit for a family with two small children.
Not to mention we also loved the comfort of our sectional, except our living room was just too small for it. So the ottoman is perfect for anyone who wants to sit with their feet up, but can also easily move aside.
I wanted a soft rug that the kids could play on but was comfortable enough for us too. The Hira Natural Wool Rug is that and more!
I'm in love with the texture it brings to the space. Plus, its completely family friendly! It's been tested a few times, but even when food or drinks spill on it, I'll spray some Thieves cleaner and instantly wipes up.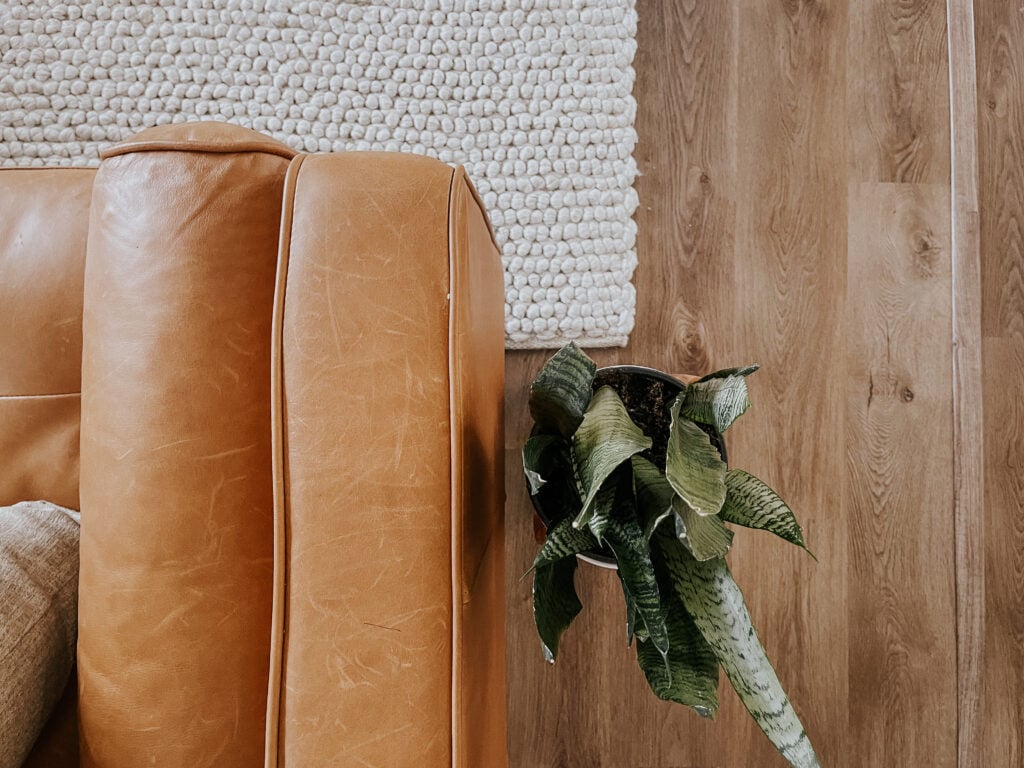 Another way we saved a bit of money was reusing our Bouclair chairs. The living room is quite long, and since we needed the extra seating we thought why not bring them in here. I added some color and texture with two fun accent pillows.
We added three large frames to the wall, 98″ curtains that are a similar shade to the chairs, snake plant, and of course a new 50″ frame tv! Everyone thought I was crazy downsizing our 65″ tv, but I felt anything bigger would make the fireplace look disproportioned and I couldn't let that happen.
From this view you can see how well all those pieces work together to create a beautiful but separate living space. We really feel as if we hit the jackpot with our new Article furniture and all new living room design.
Let me know what you think and if you have any questions about the living room in the comments below!
Sources:
Black and white pillow (similar option here, and here)
Yellow pillow with tassel (similar option here, and here)