These 9 cabin bedroom ideas are sure to inspire your own getaway, whether you own a cabin, a cottage, or you just love the style.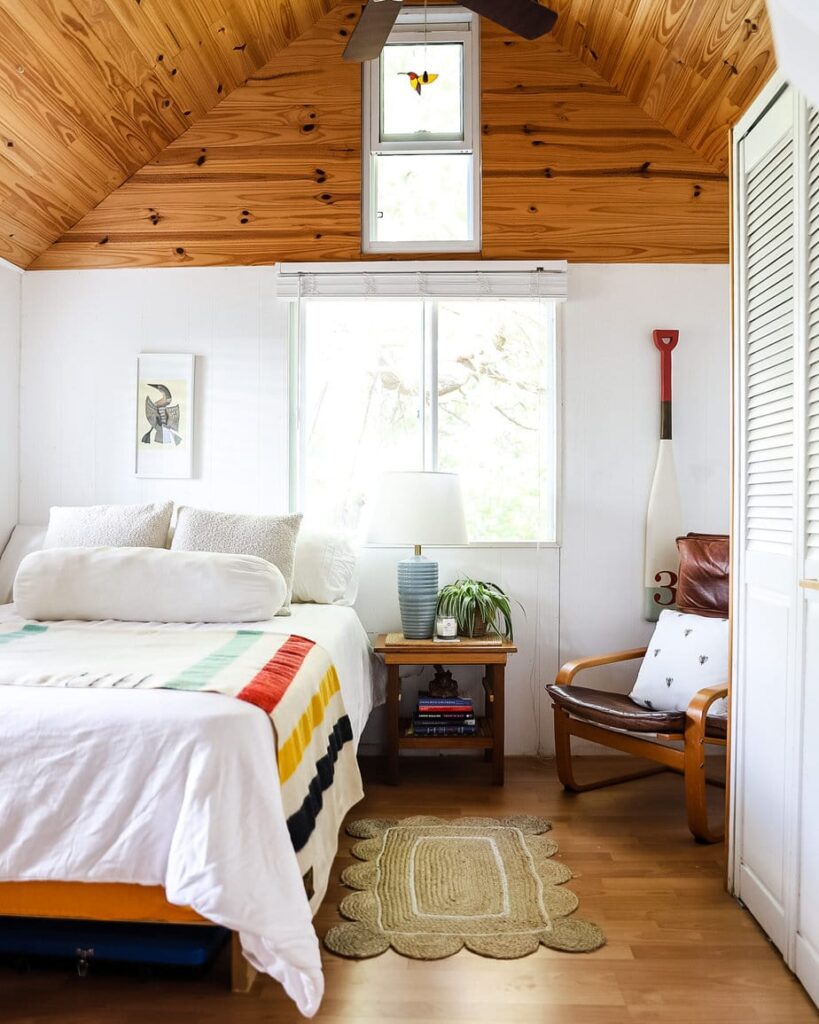 It's the perfect time of year to create a cozy, warm, and inviting space in your home. I often daydream about making over a little cabin in the woods. Someplace with log walls, and rustic elements, and of course, it would need a stone fireplace.
While that may be relatable to some, there are a few things that cabins have in common that we can recreate in any space. First, they tend to be made from natural materials, and second, they're usually close to nature. So don't think that you can't create a cozy cabin bedroom of your own, even if you don't live in a cabin.
If you are interested in reading more of Stephanie's small cabin renovations, you can catch up HERE.
I finally got the opportunity to help style a tiny cabin a few weeks ago. Stephanie's cabin needed a quick bedroom refresh, so I put on my interior design hat and went to work. I instantly noticed that there were a few universal decorating tips that would work for any space, regardless of the cabin style or location.
So we decided to put it all in a blog post to help you make the most of your bedroom, and ultimately create a cozy getaway of your own.
Cabin Bedroom Ideas
While I decorate homes for clients with many different styles, I've always preferred creating a space with a lived-in look. So of course when it came time to style the cabin, my main goal was to make sure everything had that cozy feel. And I think that was accomplished, but I did want to make sure we were sharing as many ideas as possible. Hopefully, each of these cabin bedroom ideas will inspire you, regardless of your style to create a cozy bedroom you can feel comfortable in.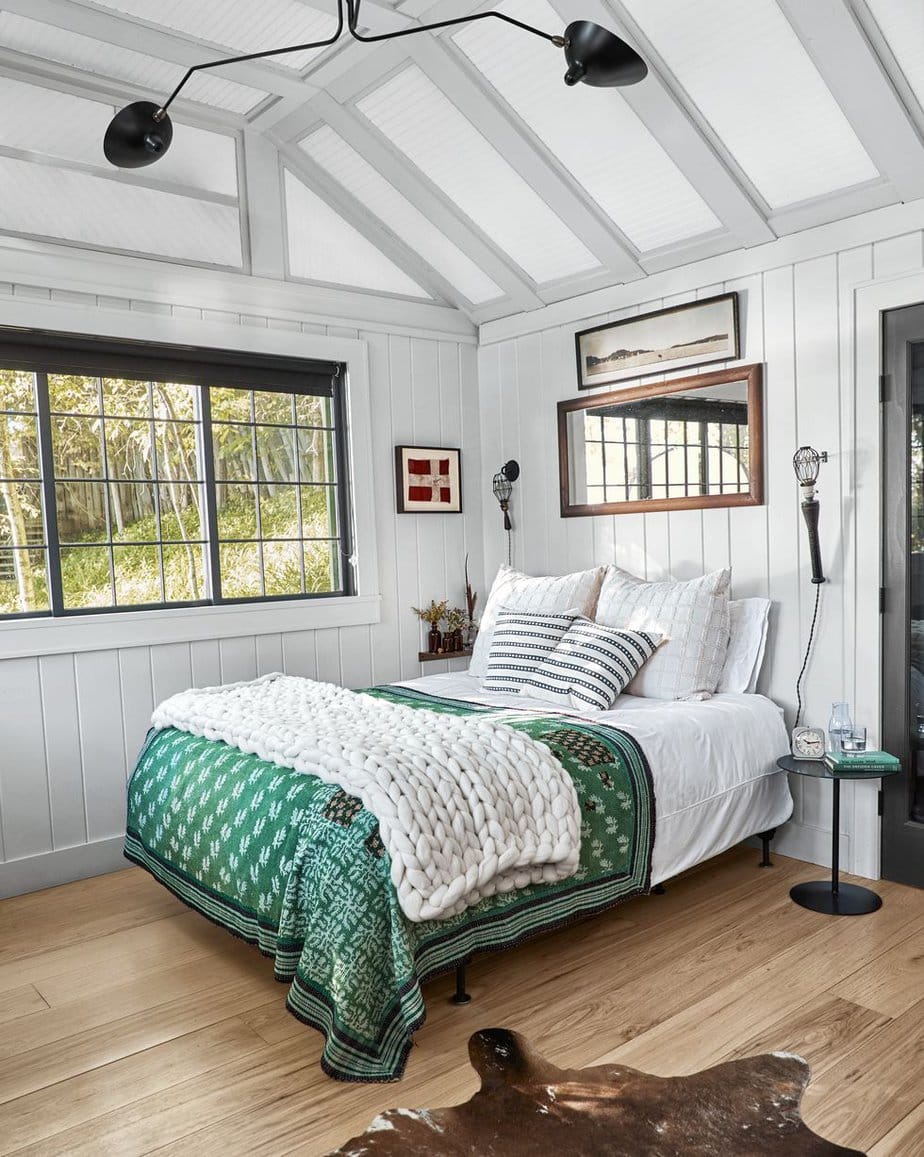 Add Some Natural Layers with Quilts and Throws
I've been on the hunt for thrifted quilts and blankets for months, specifically the ones with patches, and a great color scheme. You know, the ones that look like your grandmother made them? If you are lucky enough to have a family quilt, grab it because you'll need it for this first cozy idea.
After you make your bed with your favorite sheets, and a fluffy duvet it's time to add layers. The more, the better. Not only are you adding some texture but you can also layer it on for extra warmth in the chilly evenings.
When it comes to making the bed, we like to throw a quilt or textured blanket over half or even three-quarters of the bed. It's also a great way to show your style and inject some color into the space.
You can shop my favorite Pendleton Blanket HERE.
Set the Mood with Lamps
Light fixtures are key for any makeover, regardless of your style or room. It's especially true when you're looking to design a cozy bedroom. In Stephanie's case, we swapped out the previous wall sconces for a large lamp on the side table. Which I will say was a splurge but totally worth it.
However, you don't have to spend a ton to make your bedroom look cozy. Try your local thrift shops, and if not, there are plenty of affordable options from places like Wayfair and even Target. But, one thing is for sure, a good designer knows how important it is to invest in secondary lighting. After all, it's what sets the mood and can instantly make the space feel cozy.
Add Texture with a Rug
I love designing cottages and cabins because the intention of the space is already set out for you. Often the purpose is to create a retreat or make it feel more like a dream vacation home. Which is why when it's time to think about the flooring and rugs, I always lean into using natural materials for the base, because it's what sets the tone for the rest of the space.
The best way to create a cozy base is to use seasonal materials for your rugs. In the winter we layer on wool, shags, or fur. But in the summer it's more about light woven cotton materials. The color scheme is completely up to you but remember to incorporate patterns, textures, and sizes when layering.
Window Treatment
Even though we opted into having blinds made. I still think it's important to add some texture to your windows with curtains. While this isn't a hard rule, it's one we often break. I still wanted to make sure we were arming you with every design rule possible.
I shared this guide to make cheap curtains look expensive, and it still applies in this case.
In our cabin's master bedroom there's a large window and two smaller-awkward windows. It's made finding curtains rather difficult, and it's the reason we decided to go with blinds instead. Which is why I think it's important to check out all your options before you choose one.
I will say that allowing natural light is key to creating an inviting space, even though you would think it's the opposite of making a space feel cozy. But choosing a large window to add long curtains to is a great way to create a focal point for the bedroom.
Wood Elements
Not all cabins are made from wood, but it certainly adds to the rustic design of the space. Stephanie got lucky with the cabin because her grandparents added wooden planks to the ceiling. But if you don't have a lot of wood, we've seen people add wooden beams to their bedrooms. Many times it's an inexpensive and quite easy DIY.
But don't worry if you're not the DIYer type, try adding in some natural elements with wooden decor. Check out these beautiful tree-stump side tables, wooden paddles, or these stunning antique stools.

Cabin Style Lighting
I know we've chatted about secondary lighting, but the main lighting is just as important. We asked our audience what their style was, and most said they were rustic design lovers. So by adding an antler chandelier to the bedroom, you can easily make it feel like you live in a cabin. Or another great way to add some modern charm is to install a large wagon wheel chandelier (something we're currently looking into).

Paint Colors for Cabins
While I could write an entire post on this subject (maybe that will come), I've created a guide for paint colors that look great in cabins.
The paint color we choose for the bedroom is Swiss Coffee by Benjamin Moore. I actually matched it to the existing color and was really surprised when I got this back. Neutral colors were also a safe option while we decided when and if we were going to change it up. So I put together a quick paint guide of all the paint colors were deciding between.
Cabin Style Art
I'm a huge fan of shopping for your home and using what you already own. This was the perfect situation to show off those scavenger hunting skills. We had planned on hiring a company to put together a collection for us, but when I asked Stephanie what she wanted. She suggested using local artists and hiring them to create the art.
However, we know that can be difficult. So instead if you are looking to buy some art at an affordable price check out FY! (currently having a SALE for 25% off).
Cabin Style Beds
Cabin beds come in all shapes and sizes, but for the most part, they are made from wood. A few weeks ago we shared this easy-to-follow DIY to make bunk beds.
Some of our favorite options for cabin-style beds are linked below: