How to get Free Travel-Sized Skincare
This article shares all the tips and tricks for finding free travel-sized skincare and more!
I'm super excited to talk to you about my travel skincare essentials. Especially since we're talking about one of my favorite subjects, skincare. We are still in Florida and we'll be here for only a few more weeks so I wanted to give you a look into the things I brought with me. Plus a BIG tip for anyone who's planning a vacation soon and needs some travel-sized products.
Keep reading how I get my travel skincare essentials for FREE!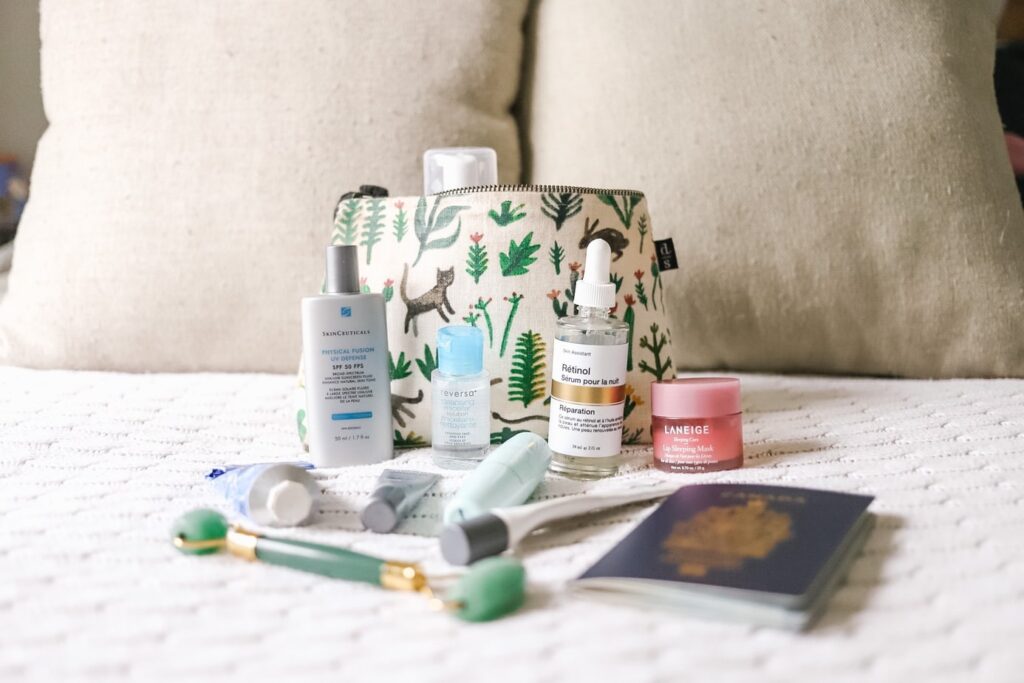 Travel Skincare Essentials:
Makeup remover
I wear makeup pretty often, even if I'm not doing anything I'm usually still testing out new makeup and different techniques. So just before we left I went around to all my favorite beauty stores and grabbed a few tester products to try. My favorite was this cleansing balm because it literally melts your makeup off and is so gentle on your skin. I also grabbed some Micellar Cleansing water for days I don't have anything on my face but still want to pre-cleanse and get rid of any dirt and oil.
Cleanser
It doesn't matter what your skin type is. Even if you have dry or acne-prone skin, you need to cleanse your face at least every night. You need to be keeping your skin clean and your pores free of dirt, microbes, oils, and other things so you don't have breakouts. I brought two types of cleansers with me because I like using the Tatcha deep cleanse whenever I want to gently exfoliate my skin. I also love using the Sephora AHA Cleanser because it feels really gentle on my face but lathers really well and leaves your skin feeling super smooth.
Toner
I am all about using a toner on my face, and I feel like it's something most people don't even think about doing. During this trip, I've been trying to keep my skincare routine as minimal as possible, and if I can use one product and get multiple benefits then sign me up! I decided to skip the toner this time and bring a pack of Alpha Beta Extra Strength Daily Peel which are amazing.
Tip
If you get the Alpha Beta Daily Peels, cut the pads in half and you can get more out of the product.
Serum
My favorite product to use on my face is this serum. My skincare routine usually consists of retinol and vitamin C serum, but I ended up bringing just my retinol because I didn't want to risk losing or breaking my other ones.
Moisturizer
A good moisturizer is everything and crucial for my skin type. I tend to get dry skin when I experience a change in climate or season like when you travel. This trip I've been noticing my skin has been an extra day and thankfully I brought a few different testers like this Tatcha Moisturizer which is really good.
Sunscreen
Sunblock is my secret weapon to keeping younger-looking skin. I've said this before but I've been using sunblock almost every day since I was seven. I still have lots of sun damage though, thanks to years of tanning beds and spending summers at the beach. But I swear it's saved me from way more damage, imagine if I didn't wear it religiously? Anyway, I love using this sunscreen that also comes in a matte version as well.
Face Masks
I never travel anywhere without my favorite hydrating mask! It's literally the best when your skin is feeling a little dehydrated from flying. I'll even use the mask at night time so I can wake up with a radiant glow! The second mask I brought was a travel-sized Rose Face Mask from Fresh and I think I'll purchase the full-sized when I'm home because I really liked how soft my skin felt after.
Where to find free travel-sized skincare products
I recently found out that most places that sell beauty products, such as Sephora, Shoppers Drug Mart, Ulta, and even Nordstrom will give you free samples. Sephora and Nordstrom will let you test out any of their products and provide you with a sample of it. While Ulta and Shoppers Drug Mart will give you trial size testers when you make a purchase. Most of these stores also have their own reward programs that you'll be able to earn free mini products that you can also save up for your next vacation.
How to get FREE products for travel
Go to any of the places mentioned above to collect samples and testers before you go on your next vacation. Not only are these FREE (unless you purchase it online) but you might just find something you really like! I can't tell you the number of times I got a really good sample of something and then went back for the full-sized product when I got home.
Happy travels!
For more travel tips visit: