How to Clean a Couch with a Steam Cleaner
This post contains links to affiliate websites, such as Amazon, and we receive an affiliate commission for any purchases made by you using these links. We appreciate your support!
Post Summary: Looking for an easy cleaning method that actually works? This guide to cleaning a couch with a steam cleaner is perfect for you.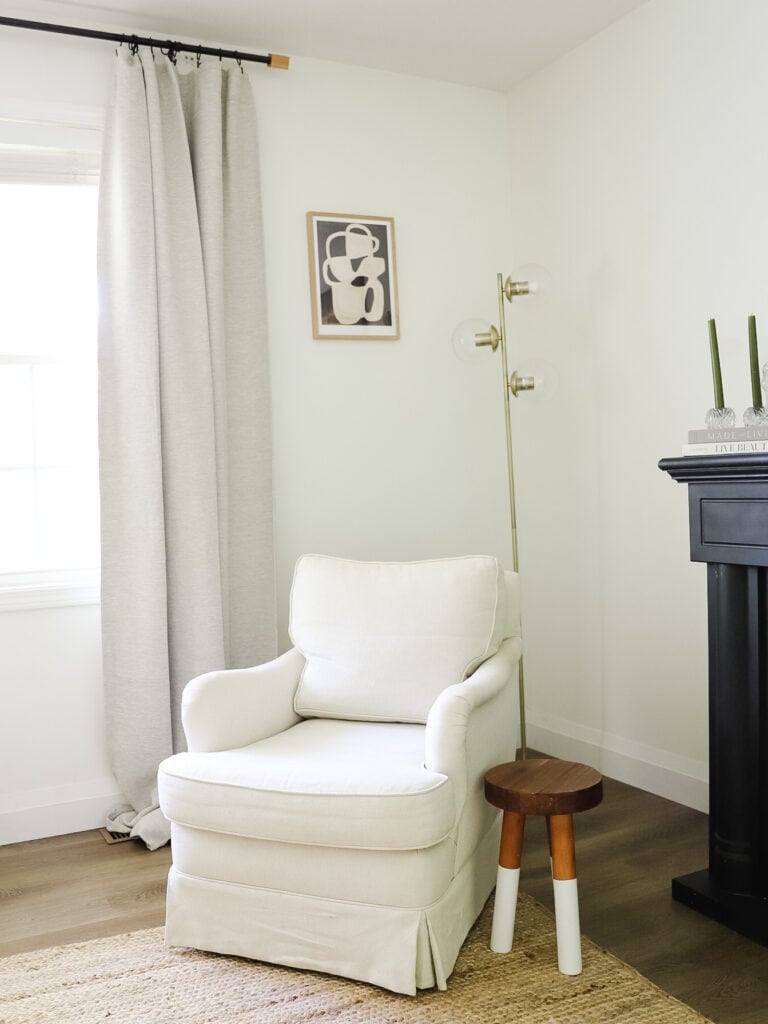 A few days ago I found my dream chair on Facebook Marketplace. It was a white slipcover armchair from Birch Lane, which was normally priced over a thousand dollars. But I found this chair for sale and it was under $50!! So of course, I brought it home and noticed there were a few small marks and stains. Which is fine because I have the best tip for cleaning any couch, not just a thrifted one.
I know the living room couch, is a beloved lounging area, and it's probably seen its fair share of pet hair, stubborn stains, food stains, and all sorts of other things, leaving it far from its former glory. Good news! An upholstery steam cleaner can be one of the most effective ways to deep clean fabric furniture and bring it back to life. This comprehensive step-by-step guide will walk you through the entire process of cleaning your couch using the power of steam, ensuring the best results, and taking care of delicate fabrics.
Keep reading to find out exactly how to clean a couch with a steam cleaner in a few easy steps.
Step-by-Step Guide to Cleaning a Couch with a Steam Cleaner
I'll be honest, I'm a busy mom of two, a business owner and we own two houses, I don't have a ton of time these days to hyper-focus on cleaning one piece of furniture. But I do need to clean both of our couches from little fingers and paws on a regular basis. Luckily, I came across this method which truly gave me peace of mind that I can basically get anything clean in a matter of minutes.
I'm also going to share a hack that I use to clean and disinfect every second-hand couch or piece of furniture.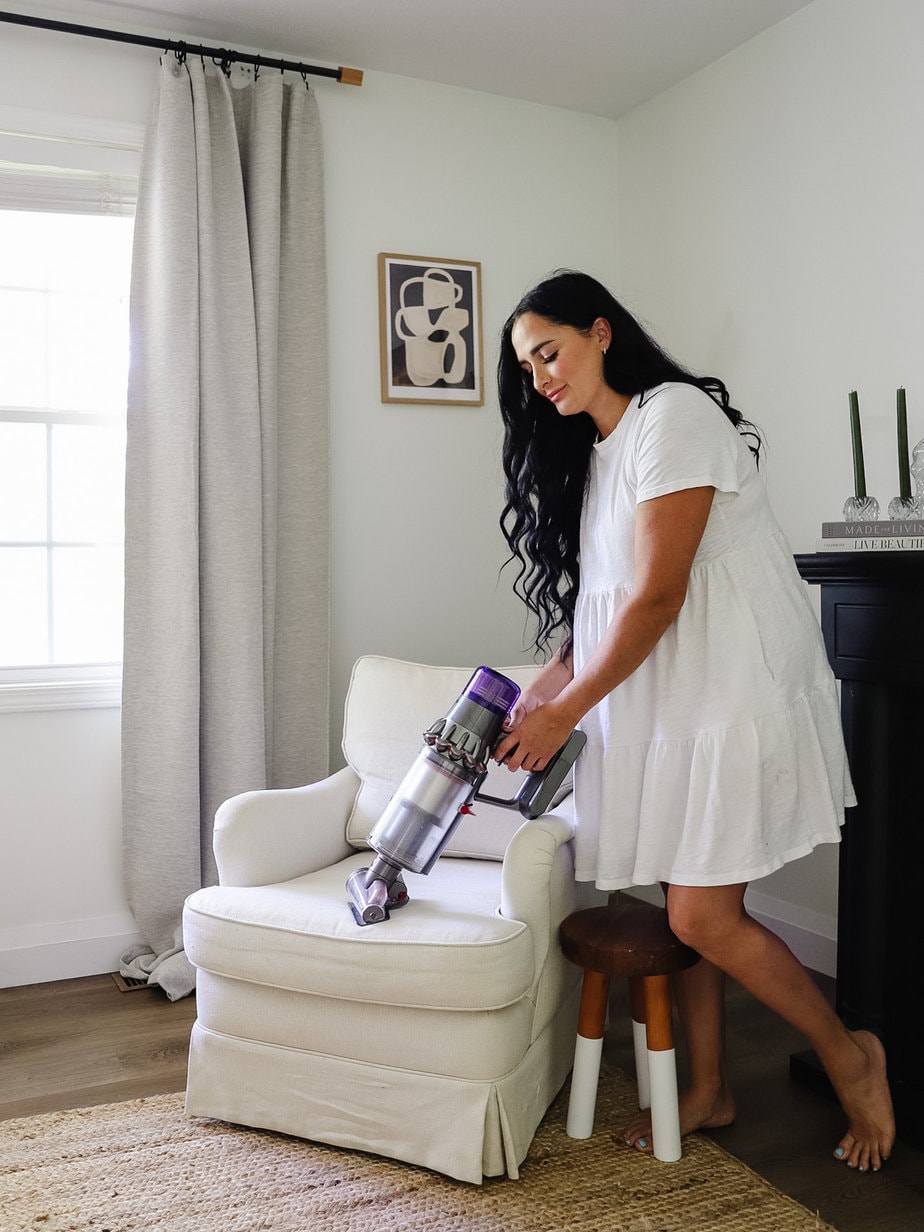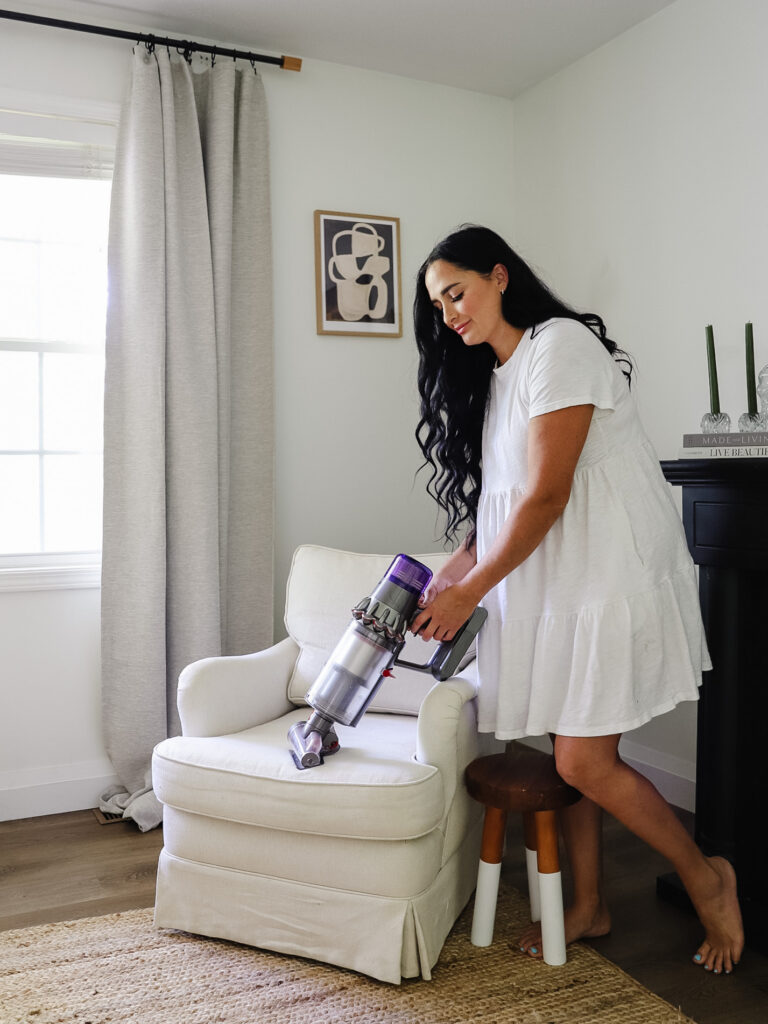 Step 1: Preparation
Vacuuming the Couch
The first step is to remove loose dirt and pet hair. I love and swear by my Dyson V11! It has all the attachments I need and incredible power so I don't have to worry about Scout's fine hair all over the place.
So you need to vacuum the entire couch, using a soft bristle brush attachment for upholstered furniture, paying attention to couch cushions and removable pillows. I also use the crevice tool for reaching between the corners of the couch or chair.
Dyson V11 Cordless stick vacuum
This versatile, cordless, and convenient vacuum is perfect for getting a whole house clean. It has 60% more power and 60 minutes of cleaning time. Plus comes with all the additional attachments you'll need.
Reading Manufacturer's Recommendations
Now, I've made this mistake before with a mattress. I didn't read the manufacturer's recommendations before and I basically stained the mattress so bad. So before starting the cleaning process, it's a good idea to check the manufacturer's instructions or cleaning code on your couch fabric. It will guide you on what cleaning agent or amount of water is safe for your fabric sofa.
Preparing the Cleaning Solution
Depending on your couch fabric, prepare a cleaning solution by mixing dish soap in warm water or a vinegar solution of equal parts white vinegar and cool water. The key is to avoid harsh chemicals as they can easily damage the fabric. Also, a good idea is to spot-test a small area first to ensure no adverse reactions with the fabric before using the mixture anywhere else.
Step 2: Choosing the Right Steam Cleaner
Whether you prefer a McCulloch steam cleaner, a handheld steam cleaner, or any other steam cleaning machine, ensure it's suitable for cleaning upholstery. A right steam cleaner emits high-temperature steam and has an adjustable steam pressure suitable for different types of fabrics. It's wise to rent or buy excellent cleaning equipment specialized for sofa cleaning, rather than using a carpet cleaner not designed for upholstery.
Top 3 Steam Cleaners for Couches
KIATO Handheld Steam Cleaner
This handheld steamer is not only perfect for couches but also for a multitude of different things like cars, walls, windows, and of course upholstery. It has a 450ml capacity and powerful steamer with 10 pieces of accessories.
GROBELL STEAM CLEANER
This highly-rated, chemical-free cleaner has 21 basic accessories and a 50-second heating design. Did we mention it's also super affordable!
Bissell Little Green Machine
Probably one of the best portable steam cleaners you could buy! It also comes with a stairwell tool, heatwave technology, and a trial size spot and stain formula and oxy boost formula.
Step 3: Cleaning in Small Sections
Applying the Cleaning Solution
Using a damp cloth or a microfiber cloth, apply the cleaning solution in small sections, ensuring you don't use too much water. Work in a circular motion, focusing more on stubborn and oil-based stains. You can sprinkle baking soda on strong odor areas and let it sit for a little amount of time before the next step. This works so well for a multitude of stains, and stubborn areas.
Steaming the Couch
Next, it's time to break out your steam cleaner. Fill the steam machine with clean water, and begin steaming in small sections for the best way to clean upholstery. Move in a slow and steady pace, allowing the hot steam to penetrate and break down the dirt. The steam pressure should not be too high to avoid damaging the fabric.
Step 4: Wiping and Drying
Wiping the Damp Area
After steaming, immediately wipe the damp area with a clean cloth or paper towel to remove the loosened dirt and excess water, preventing any residue from settling back into the fabric. Regularly rinse the cloth in clean water to avoid spreading the dirt around.
Drying the Couch
It's crucial to let the couch dry thoroughly before using it again. This drying process can be accelerated by using fans or dehumidifiers, or simply by allowing enough ventilation in the living room. Avoid exposing the couch to too much sunlight as it can fade the fabric.
Step 5: Final Touches
Once the couch is dry, you can always go back and do more spot-cleaning if any stains remain.
FAQ: How to Spot Clean a Leather Couch
If your couch has leather upholstery, wipe it down with a soft cloth and a mixture of water and mild dish soap, then condition the leather sofa as per the manufacturer's recommendations.
Regular Maintenance for Lasting Results
Keeping your couch clean not only restores it to its former glory but also extends its life. Regular cleaning, combined with the right tools like a stationary brush, is crucial. Using a steam mop for quick cleanups and following the care instructions from the manufacturer can keep your couch looking and smelling fresh.
Professional Cleaners Option
If you are cleaning your couch for the first time and are unsure about the type of fabric or the right techniques to use, seeking help from professional cleaners can give you a head start. They are proficient in handling different fabrics and types of stains and can ensure the safety of your fabric furniture.
Safety Tips
Never allow small children to be around while using a steam cleaner due to the risk of high-temperature steam.
Ensure the steam cleaner has completely cooled down before refilling it with water.
Always test a small, inconspicuous area first before cleaning the rest of the couch.
Steam cleaning is a highly effective method to renew your couch and remove stubborn stains, dust mites, and dust particles, without resorting to harsh chemicals. Following this comprehensive guide and using the right steam cleaner, you can restore your couch and other upholstered furniture in your living room to their pristine condition. Regular maintenance and cleaning are key to prolonging the life and beauty of your couch, ensuring a clean, fresh living environment for you and your loved ones.