This post is our expert tips to teach you how to paint bathroom cabinets without sanding them.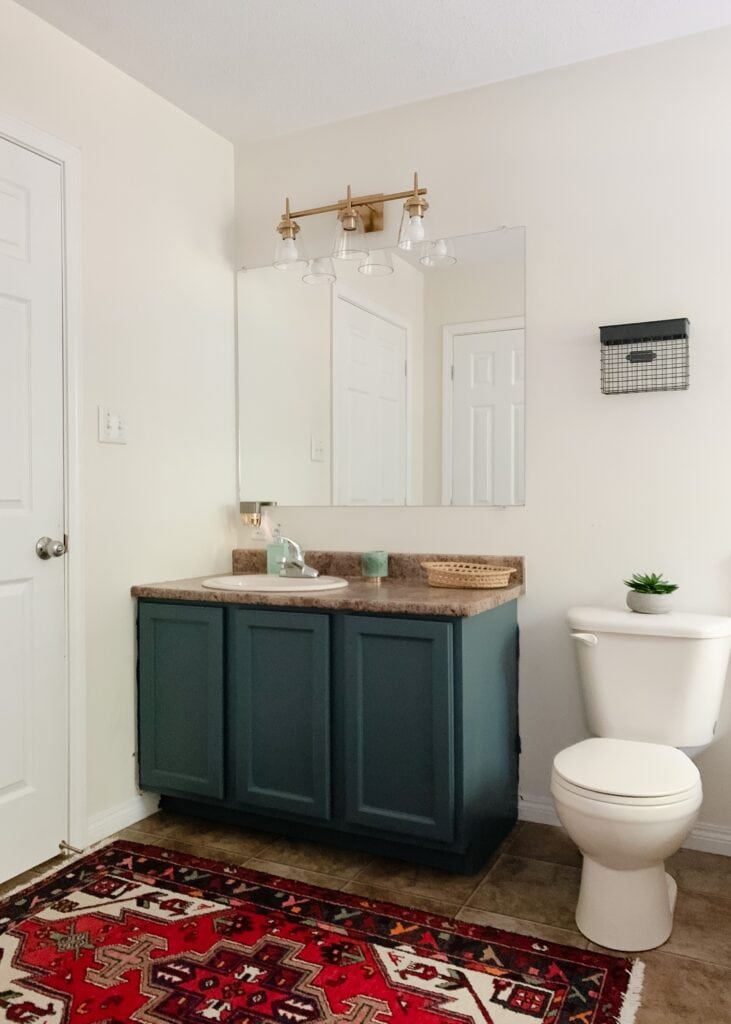 I remember when we bought this house, after selling our condo in the city. I knew buying it would mean we'd have to do a few renovations ourselves.
But of course, I assumed it would happen right away, instead, we're making slow progress over here.
Another reason I'm sharing this simple home improvement is to give hope to people like me who hate the way our house currently looks.
I hope by sharing these simple updates will help you see the beauty in your home, and maybe even fall in love with the home you are in right now.
Anyway, let's go over a few easy steps to paint bathroom cabinets yourself.
Did you see our latest updates on our Bathroom Makeover?
Our Unfinished Bathroom Vanity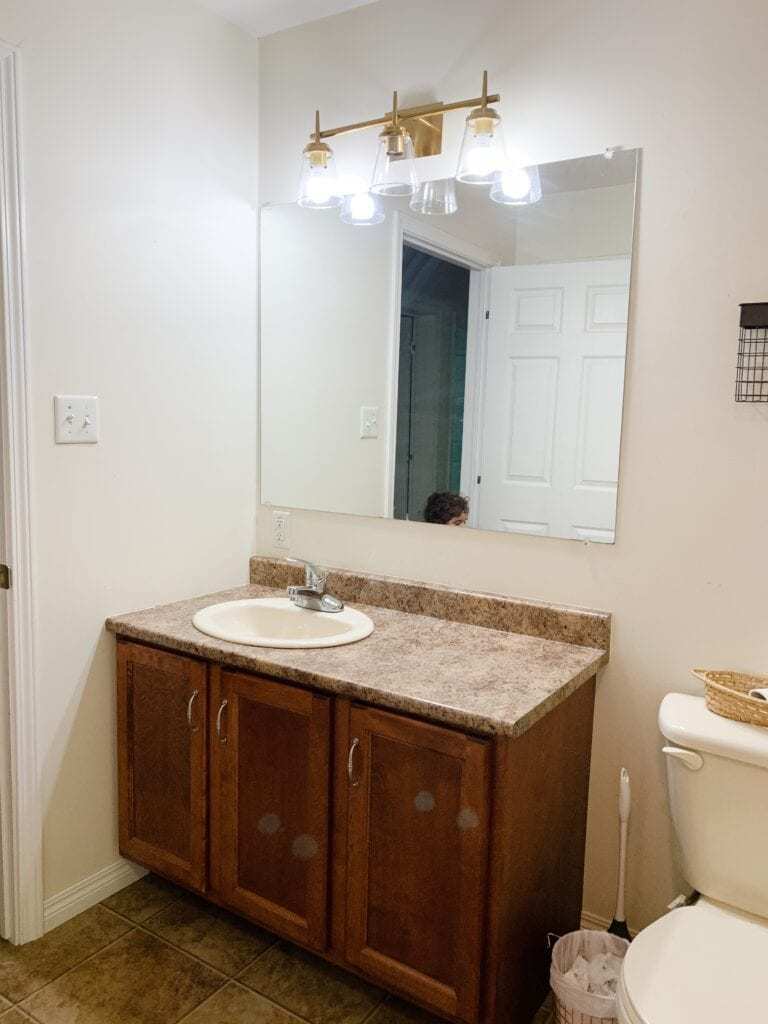 You can read more about our mini bathroom renovation here, including why I choose the color I did, and the European Farmhouse design.
I also want to note that this was how our house looked when we moved in. Except I did change out the previous light for this pretty gold one.
How to Paint Bathroom Cabinets without Sanding them
We originally planned on ripping out the old vanity and replacing the entire thing but since we're taking our time with the remodel I wanted to give the space a little makeover.
I had seen several photos on Instagram of painted vanities, and I'm not going to lie, it looked like a lot of work. Every one of the DIYs I saw took the doors and drawers off the hinges and brought them to a work area to sand. The sanding was the part I loathed the most, especially since 90% of those DIYers said that was the hardest part.
I knew there had to be an easier way.
Since we're planning a remodel anyway, I felt comfortable testing out my idea on our vanity. I figured if it went wrong I could just deal with it until it was time to change it out.
But as you'll see below, it turned out pretty amazing! So much so that I recreated the same DIY on our kitchen cabinets.
You also might be wondering how the painted cabinets hold up. and the truth is they still look as good as they did when I first painted. I've been thinking about writing a post and sharing an update on them soon. So if you have any more questions let me know below so I can include them in a future post.
Materials you Will Need
In order to paint a cabinet without sanding, you'll need to get a few things first:
Step-by-Step Guide to Painting a Cabinet without Sanding
Step 1: Clean the Cabinets
Take a damp cloth and wipe everything down. Make sure there is no dust or dirt on anything you plan on painting. You can also put down a drop cloth to protect the floors.
Step 2: Take off all the Doors, Drawers, and Knobs
Take off the door handles, pulls, and knobs by unscrewing them from the cabinet doors and drawers. You might want to save these to use again or if you're on a really tight budget try spray painting them!
Take off the cabinet doors by gently unscrewing them from the cabinet frame.
Step 3: Tape around the cabinets
Tape around the floors, walls, doors, and drawer fronts.
I also taped on the inside of the cabinets since I was leaving the inside white. Also, I did use wood filler in some areas that needed it.
Step 4: Start Priming
Start with a good primer like Behr's Kitchen, Bath, and Trim since it is very good acrylic paint. We know it can handle coverage over wood, glossy surfaces, and even oil-based paints.
I will say that I was told to use about 2 coats to cover any oil-based paints or if the cabinets were glossy. But I felt like I could have gotten away with even one coat of paint because the coverage was amazing.
Step 5: Wait for the Primer to Dry
I did wait at least a few hours before the painting so that the primer would have enough time to dry. I wanted to make sure we did a really good job with the primer since that's the key to this whole project.
Step 6: Start Painting!
After you finish with a coat of primer, you can start painting the topcoat! Adding whatever color you choose to the white primer is so satisfying.
For the top coat, I didn't use high-quality paint as I should have. I felt like I could have gotten more coverage with one or two coats if I choose something like this instead. So if you have a choice go for a higher-quality paint, and save yourself some time doing more coats.
I HIGHLY recommend Behr's Chalk Paint for furniture. I just used it on this Black Fireplace Makeover which you can check out as well.
Step 7: Wait for the Top-Coat to Dry Completely
Wait for the paint to dry completely before putting everything back in place. I waited overnight, and I was so happy with how it looked!
I will note that if you choose to use Behr's Chalk Paint for your cabinets, you will need to include an extra step. Since it is chalk paint you will have to use wax on top of the paint. But the outcome is beautiful and will hold up for years!
Why is Primer is Most Important Part of Painting Honey Oak Cabinets
Like I said, to avoid sanding the glossy honey-toned vanity you need to get a good primer. After asking a few other home DIYer friends, I found that the best primer was actually Behr's Kitchen, Bath, and Trim stain-blocking primer and sealer. Not only does the acrylic paint stick to the gloss but it covers the oak color in just one coat. Plus its quick drying time is perfect for painting the vanity in just one day.
Not to mention it has a smooth finish, without the need to lightly sand.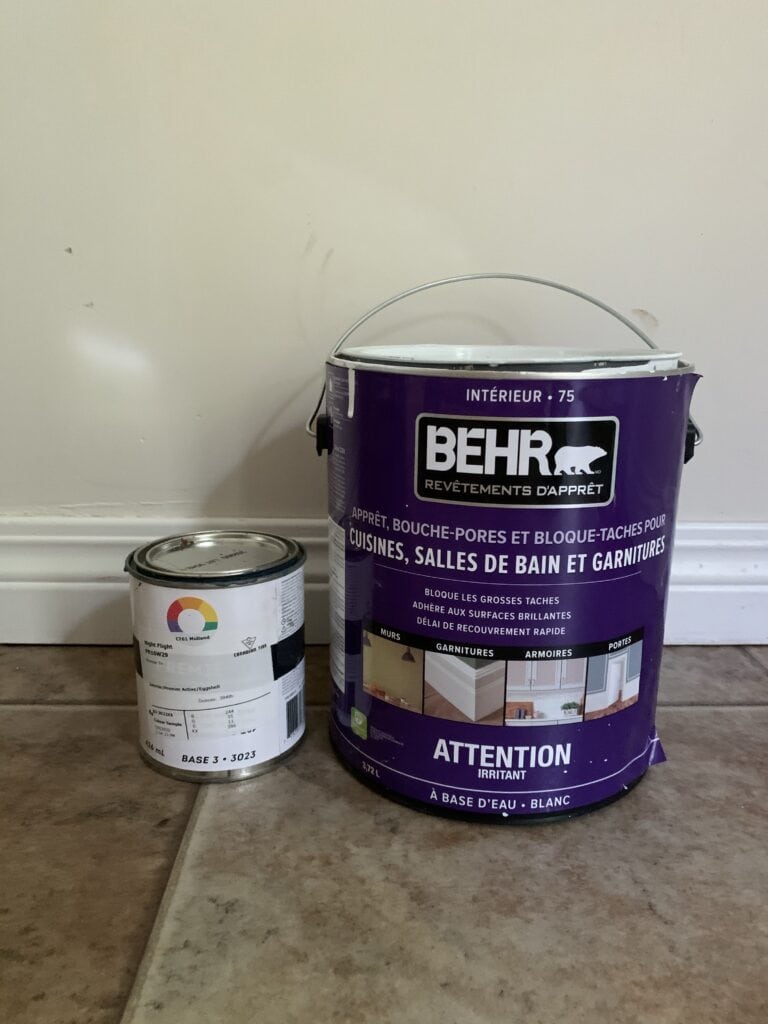 Questions about the Paint Color and Type of Paint.
When I shared a bit of this process on Instagram stories, I got a ton of questions asking about the paint color.
Home Improvement Tips
Painting Oak Kitchen Cabinets Pros and Cons
We know how much paint can instantly update a space, but what about oak kitchen cabinets? Here are the pros and cons, after having painted our cabinets a year ago.
It's called Night Flight by Premier Paint and we got it in Semi-Gloss.
However I would suggest sticking with a Behr Paint like this one specifically for painting cabinets or stick to the same brand as the primer.
Below is a photo of the exact color I used if you want to get it matched.
I was also asked if the topcoat is acrylic or latex paint?
I got the acrylic paint and primer because both we're able to cover the gloss on the oak cabinets.
However, If you have the option this paint is also a great option! Just a reminder you can shop all everything I mentioned in the "Shop the Post" section below.
Once you're all done you can check out 7 easy bathroom updates you can do yourself when you can't afford a remodel. It's where I've compiled all our favourite DIYs and the ideas we used to makeover our bathroom. Plus you can see how our bathroom looks today, after all the easy updates we did.
In the meantime, don't forget to pin this for later!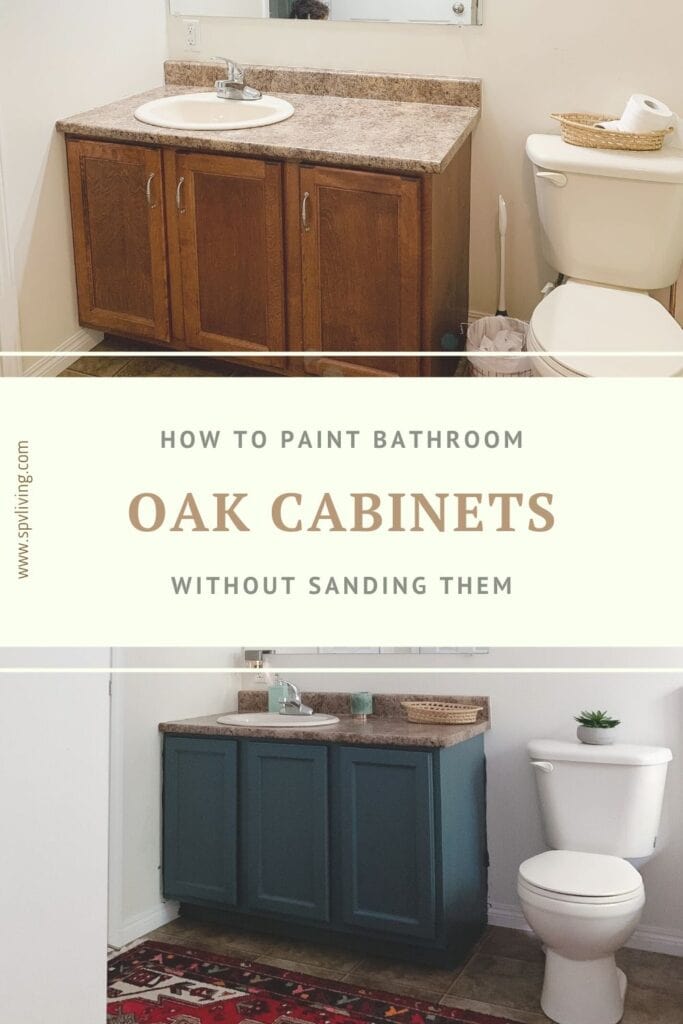 Moody French Cottage Bathroom Paint Colours
Design Inspiration: European Farmhouse Bathroom