A Newborn and Toddler Shared Room Design Plan
We are sharing the kid's shared room design plan, the challenges, and what we have coming up.
We first started this project as part of the One Room Challenge this past spring. But life got really crazy, we had a baby and four months later I'm finally ready to pick it back up again. This means we're back at the beginning and we're sharing our design plans for the kid's bedroom makeover.
But first a quick recap:
We have a three-bedroom, 1200 sq.ft bungalow
I work from home
We just had our second baby
Oh, and we don't have a basement (yet, that's coming soon).
Until we have more space our newborn and three-year-old will be sharing a bedroom together.
Now, most of you are probably thinking that is absolutely crazy! But I'm really glad we made this decision and several months later I'm happy with how things worked out. Also, I'm lucky both of our children happen to be amazing sleepers or I don't think this would have been a wise decision.
Choosing a Theme
Since this is a temporary solution, a few years at most I figured why not design a REALLY fun space for the kids. Even though I remember saying I would never do a themed room for the kids, I am now eating my words.
The plan is to design around a specific theme, and I think after searching for inspiration on Pinterest I've finally figured it out. We are going to go with a jungle-theme room, with an emphasis on hygge, cottage eclectic.
The Before & The Challenges
Now that we've got the direction and theme figured out, we can chat a little bit about the room itself and what challenges we have in the design.
Fun fact: This room was originally my office, but after finding out we needed more room for our soon-to-be family of four. I gave it up in exchange for the smallest room in the house and gave the two kids the bigger room.
Actually, before the office makeover, it was our guest bedroom. So needless to say it's been through a few changes since we moved in.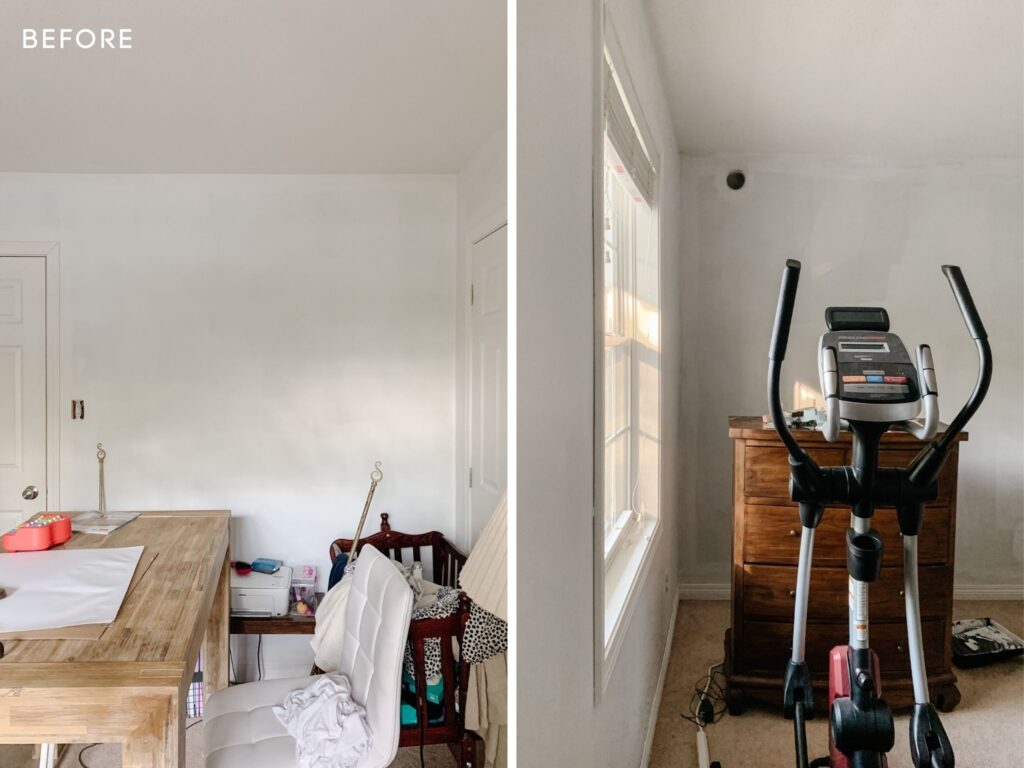 The room has been primed and it is all ready for the new paint color. We also removed the curtains leaving only the window treatments up.
However, the only challenge with this design is with the wall-to-wall carpets. I wish we had the time and budget to replace the carpet because I would love to continue our flooring in each bedroom. Sadly that project will have to wait until next year and we'll have to make do with it for now.
But don't worry because I have a few ideas for covering up the scary brown carpets and I'm sure you will barely notice them once I'm done.
The Kids Shared Room Design Plan
Okay, are you ready to see the kids shared room design plan?
It is so good! I can't wait to get this put together and reveal it in a few short weeks.
The Breakdown
Wallpaper
The wallpaper was the first thing I picked out and it's the one piece I'm designing everything else around.
It's called "Jungle Friends" from Timberlea Wallpaper.
The Crib
I chose a white crib, only because we already have a white crib from when Penelope was a baby.
It's currently missing a spindle and my dad's taking it to fix it for me.
Rugs
The rugs are probably one of my favourites, because this 5×7 jute rug is the perfect addition to our jungle-safari themed room.
Not to mention this tiger rug completes the space and I'll definatly share more about it soon.
Art
Art was crutial to our design, and I really wanted something fun that balanced the wallpaper on the otherside of the room.
We choose to go with fun, bright printables from places like Minted and Lindsay Letters co.
I'm also going to be adding a fun letter board where I can write cute notes to the kids.
Dresser & Toddler Bed
Both the dresser and the toddler bed are from Ikea.
I thought about painting them a color I've pulled from the wallpaper but I thought it also looked good by leaving it.
The blue, stripped bedding is also from Ikea.
Lighting
Canopy
I am so excited for this canopy! It's from an etsy dealer who is extremly nice to work with. She had it shipped to me and delivered in three days. Which is pretty much unheard of these days.
I choose the rust color because I wanted it to feel like you are on a safari in the jungle.
Paint Colors
We're fininshing this design off with a quick chat about the paint colors.
I actually grabbed a sample deck from Farrow & Ball and choose three colors from the wallpaper. In the end I choose to go with Card Room Green from Farrow & Ball.
Well, that is all I have for you today and I hope you are as excited as I am to see the reveal in a few weeks! Let me know if you have any questions.