The Ultimate Romantic Getaways in Ontario for Couples in 2023
This post contains links to affiliate websites, such as Amazon, and we receive an affiliate commission for any purchases made by you using these links. We appreciate your support!
Post Summary: This is the only guide you'll need for the best getaway in Ontario for couples, including my personal reviews of getaways we've visited.
Ontario is known for its beautiful landscapes and charming small towns, offering couples the perfect setting for unforgettable romantic getaways. From the natural beauty of Niagara Falls to the vineyards of Prince Edward County, there's a perfect place for every couple to escape the hustle and bustle of daily life and spend quality time together.
Let's explore some of the best places for couples to create lasting memories in the heart of Southern Ontario.
The Ultimate List of Getaways for Couples in Ontario
Depending on your couple's style, we've rounded up amazing getaway experiences in Ontario! These destinations are wonderful year-round and set the perfect backdrop for romance, reconnection, and relaxation.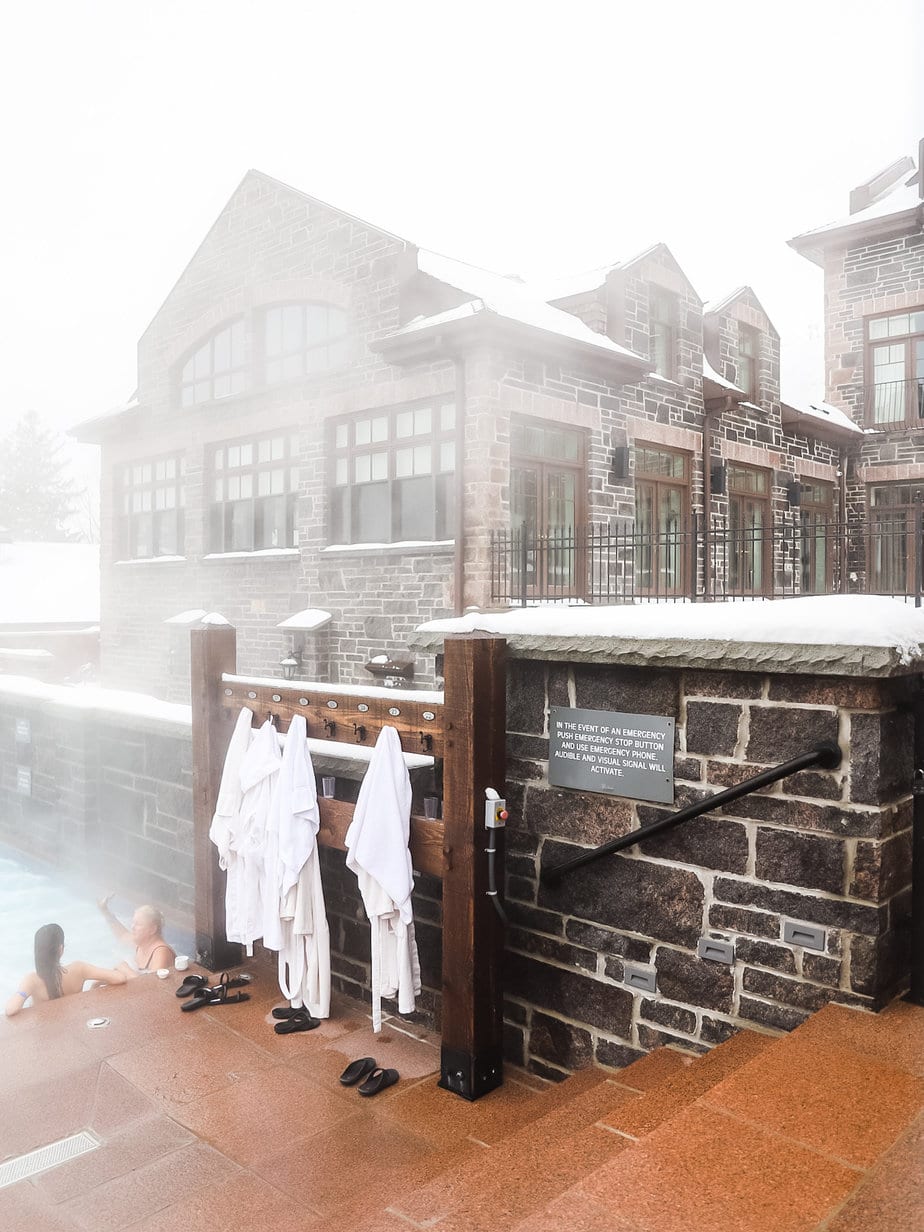 Nestled in the tranquil countryside of Grafton, Ste. Anne's Spa offers a haven of peace and rejuvenation, making it the ultimate destination for couples looking for a restorative getaway in Ontario. Unlike traditional resorts, Ste. Anne's Spa focuses on holistic wellness and provides a serene backdrop where couples can detach from the demands of daily life and reconnect with each other. Housed in a stunning stone castle that exudes old-world charm, and kind of reminds me of a scene from Pride and Prejudice. The spa prioritizes a soothing and intimate environment, allowing guests to focus on themselves and their well-being. The resort's sprawling grounds feature beautifully landscaped gardens, walking trails, and scenic viewpoints, offering couples a chance to enjoy nature's beauty in a secluded setting. With its commitment to nourishment of body, mind, and relationship, Ste. Anne's Spa stands as a unique sanctuary for couples to revitalize and rekindle their connection. 
We were very impressed not only by the incredible services, and hospitality but also by the gourmet dinner, lunch, and breakfast. The focus is on local farm fresh food and an impressive vegan selection, so everyone can enjoy the delicious food. We spent one night this past February and stayed at one of their cottages on the grounds. It is truly one of the best romantic getaways in Ontario. You can choose to visit for a few hours or spend a night or two on the property with an all-inclusive package.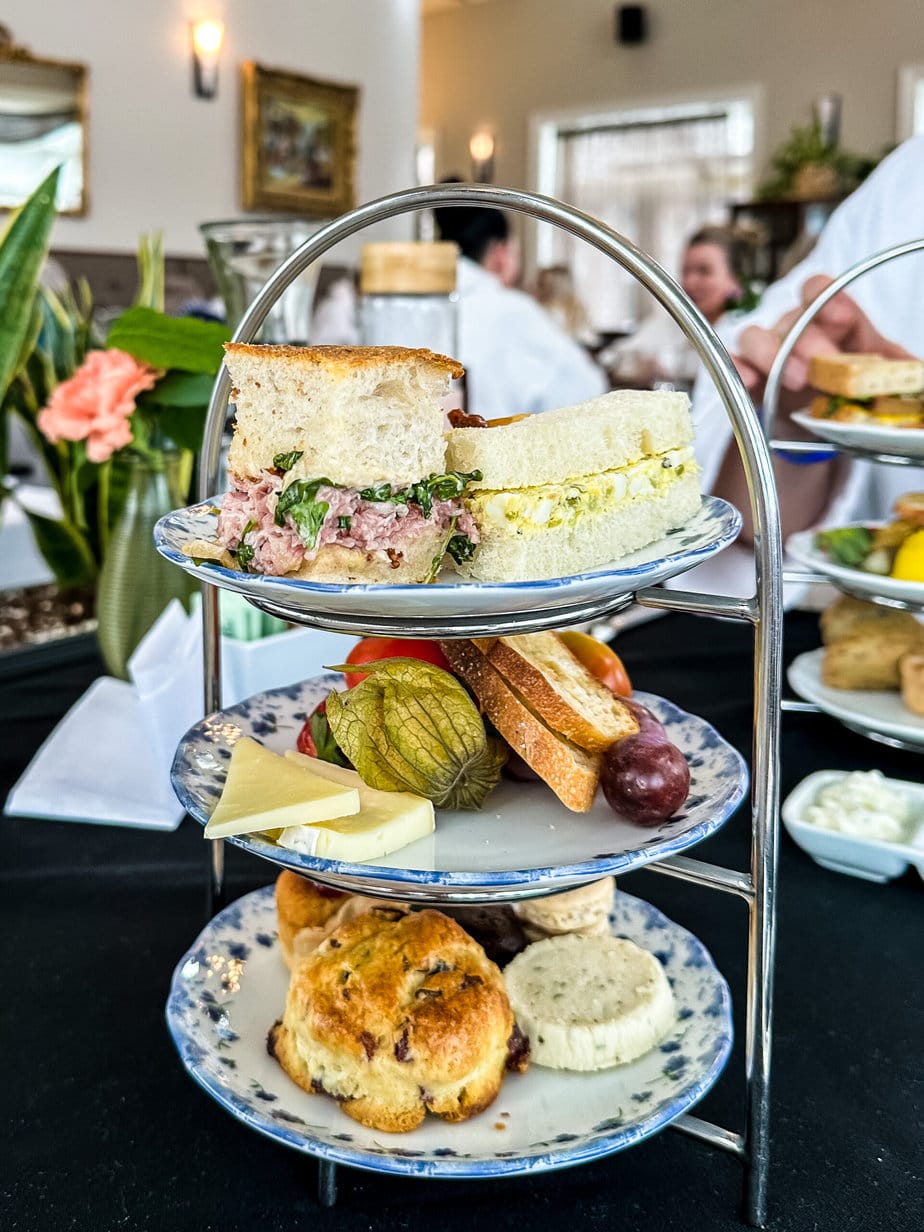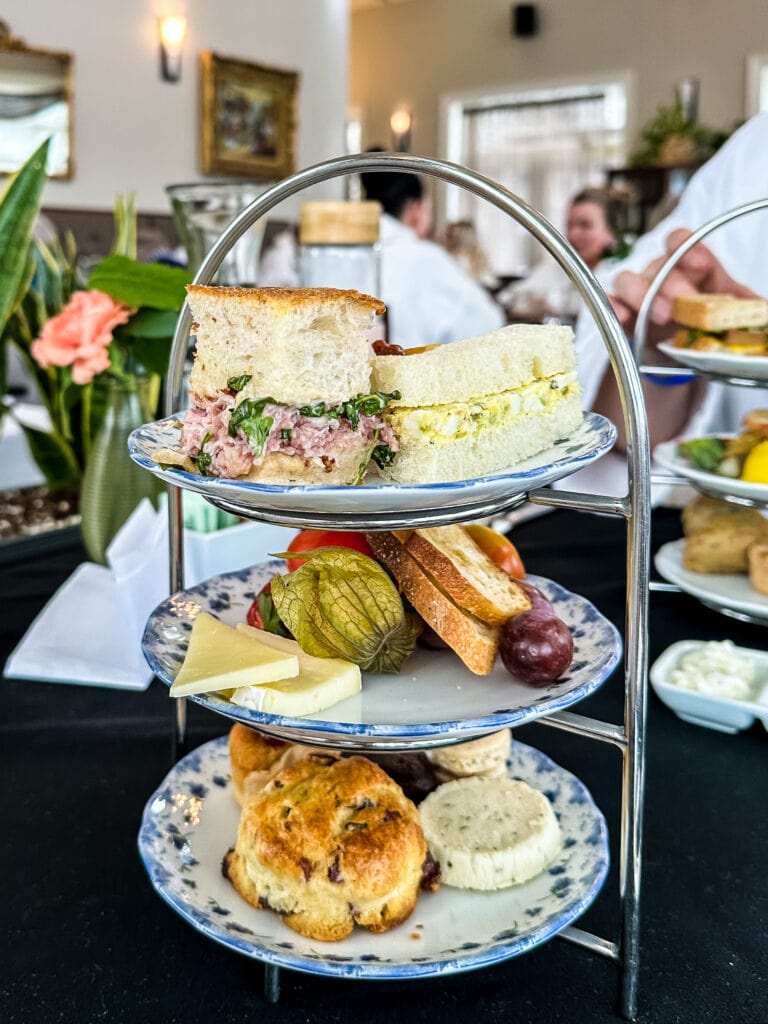 In terms of amenities, Ste. Anne's Spa offers an extensive list that promotes relaxation and wellness. At the heart of the experience is the award-winning spa facility, which offers an incredible list of treatments such as couples massages, facials, hydrotherapy, and even equestrian yoga. Guests can also indulge in the wellness classes offered, ranging from meditation sessions to cooking classes aimed at promoting a healthy lifestyle. Accommodations are designed with comfort and privacy in mind, featuring rooms and cottages furnished with antiques, cozy fireplaces, and plush bedding—dining at Ste. Anne's is another highlight, with a focus on wholesome, farm-to-table cuisine that nourishes both body and spirit. Additional amenities include heated outdoor pools, a hydrotherapy circuit, and a plethora of seasonal outdoor activities like hiking and snowshoeing. With its robust wellness offerings and romantic setting, Ste. Anne's Spa provides the ideal conditions for a truly memorable and rejuvenating couples' getaway in Ontario.
We were lucky enough to visit Ste. Anne's Spa this past February for a relaxing girls' getaway and highly recommend a visit with your significant other, a group of girls, or even solo for some rest and relaxation.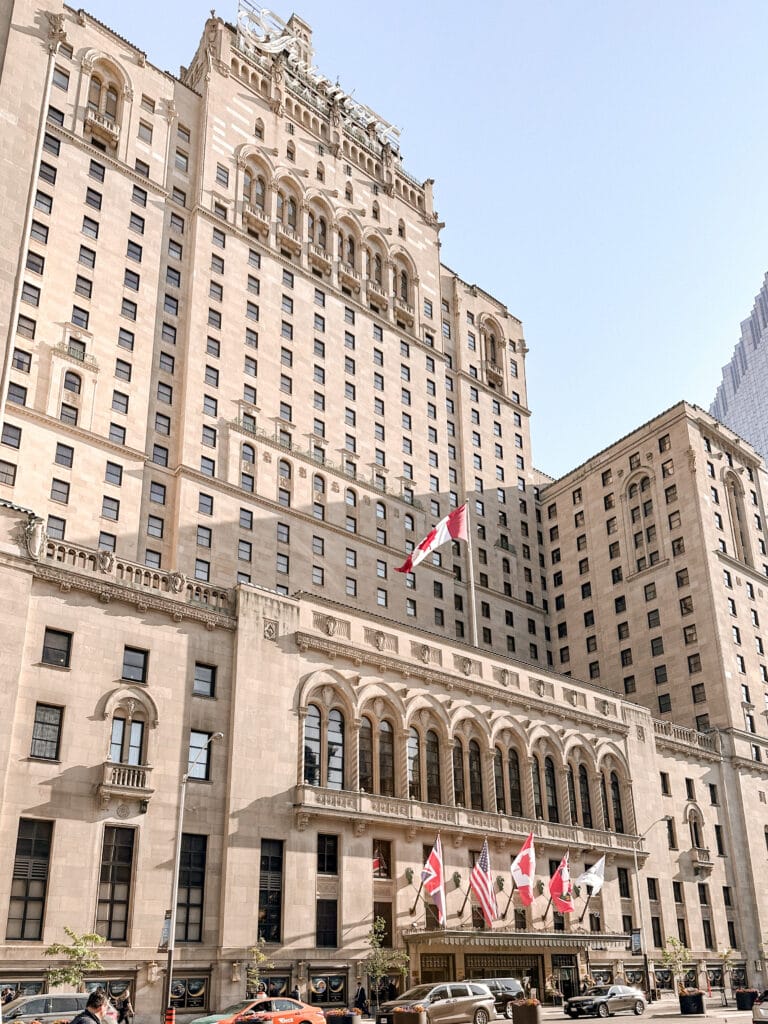 We loved our visit to the Fairmont Royal York in Toronto this past summer and it's always on our list of places to recommend when asked by readers, friends, and family!
The Fairmont Royal York, located in the heart of downtown Toronto, offers an unparalleled romantic experience that's perfect for couples seeking a luxurious getaway in Ontario. Combining historic charm with modern elegance, the luxury hotel boasts an ambiance of grandeur that takes you back in time while offering all the comforts of the 21st century. Whether you're celebrating an anniversary, a special occasion, or simply wanting to escape the daily grind, this historic hotel provides the ideal setting for couples looking for a romantic escape to the city. The beautifully designed rooms and suites feature opulent furnishings and offer spectacular views of the Toronto skyline or Lake Ontario. Moreover, the hotel's award-winning culinary experiences, from high-end dining to casual eateries, offer couples a chance to indulge in a gastronomic journey without even leaving the premises.
I would personally recommend the Gold Experience for an extra cost. Not only do you get access to member-only amenities, but you also get one of the updated rooms in the building, plus the following list: 
Luxury accommodations in a Fairmont Gold Room or Suite
Private check-in on the 18th floor
Personal concierge to customize your stay
Deluxe breakfast and evening canapés served in the Fairmont Gold Lounge
SkinJay aromatherapy spa shower
Complimentary Wi-Fi
One of the standout features that make the Fairmont Royal York the go-to destination for couples is its extensive range of amenities. Guests have access to a state-of-the-art health club, complete with an indoor pool, steam rooms, and a fully equipped gym, providing plenty of options for relaxation and rejuvenation. For a more indulgent experience, the on-site spa offers a variety of treatments tailored to pamper and revitalize. Culinary delights can be found in multiple dining options, including a rooftop bar with panoramic city views and a gourmet restaurant serving international cuisine. Additional amenities such as 24-hour room service, concierge services, and a pet-friendly policy ensure that every need is catered to. Whether you're looking to explore the city's attractions or simply unwind in a luxurious setting, the Fairmont Royal York offers an all-encompassing experience that's perfect for couples.
Tucked away in the scenic town of Niagara-on-the-Lake, the Pillar and Post Inn offers a unique blend of rustic charm and modern luxury, making it a perfect escape for couples looking for a romantic getaway in Ontario. Renowned for its original 19th-century architecture, the inn creates an ambiance of historical elegance that is complemented by lush gardens and contemporary comforts. Its location is ideal for couples who want to explore the best of the Niagara region, offering proximity to world-class wineries, theaters, and shops. What truly sets the Pillar and Post apart, however, is its focus on creating an intimate and relaxing experience. From the candlelit dining room serving gourmet farm-to-table meals to the cozy, well-appointed rooms, every detail is carefully curated to promote a sense of romance and seclusion.
In terms of amenities, the Pillar and Post leaves no stone unturned to ensure guests have a memorable stay. One of its standout features is the award-winning 100 Fountain Spa, complete with a heated indoor saltwater pool, hot springs, and a wide range of treatments aimed at rejuvenating both body and soul. The accommodations are equally impressive, featuring plush bedding, fireplaces, and in some cases, private balconies or patios. For dining, the Cannery Restaurant on-site offers a culinary experience that captures the essence of local flavors, paired with an extensive wine list featuring the best of the Niagara region. Additional amenities include a modern fitness center, complimentary shuttle service to the town's downtown area, and bike rentals for those wishing to explore the scenic surroundings. Whether you choose to indulge in a couple's massage, enjoy a wine-tasting tour, or simply lounge by the pool, the Pillar and Post offers a wide range of amenities designed to make your romantic getaway truly unforgettable.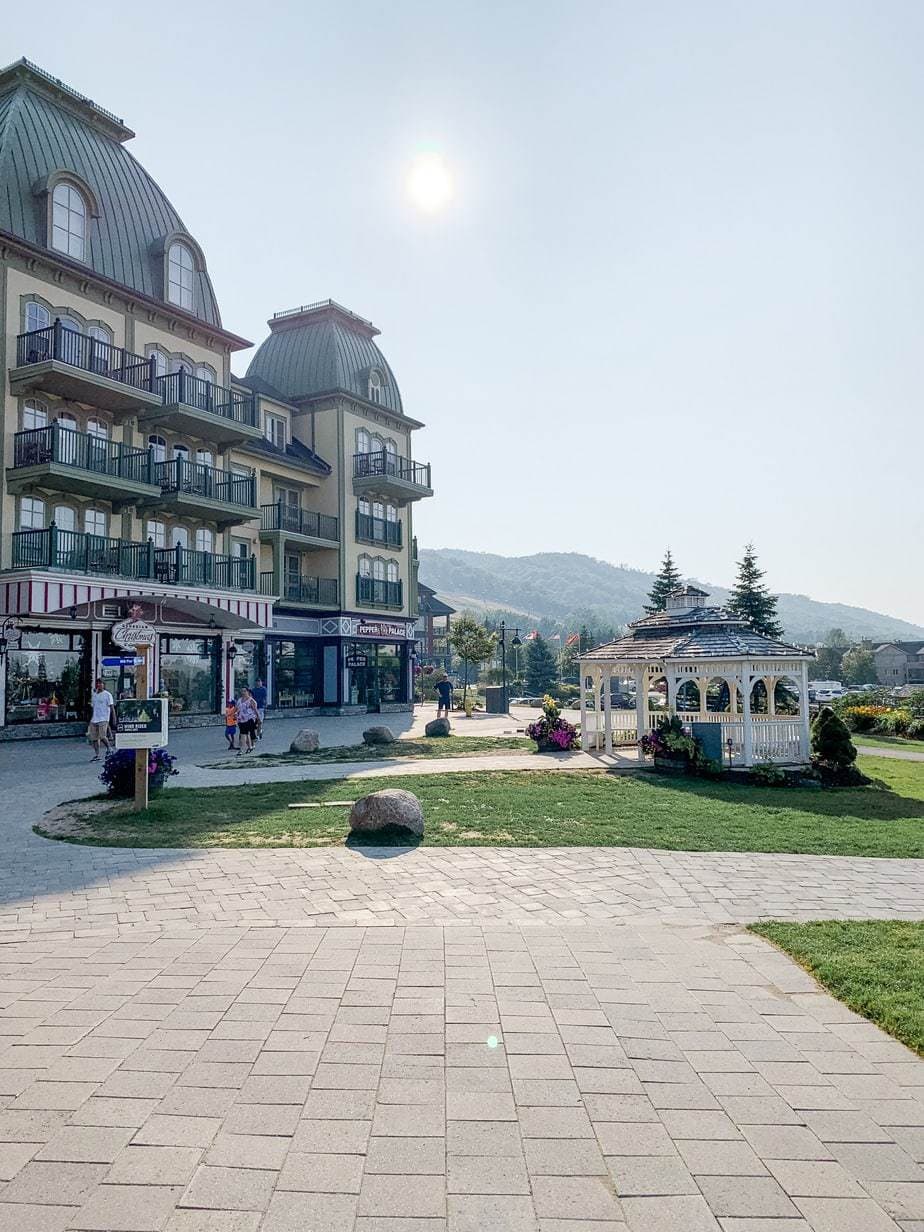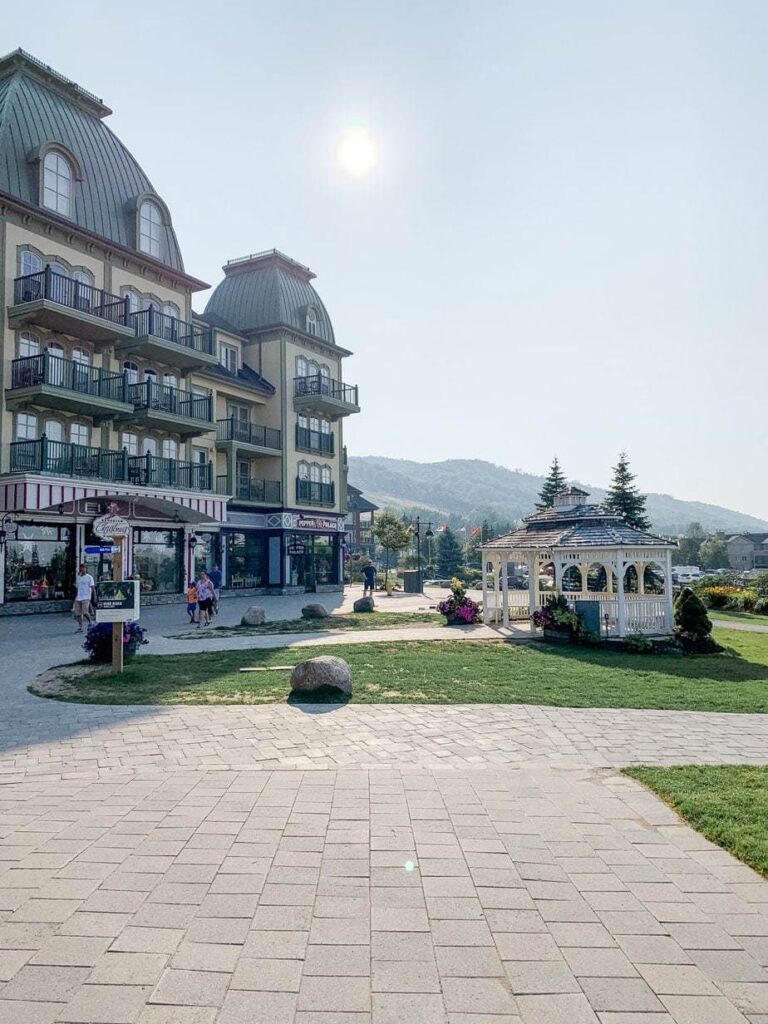 If you're looking for a romantic escape with plenty of outdoor activities, Blue Mountain Resort is for you! Specifically, a stay at The Westin Trillium House in Blue Mountain offers an unparalleled setting for couples seeking both adventure and relaxation in Ontario. Nestled against the backdrop of the majestic Blue Mountain range, this luxurious resort blends seamlessly into its natural surroundings, providing guests with breathtaking vistas and immediate access to a myriad of outdoor activities no matter the season. During the winter, couples can take to the slopes for an exhilarating day of skiing or snowboarding, while the warmer months offer hiking, mountain biking, and zip-lining. After an action-packed day, the romantic atmosphere of the resort awaits, featuring elegant accommodations that serve as a private sanctuary where couples can unwind and reconnect. With its year-round offerings and close proximity to both nature and sophistication, the Westin Trillium House encapsulates the essence of a perfect romantic getaway.
When it comes to amenities, the Westin Trillium House goes above and beyond to ensure a lavish and comfortable experience. The resort offers a range of upscale accommodations, complete with Heavenly Beds, gas fireplaces, and balconies that overlook either the mountain or the Mill Pond. The on-site Oliver & Bonacini Café Grill provides a gastronomic adventure, offering a diverse menu that caters to all palates. For those looking to pamper themselves, the resort boasts a full-service spa, complete with a variety of treatments designed for relaxation and rejuvenation. Additional amenities include an outdoor heated pool and hot tubs, a 24-hour fitness center, and a game room. The resort also offers ski-in, and ski-out access during the winter season, and in the summer, couples can enjoy the beautiful town, grab an ice cream, and paddle boarding or go kayaking on the Mill Pond. With its year-round activities of both recreational and relaxing amenities, the Westin Trillium House stands as an oasis of luxury and adventure for couples visiting Ontario.
We've been fortunate enough to visit Blue Mountain on several occasions and always look forward to our next visit!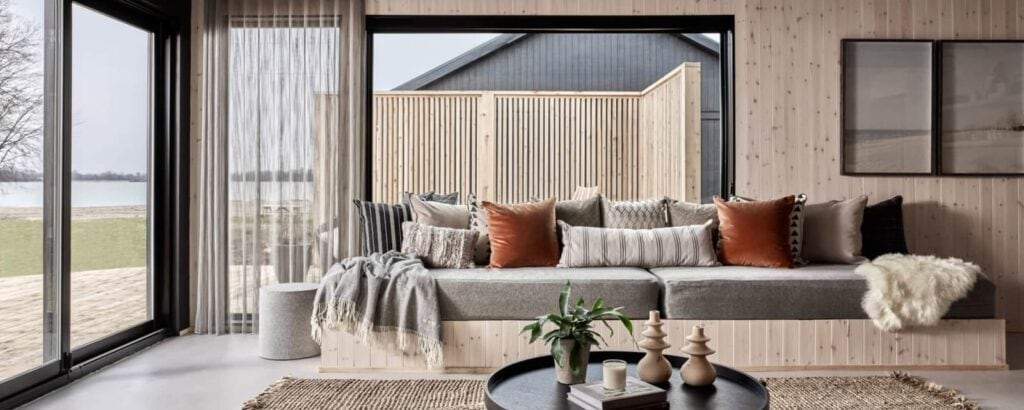 A short drive from Toronto, The Wander Resort in Prince Edward County stands as a haven for couples seeking a serene and intimate escape amid the natural beauty of Ontario. Far removed from the hustle and bustle of city life, this resort offers a unique blend of rustic charm and modern luxury, making it an ideal location for a romantic getaway. Guests are treated to breathtaking views of Lake Ontario and the surrounding landscape, giving them the feeling of being completely enveloped by nature. What makes the Wander Resort even more special for couples is its focus on creating personalized experiences. Whether it's a lakeside picnic, a wine tour of local vineyards, or a leisurely bike ride through the countryside, the resort offers a plethora of activities that allow couples to bond and make cherished memories.
When it comes to amenities, the Wander Resort leaves no stone unturned in offering a comfortable and fulfilling stay. Accommodations range from quaint cabins to upscale suites, all designed to fit the aesthetic of a cozy, romantic retreat. Each lodging option comes equipped with modern amenities like Wi-Fi, flat-screen TVs, and luxurious bedding, making sure guests have all they need to relax and enjoy. Nature enthusiasts will particularly appreciate the kayaks, canoes, and paddleboards available for exploring Lake Ontario, while those seeking relaxation can take advantage of the resort's spa services. Additional offerings include an outdoor swimming pool, fire pits perfect for a romantic evening under the stars, and a farm-to-table restaurant that sources ingredients locally, providing an authentic and fresh culinary experience. With its stunning location and plethora of amenities, the Wander Resort in Prince Edward County stands as the epitome of romantic escapism in Ontario.
​Prince Edward County is next on our list of places to visit and we look forward to sharing more this winter!
Cottage Entertaining
Here's How to Have a Romantic Beach Picnic
Looking for a romantic idea for dinner? We've got you covered with our favorite romantic beach picnic ideas, from pizza and music to stargazing and movies.
Nestled in the charming village of Elora, the Elora Mill Hotel provides an enchanting backdrop for couples looking for an intimate and luxurious retreat in Ontario. What sets this hotel apart is its captivating location—perched atop a cliff overlooking the Grand River and Elora Gorge. This unique setting offers an atmosphere of secluded romance, where the natural beauty of the surrounding landscape is as much a part of the experience as the hotel's fine architecture and décor. The Mill itself, a historic structure transformed into a modern-day haven of elegance, offers a rich blend of past and present. From the intricately restored stonework to the sumptuous furnishings and fine dining options, every detail at the Elora Mill Hotel is curated to offer couples an unforgettable romantic experience. Whether it's a celebratory weekend, a honeymoon, or simply a well-deserved break, this hotel knows how to make love feel grand yet intimate.
The amenities at the Elora Mill Hotel are designed to pamper and elevate your stay into a sublime experience. Each of the hotel's suites is a masterpiece of luxury and comfort, featuring lavish bathrooms, premium bedding, and unparalleled views of the river and gorge. For relaxation and wellness, the hotel offers a state-of-the-art spa, complete with a range of treatments that include massages, facials, and body scrubs—all designed to rejuvenate both body and spirit. Dining is another highlight, with a range of options that include an upscale restaurant serving gourmet meals prepared from locally sourced ingredients. For the more adventurous, the hotel also offers guided tours that allow guests to explore the natural beauty of the Elora Gorge. Additional amenities include an outdoor hot tub, a fitness center, and seasonal outdoor activities such as hiking, zip-lining, and tubing, providing a mix of leisure and adventure. With its stunning location, luxurious accommodations, and comprehensive amenities, the Elora Mill Hotel is undoubtedly one of the finest destinations in Ontario for a romantic couples getaway.
The Fairmont Chateau Laurier in Ottawa offers an extraordinary experience for couples in search of romance, luxury, and cultural enrichment. This iconic hotel, often described as Ottawa's "castle," radiates timeless elegance and grandeur, providing a palatial setting that captures the essence of love and intimacy.
Its location is second to none; the hotel sits majestically next to the Parliament Buildings and overlooks the Rideau Canal, putting guests in close proximity to the city's most fascinating historical landmarks and vibrant neighborhoods, like museums, shopping, and more. But I fell in love with the hotel's exquisite interior, which boasts sumptuous furnishings, fine artwork, and intricate architectural details reminiscent of a bygone era. Whether you are celebrating a milestone or simply indulging in a spontaneous romantic escape, Fairmont Chateau Laurier offers a blend of history, luxury, and location that is truly unparalleled.
The range of amenities at the Fairmont Chateau Laurier speaks to its commitment to superior comfort and world-class service. Guest rooms and suites offer the perfect mix of old-world charm and modern conveniences, complete with plush beds, high-speed Wi-Fi, and opulent bathrooms. The on-site dining options are nothing short of exquisite, ranging from casual eateries to fine-dining establishments that offer sumptuous culinary experiences. For relaxation and wellness, the hotel features a state-of-the-art fitness center and indoor Art Deco swimming pool, as well as a range of in-room spa services to pamper and rejuvenate. The hotel is also pet-friendly, so couples can enjoy their stay without leaving their furry companions behind. Additional amenities include 24-hour concierge services, valet parking, and tailored itineraries to help guests explore the best of Ottawa's arts, culture, and history. With its lavish accommodations and wide array of premium amenities, the Fairmont Chateau Laurier provides an idyllic setting for a truly memorable couples getaway in Ontario.
The aptly named Couples Resort in Algonquin Park is a sanctuary designed exclusively for couples seeking an intimate and secluded getaway in the heart of Ontario's wilderness. Unlike other resorts that cater to families or larger groups, this establishment focuses solely on providing an idyllic romantic setting, allowing couples to fully immerse themselves in each other's company. Situated on the shores of Galeairy Lake and in close proximity to Algonquin Provincial Park, the resort combines natural beauty with luxury, offering a wide array of outdoor activities right at your doorstep. From hiking and canoeing in the summer to dog sledding and ice skating in the winter, Couples Resort provides a year-round haven for couples to engage in both adventurous and relaxing activities together. This focus on shared experiences, combined with the stunning natural landscape, makes it the ultimate romantic getaway in Ontario.
When it comes to amenities, Couples Resort spares no effort in making sure your stay is as luxurious and enjoyable as possible. The resort offers a variety of upscale accommodations, ranging from spacious suites to private chalets, all equipped with Jacuzzis and wood-burning fireplaces. Room service is available 24/7, allowing you to indulge in gourmet dining without ever leaving your room. For those who wish to venture out, the resort features a fine dining restaurant that serves a five-course meal every evening, adding a touch of culinary sophistication to your stay. Wellness is a priority here, and the on-site spa provides a comprehensive menu of treatments, from couples massages to facials. Additional amenities include an outdoor heated pool, private patios or decks with lake views, complimentary canoes and kayaks, and even an art gallery featuring works from Canadian artists. Whether you're seeking action or relaxation, Couples Resort offers a diverse range of amenities tailored to make your romantic getaway an unforgettable experience.
Still trying to decide where to stay for your next couples getaway? We've summarized each location based on the type of experience you can expect from that location (because we know how busy you are and planning one more thing right now likely seems impossible)!
Best Romantic Ontario Getaways
Best Luxury Getaway: Fairmont Royal York
Best Ontario Romantic Getaway: Elora Mill Hotel
Best for Spa Experience Getaway: Ste. Anne's Spa
Best Unique Getaway: Wander Resort in Prince Edward County
Best Romantic Getaway for Adventurers: Westin Trillium House in Blue Mountain
Best Secluded Getaway: Algonquin Park
Best Getaway with Historical Charm: Fairmont Chateau Lorier
​Best Getaway for Shopping and Theatre: Niagra on the Lake
Now that we've rounded up 8 of our favorite Ontario locations for the ultimate Ontario Couples getaways, let's dive into a few FAQs about making the most of your weekend away!
How Do I Plan a Romantic Getaway?
Planning a romantic getaway involves careful consideration of your partner's preferences and interests. Here's a step-by-step guide to help you plan a memorable trip:
Discuss Preferences and Budget: Talk with your partner about what type of getaway they'd enjoy. Are they more inclined towards a beach vacation, a mountain retreat, a cultural city trip, or something else? Determine your budget to help narrow down options.
Choose the Destination: Based on your discussions, research and select a destination that aligns with both of your interests. Consider factors like climate, activities available, and the overall atmosphere.
Select Accommodations: Look for accommodations that offer the level of luxury or intimacy you desire. Options could include boutique hotels, cozy bed-and-breakfasts, private cabins, or even unique Airbnb listings.
Plan Activities and Experiences: Consider what activities you both enjoy. This could range from relaxing on the beach to exploring cultural sites, hiking, trying local cuisine, or enjoying spa treatments. Be sure to include a mix of planned activities and free time for spontaneity.
Make Reservations in Advance: If you plan on dining at specific restaurants, attending shows, or booking special experiences, make reservations well in advance to ensure availability.
Pack Thoughtfully: Consider the weather and planned activities when packing. Don't forget essentials like travel documents, chargers, and any special items you want to bring along.
Add Personal Touches: Consider surprising your partner with small gestures like a handwritten note, a special playlist, or their favorite snacks or treats.
Create a Romantic Atmosphere: Once you arrive, set the mood. Consider bringing along candles, flowers, or other items that can create a cozy and romantic atmosphere in your accommodation.
Unplug and Be Present: Disconnect from work and digital distractions as much as possible. Focus on spending quality time together and enjoying the experience.
Capture Memories: Take photos or keep a travel journal to remember the special moments you share.
Be Flexible: While it's good to have a plan, be open to spontaneity. Sometimes the best moments happen when you least expect them.
Reflect and Cherish: Take time to reflect on your trip together and express gratitude for the experience.
Remember, the most important thing is to cater the getaway to your partner's preferences and to create an environment that fosters connection and romance. Tailor the trip to your unique relationship and enjoy the time spent together.
How Can I Have a Romantic Getaway at Home?
Perhaps a weekend away isn't in the cards for you right now. Having a romantic getaway at home can be a wonderful way to create special memories with your partner without leaving the comfort of your own space. Here are some ideas to help you plan a romantic staycation:
Set the mood
Dim Lighting: Use candles, string lights, or lamps with soft, warm light to create a cozy atmosphere.
Soft Music: Play your partner's favorite songs or create a romantic playlist in the background.
Create a cozy space
Comfortable Seating: Arrange pillows and blankets to create a comfortable and inviting seating area.
Soft Bedding: Make sure the bed is dressed in clean, soft sheets and add extra pillows for comfort.
Plan a special Menu
Cook Together: Choose a recipe that you both enjoy and cook it together. This can be a fun and intimate activity.
Order In: If cooking isn't your thing, order from your favorite restaurant or try a new cuisine.
Enjoy a spa experience
Bubble Bath: Fill the tub with warm water, add some bubbles, and enjoy a relaxing soak together.
Massage: Take turns giving each other massages to unwind and relieve any tension.
Have a movie night or Board Games night
Choose Romantic Films: Select a couple of romantic movies or your partner's favorite films to watch together.
Board Games or Card Games: Choose games that you both enjoy and have a friendly competition.
Exchange sweet messages, letters, and memories
Write heartfelt notes or love letters to each other to express your feelings.
Look through old photos or watch home videos to reminisce about happy times.
Dress up and disconnect
Put away phones and devices to focus on each other without distractions.
Put on something special that makes you feel good and adds to the sense of occasion.
Remember, the most important thing is to focus on each other and enjoy quality time together. Customize these suggestions to fit your partner's preferences and your own unique connection.
Whether you prefer a cozy bed and breakfast in a quaint town, a luxurious spa retreat, or an adventurous outdoor escape, Ontario has it all. No matter the time of year, there's always a great place to celebrate your love and create an unforgettable getaway in Ontario for couples. So, why wait? Plan your next romantic getaway today and reconnect with your loved one in the heart of Southern Ontario's most enchanting destinations.