Learn all about the Kidkraft Woodland View Playhouse from Costco. We're sharing all about our experience with the playhouse in a comprehensive review.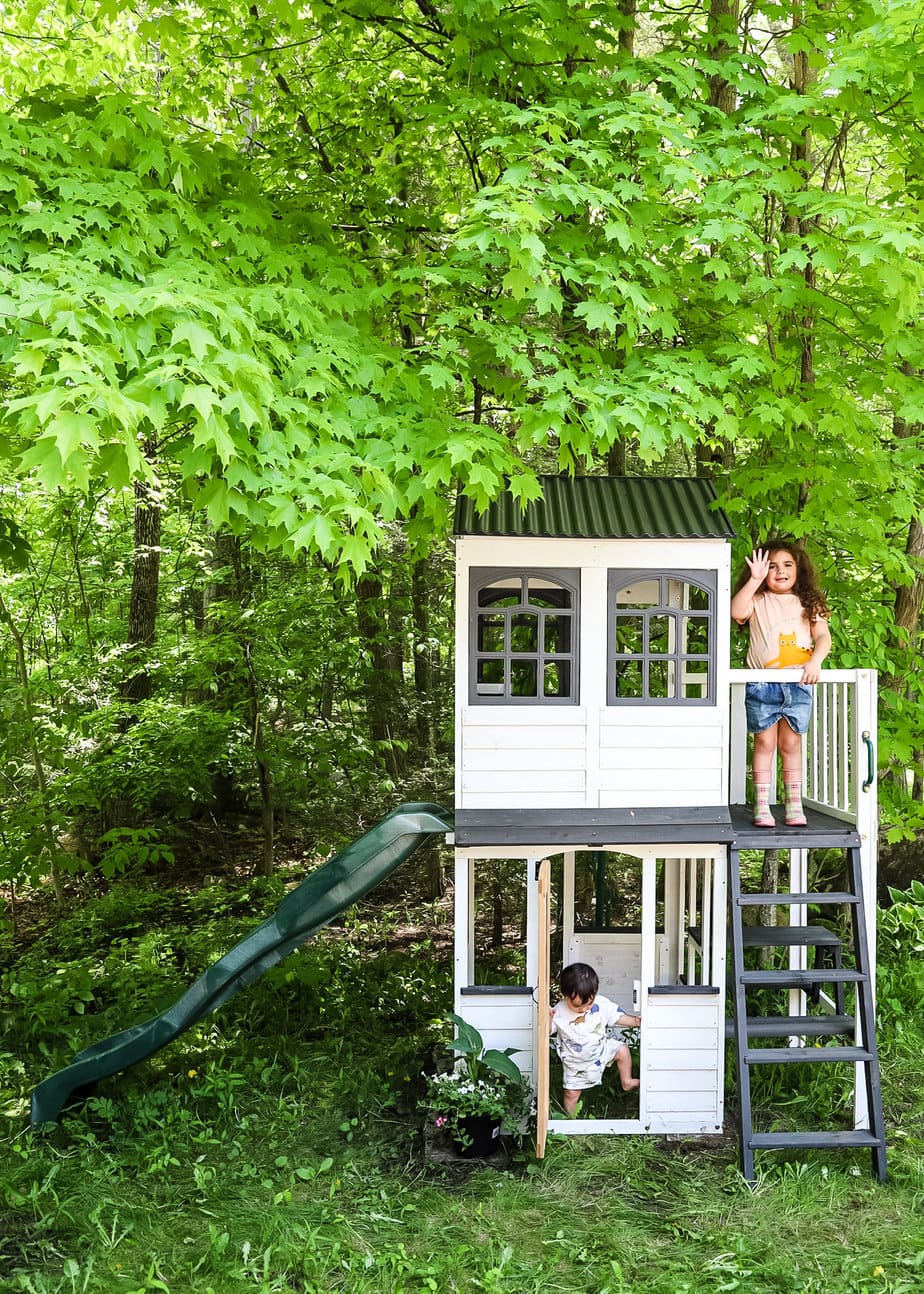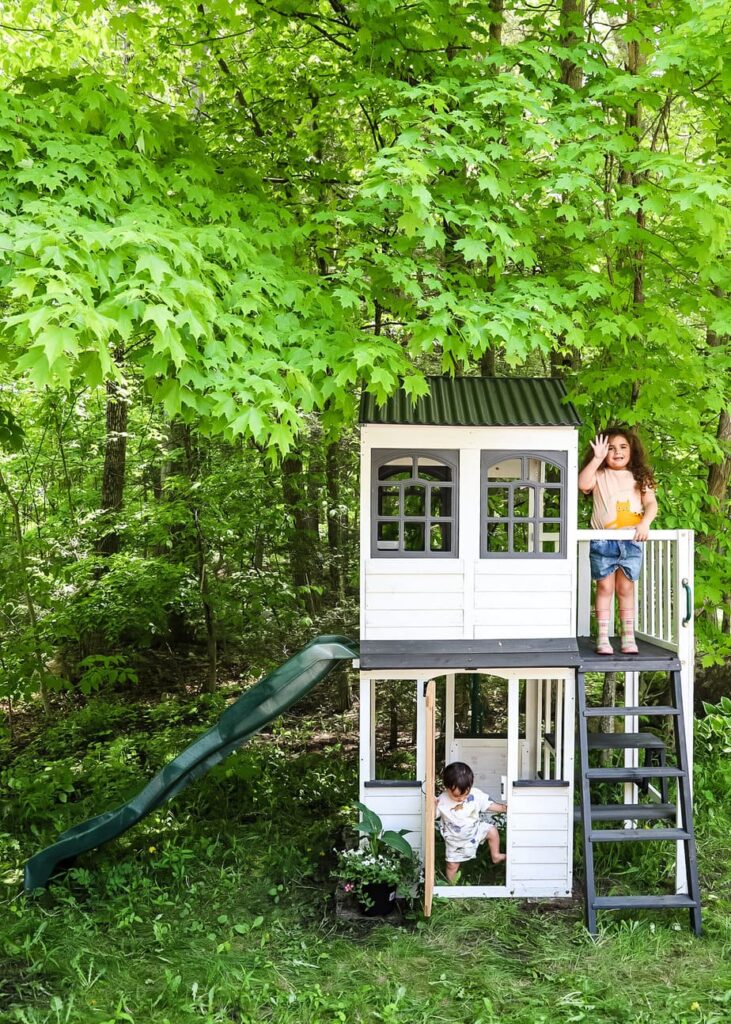 We've been wanting to set up an outdoor play area, for a while. Especially, since our kids are now ten months and four years old. It's the perfect time (of the year) to encourage outdoor play. Plus, there are tons of positives that come from kids spending more time outside.
That said, I started shopping around and researching outdoor playhouses. Until I had a few friends who wouldn't stop raving about how much they loved their Costco playhouse.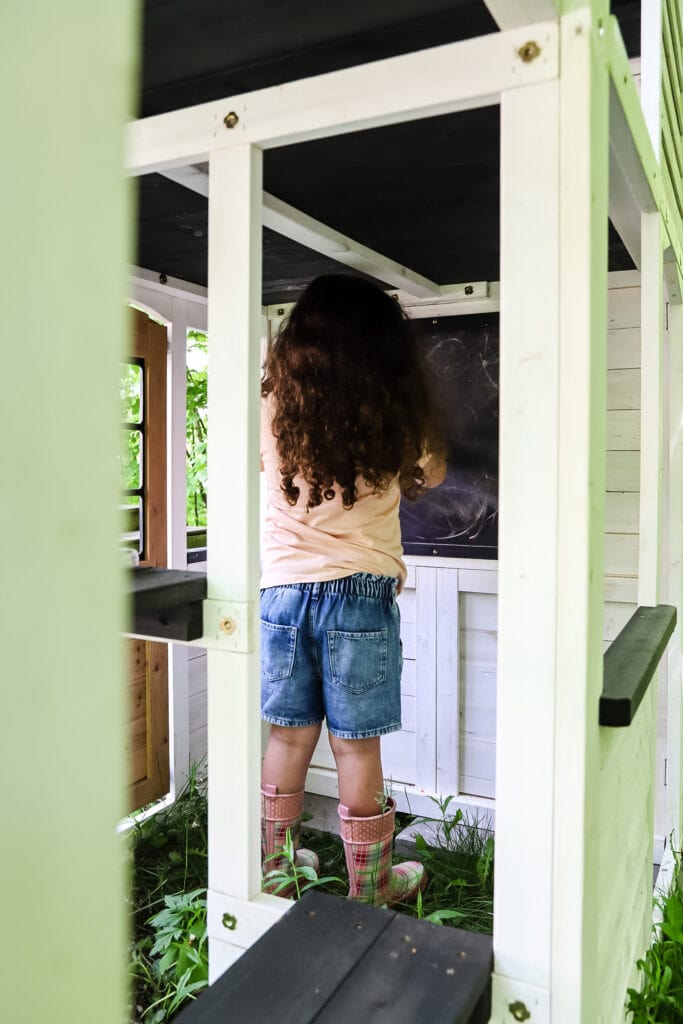 I decided we would check out Costco to see if they had any in stock. Turns out, Costco didn't have the exact one our friends had…
Instead, they had one that was a little less expensive than I was expecting. Which is how we came across The Cedar Summit by Kidkraft Woodland View Playhouse.
The Kidkraft Playhouse from Costco
This playhouse looks like a cute little farmhouse. It has white cedar siding, a wooden door, a black roof, windows, and floors. It honestly looks great in our backyard, and that's something I really do love.
But, I know you want to know more about the quality and if it's worth the price so you can make an informed decision. Which is what we will get to in a second, but first here are the specifications and playhouse features.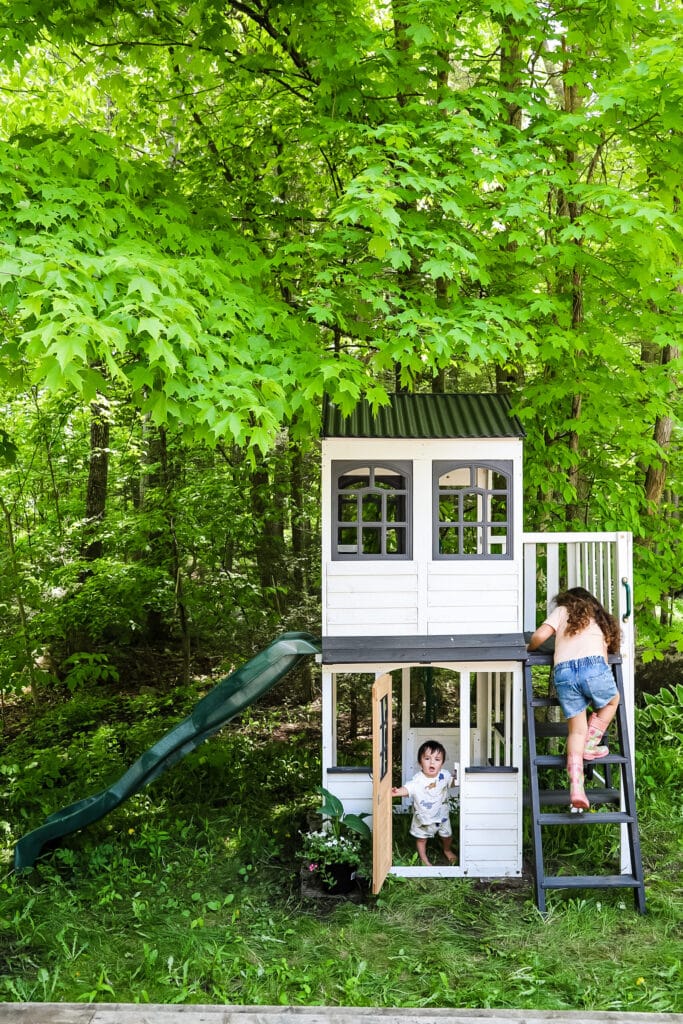 Kidkraft Playhouse Features
The children's playhouse has two floors for little's to explore. They can climb the ladder, or use the zigzag-designed pole that challenges their motor skills.
On the bottom floor, there is also a bench and table, which we've been using for snacks or activities. It's the perfect height for little ones to take a break in the shade.
Three of my kid's favorite features are:
the slide
built-in chalkboard
and the upstairs kitchen.
The little play kitchen includes a sink and a mini stove. The playhouse also comes with utensils and pots, perfect for pretend play.
Specs
Box Dimensions:
Box 1: 94″ x 43.9″ x 7.5″ = 214.99 lb
Box 2: 84.4″ x 16.6″ x 8″ = 15.44 lb
I will say not only was the box super heavy, but the building time said it will take 2 people, 14-18 hours!
Which scared me at first. But we had it nearly finished in 2-4 hours and half of the time, it was just me working on it.
So I would say you could put it together with help in under 4 hours.
Another good thing to note is there is a warranty on it. The lumber is warranted for 5 years against structural failure due to rot and insect damage. However, all other parts, such as hardware, swings, rides, accessories, and slides carry a one-year warranty only.
Costco's Price in Canada
I will link to the Canadian store here.
Online it is more expensive since you will be paying for shipping.
*As we last checked it was over $1000 in-store, but keep an eye out for sales. Especially if you are purchasing out of season.
Costco's Price in the US
Linking the US store here.
Reader Questions about the Kidkraft Playhouse from Costco
Tips for Preventing Rott
Our biggest concern was the wood rotting because the park is sitting on the grass or soil. Which is why we decided to look into using patio stones under each of the legs. We did it in a way that made sure the park was sitting on level ground, and could also attach anchors to it.
How has the playhouse held up in the winter?
We are still waiting to see how it holds up over the year. Especially, over the winter months.
But I will come back and update this post once we've had it for an entire season. That way I can give you a very well-rounded review for those of you who are in climates like ours.
How sturdy is the playhouse?
The Woodland Playhouse is sturdy, however, I wouldn't trust the wooden beams for holding more than a few children. I have personally been on the second floor to get our youngest down, but I didn't feel safe playing up there. So I would just like to let you know it is cedar wood and that is not the strongest.
Does the Woodland Playhouse come with swings? or a swing set?
It does not! Which is why I think it was priced lower than the old Costco playhouse (the one our friends all had). But it makes up for it in the price.
The price difference is almost $500-$1000 cheaper.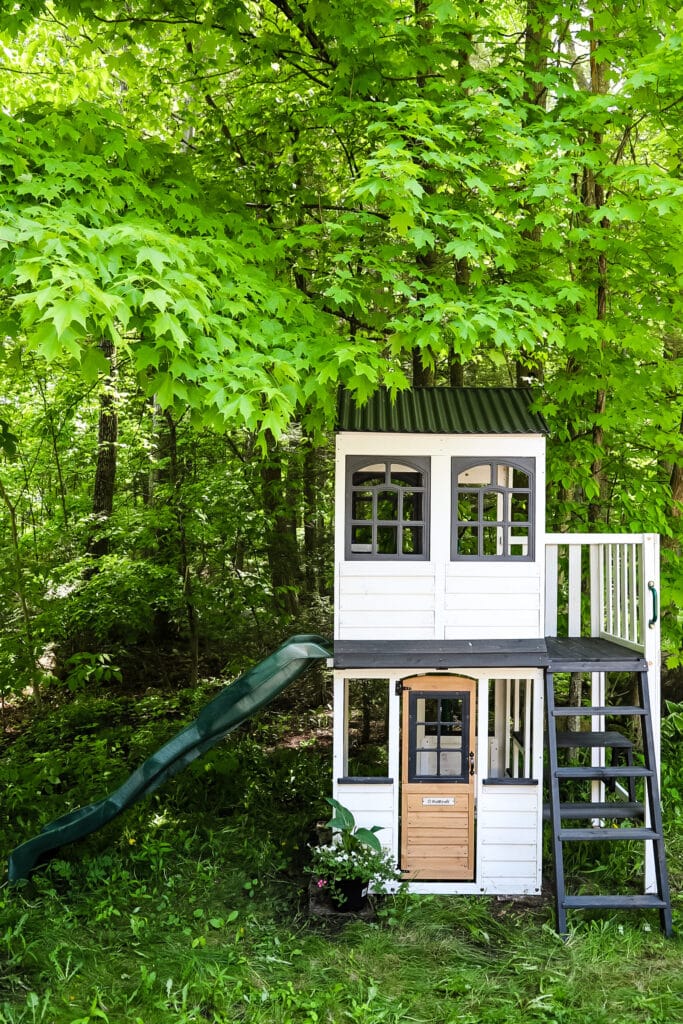 Stay tuned for more playhouse fun as we decorate it and add some fun accessories!
Looking for more?
15 Beautiful Cottage Garden Ideas
Before & After: Patio Makeover