Review of the Kidkraft Playhouse from Costco
Learn all about the Kidkraft Woodland View Playhouse from Costco. We're sharing all about our experience with the playhouse in a comprehensive review.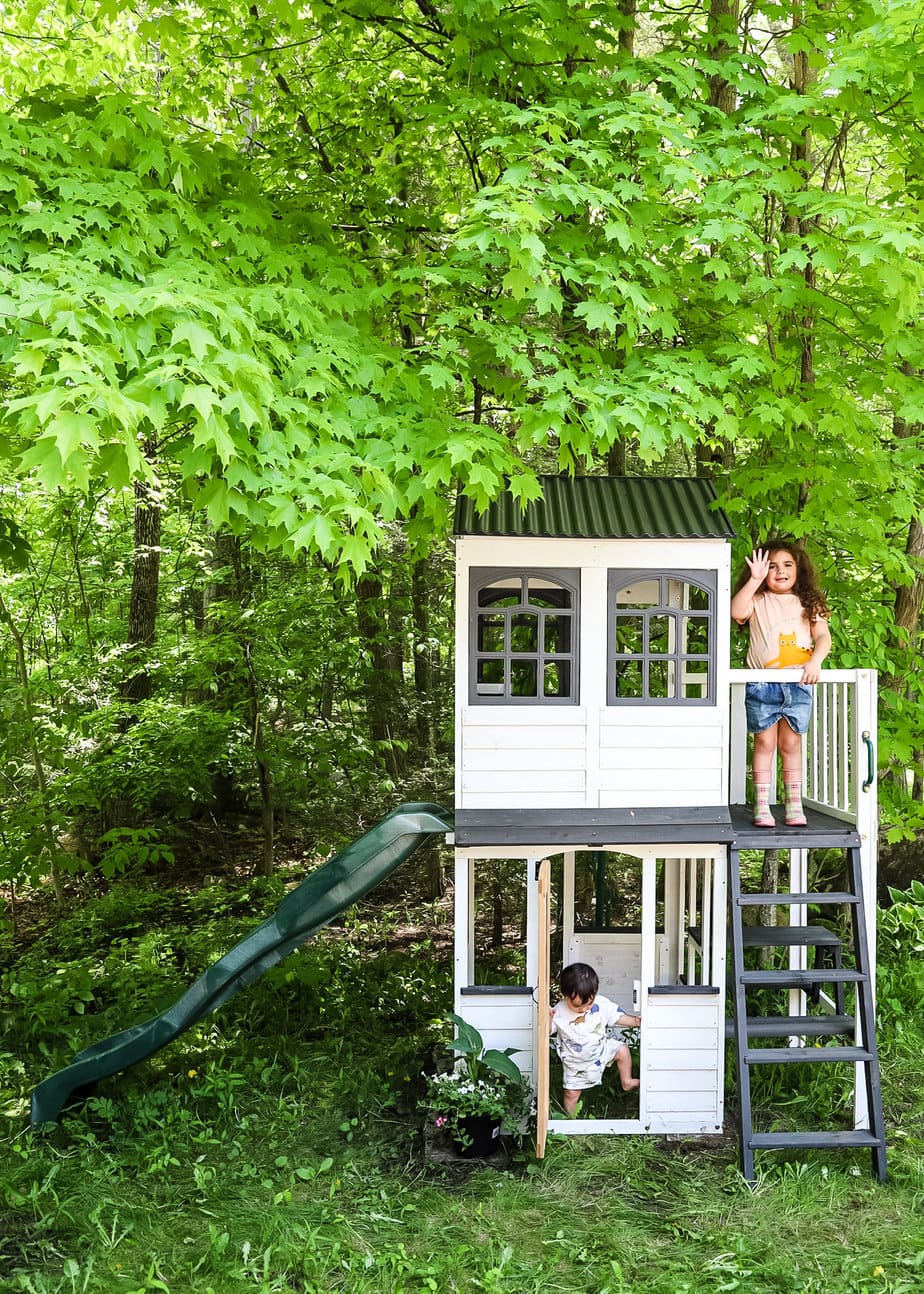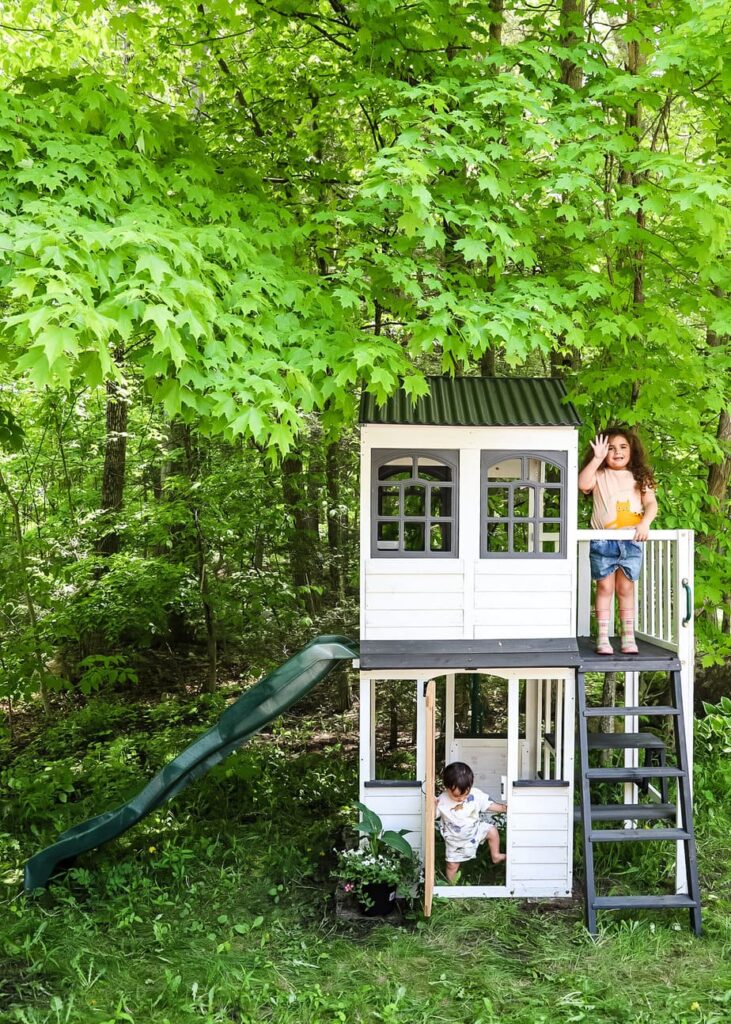 We've been wanting to set up an outdoor play area since we bought our home. And we figured now is the perfect time to encourage outdoor play, especially since our kids are now four and one. Plus there are tons of positives that come from kids spending more time outside.
That said, I started shopping around and researching outdoor playhouses. But a few friends wouldn't stop raving about how much they loved their Costco playhouses.
I decided we would check out Costco to see if they had any in stock. Turns out, Costco didn't have the exact one our friends had…
Instead, they had another one that was a little less expensive than I was expecting. This is how we found The Cedar Summit by Kidkraft Woodland View Playhouse.
Keep reading to find out what we really think of the Kidkraft Playhouse from Costco.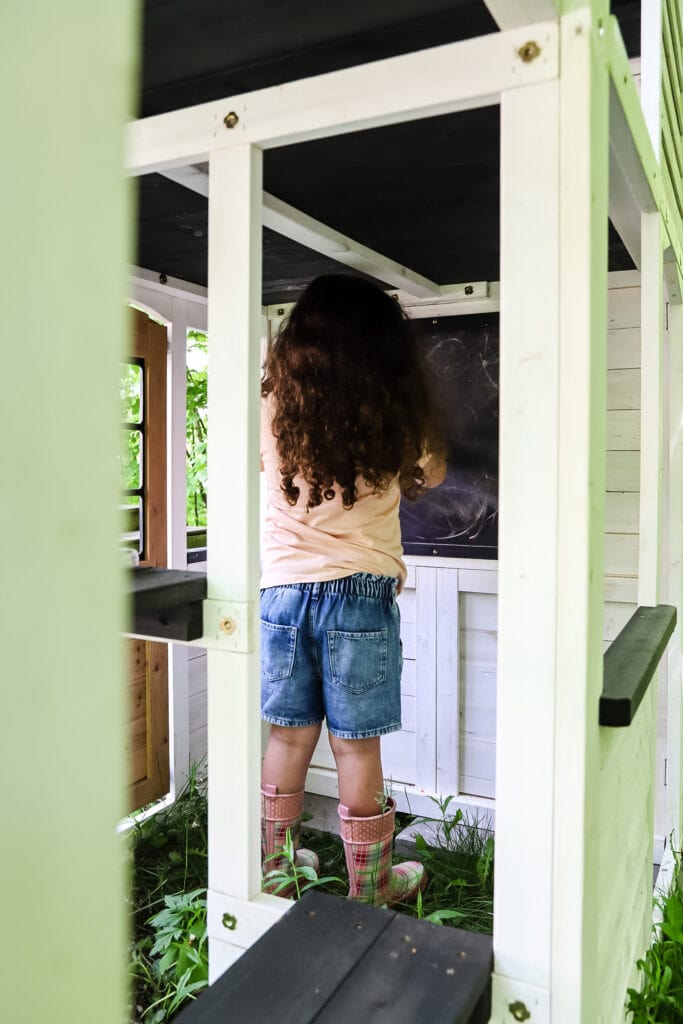 The Kidkraft Playhouse from Costco
This playhouse looks cute like a little farmhouse. It has white cedar siding, a wooden door, a black roof, windows, and floors.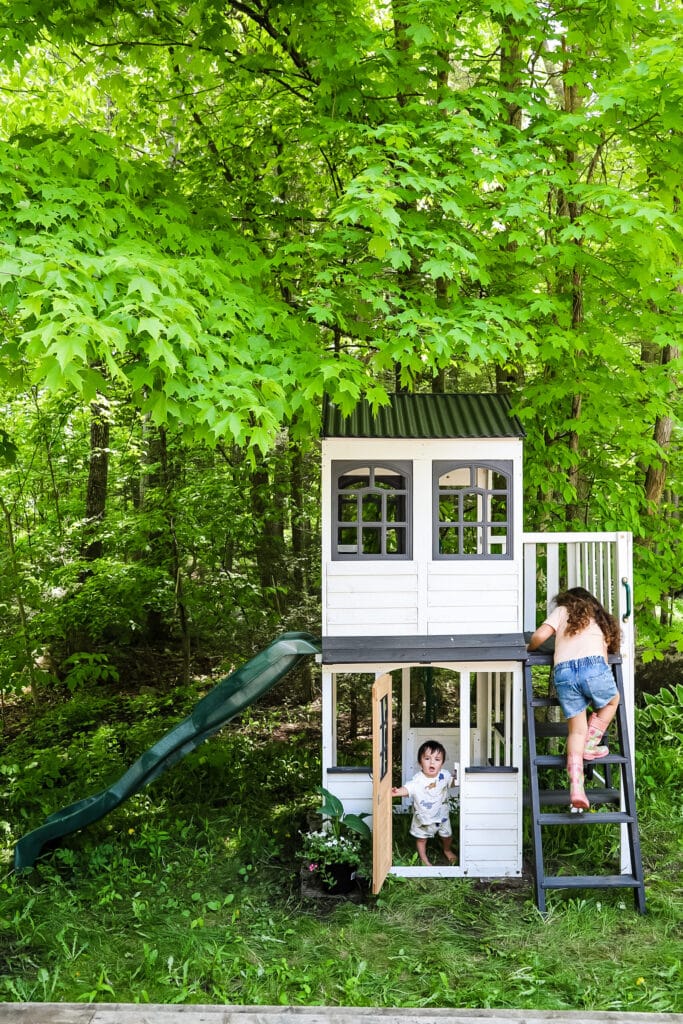 I love how it looks in our backyard. Because I struggled to find a playhouse that I actually wanted to look at every day. I didn't want brown or rainbow colors, so this modern-style playhouse was exactly what I was looking for. But, I know you want to know more about the quality and if it's worth the price so you can make an informed decision.
Keep reading because we're sharing it all, including the specifications and playhouse features.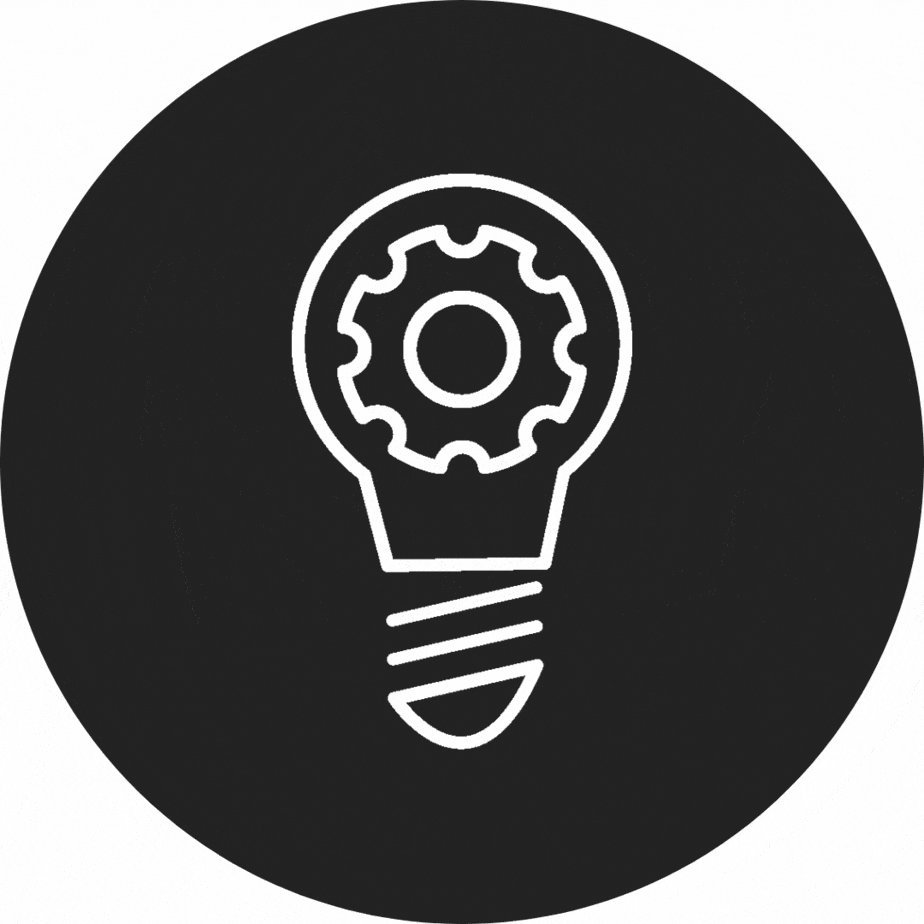 FAQs about KidKraft Playhouse Costco
Kidkraft Playhouse Features
The children's playhouse has two floors for little's to explore.
They can climb the ladder, or use the zigzag-designed pole that works by challenging their motor skills.
The bottom floor has a bench and table, which we've been using for snacks and activities. It's perfect for little ones who need to take a break in the shade.
My four-year-old's favorite features of the Costco playhouse are:
the slide
built-in chalkboard
and the upstairs kitchen
The little play kitchen includes a sink and a mini stove. The playhouse also comes with utensils and pots, perfect for pretend play.
Specs
Box Dimensions:
94″ x 43.9″ x 7.5″ = 214.99 lb
84.4″ x 16.6″ x 8″ = 15.44 lb
The Negatives:
The box is super heavy.
For that reason, I didn't want to put it on the roof of our Dodge Journey. I actually towed a little trailer and used straps to bring it home. However, a truck would work fine.
I do believe Costco has a delivery option, for a little more than $150.
The building time on the box said it will take 2 people: 14-18 hours!
Which scared me at first. But my dad and I had it built in 3 hours.
Do you think the Costco Playhouse will hold up during the winter?
We just went through our first winter with the playhouse, and it has held up great. There are no splintering, warping, or any issues with rot. I do routine maintenance on the playhouse, once at the start of the year (after winter), and twice during play season (during the summer). I'm sharing that maintenance schedule below.
But to answer the question, the playhouse has held up really well during the winter.
Playhouse Warranty
I think this is a good thing to note because there is a warranty on the Woodland Playhouse from Costco.
The lumber is warranted for 5 years against structural failure due to rot and insect damage. However, all other parts, such as hardware, swings, rides, accessories, and slides carry a one-year warranty only.
Costco's Price in Canada
I will link to the Canadian store HERE. *update, it currently is out of stock but I recommend checking in regularly as it does come back. Usually around spring and early summer.
Online it is more expensive since you will be paying for shipping/delivery.
*As we last checked it was over $1000 in-store, but keep an eye out for sales. Especially if you are purchasing out of season.
Costco's Price in the US
Linking the US store HERE. *Along with the Canadian Costco, the US Costco is saying out of stock, but I recommend checking in regularly. It does come back in stock. This is the link to the actual playhouse HERE.
Reader Questions about the Kidkraft Playhouse from Costco
Tips for Preventing Rott in Playhouses
Our biggest concern was the wood rotting because the park is sitting on the grass or soil. This is why we decided to look into using patio stones under each of the legs. But we did it in a way that made sure the patio stones were buried enough to be safe and out of the way. We also recommend getting playground mulch, we choose cedar because it looked the best.
How has the playhouse held up in the winter?
We just had our first winter with the Woodland Playhouse and it has held up! I noticed that I didn't install the door properly, and it was flying open during winter storms (here in Ontario). But I recently checked on it, and there was no water damage, rot, or anything wrong that I could see.
I do recommend this playhouse to my friends, and family. I think the key was making sure we had blocks put under the playhouse so it was lifted off the ground.
How sturdy is the playhouse?
The Woodland Playhouse is sturdy and made with high-quality wood. Both my husband and I have been on the second floor with our kids and it hasn't been an issue. However, it's not something we do regularly as there are weight limits.
Does the Woodland Playhouse come with swings? or a swing set?
It does not! Which is why I think it was priced lower than the old Costco playhouse (the one our friends all had). But it makes up for it in the price, and we plan on adding our own swings.
The price difference is almost $500-$1000 cheaper.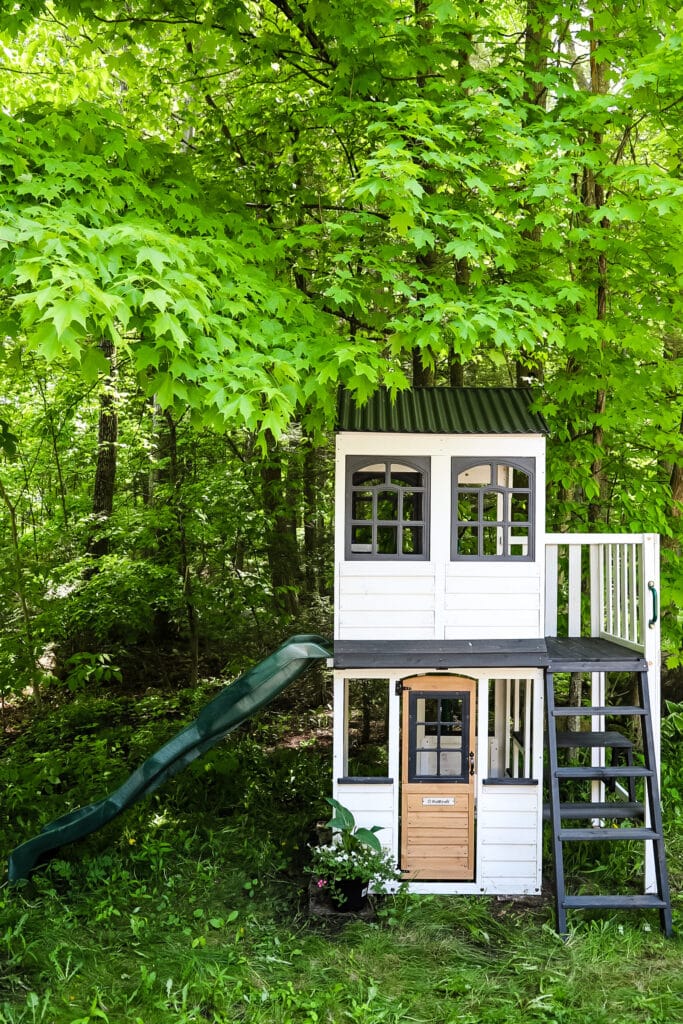 Maintaining the Kidkraft Playhouse from Costco
The Start of the Season
Stay tuned for more playhouse fun as we decorate it and add some fun accessories!
Inspect for sharp edges, screw threads, and if you additional washers.
Look for rust on metal parts (sand and paint with non-lead paint if needed)
Check and tighten all hardware (but do not over-tighten and cause splintering)
Make sure there are no foreign objects under the playhouse. Rake, replace, and fill with protective materials around the playhouse to prevent injuries.
Twice a Month During Play Season
Check hardware for loose areas (Must be firmly against the wood)
Inspect for sharp pieces, missing washers, or screws that are protruding.
Once a Month
Secure hangers, the hook should rotate freely, and align with the support beam
Use lubricrate bushings with oil or WD-40
End of the Play Season
If you have swings or additional plastic items, bring them indoors when the temperature dips below freezing.
Pin this and save it for later!