Blue Mountain Resort Travel Guide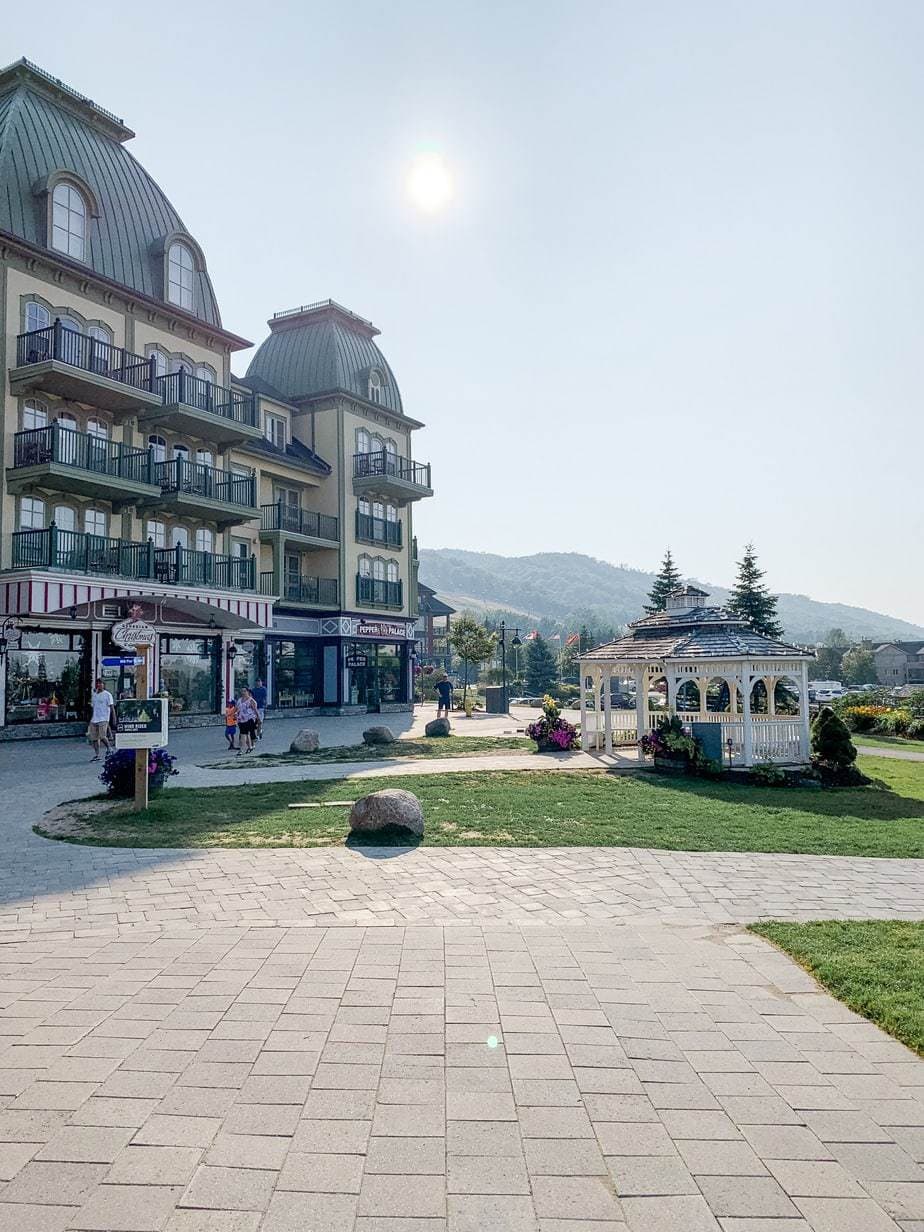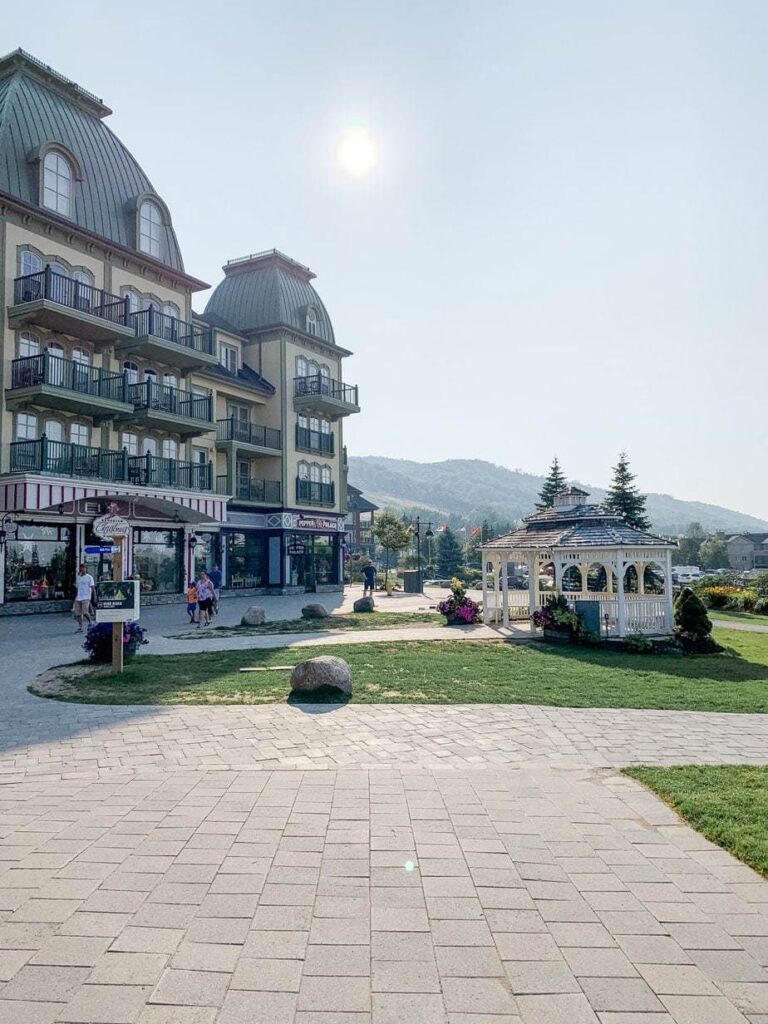 We were invited to stay at Blue Mountain Resort and create a Blue Mountain Resort Travel Guide. We were lucky enough to experience the attractions, dining, and other family-friendly activities.
Since it was the middle of the week and Tony had to work I asked my sister to join us and I'm so glad she came. She's also an amazing photographer and I love all the pictures she took.
There is no doubt that we will be returning again next summer. There were so many things to do and not enough time to see it all. Penelope who is 17 months loved spending the majority of the day at the waterpark. Then in the evenings we explored the pretty boutiques and art shops.
There are wonderful places to eat, drink and several spas to enjoy. We saw lots of couples who were taking a romantic getaway and even a bachelorette party!
I'm totally booking a wellness trip for my mom and my sister soon. So the three of us can relax, drink wine and get pampered at one of the many local spas. I would recommend booking a stay at Blue Mountain for anyone who is looking for a local getaway.
Where we stayed
We stayed at the Mosaic Boutique Suites in the village, which was highly recommended by several people we spoke to before coming. I called ahead to make sure there was parking available and a pool because, in the end, that was going to be the deciding factor in where we stayed. Luckily there was a beautiful pool, a large hot tub, fitness center, and even a spa. The rooms had a bathtub (which is essential for parents of young children), a fireplace, couch, and even a kitchen complete with a stovetop, microwave, and mini-fridge.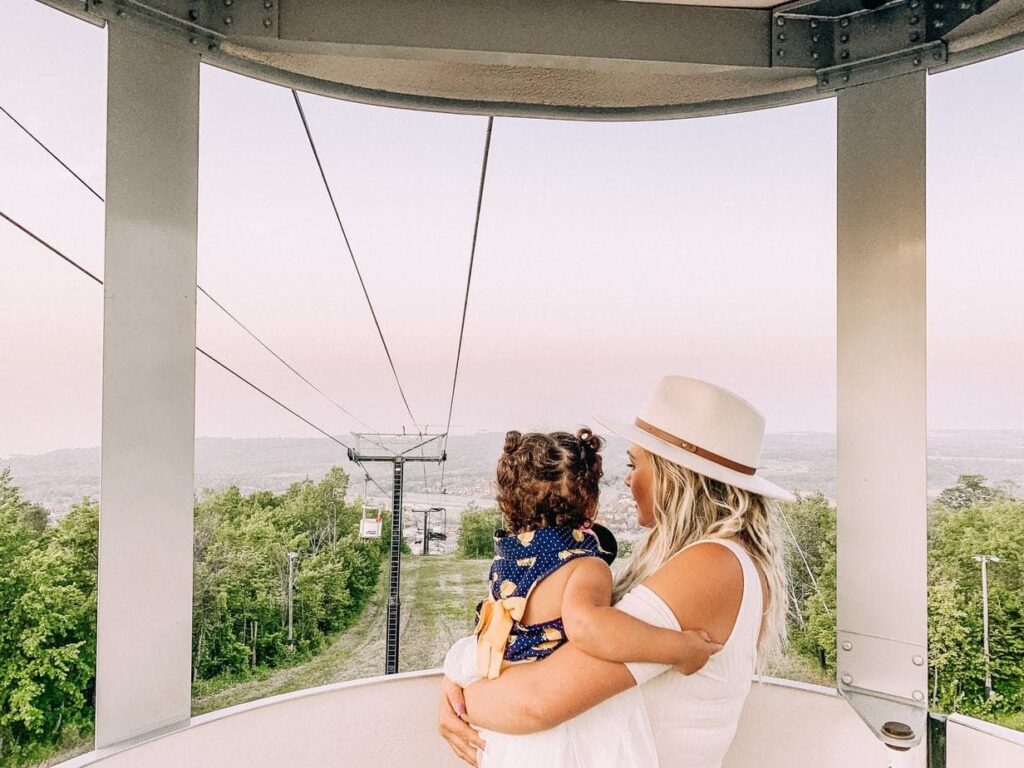 What we did
+ We took Penelope to the Plunge! Aquatic Centre which is a heated indoor, outdoor pool and it has a little indoor water park for smaller children and cute mini slides. There was also a larger water slide that Michelle took Penelope down, and lots of chairs for parents to relax in.
+ We went up the mountain in the Open Air Gondola which would have been around $8 a person if we would have had to pay, but I did see a lot of people walking up the mountain which is an option too but you need a ticket to get back down.
+ My personal favorite was the Ridge Runner Mountain Coaster! I was not expecting it to be as high as it was, I was told that it went up 3/4 of the mountain even thou it felt like we were right up to the top. Its meant for older children so Penelope could not go, and to be honest it would have been way too much for her anyway since I was even a bit scared.
+ I highly recommend going to the Canopy Climb Net Adventure! It's like the treehouse of my dreams and so much fun to do with older kids or your partner.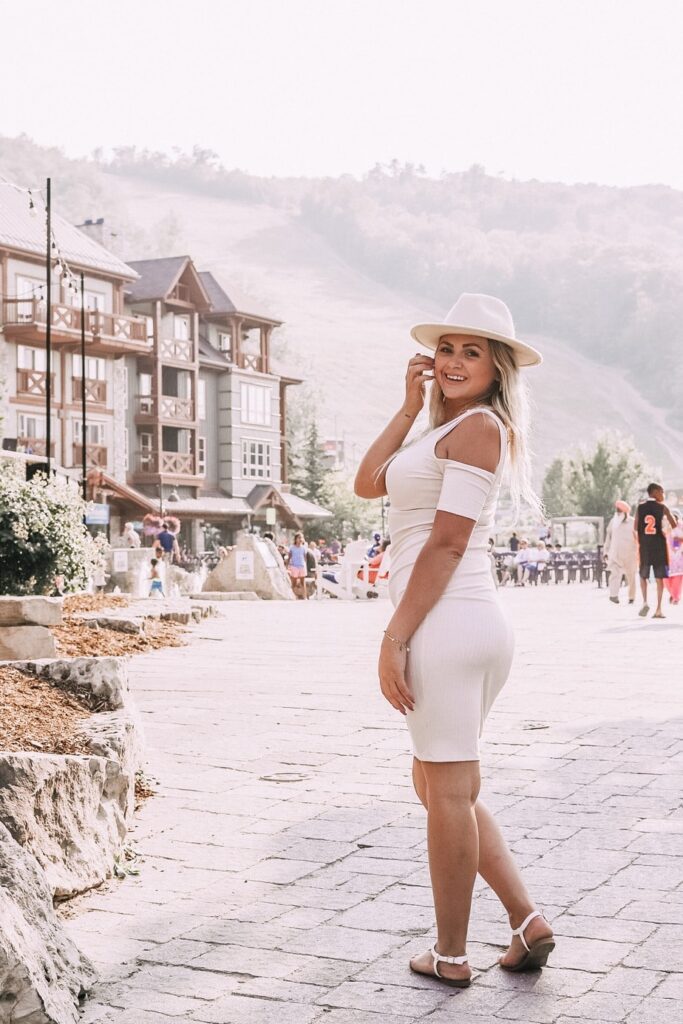 Where we ate
For me, food is a huge deal and I was not disappointed in the quality of food and the drink choices.
+ We had dinner at Tholo's which is a Greek restaurant located a short walk from any blue mountain resort. We had salad, garlic bread, pasta, and several drinks. I would recommend going as a date night because even thou Penelope was amazing and there was another baby there, I still felt like we needed to be on our best behavior and not disturb the other guests.
+ Since our hotel did not have breakfast, we woke up around 6 am to walk a short distance to Starbucks only to find out it didn't open until 7:30 am. We ended up sitting by the little pond watching the sun come up the mountain, and even thou it was a beautiful morning I would have loved grabbing a coffee and laying in bed still.
+ Lunch was at the Firehall Pizza Co. which looked really cool and the staff was wearing firefighter outfits and seemed like a family-friendly place. We would have probably enjoyed the food if the waitress didn't forget our order and we didn't end up getting pizza. It just seemed like they were short staffed and couldn't keep up, so maybe next time we will try again with better luck hopefully.
Where we relaxed
Note: I had planned to go to The Scandinavian spa for the outdoor hot springs because I had heard so much about it but sadly it was all booked up and a bit of a trip in the car out of the main village.
+ I was pleased to find that the blue mountain resort was connected to Iwa Spa! which is an experience all on its own and even has Yoga classes which I loved.
+ They host a morning yoga class that was probably my favorite yoga experience ever, it was outdoor yoga and any connection with nature is a winning formula for me.
+ I had a facial, and a massage and both were very amazing, I think next time I'll book an appointment for my mom and sister it was that good!
Catch up on:
How to wear 90's inspired hair clips
Penelope's 17 month update