I Tried the Viral TikTok Ramen Recipe-Here are the details!
The infamous TikTok ramen recipe is a very quick and easy weekend dinner idea! Not only is it filled with simple ingredients, but it tastes absolutely delicious. We promise you'll never look at instant noodles the same again!
Cottage Living and Style's product selections are curated by the editorial team. If you buy something through our affiliate links, we may earn an affiliate commission, at no cost to you. We only recommend products we genuinely love.
I have a 15-month-old who is currently obsessed with ramen. He's defiantly going through a phase where it's all he wants to eat, and it got me thinking. I haven't had ramen in years, so I thought why not I wanted to see if I could make the instant noodles taste even better.
Which is how I came across this viral recipe.
Side note, social media has actually been the best way to find easy meal ideas, and new viral recipes to try. Not surprisingly it's become a fun little couples activity for Tony and me. We're, of course, foodies at heart, and I love trying new foods. So it's been a great way for us to spend quality time together while experimenting with a new TikTok recipe each week.
Keep reading, because I promise you will love this delicious TikTok ramen recipe.
How to Make the TikTok Ramen Recipe
Like I said, TikTok is amazing for finding recipes, and for finding food enthusiasts who create some of the most delicious foods. The Taiwanese-Japanese inventor of instant ramen, Momofuku Ando said "Human beings are noodle beings" and he's not wrong! My 15-month-old son would also agree, noodles are life.
So keep reading to find out the simple ingredients needed to make this easy TikTok ramen noodle recipe!
What exactly is the Tiktok ramen hack and what's so special about it?
There are a few things I think are unique about the recipe, not only does the viral ramen dish taste amazing. But it's made with basic ingredients that are inexpensive and it's easy to make. This is why it's raved about by so many people, including celebs like Kylie Jenner.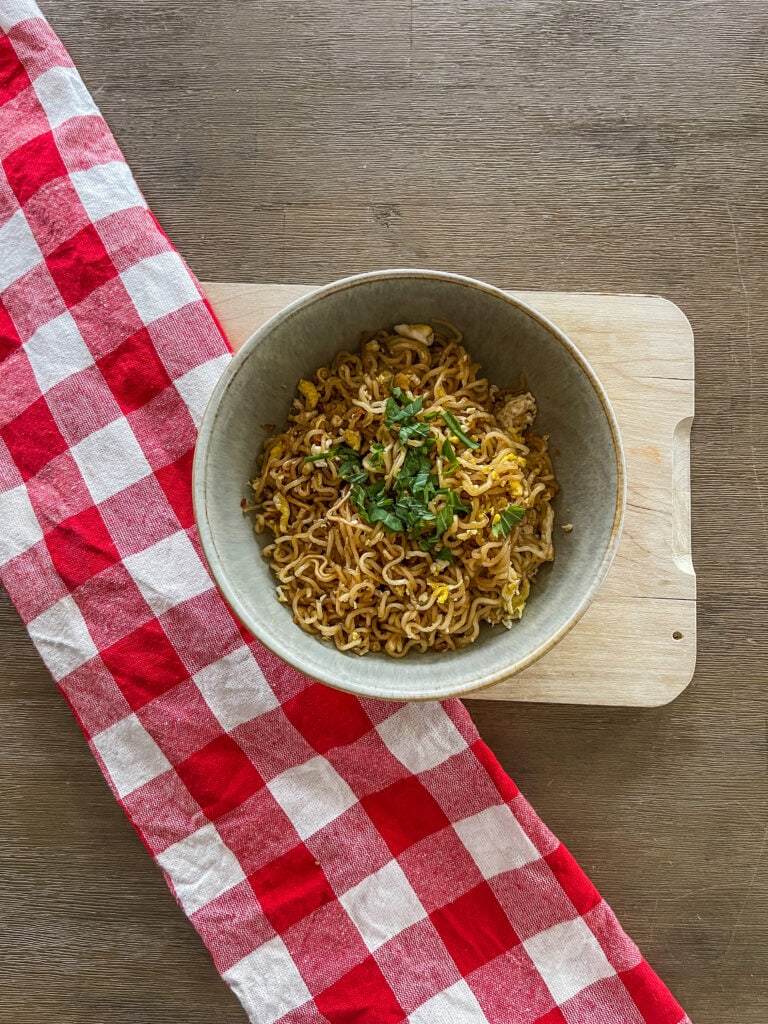 How does the TikTok ramen taste?
If you could imagine what a sweet but savory ramen, with a bit of egg and a hint of spice tastes like, then you've got it. My only comparison would be to ManchuWok's noodles, but sweeter. It's addictive and I certainly crave the noodle dish at least once a week.
What ingredients do you need?
Instant Ramen – Grab your favorite brand of ramen, the flavor doesn't matter because you won't be using the flavor packet. I used the Mr. Noodles, Instant Noodles for the recipe because it's what we had. But I've seen a lot of people use Nongshim Shin Ramen for the thick noodles, and Momofuku noodles, for the wavy noodles.
Brown sugar – One of the main ingredients in making this ultra-delicious meal is brown sugar. It adds a hint of sweetness and color. However, you can certainly use your preferred sweetener, like white sugar, honey, or even syrup.
Garlic – You'll need 1 teaspoon of minced garlic. You can use garlic powder but I prefer fresh garlic.
Butter – Melted butter is needed to saute the garlic.
Soy Sauce – You will need regular soy sauce – we love Kikkoman.
Crushed Red Pepper Flakes – But this is an optional ingredient and one I leave out when I'm making it for the kids. But sometimes we'll add a bit of crushed red pepper flakes and a dash of hot sauce.
Egg – Add a beaten egg to the stir fry.
Green Onions & Everything Bagel Spice – One of the main reasons why this meal tastes so good is, because I topped the meal with green onions and bagel spice
How do you make the TikTok ramen recipe?
The Tik Tok ramen recipe is so simple, the whole thing takes less than 20 minutes to make. And you can find all the ingredients at your local grocery store.
How to Make the TikTok Ramen Recipe?
1. Cook the Noodles Just Right
Following the directions on the instant ramen noodles package, bring a pot of water to a boil. Remove the seasoning packet since you won't need it.
Once the noodles are al dente (firm but with a slight chew), remove them from heat, drain the water and place the noodles aside.
2. Make the Delicious Sauce
Melt the butter in a large skillet, adding the minced garlic, and the red chili flakes. Add the brown sugar and soy sauce, until the sugar melts.
3. Add the Noodles and the Sauce
Add the noodles to the sauce in the frying pan.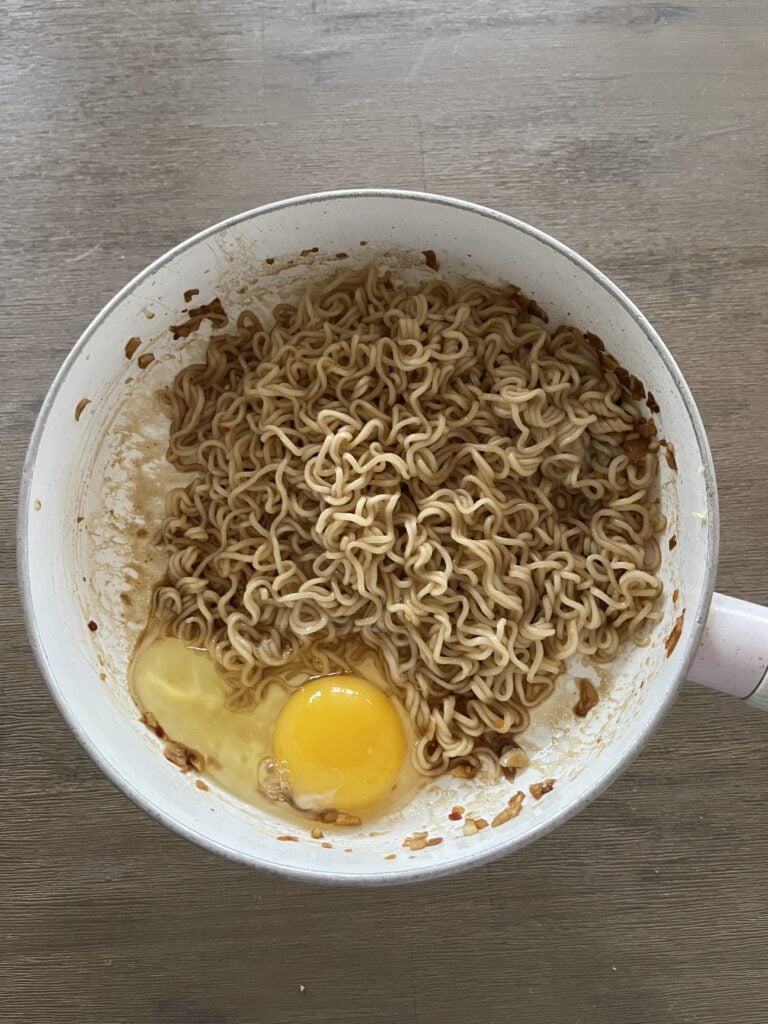 4. Crack the Egg
Instead of scrambling eggs before, crack the egg over the noodles and stir it in.
It always tastes better when the noodles are coated with eggs.
5. Garnish with Seasoning Salt and Green Onions
Once you've poured your noodles into a bowl, garnish with chopped green onion. Add a little bit of everything bagel seasoning, and a dash of hot sauce to taste.
How to store your Ramen Recipe
You can store the cooked noodles, in an airtight container for two days.
Looking for more recipes to try?